CQ WEEKLY – COVER STORY
May 19, 2012 – 11:15 a.m.
America's Tech Trade: Boxed In
By Joseph J. Schatz, CQ Staff
When Apple released its PowerMac G4 in 1999, the technology company touted the computer's processor as so powerful the machine was "classified as a weapon by the U.S. government," meaning it could not be exported.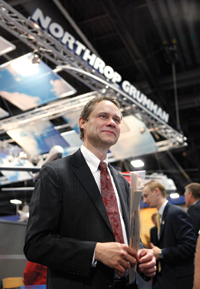 | | |
| --- | --- |
| NO BENEFIT: Northrop's Bush says barriers to exports hurt companies without helping national security. (RICH CLEMENT / BLOOMBERG NEWS / GETTY IMAGES) |   |
"With the power to perform over a billion calculations per second, the Pentagon wants to ensure that the new PowerMacintosh G4 does not fall into the wrong hands," the company said in an advertisement. "As for Pentium PCs, well, they are harmless."
That may be the last time any U.S. company took any pride in having a product placed on the list of potential exports that the government strictly controls because of their possible military use. Just as Apple's own advances overran the G4 within a few years, dramatic changes in technology, manufacturing, global trade and even military threats have made the country's export control regime, devised during the Cold War, look antiquated. Defense contractors, coping with stingier military budgets and growing competition on world markets, say that the restrictions are entirely obsolete and that the export controls themselves pose a significant problem.
It's a problem that goes well beyond computers and beyond the weaponry normally linked to export controls. It touches on airplanes, commercial satellites, high-flying drones, encryption software, complex machine tools, intellectual property — even airline toilets.
More broadly, it also raises questions about the ability of Congress to keep up with the enormous changes in technology and trade that are taking place at a dizzying pace. From the privacy questions surrounding Google and Facebook to concerns over cybersecurity, pressing new issues that defy national borders and conventional views of the world are challenging the ability of Congress to respond.
Those questions are hanging over American manufacturers of restricted goods as they try to keep pace with growing competition around the world, and even over universities as they seek to foster research and innovation while tapping into the global market for students and information exchanges.
The issue flared in Congress this month when satellite manufacturers won a victory with House approval of a measure that would loosen restrictions on their sales abroad. For that industry, big money is at stake: The Satellite Industry Association says it costs manufacturers about $60 million annually to meet licensing requirements and that it has lost up to half its share of the global market under rules it says do not work in the modern world.
"If the same situation were applied to computers, exports of 1950s-era computers with vacuum tubes would be treated the same as today's cutting-edge microchips," the satellite association's president, Patricia Cooper, said in February testimony to the House Foreign Affairs Committee.
Like the PowerMac, much of what the government considers dangerous is not, in fact, a threat to national security. And many of those same products are being made and sold by companies in other countries.
The complexity of the global marketplace, where an "American export" may really be assembled in a foreign country out of foreign-made components, means that export controls are increasingly difficult to administer without putting U.S. companies at a disadvantage. Moreover, the military monopoly on technology development is long gone. Private companies are selling satellites. Drones are being used to monitor oil pipelines as well as to fight wars. Troops in battle communicate on the Internet.
And the global marketplace is outpacing the way the U.S. government regulates exports.
That, say some U.S. manufacturers, now counts as a threat to their businesses.
America's Tech Trade: Boxed In
"Let me be clear: Export restrictions are hurting this industry in America without making us any safer," Wes Bush, chief executive of defense giant Northrop Grumman, said in an April 27 speech on the unmanned aerial vehicles that are sometimes referred to as drones. "And they could cause the U.S. to relinquish its lead in these technologies to other nations based on their ability to meet global demand."
The question is whether Congress will act to change it before the U.S. government loses a handle on the problem — and U.S. companies pay the price. Those companies say the rest of the world, which includes the competition, isn't waiting, and that inaction by Congress means they're being left behind.
The business community and the Obama administration want Congress to help remove many of the restrictions that prevent companies from selling products that are widely available elsewhere — such as commercial satellites. Some of the proposals require Congress to pass laws, and some do not. But generally, they would streamline the process, partly by combining outdated rosters of controlled products, making it easier and more efficient for companies to boost their exports and navigate the system without running afoul of the rules.
"There's a trust factor involved in terms of how much discretion Congress is willing to give the executive branch," says Christopher Wall, who was assistant Commerce secretary for export administration from 2008 to 2009 and now is senior international trade partner at Pillsbury Winthrop Shaw Pittman. "A lot of very good technical work has been done. But Congress has still got to be addressed."
Past Is Prologue
The administration's effort to restructure export control regulations since 2009 has run into many of the same political and institutional hurdles that have complicated past efforts to overhaul what has become an arcane, overlapping patchwork of executive orders, laws and treaty obligations.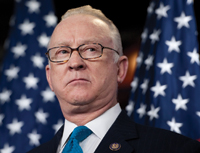 | | |
| --- | --- |
| AEROSPACE BOOSTER: McKeon supported a change in federal law to relax restrictions on satellite exports. (BILL CLARK / CQ ROLL CALL) |   |
Despite overwhelming backing from major business groups and a surprising measure of agreement among the Defense, State and Commerce departments, a White House initiative to build "higher walls around fewer items" has slowed to a crawl amid a maze of congressional committees and turf battles between Congress and the executive branch.
"It's a hard thing to tackle, but it's important," said Howard P. "Buck" McKeon, the California Republican who is chairman of the House Armed Services Committee, as he walked to the House floor May 17 to begin debate on the authorization legislation for the Defense Department.
With defense contractors concerned about how a tight budget will affect their business, lawmakers may be taking a fresh look at the issue, at least when it comes to some products. McKeon, whose committee is at the heart of the balancing act, backed an amendment on the floor that same day to relax export restrictions on commercial satellites, a key goal of the aerospace industry and its congressional allies in states such as California, Washington and Colorado. The amendment was adopted. (Satellites, p. 1037)
"Treating commercial satellites and components as if they were lethal weapons, regardless of whether they're going to friend or foe, has gravely harmed American space manufacturers," said Rep. Howard L. Berman, a California Democrat who advocates overhauling the system.
But the world of satellites, where U.S. manufacturers face clear competition from other countries for specific, impending sales, may be about as simple as it gets these days when it comes to dual civilian-military use technology.
The subject of export controls can trigger strong feelings of protective national pride among lawmakers. And attempts to change the system involve different parts of the federal bureaucracy, says former Rep. Sam Gejdenson, a Connecticut Democrat.
America's Tech Trade: Boxed In
As chairman of the Foreign Affairs panel's International Economic Policy and Trade subcommittee from 1989 to 1995, Gejdenson spearheaded efforts to overhaul the system when encryption restrictions were the topic of the day, following debates over personal computers and then fast telephone switches in the 1980s and 1990s.
"Part of it is ideological. There are some people that believe we have exclusive technology, and that if we sell anything we're spreading the ruin of the country, and that goes across the political spectrum," Gejdenson says. "If you make one mistake in your life on some piece of technology that turns out to help our adversaries, your career is over. It's like being an immigration officer in Yemen."
An Outdated System
Striking a balance between keeping sensitive technology out of the hands of enemies and ensuring that U.S. companies can prosper and continue to make those products has become vastly more complicated in the post-Cold War era.
That's why overhauling the export control system has eluded policy makers in both parties, as well as Presidents Bill Clinton and George W. Bush. The current effort has morphed into a painstaking review process, far from the House and Senate floors, in which lawmakers and their aides comment on thousands of products intended for export. The review is, for now, merely a piecemeal attempt to streamline a pair of control lists maintained by the government.
The Export Administration Act of 1979 expired more than a decade ago, but its powers have remained in force by executive fiat.
It also operates about as efficiently as a creaky, poorly maintained vehicle runs after three decades. That was the conclusion, in 2009, of the ad hoc committee created by the National Research Council, a wing of the National Academies, to study the state of the export control regime. Co-chaired by Stanford University President John L. Hennessey and former national security adviser Brent Scowcroft, the blue-ribbon panel's final report, "Beyond 'Fortress America,'" repeatedly cited the "marked inability of recent Congresses to address this issue."
"The lack of existing legislation on dual-use export controls means that economic globalization, the 2001 terrorist attacks on the United States, the wars in Iraq and Afghanistan, the impact of globalized communications, the role of China in the American economy and the rise of Europe as an economic competitor are all not reflected in current export control legislation," the authors wrote in the report.
The Commerce Department's Bureau of Industry and Security, which has jurisdiction over products with both military and civilian uses, approved $24.6 billion worth of goods for export in 2011, not counting oil-related products.
There is no formal tally of the value of prospective exports that were barred, but business says the stakes are enormous. The system is "costing us billions and billions of dollars of sales abroad," said the U.S. Chamber of Commerce's president, Thomas J. Donohue, earlier this year.
The State, Defense, Treasury and Energy departments, as well as the Nuclear Regulatory Commission, all have a hand in export controls, and navigating the varying regulations has become particularly confusing for companies, eating up time and money while complicating research and development.
U.S. export control laws reach beyond commercial goods and services, extending even to technical discussions, such as seminars and meetings, about restricted technology.
That presents a major complication when the research done by a company or university involves scientists or engineers from different countries, or takes place in India, China or another country not considered a close U.S. ally.
America's Tech Trade: Boxed In
It's more complex when products or components that fall under export controls are being made overseas, particularly when it comes to China, widely viewed as the biggest potential rival to U.S. power. Yet China is also an indispensable economic partner, whose factories produce so much technology that is designed in the United States and could end up used by the Beijing. And some of those factories have links to state-owned enterprises and the Chinese military, potentially giving the government access to sensitive supply chains.
China remains unabashed about its desire to acquire U.S. technology as part of its effort to move its manufacturers up the value chain.
"If Motorola wants to build a facility in China to make phones," says Bill Reinsch, the president of the National Foreign Trade Council, the question becomes, "will they send that factory any technology that is controlled?"
Companies lobbying Congress on export control issues, according to Senate records, are a who's who of the defense contracting industry and the U.S. technology sector: Among them are Lockheed Martin, Northrop Grumman, Boeing, Raytheon and Intelsat. But they also include high-tech research institutions such as the University of Iowa and the University of Wisconsin, Madison; Ingersoll Machine Tools of Rockford, Ill.; and Edmund Optics, a Barrington, N.J.-based supplier of optical components.
The National Shooting Sports Foundation wants the administration's efforts to succeed so its member companies can export more firearms.
For gunmakers and other companies, export controls amount to protectionism stood on its head, with the United States itself providing the barriers to potentially lucrative markets. Those markets are especially important to defense contractors as the specter looms of an additional $55 billion in automatic defense budget cuts next year, leaving companies looking for new ways to make money.
"Companies that see the Defense Department as a shrinking part of their customer base would like to be able to turn to the export market for some of these products," says Lauren Airey, director of trade facilitation policy at the National Association of Manufacturers.
That is certainly true for Northrop. Drones have been ubiquitous in U.S. efforts against al Qaeda, but Congress recently cleared the way for greater use of them in U.S. airspace. Northrop CEO Bush noted that the U.S. military's dominance over drone technology is rapidly giving way to an open worldwide market: "The U.S. is struggling to sell unmanned aircraft to our allies, while other nations prepare to jump into the marketplace with both feet."
"We have certainly seen this before," Bush said, "with satellites."
Indeed, commercial satellites are the prime exhibits in the export control debate, in part because they're the only item explicitly singled out by federal law for export restrictions. They also provide the clearest illustration of how changes in technology and business clash with the static world of foreign policy and national security.
That's because export control policy, while designed to deal with lofty issues, often boils down to a discussion of lists — long, confusing and often vague government-administered litanies of categories, products and problematic countries, such as Iran and China.
Security Concerns
For American companies, the message from Capitol Hill is that the rules may be antiquated, but unraveling them is simply too risky. The argument is that the very complexity of the modern global economy, where the sources and destinations of goods may be buried behind highly complicated supply chains and complex trading relationships, means it is all but impossible to control where truly sensitive products actually end up.
America's Tech Trade: Boxed In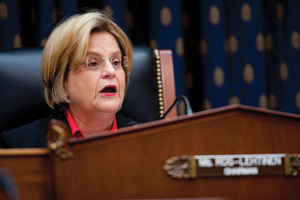 | | |
| --- | --- |
| HOLDING FIRM: Ros-Lehtinen is apprehensive about the need or desirability of the administration-proposed overhaul of export control regulations. (SCOTT J. FERRELL / CQ ROLL CALL) |   |
Congress began the current regime of export controls in 1949, at the start of the Cold War when lawmakers were worried about a hostile Soviet Union and the potential loss of important commodities and technology. But true trade with the Soviet Union didn't amount to much: U.S. exports to the country peaked at $5 billion, and much of that was in grain.
Since export laws underwent their last major rewrite in 1979, the Soviet Union has collapsed, world trade has become much more complex, and the U.S. economy has become intertwined with China's rapidly expanding manufacturing and trading economy. Consensus over how to control technology has been difficult to find. Just as terrorism fears following the Sept. 11 terrorist attacks helped stop export control changes nearly a decade ago, concerns about Iran's nuclear program and China's military intentions now resonate in Congress.
It was a rare event when the Obama administration put forth a plan backed not only by the White House and Secretary of State Hillary Rodham Clinton but also by former Defense Secretary Robert M. Gates and current Pentagon chief Leon E. Panetta — a major change from previous times, when the defense and intelligence communities were wary of relaxing export controls.
Still, the issue of export controls has long exposed a fault line between the GOP's traditional business advocates and national security hawks. Many of the party's hawks, particularly those who control the House Armed Services and Foreign Affairs committees, take a far more suspicious view of the world than does the business community.
In a February hearing, House Foreign Affairs Chairwoman Ileana Ros-Lehtinen said administration plans to relax exports of technology to 36 "friendly" countries may raise the risk that those products would be diverted to third countries with questionable intentions, citing China and Iran in particular. "History has shown that without such safeguards, country exemptions for defense articles are vulnerable to exploitation by gray market brokers, by foreign intelligence entities, by front companies, and even terrorists," said Ros-Lehtinen, a Florida Republican.
That goes for countries normally considered allies, as well. "All of us know that China represents the biggest threat of illicit acquisition of U.S. technology," said one congressional aide. "But Iran is right up there. Several U.S. allies are right up there."
Turf Wars
The bigger barrier to action may be the contrasting interests of Congress and the executive branch.
As with many issues that touch on both economics and national security — just look at trade policy or relations with China — Congress often takes a more hawkish approach, while the White House may be more inclined to look at how to mesh the desires of the business community, the global supply chain and foreign allies.
"The executive branch is under different pressures to try to show progress," said one congressional aide. "We want to be able to do reasonable due diligence on items being removed."
During the Clinton and early Bush years the major issues of contention were supercomputers, and then powerful encryption software. Now it's jet engine technology, satellites and the always-problematic machine tools. At each stage, the executive branch has been able to take unilateral steps to relax controls on specific products. The PowerMac G4, for instance, didn't stay on the list for long.
Now the administration wants to create a single export control list and a single enforcement agency. That move would require congressional approval. In addition to his satellite-specific bill, Berman has introduced legislation to allow the president to carry out such a broad overhaul, and when Democrats controlled both chambers of Congress during the first two years of Obama's term, it appeared he might make progress.
America's Tech Trade: Boxed In
But Ros-Lehtinen has introduced a competing export control bill and expressed skepticism about the administration's wide-ranging effort, saying last year that a "compelling case has not been made for the wholesale restructuring of our current system, especially one that would include the creation of a costly and perhaps unaccountable new federal bureaucracy."
'Kind of Broken Down'
Amid resistance from Republicans, the administration now is scrubbing the control lists, moving items it deems low-risk from the State Department munitions list to the Commerce Department dual-use list, and making the munitions list more specific and easier to navigate.
The review process, which relies on input from a small group of aides and lawmakers on thousands of products, has grown from 30 days to months, thanks to an informal protocol in which the administration seeks congressional views before it actually notifies Congress of its intention to move a product or make an arms sale.
The result is a lengthy, often months-long process of review and consultation. That's true on arms sales, but also on items such as a certain type of aircraft toilet from the munitions list, where it had been added because it was installed on military transports.
"Over 15 years the process has kind of broken down," said the National Foreign Trade Council's Reinsch.
Gen. Martin E. Dempsey, chairman of the Joint Chiefs of Staff, recently urged lawmakers to speed up the process. In a Dec. 9 letter to Republican Speaker John A. Boehner of Ohio and Senate leaders, Dempsey said, "The current notification system impedes our ability to protect, supply and otherwise support our war fighters, allies and partners."
But members of both parties have pushed back. Indeed, the satellite amendment came with new strings attached, dampening the victory for some in the business community. House Republican staff members added language that would tighten notification requirements for moving most products, other than commercial satellites, from one list to another. The proposal raised alarms among business groups, which saw it as a rejection of many of the administration's efforts to update the process.
It was a clear signal that export controls still hit a sensitive spot in Congress, and that is not likely to change.
Trying to get lawmakers to change to the system was "torture," Gejdenson recalled. "It was torture over things that shouldn't have been an issue, things that clearly were not undermining our national security."
That's true whether it's satellites, drones, or technology that now seems quaint and once was on an export control list.
Gejdenson says a company in his Connecticut district, Gerber Scientific, once was prohibited from exporting a digital fabric-cutting device without a license because it contained an Intel 386 microprocessor chip that was on a restricted list.
At the time, he says, "they were selling 386 chips in Radio Shack in Beijing."
America's Tech Trade: Boxed In
FOR FURTHER READING: Defense authorization, p. 1040; China trade issues, 2011 CQ Weekly, p. 2098; export controls after terrorist attacks, 2002 CQ Weekly, p. 3212; Toshiba conflict, 1987 Almanac, p. 663. Berman's bill is HR 3288; Ros-Lehtinen's bill is HR 2122.