CQ WEEKLY – COVER STORY
May 26, 2012 – 10:31 a.m.
Pushing Obama Toward a War?
By Jonathan Broder, CQ Staff
Just a few months ago, the Middle East appeared to be hurtling toward another war because of Iran's nuclear program. Israel, which considers the program an existential threat, let it be known its air force was practicing long-range bombing runs. In response, Tehran threatened to block the entrance to the Persian Gulf, prompting President Obama to dispatch a squadron of stealth bombers to the region. This menacing escalation sent oil prices soaring to $113 per barrel in March, their highest point since 2008.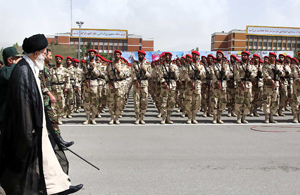 | | |
| --- | --- |
| AT ATTENTION: Iran's Supreme Leader Ayatollah Ali Khamenei attends a military parade of the elite Islamic Revolutionary Guards Corps last week. (SIPA PRESS) |   |
The war jitters have since subsided a bit. Iran, feeling the pain from harsh U.S.-led economic sanctions, agreed to resume negotiations with the United States and five other major powers in April. A second round concluded last week with the two sides still far apart. Still, the diplomatic effort advanced with an agreement to meet again in June and a new openness from Iran on the issue of nuclear inspections.
But as the Obama administration continues to pursue the diplomatic track with Iran, Congress has, in effect, been stoking the tensions in bills, resolutions and rhetoric.
Lawmakers in both chambers have slapped the strictest sanctions yet on Iran. Plus, the House voted to rule out any policy that would try merely to contain an ambiguously defined "nuclear-capable" Iran. More than 75 senators have endorsed a similar resolution. And last week the Senate unanimously passed yet another round of punitive measures and demanded Tehran's complete denuclearization — a concession that Iran experts say is highly unlikely.
The net effect of these actions has been to constrain Obama's options, and make it much harder for him to reciprocate for any concessions that Iran may offer.
"The president cannot weaken the sanctions. He can only use his waiver authority under the law," says Robert Menendez, a senior member of the Senate Foreign Relations Committee and one of the authors of the latest sanctions legislation. "The administration would be in a challenging place if it waives them," the New Jersey Democrat says.
Lawmakers on both sides of the aisle maintain that the president's efforts to resolve the Iranian nuclear issue diplomatically have their best chance of success if they are backed up by crippling sanctions and a credible military threat. Under pressure from both Israel and its supporters in Congress, the administration has adopted this approach, announcing last week it has military plans ready if diplomatic efforts fail to halt the nuclear program.
But at a time when war or peace hangs in the balance, Obama also is looking to provide Iran with a face-saving way to avoid a crisis. It is unclear, however, that there is anything Washington can do to persuade Iran to give up any kind of nuclear ambitions unambiguously. This means that diplomacy already faces enormous obstacles. And by setting the bar for a peaceful settlement at a level that many experts consider unacceptably high for Tehran, Congress risks scuttling the negotiations and backing the United States into yet another Middle East conflict.
It is rare for Congress to go to such lengths to constrain a president's flexibility to conduct foreign policy. But it's even more unusual to watch a hawkish Congress corral a reluctant president toward war. Indeed, perhaps the clearest parallel came 200 years ago, when Congress, enraged by Britain's attacks on American shipping in the Caribbean, pressured President James Madison into the War of 1812 despite his worries about the nation's fledgling Navy.
So, does Congress really want another war, particularly after more than a decade of conflict in Afghanistan and Iraq? And would such a war even end up serving U.S. interests?
Clearly, war is what some Republican foreign policy hawks prefer. Sensing the momentum that their congressional allies now enjoy on this issue, they have upped the ante, saying that diplomacy is bound to fail and that military action should go beyond the destruction of Iran's nuclear facilities and aim for regime change. They are even dusting off some of the same assertions used to promote the 2003 invasion of Iraq to make hostilities against Iran more palatable.
"If we're already in conflict with Iran, why not make part of our goal an attempt to shake up the situation and undermine the stability of the regime?" says Jamie M. Fly, a former counterproliferation adviser to President George W. Bush and now executive director of the Foreign Policy Initiative, a neoconservative advocacy group. "That means not only bombing their defenses, but also going after their command and control, the Revolutionary Guard Corps and Iranian leaders. We should create a situation in which the Iranian people will rise up and eventually change the regime."
Pushing Obama Toward a War?
Such war talk has begun to arouse some nervousness on Capitol Hill. Last week, the House passed a defense authorization bill that included so much saber rattling against Iran that a few concerned lawmakers added an amendment at the last minute to clarify that the tough language does not constitute an authorization of force. But lawmakers overwhelmingly rejected an amendment that would have appointed a special envoy to Iran to pursue diplomatic avenues.
In the Senate, defense hawks temporarily blocked a new sanctions measure precisely because they thought the inclusion of such a disclaimer would weaken the threat they wanted to project. The measure passed only after the threat of military action was added.
Some Republicans also are now speaking up, warning that a U.S. or Israeli strike on Iran's nuclear facilities would carry a huge price tag in terms of lives and treasure. And, they warn, it would be unlikely to succeed in eliminating Iran's nuclear program, which is dispersed in hardened locations and residential neighborhoods around the country. There is also the danger, they say, that an attack could spark a regional conflict that would send oil prices into the stratosphere and throw the United States back into deep economic recession.
Chuck Hagel, a former Republican senator from Nebraska and a respected voice on foreign policy, says what's needed now from all sides is "some creative thinking," not the relentlessly belligerent rhetoric coming from many members of his party, including GOP presidential hopeful and former Massachusetts Gov. Mitt Romney.
"They can hardly wait to say who would bomb Iran first," Hagel recently told the Atlantic Council. "It's just amazing."
All Sticks and No Carrots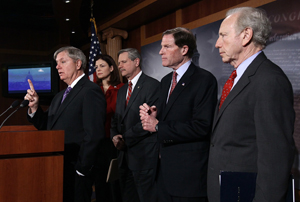 | | |
| --- | --- |
| BIPARTISAN PUSH: Republicans Graham, Kelly Ayotte of New Hampshire and John Hoeven of North Dakota joined with Democrat Richard Blumenthal of Connecticut and Lieberman on a resolution ruling out containment as U.S. policy toward a nuclear-capable Iran. Their measure has a total of 78 cosponsors. (WIN MCNAMEE / GETTY IMAGES) |   |
The exact status of Iran's nuclear program is murky. Tehran claims it's just trying to diversify its energy supply. But by enriching uranium to a near-weapons grade level, the country has fed suspicions that it plans to build nuclear warheads. The U.S. intelligence community's judgment is that the regime has not yet made a decision to build a bomb, and that it would take at least a year for it to do so after issuing the go-ahead. Those findings are disputed by Israel and many on the right, and they have done little to assuage concerns about Tehran's ambitions.
Last year, Republicans and several Democrats pushed for a new round of tougher sanctions on Iran. Obama opposed that effort, which came as an amendment to the fiscal 2012 defense authorization bill. Administration officials maintained that the measure, which targeted Iran's banks and oil exports, would usurp the president's power to conduct foreign policy and upset oil markets, causing fuel prices to rise at a delicate time in the nation's economic recovery.
But the Senate passed the measure in December by a vote of 100-0, leaving Obama little choice but to sign the bill into law. Early this year, administration officials fanned out across the globe to warn Tehran's oil customers that the law effectively compels them to choose between doing business with Iran or the United States.
According to Afshin Molavi, a Middle East oil expert at the New America Foundation think tank, the sanctions have caused serious damage to Iran's economy. The oil and gas industry, the country's principal foreign currency earner, is in severe decline. Iran's biggest customers — China, Japan and South Korea — have cut oil purchases by a combined 30 percent and are looking for oil elsewhere. Iran's rial currency has lost 40 percent of its value since last August, and the Iranian economy will suffer yet another major blow when European Union halts all purchases of Iranian oil by July 1.
Meanwhile, no major bank has been willing to do deals with Iran ever since the United States persuaded the SWIFT interbank messaging system to expel Iran from its service in March. And no major insurance company will provide coverage for Iranian tankers. Lloyd's Register Group, the world's largest assessor of maritime risk with offices in every major port, no longer maintains offices in Iran.
"Clearly, Iran is hurting" and wants the squeeze to end, Molavi says. At the same time, he and other analysts caution that Iran's nuclear program is a point of national pride in the country and that Supreme Leader Ayatollah Ali Khamenei is not about to cave in to all of the West's denuclearization demands. Therefore, they say, it's critical for those trying to negotiate a nuclear deal to provide Iran with a path for a face-saving exit that includes clear incentives.
Pushing Obama Toward a War?
On Capitol Hill, however, the focus is on more economic punishment and war preparations. The version of the fiscal 2013 defense authorization bill the House passed May 18 includes language requiring the Pentagon to begin planning for a war against Iran. The provision directs the Pentagon to provide Congress with a report on military access routes to Iran and authorizes a series of measures to help U.S. forces and allies in the region defend against any possible military response by Iran.
Republican K. Michael Conaway of Texas, the amendment's author, said in a written statement that it "sends a strong message to the Iranian government that we are serious in our demands for them to stand down their nuclear enrichment program."
But the White House said in a Statement of Administration Policy that it "strongly objects" to the provisions because they "infringe upon the president's prerogative to plan for military activities" and "micromanage the president's decisions as commander in chief regarding the deployment of U.S. forces."
Containment Ruled Out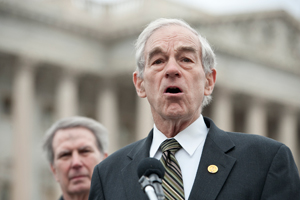 | | |
| --- | --- |
| GO SLOW: Jones and Ron Paul backed a measure saying that Congress is not yet authorizing force in Iran. (BILL CLARK / CQ ROLL CALL) |   |
The bellicose tone of the Iran provisions was so worrying to Republicans Ron Paul of Texas and Walter B. Jones of North Carolina that they felt it necessary to add their names to an amendment stating the bill could not be considered an authorization to use force against Iran. That amendment, written by Michigan Democrat John Conyers Jr., passed, but largely because lawmakers wanted to assert their constitutional war powers after Obama went to war in Libya last year without congressional authorization, aides said.
The House also voted overwhelmingly to adopt a resolution that rules out any policy that would contain a "nuclear-capable Iran." Ileana Ros-Lehtinen, the Florida Republican who chairs the House Foreign Affairs Committee, reflected GOP distrust of the administration's continued diplomacy with Tehran. "I am deeply concerned that the administration's foolish embrace of yet another round of negotiations will only embolden the regime," she said during a May 17 hearing.
In the Senate, a similar resolution, which was reintroduced last week, has amassed more than 75 cosponsors. And last week, the chamber passed by voice vote another punitive measure that would extend sanctions on Iran's oil sector to cover dealings with the National Iranian Oil Co. and National Iranian Tanker Co. The sanctions would close a potential loophole that could have allowed Tehran to continue selling some of its petroleum using its own fleet.
In addition, the sanctions would target human rights violators and companies that help Iran engage in censorship and jam satellite communications.
The White House has not commented formally on the Senate measure, but an administration official said congressional action against Iran "must be precise and informed by the totality of our sanctions efforts so as to be complementary" with Obama's strategy.
It is telling that the Senate measure had been held up because foreign policy hawks didn't consider it tough enough. In a last-minute wrinkle last week, at the behest of tea party Republican Rand Paul of Kentucky, language was added to say that the measure could not serve as an authorization to use military force against Iran.
But South Carolina Republican Lindsey Graham and Connecticut independent Joseph I. Lieberman protested that such language would dilute the threat of a military action. The bill passed only after language was added saying that all options remained on the table to prevent Iran from reaching "nuclear capability."
Even with the measure's strengthened language, Graham does not see Iran changing its nuclear program. "I am very dubious that sanctions will result in changing Iranian behavior, but hope always springs eternal," Graham said in a written statement. "With this belief in mind, it will be up to the Iranian regime at the end of the day to determine how this issue is resolved. If there is to be war with Iran this summer or fall, it will be because of their actions and their choosing."
Pushing Obama Toward a War?
Critics of Graham and other congressional hard-liners point out that by using the phrase "nuclear capability" as a red line — rather than hewing more closely to Obama's pledge in March to prevent Iran from obtaining a nuclear weapon — these lawmakers have significantly lowered the threshold for military action.
"What is a nuclear weapons capability?" says Colin Kahl, who served as a deputy assistant secretary of Defense for the Middle East until last year. "I don't know, and neither do the Israelis or those in Congress who have put 'nuclear weapons capability' in legislation and resolutions, calling it a red line."
Kahl, now an international security specialist at Georgetown University, points out that as far back as the 1990s, Israel declared that Iran could be considered "nuclear capable" when its scientists had mastered the fuel cycle sufficiently to enrich uranium on their own. Western intelligence agencies agree Iran achieved that capability by 2002.
Kahl says Obama's threat of military action to prevent Iran from obtaining a nuclear weapon is the more realistic red line. "If we rush too quickly to the military option, the perception will be that we're doing the same thing we did in 2002, paying lip service to diplomacy but just checking the boxes before we go to war," Kahl said, referring to the run-up to the Iraq invasion under Bush.
"We have to let the diplomatic process play out," he said. "If it fails, it will be clear that it failed because of Iran, and we'll be in a better position to build a coalition against Iran."
An Offer Iran Can't Refuse
Effective diplomacy will require not only time — the administration hopes to push tough decisions off until after the November election — but also gestures from the United States, European Union, Russia and China that Iran will find hard to refuse.
"We also have to put an offer on the table that is credible," says Dennis Ross, who advised five of the past six administrations on Middle Eastern issues, including a posting on Obama's National Security Council staff. He continues to provide informal guidance to the president as counselor at the Washington Institute for Near East Policy, a pro-Israel think tank.
Obama has said that the negotiations with Iran will be based on the principle of step-by-step reciprocity. Ross adds that deals reached in the negotiations must be politically defensible back home. "Any agreement will have to pass muster on the Hill," he says.
But any kind of reciprocal deal on Iran will be a tough sell in Congress. That's because it will have to assuage Republicans who don't want to see Obama score a major foreign policy success in an election year; Democrats who are taking their cues on this issue not from the White House but from the American Israel Public Affairs Committee, the pro-Israel lobby; and hard-liners from both parties who dismiss the value of the current negotiations altogether.
"I am not optimistic about the possible result of these 'talks,'" Arizona's John McCain, the ranking Republican on the Senate Armed Services Committee, said earlier this month. "The first round was greeted with great enthusiasm because they agreed to talk again. I've seen that movie before."
As a result, lawmakers are insisting on a maximum set of demands. They say the Iranians must stop all uranium enrichment activities; turn over the approximately 100 kilograms of 20 percent-enriched uranium they have produced; and dismantle the hardened Fordow enrichment facility, located some 200 feet below a mountainside near the city of Qom, southwest of Tehran.
Pushing Obama Toward a War?
They're also demanding Iran allow intrusive inspections by the U.N. International Atomic Energy Agency to verify that these measures have been taken. Administration officials have said they might be willing to allow Iran to continue enriching uranium to up to 5 percent for civilian power.
It's still not clear what Iran would be willing to give, but in return for a suspension of 20 percent enrichment, Tehran is asking for a suspension of key sanctions, including the looming EU oil embargo and both EU and U.S. sanctions against Iran's central bank. Tehran also has indicated it will seek recognition of its right to enrich uranium as a signatory to the nuclear Non-Proliferation Treaty.
Diplomats believe they are witnessing the beginning of a lengthy diplomatic process in which Tehran might agree to discuss stopping its production of 20 percent enriched uranium and giving up part of the stockpile. At a second round of talks in Baghdad last week, the group made up of the five permanent members of the U.N. Security Council — the United States, Russia, China, Britain and France — along with Germany, presented a detailed proposal of confidence-building measures aimed at stopping Iran from enriching near-bomb-grade enriched uranium.
In separate talks last week, Iran agreed in principle to allow inspectors access to a military base, where suspected tests on a nuclear trigger may have taken place. In return for these Iranian concessions, Western powers may offer to sell spare parts for civilian aircraft and hint at a willingness to ease some sanctions.
But even such small gestures as part of a step-by-step negotiation could upset Congress, whose sanctions include an embargo on aircraft parts.
"Reciprocity? I don't know what we would reciprocate with, to be honest with you," Menendez says. "What I worry about in a step-by-step reciprocity is how much we get for what they're giving. One thing the Iranians have to know is that this isn't about buying time. That's why the sanctions will intensify. So the sooner we come to an agreement, the better off everyone is going to be."
Further restricting Obama's room to maneuver are the conditions that the December sanctions law placed on the president's use of a national security waiver. The law states that the president can issue waivers, but he must report to Congress every 30 days to explain them — an unusually high hurdle and a political minefield during an election.
"It's going to be very difficult to make nice with Iran or be seen to be making nice, especially between now and the first Tuesday in November," says Paul Pillar, a former senior Middle East analyst at the CIA. "So between now and elections, the administration is going to start feeling itself in a squeeze between being able to talk about enough progress being made on the diplomatic front versus doing anything with regard to walking back sanctions."
Pillar, now a professor at Georgetown University, adds: "The next six months are going to seem like six years to the administration."
'Diplomacy Won't Work'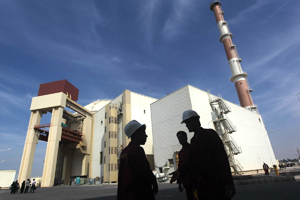 | | |
| --- | --- |
| CIVILIAN POWER: Iran insists its nuclear program is for peaceful purposes only, but many in the West suspect that the country harbors ambitions of developing nuclear weapons. (MAJID ASGARIPOUR / AFP / GETTY IMAGES) |   |
Among foreign policy hawks on and off Capitol Hill, there is not much confidence that diplomacy will succeed in eliminating Iran's nuclear program. Indeed, their biggest concern is that the two sides will reach some form of an interim agreement that will leave enough of Iran's nuclear program intact to develop a weapon down the line, if it chooses to do so, as negotiations for a comprehensive agreement drag on.
"Diplomacy won't work," predicts the Foreign Policy Initiative's Fly, noting that the gestures that the major powers may offer Iran have been proposed — and rejected — by Tehran in the past. "My fear is we're setting ourselves up for containment, whether we know it or not."
Pushing Obama Toward a War?
Echoing official Israeli assessments, Fly says the administration should know by this summer whether diplomacy has succeeded or failed to resolve the issue of Iran's nuclear program. Assuming failure, he says the administration should give Israel a green light to attack Iran and then unsheathe the U.S. military to achieve a far more ambitious goal.
"We need to take a broader look at this regime," he says. "It's not just the nuclear facilities at Natanz and Qom that should concern us. This is a regime that has killed a lot of American soldiers in Iraq and Afghanistan. We need to think about a fundamental shift to a regime-change policy and a very robust military option to achieve that."
While such talk is popular among congressional hawks such as Graham and Ros-Lehtinen, military officers and Iran scholars say that the hawks are underestimating the military and political challenges of a military strike. Pentagon war games have cast doubt on the notion that the U.S. military — let alone Israel's air force — would be able to find and destroy the bulk of Iran's nuclear program. And there would likely be very painful aftershocks from an Israeli strike.
Gary Sick, an Iran specialist on the National Security Council during the Ford, Carter and Reagan administrations, predicts that the U.N. Security Council would quickly convene to pass a resolution condemning the strike. A U.S. veto would confirm suspicions of American complicity, while European support for the resolution would signal the beginning of the collapse of the sanctions coalition against Iran, Sick stipulates in an analysis of the immediate aftermath of such an attack.
Sick, now an international affairs scholar at Columbia University, adds that Iran "almost certainly" would notify the International Atomic Energy Agency, the U.N. nuclear watchdog, that it was quitting the Non-Proliferation Treaty. All enriched uranium stocks then would be removed from under IAEA seal, all monitoring cameras would be removed and all IAEA inspections would end. After having suffered a military strike by a state with nuclear weapons, Iranian leaders would make it clear that the right of self-defense permitted them to develop a nuclear option.
In addition, he says, markets would react to the 2 million barrels a day of Iranian oil that hostilities would remove from the world market, while subsequent attacks on oil pipelines in Iraq by pro-Iranian militias could remove another million barrels per day. With Iranian-inspired sabotage and cyberattacks on control systems causing additional disruptions to Arab oil ports in the Persian Gulf, energy prices would skyrocket, tipping vulnerable economies into bankruptcy and clobbering the United States just as it was emerging from recession.
"This is Iran's true weapon of mass destruction," Sick wrote in an analysis for an online forum he runs.
Meanwhile, Hezbollah, the Iranian-backed militia in Lebanon, could be expected to respond to an Israeli airstrike on its patron with missile barrages against targets in the Jewish state, says Col. David Des Roches, a Middle East expert at the National Defense University in Washington. The Obama administration would find it difficult to resist congressional pressure to come to Israel's defense, especially in an election year.
But Des Roches says the only way that Iran's nuclear program could be truly eliminated would be by an occupying military presence on the ground and regime change. Sick notes that a war-weary American public is unlikely to support a war against Iran that would likely cost more than either of the conflicts in Iraq and Afghanistan, given Iran's significant military capability. "That could promote a public debate about the extent of U.S. and Israeli common interests," Sick wrote.
Such sobering scenarios have caused some to take a closer look at the option of containing Iran. Georgetown's Pillar argues that, contrary to Israeli and congressional claims, Iran's leaders are not suicidal and would not launch a nuclear attack against Israel for fear of Israeli and U.S. retaliatory strikes that would devastate the country and topple their regime. He is also skeptical of the concern that an Iranian bomb would ignite a nuclear arms race among Turkey, Saudi Arabia and Egypt.
"As a member of NATO, Turkey is already under the U.S. nuclear umbrella," Pillar says. "Saudi Arabia is more likely to ask for protection under either the U.S. or Pakistani nuclear umbrellas, and Egypt is broke. It can't afford a bomb."
He also dismisses concerns that a nuclear Iran would give a bomb to a terrorist organization. For years, he notes, Iran has had chemical and biological weapons in its arsenal, yet it has never given them to its terrorist proxies, Hezbollah or Hamas, to use against Israel, again out of fear of Israeli retaliation.
And as for the claim that an Iranian bomb would embolden Hezbollah and Hamas, Pillar says such caveats suggests Iran would threaten to escalate an issue — perhaps another small war between Israel and Hezbollah, to the level of nuclear war involving Iran itself. "That gets back to the earlier point that the Iranians are not suicidal," he says.
Pushing Obama Toward a War?
"What passes for an argument for why Iran shouldn't get nuclear weapons is that the Iranians don't think like you and I think; they aren't rational; they cannot be deterred; and, therefore, all that Cold War stuff about deterrence doesn't apply," Pillar says.
"The problem with that view of Iranian behavior is that it simply doesn't conform with the record of the Islamic Republican for over three decades," he continues. "And that is a record that demonstrates that the overwhelming priority of that regime is to preserve itself and its power in this life, not in some afterlife that a religious ideology predicates."
Indeed, former Republican Sen. John W. Warner of Virginia, who chaired the Senate Armed Services Committee, says that a speech he gave back in 2006 about the need to contain Iran is as valid today as it was back then.
"It is still incumbent upon NATO to put a ring of deterrence around Iran," Warner says. "Contrary to what you may be hearing from some of my former colleagues, deterrence is a proven diplomatic approach."
Emily Cadei, Niels Lesniewski and Frank Oliveri contributed to this story.
FOR FURTHER READING: New Iran sanctions bill (HR 1905), CQ Weekly, p. 1044; House fiscal 2013 defense authorization (HR 4310), p. 1040; fiscal 2012 defense authorization (PL 112-81), p. 31. House-passed Iran containment resolution is H Res 568.