CQ WEEKLY – IN FOCUS
June 2, 2012 – 2:16 p.m.
Oceans Plan Meets Wave of GOP Resistance
By Lauren Gardner, CQ Staff
On its face, the Obama administration's plan to begin implementing its National Ocean Policy looks like something even the president's most ardent opponents might like. The objective sounds innocuous enough: safeguard the oceans and Great Lakes while encouraging sustainable development of offshore resources. The plan aims to achieve that goal by coordinating the many federal agencies that enforce the 140 laws affecting the oceans, coastlines and Great Lakes and by streamlining the process for granting various permits.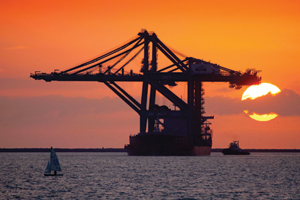 | | |
| --- | --- |
| CHANGING TIDES: A recreational boater passes a ship delivering industrial cranes to Los Angeles. (TIM RUE / BLOOMBERG NEWS) |   |
But President Obama's critics in Congress are suspicious about the plan — and are aggressively moving to block it. House Natural Resources Chairman Doc Hastings, a Washington Republican, fears the blueprint will usher in ocean "zoning." Texas Republican Bill Flores succeeded in attaching a rider to the fiscal 2013 Commerce-Justice-Science appropriations bill that would bar any expenditures to implement the ocean policy, and Hastings vows to press for similar language in every spending bill that comes to the House floor.
The opposition reflects concerns by many of the industries that make a living in the coastal waters — including oil and natural gas producers, commercial fishermen and seafood processors, boat owners and operators, shippers, and sports fishermen. An industry-backed group called the National Ocean Policy Coalition backs efforts to delay the policy through appropriations riders, saying that "further policy development and implementation should be suspended until Congress, user groups, and the public have been fully engaged and all potential impacts have been assessed and are understood."
Critics worry that the administration will pay for its initiative by siphoning money from programs that lawmakers intended to fund, and they complain that the White House is moving forward without congressional authorization. Some lawmakers predict the plan, which is expected to be put in final form this summer, will inevitably lead to new regulations that further burden business activities including offshore drilling, wind power, commercial and recreational fishing, deep-sea fish farming, and boating.
Spearheading support for an ocean policy are environmental groups such as Oceana, the Ocean Conservancy and the Pew Environmental Group — a roster that invites the suspicions of industry groups.
Even the co-chairmen of the Senate Oceans Caucus are divided. Rhode Island Democrat Sheldon Whitehouse calls the proposal a "very pro-business and very sensible means for rationally sorting out conflicting uses in a really important resource." But Alaska Republican Lisa Murkowski says flatly: "I don't like it."
"They've got an idea that sounds nice on paper, establishes all kinds of different programs," she says. "And again, we've had no sense of funding or real direction."
Coordinating Regulations
The National Ocean Policy stems from recommendations by an interagency task force led by senior federal agency officials that Obama created in 2009. The president issued an executive order in July 2010 adopting the task force recommendations and followed up in January with the implementation plan.
Administration officials and conservation groups say a national framework is needed to coordinate the plethora of existing regulations and allow for the different priorities of various regions. They argue that the plan does not modify or create any regulations, nor does it change existing law.
"The current system is a labyrinth of jurisdictional boundaries, where legal challenges are often the only tool to settle conflicts between user groups," Terry Gibson, a long-time editor with publications serving outdoor enthusiasts, testified in March at a House Natural Resources subcommittee hearing.
He contended that the new policy would "finally place the management decisions closer to those who are impacted."
Oceans Plan Meets Wave of GOP Resistance
The plan is based on a set of priorities, which include ecosystem-based management, planning for the various offshore activities, better coordination among different levels of government and adapting to the effects of global warming and ocean acidification. Objectives include collecting the most reliable ocean science and data and bolstering regional partnerships on ocean planning efforts.
Separating implementation of the new policy from carrying out existing activities is impossible because the central purpose of the plan is to synchronize ongoing work at various agencies, says an Obama administration official familiar with the policy who would talk only on condition of anonymity. The National Ocean Council, which was established by the executive order, expects agencies to work the implementation plan into their existing budgets. "The ocean policy does not and is not meant to detract from existing funding commitments or directives," the official says. "It helps to better focus existing, limited resources."
The president's fiscal 2013 Commerce Department budget requested a $161 million funding boost for the National Oceanic and Atmospheric Administration, so the agency could "accelerate" implementation of the policy. But no overall appropriations line item exists for the oceans framework, and the Commerce budget description makes no mention of it at all.
While the administration emphasizes features in the policy that would cut through overlapping and sometimes conflicting permit reviews, critics say the White House has contradicted itself on whether the policy would give rise to new regulations.
Brent Greenfield, executive director of the National Ocean Policy Coalition, points to a line in the interagency task force's recommendations that says "effective implementation" would "require clear and easily understood requirements and regulations, where appropriate, that include enforcement as a critical component."
The coalition is an umbrella group representing interests that include large oil companies worried about restrictions on offshore drilling, such as Exxon Mobil Corp. and Chevron Corp., as well as agriculture, boating, fishing, home building and transportation groups.
Greenfield says his group's biggest concern is that the administration is charging ahead with little consideration about the potential effects on business. The coalition has lobbied for a pause to evaluate the effects carefully and to "make sure that what comes out of this is something that's going to be helpful and not harmful."
Coastal 'Zoning'
The policy priority that most alarms skeptics of the plan is the recommendation to employ a planning scheme that would use science and mapping tools to identify areas offshore where economic and recreational interests could coexist without causing conflict.
The goal is to reverse the past management style of planning activities in the oceans for one industry independent of another, which can lead to delays in permits. Coastal and marine spatial planning would help provide baseline information about such things as existing commercial and recreational activities in an area and the topography of the ocean floor to help guide smarter business decisions, says Emily Woglom, director of government relations at the Ocean Conservancy. "It's about making the current system work better, not creating a new system," she says.
But Hastings says coastal and marine spatial planning is a glorified term for ocean "zoning" that would let government carve out areas for specific uses while precluding other activities.
Other critics say the fairness of coastal and marine planning depends on how it is implemented. During testimony in March to a House subcommittee, Gary Zurn, part owner of a North Carolina-based marine and fishing products wholesaler and an American Sportfishing Association board member, contrasted coastal planning efforts already undertaken by Massachusetts and California. While he said the Massachusetts program "gave special recognition to fishing and essentially prohibited these activities from being further regulated," he also testified that California "ignored the recreational fishing community and has closed many of the state's prime fishing areas."
The task force recommendations never mentioned zoning as a goal or possible outcome of the regional groups that would implement coastal and marine planning. Instead, marine conservationist Tundi Agardy notes in her 2010 book on ocean zoning, "the term 'marine spatial planning' appears 20 times in the framework document, and the steps in the marine spatial process are essentially the same as those for developing ocean zoning plans." Agardy is a science adviser to the Joint Ocean Commission Initiative, which was founded to help overhaul ocean policy based on recommendations made by two blue-ribbon panels in 2003 and 2004.
Oceans Plan Meets Wave of GOP Resistance
Opposition to the president's oceans policy is gaining steam among congressional Republicans, but Hastings insists it is not because they don't care about protecting the oceans.
"The concern I have with this is: This was done by executive order — no elected people were involved in making this; the makeup of the organization is all appointed by the executive branch — there's no input whatsoever from Congress," he says. "And they're directing federal agencies that have some sort of jurisdiction on the oceans to change, potentially change, the way they do things based on this top-down model."
FOR FURTHER READING: Appropriations riders, CQ Weekly, p. 868; House approves oceans ecosystem plan, 2008 CQ Weekly, p. 1121.