CQ WEEKLY
June 2, 2012 – 2:42 p.m.
Political Economy: Facing Up to Risks
By John Cranford, CQ Columnist
No doubt about it: Somebody got snookered when Facebook Inc. priced its initial public offering at $38 a share two weeks ago. The stock closed last week well below $28, down 27 percent over 10 days of trading.
Much has already been written about the Facebook fumble (or fiasco, as some would have it), and more will be written as the Securities and Exchange Commission pores over the regulatory filings and decides whether someone misled someone else about the company's potential viability.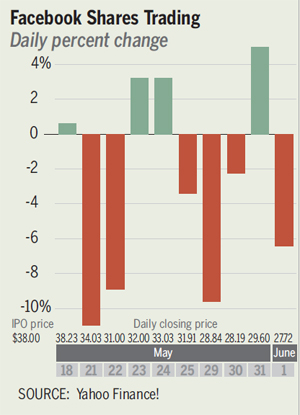 | | |
| --- | --- |
| (TED BENESN/ CQ ROLL CALL) |   |
Facebook was plainly trying to talk down its revenue projections in the days immediately before the stock offering, and that might mitigate claims of false promises. And from a legal and regulatory standpoint, this will all sort out in due course.
What will be left in the end, though, is a big question about whether IPOs are as transparent and fair as they should be — and whether lawmakers from both parties ought to look more closely at this most-favored method of capital formation.
One thing is clear in the immediate aftermath of the Facebook deal: The marketplace quickly concluded that the social media giant, which produces very little that is tangible, is worth a good deal less than its lead underwriter, Morgan Stanley, had proposed.
The fact that many investors bailed out of this stock is — perhaps counterintuitively — evidence that the system worked, if imperfectly. Facebook shares jumped at the opening bell on the first day of trading, but fell back quickly and closed a bare 23 cents above the IPO price at the end of the day. The real slump began on Day Two, when the price fell 11 percent — proof that the great unwashed public was rightly skeptical of Facebook's fugacious allure.
Somebody had a clue, perhaps just not the folks who snatched up the IPO shares.
That, of course, gets to the heart of the matter. Washington (along with Silicon Valley and Greenwich and other places flush with money) loves IPOs as the means to financing new and expanding companies. There are other and plausibly better ways to raise capital — particularly for risky ventures.
But because IPOs are a way to sell shares to the public, they have a special place in the constellation of available capital. They commonly offer what is perceived to be a sort of double benefit (if one that some critics still see as inherently unfair). IPOs favor the investor class, which gets to reap profits from the immediate bounce that tends to greet initial offerings. At the same time, IPOs give ordinary folks the chance to get in on a good opportunity — if not on the ground floor, then maybe on the mezzanine.
Not This Time
The Facebook example is ample proof that these goals aren't always achieved. Some people (other than Mark Zuckerberg) assuredly made money in early share trading. But perhaps not that many. Almost 574 million shares changed hands the first day — well in excess of the 421 million available — which means many shares were bought and sold more than once. And the first-day bounce was very short-lived.
Reports also suggest that expectant short sellers were caught holding stakes that they had hoped not to have, which means that many of them took losses unwinding positions as the days passed.
Political Economy: Facing Up to Risks
All this casts doubt on the infatuation that lawmakers have with IPOs. Earlier this year, Congress took steps to make it easier and cheaper for smaller enterprises to use IPOs as way to finance their expansion. Endorsed by President Obama, introduced in the House with 34 Republicans and 20 Democrats as sponsors, passed overwhelmingly with 380 "yea" votes in the House and 73 in the Senate, the measure was a rare example of bipartisan agreement over how to address the vexing problem of promoting job growth.
But the JOBS Act (as it is called, for Jumpstart Our Business Startups) was viewed by its critics as an open door for abuse. Easier and cheaper IPOs translated into looser rules governing the information that must be given to potential investors.
These rules changes mostly apply to smaller, little-known enterprises. If anything, however, it might be argued that those are the sorts of potential investments where the likelihood of confusing or even misleading shareholders is highest. Potential investors have many more ways to find out the reality of a highly visible company such as Facebook.
Last week, Rhode Island Democratic Sen. Jack Reed warned that investors are unlikely to shrug off worries that initial offerings are a big gamble. "A dysfunctional IPO market can harm our economy," said Reed, who is also a critic of the JOBS Act. "We need to ensure the system is fair, balanced and works for everyone."
Congress is apt to hold hearings about the Facebook deal in the coming months. That doesn't guarantee that the right questions will be asked, or that the right answers will be found. But the steadily dropping Facebook share price — and the number of IPOs that recently have been shelved — suggest that the public is increasingly skeptical about this means of raising capital.