CQ WEEKLY – IN FOCUS
June 9, 2012 – 1:13 p.m.
Solar Tariffs: A Weapon That Cuts Both Ways
By Joseph J. Schatz, CQ Staff
As the senior senator from Oregon, a hub of manufacturing for the solar energy industry, Ron Wyden was happy with the Commerce Department's decision last month to slap a 31 percent tariff on imports of cheap Chinese photovoltaic solar panels.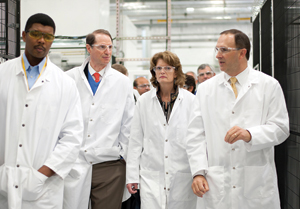 | | |
| --- | --- |
| HOMEMADE: Wyden and Alaska GOP Sen. Lisa Murkowski tour the SolarWorld manufacturing facility in Hillsboro, Ore. (FRED JOE / SOLARWORLD) |   |
It was the latest election year salvo from an administration eager to show it's helping U.S. manufacturers get a fair shake when competing against China.
Wyden, a Democrat whose state is home to the U.S. subsidiary of German solar giant SolarWorld, led the charge for the tariffs. He says the penalties are not protectionism, but a simple case of making sure that countries play by the established rules of the global trading system. Without tariffs to deter dumping of goods at below-market rates, he says, there would be "less choice, less competition, and then [the Chinese] can raise prices wherever they want." With tariffs, he says, "all sides win."
But all sides do not feel like they're winning. Other parts of the booming solar industry rely on imports from China, the world's fastest growing maker of solar equipment, and many of them have criticized the administration's tariff decision. Businesses that have been buying and installing the imports lose as prices stay high. And the Obama administration's goal of increasing electric power from renewable- energy sources suffers as well when solar panels are expensive.
Although using tariffs to help U.S. manufacturers — whether it's solar or wind energy, tires, steel or furniture — is an easy applause line for politicians, it's far from clear that it actually helps the economy. And it might hurt. Complicated political and economic calculations come into play whenever it comes to using tariffs, that age-old economic weapon, to combat the export juggernaut from China and other foreign competitors.
Wyden, who chairs the Finance subcommittee on trade and is next in line to chair the Energy and Natural Resources Committee, hears arguments from both sides about the tariff. Companies that install solar power systems "have not been shy," Wyden said. "Their argument is that it'll cost jobs."
The solar-panel issue is particularly complicated, given that it's not just a battle over U.S. manufacturing companies, but also over energy and environmental policy and how best to take on China's unique brand of state-sponsored capitalism.
"What these moves do signify is high-level (and high-stakes) signaling taking place between China and its major trade partners — not just the U.S., but Europe and Japan, as well," wrote Patrick Chovanec, an associate professor at Tsinghua University's School of Economics and Management in Beijing and a former aide to House Speaker John A. Boehner, in a recent blog post.
Economics, Politics Intersect
The plummeting cost of solar technology has hit U.S.-based manufacturers hard, forcing several companies into bankruptcy. China has ramped up its production, creating a worldwide glut. Against that backdrop, SolarWorld and a handful of smaller companies went to the U.S. government last year for relief. The Commerce anti-dumping decision came on the heels of a March decision to levy much smaller countervailing duties, which require the more difficult step of proving that the Chinese government provided companies with illegal subsidies.
One state central to the solar supply chain is Ohio, a presidential battleground. Protecting U.S.-based solar plants from Chinese competition could help Ohio workers, but it could also result in fewer consumers buying and installing what would be more expensive solar panels, and they would set back a renewable-energy goal of both President Obama and his predecessor, George W. Bush. That's also true of a growing dispute over wind turbine tower imports from China, on which Commerce imposed tariffs in May after determining that Chinese manufacturers got illegal subsidies.
Solar Tariffs: A Weapon That Cuts Both Ways
Many companies that do business with China, led by the U.S.-China Business Council, have warned that the case might spark a trade war with Beijing, which recently asked the World Trade Organization to investigate the U.S. government's own incentives to promote "green energy.
Interests that promote Chinese trade point to the less-than-conclusive economics of tariffs, and cite the case of tires. After pledging to get tough with foreign competitors during the 2008 presidential campaign, Obama in 2009 made cheap Chinese tire imports his first target, imposing tariffs and helping to save some manufacturing jobs. In his State of the Union address earlier this year, Obama declared that his administration's decision saved more than 1,000 American jobs.
The U.S.-China Business Council counters that while tire imports from China declined, they have increased from other countries.
Gary Clyde Hufbauer and Sean Lowry, scholars at the Peterson Institute for International Economics, a Washington think tank, agree that U.S. tire makers benefited from the tariffs, and manufacturing jobs were saved. But each of those jobs cost American consumers about $900,000, Hufbauer and Lowry say in a recent analysis. That's because the tariffs increased the price of tires, on average, for the U.S. retailers, automakers and average consumers.
According to their data, imports of Chinese light truck radial tires, for example, dropped by 39 percent in just one quarter, from 1.6 million to 643,000. However, in the same period tire imports from other countries rose by 26 percent, from 3 million to 3.7 million.
"The big winners" from the 2009 tariffs, Hufbauer and Lowry wrote, "were alternative foreign exporters, primarily located in Asia and Mexico, selling low-end tires to the United States."
Furniture is another case in point. After imports of Chinese wooden furniture jumped by 148 percent from 2001 to 2003, helping to shutter 65 American furniture factories, the Bush administration charged that China was unfairly dumping its products on U.S. soil and imposed duties. The tariffs helped slow the surge of imports and were extended in 2010.
But the U.S. furniture industry kept declining even after the tariffs were imposed, coinciding with a jump in furniture imports from Vietnam, where some Chinese furniture-makers relocated their businesses.
"The real benefits from this order have gone to the workers in Vietnam whose shipments have displaced the imports from China," said William Silverman, of Drinker Biddle & Reath LLP, at a 2010 International Trade Commission hearing on the issue.
Behind the Scenes
By design, tariff decisions are made by the Commerce Department and its International Trade Commission, not by elected officials. But those elected officials can make their views known at ITC hearings, and seldom hesitate to urge the administration to take up cases.
Moreover, it's difficult to find a member of Congress who doesn't want to enforce U.S. trade laws to the fullest, particularly when it comes to China. That much was clear earlier this year when Congress moved to, in effect, overturn a federal appeals court decision that limited the Commerce Department's longstanding ability to levy countervailing duties, which are intended to offset the benefits of illegal subsidies, on products from "non-market economies." At the request of the Obama administration, the House quickly passed legislation to ensure Commerce's tariff abilities, on a 370-39 vote, and the Senate acquiesced by voice vote.
And members of Congress are quick to cheer efforts to ensure that U.S. companies are playing on a level field — particularly when they don't actually have to take a stand because the administration is ultimately responsible for tariffs. Indeed, the White House also can use tough enforcement to hold lawmakers at bay on more sensitive issues, such as China's currency practices, and to build support in Congress for trade liberalization measures.
Solar Tariffs: A Weapon That Cuts Both Ways
That was true in 2002, when Bush, who fashioned himself an ardent free-trader, decided to impose tariffs on imported steel products — a move sought by steel manufacturers in crucial swing states such as Pennsylvania. Big automotive and machinery companies, however, fought for exemptions that allowed them to continue to import steel cheaply, arguing that struggling U.S. manufacturers cannot always fill orders on time.
Civil War
Whether it's an old industry like steel, or a cutting-edge business making crystalline silicone photovoltaic solar panels, tariff debates almost always feature winners and losers affecting different segments of industries differently.
Throughout the 1980s, lobbyists for auto dealers who profited from selling inexpensive imports opposed efforts by U.S. automakers to persuade Congress and the White House to levy tariffs on Japanese cars.
The tension is perhaps even more acute in today's economy, where sophisticated global supply chains allow companies to switch their sourcing quickly and enable suppliers to jump from country to country.
The current debate pits U.S. solar panel manufacturers against importers, project developers, installers, contractors and foreign producers who account for the large majority of jobs in the solar industry. Hufbauer and Lowry of the Peterson Institute maintain that the solar case is evidence that so-called downstream users of imports should be given standing to make their case in ITC hearings. There also are companies that export manufacturing equipment and polysilicon to China, and they fear retaliation by the Chinese, said Melanie Hart and Kate Gordon at the Center for American Progress, a liberal think tank that supports the solar tariffs.
Of course, all elements of the solar industry have benefited from more direct federal and state assistance in the United States, including grants and tax incentives. But China's assistance is much more opaque, and harder for trade authorities to deal with when it comes to resolving trade disputes.
Commerce will revisit the tariffs in the autumn. Installation companies have been particularly adamant in their opposition, working through the Coalition for Affordable Solar Energy. But don't count on a reversal.
At the end of the day, the argument for tariffs is often easier to make than the more complicated case against them. "I will not stand by," Obama said in January, "when our competitors don't play by the rules."
FOR FURTHER READING: Congressional action on tariff ruling, CQ Weekly, p. 294; U.S.-China trade politics, p. 290; beyond the China currency fight, 2011 CQ Weekly, p. 2098; International Trade Commission rulings on China, 2009 CQ Weekly, p. 2643.