CQ WEEKLY – IN FOCUS
June 9, 2012 – 12:43 p.m.
On Syria, Looking For a Plan of Action
By Emily Cadei, CQ Staff
Months of harsh condemnation from around the world for the violent suppression of his political opponents appear to have done little to dent the bravado of Syrian strongman Bashar al-Assad. "Today we are defending a cause and a country," the Syrian president told his hand-picked Parliament last week. "We do not do this because we like blood. A battle has been forced on us, and the result is this bloodshed that we are seeing."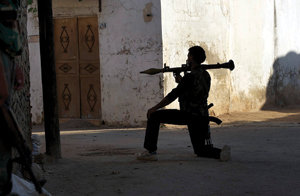 | | |
| --- | --- |
| TAKING AIM: Syrian rebels have continued their monthslong fight against the Assad's regime, despite the goverment's ferocious assaults on towns and villages that are sympathetic to the opposition. (AUSTIN TICE / MCT / NEWSCOM) |   |
Assad's critics have grown more vocal in the wake of a series of horrific massacres in recent weeks, but their talk hasn't been followed by action. Meetings on Syria in Washington and Istanbul last week wrapped up with no apparent progress. Instead, Western leaders continue to cling to a peace plan laid out by U.N. envoy Kofi Annan and are looking to Russia to persuade its allies in Damascus to accept some kind of political transition. Those prospects dimmed further last week after Russia and China declared they're "decisively against" regime change in Syria.
The diplomatic dead end has left Congress anxious to find other options to blunt Assad's brutal campaign, which has claimed an estimated 10,000 lives. "How many more have to die?" Arizona GOP Sen. John McCain fumed on the Senate floor last week. "How many more young women have to be raped, how many more young Syrians are going to be tortured and killed? How many more? How many more before we will act?"
But most members are far more cautious. Few are ready to endorse McCain's call to supply weapons to the motley assortment of anti-Assad forces, let alone launch some kind of military operation. Instead, the nascent, but growing, consensus is that the United States should work with NATO ally Turkey to create safe zones for the Syrian opposition. The Obama administration also needs to be more proactive, they say, in coordinating with countries to tighten the sanctions regimen on Assad and his cronies
That puts Congress somewhere between the White House and presumed GOP presidential nominee Mitt Romney, who declared last month that it's time for the United States "to work with partners to arm the opposition."
Bob Casey, a Pennsylvania Democrat, and the chairman of the Senate Foreign Relations subcommittee that oversees Middle East policy, says the Annan plan — a six-point blueprint for both sides to end armed conflict and begin a dialogue — is not "nearly enough."
"It doesn't mean we abandon it, maybe have multiple tracks, but in my judgment that's not going to get the job done," says Casey, who has been an advocate of a more muscular response to the violence, which has been dragging on for more than a year. "We need to have other options, and safe zones are certainly one of them."
Indiana Sen. Richard G. Lugar, the senior Republican on the Foreign Relations Committee, has been far more of a skeptic when it comes to American intervention in Syria, but like Casey, he says the United States now needs to consider helping establish safe zones on the Turkish border. The zones, he emphasizes, "would be administered by the Turks," thus not requiring American military activity.
Lugar also says the economic sanctions on Damascus "that we've already imposed ought to be increased."
'Inclined to be Supportive'
Oklahoma Republican Rep. Tom Cole was a vocal critic of U.S. military action in Libya last year, as was Lugar. But he says he would be open to American action to help create safe zones, although he wouldn't support U.S. military intervention. "I think taking additional steps would be the wise thing to do," says Cole, an appropriator who sits on the subcommittee that funds the State Department and foreign aid. "If the administration proposed something like that," he says of helping Turkey create safe zones, "I'd be very inclined to be supportive."
Lawmakers are reacting, in part, to the massacre of more than 100 civilians that occurred May 25 in the Houla region of Syria, an opposition stronghold. That has been followed by several other alleged execution-style mass killings, although on a smaller scale than in Houla. Pro-Assad forces continue to randomly shell civilian areas, despite a cease-fire brokered under the Annan plan. Details about the victims at Houla — nearly half of whom were children — have intensified global outrage against the Assad regime, although the incident has yet to prompt new actions.
On Syria, Looking For a Plan of Action
"The Houla incident is to some extent galvanizing people a little bit more" on the Hill, says a Republican Senate aide who has followed the issue and asked to remain anonymous.
Members are "starting to think [that] maybe we do need to do something," the aide adds, although "no one really knows what that looks like, and that's why I think you see people gravitating toward the safe zones idea."
It's not clear, however, if Turkey or other regional allies are even on board.
"The Turks at one point were considering it," says Michigan Democratic Sen. Carl Levin, chairman of the Armed Services Committee, who is an advocate of the approach. "I don't think they are actively considering it now, I think for two reasons: One, it is complex in terms of their own military situation; but it also lacks the support of NATO."
"They have sensed they are not going to be pushed by NATO," Levin continues, "and unless that either push or support came, they were not going to spend a lot of time trying to figure out how to do it."
Levin says he has been encouraging NATO countries to engage the Turkish government and urge it to pursue the option. But he said he is not aware of similar efforts by the Obama administration. "This is preliminary," Levin says. "It is kind of on a back burner and the more Syria burns, the more, hopefully, this will become one obvious possibility."
Secretary of State Hillary Rodham Clinton met with Turkish leaders and other allies in Istanbul on June 7 to discuss the crisis in Syria, but announced no significant progress. Turkey also co-chaired — along with the United States and Qatar — a "Friends of the Syrian People" working group on sanctions that took place in Washington on June 6.
One thing Congress does not seem to be willing to countenance at this point is arming the Syrian opposition, despite the calls of a handful of Republicans, including Romney.
"I think the military intervention side does require an enormous amount of additional study, in regards to who it is that we are arming and what their aims are within Syria," says Lugar, noting the "tens of different factions" within the country. Lugar says that as he reviewed U.S. intelligence on the conflict, "you realize the amount of scholarship, the amount of intelligence required if you were to want to arm people and to assist them in actual military action."
In particular, lawmakers cite the presence of Islamic militants who have come to Syria to battle Assad.
"Everybody wants to do more" on Syria, observes Vermont Democratic Sen. Patrick J. Leahy, the chairman of the Senate Appropriations subcommittee that funds the State Department and foreign aid. "The question is, what would more be? Give weapons to al Qaeda? I mean, how does that go over with the people who died as a result of al Qaeda?"
The Obama administration has been saying for more than a year that it doesn't have enough information about the Syrian opposition. But proponents of arming the fighters say that if U.S. officials did dedicate the time and intelligence, they could identify the right individuals to arm.
Ohio GOP Rep. Steve Chabot, who chairs the Middle East subcommittee of the House Foreign Affairs panel, is one of those proponents. He says the United States has "assets on the ground there that we can't talk about."
On Syria, Looking For a Plan of Action
"Our intelligence is not 100 percent, it never it is, but we should rely upon the assets that we have and make sure [aid] gets into the right hands," he says.
Another complicating factor: The Obama administration is still hoping to pressure Russia to stop its arms shipments to Damascus, and could weaken its position with Moscow by working openly to arm Assad's adversaries.
Whatever the administration chooses to do, lawmakers say the White House will need to step up its communication with Congress and brief lawmakers on the approach.
"There needs to be a better sharing with Congress," says Lugar, who says the administration has not been particularly forthcoming on Syria, despite the backlash from Congress last year on its lack of consultation on Libya.
"To be fair to them, things are changing on the ground very rapidly," Cole says. If, however, "the president can come to some resolution" on additional steps short of direct military intervention in Syria, he predicts that the president would "find strong bipartisan support to be more aggressive."
Frank Oliveri contributed to this story.
FOR FURTHER READING: Arab Spring, CQ Weekly, p. 762; Obama and Libya military operation, 2011 CQ Weekly, p. 1368.