CQ WEEKLY – COVER STORY
June 9, 2012 – 12:56 p.m.
Which Way to Turn on Transportation Issues?
By Nathan Hurst and John D. Boyd, CQ Staff
Less than a month after his 2009 confirmation, Transportation Secretary Ray LaHood in one step embraced President Obama's promise to change the way Washington worked and at the same time ran headlong into the reason change is so elusive.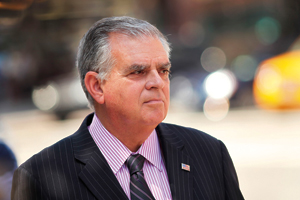 | | |
| --- | --- |
| OFF MESSAGAE: Transportation Secretary LaHood was scolded by the White House for suggesting he was open to exploring a vehicle mileage tax. (SPENCER PLATT / GETTY IMAGES) |   |
LaHood, a Republican who represented Illinois in the House for 14 years, already had said he was open to new ways of financing highway construction, a perennial issue that is becoming increasingly acute as Americans buy ever-more-efficient cars and gasoline tax collections slump. But when he mused about switching to a mileage-based highway tax, LaHood instantly stoked fears that the Obama administration was plotting to boost taxes and spy on the travels of motorists. That prompted an immediate admonishment from the White House, and the mileage tax idea was shelved.
The episode underscored the perils of even discussing ways to reverse chronic transportation revenue shortfalls and helps explain why a vehicle mileage tax — or even a simple increase in current fuel taxes — is missing from the current highway bill debate.
The absence of discussion about the revenue issue is all the more surprising because the architect of a five-year extension of highway programs, House Transportation and Infrastructure Chairman John L. Mica, says he first planted the idea of a mileage-based tax with LaHood. But the Florida Republican never so much as floated the idea of a new taxing scheme in his legislation. And a scaled-down, two-year highway bill that House-Senate conferees are trying to wrap up this month will need billions of dollars in budget transfers to maintain its spending levels because the subject of money isn't being addressed.
No Trust in the Fund
All evidence suggests that Congress once again will defer difficult decisions about highway financing that it has been ducking for a decade. Experts charged with finding solutions have spelled out the options. But talk of raising gasoline taxes or moving to a conceivably more sustainable mode of transportation financing is entirely missing from the current debate. Plainly, despite repeated efforts to put new ideas on the table, Congress has no appetite for the subject.
"It's a disaster," says Robert D. Atkinson, president of the Information Technology and Innovation Foundation, who says lawmakers are acting in ways that will only make the situation worse. For two years, Atkinson chaired the congressionally chartered National Surface Transportation Infrastructure Financing Commission. Its February 2009 final report called for major changes in the way national transportation programs are financed, including a switch to a mileage tax. "They simply don't understand or are unwilling to confront the problem," Atkinson says.
Such criticisms aside, there is broad agreement about the need to overhaul the Highway Trust Fund — which spent $44 billion more from 2001 to 2011 than it took in through tax receipts — just no consensus about how to accomplish it.
A Congressional Budget Office estimate last month lent new urgency to the call for action, projecting that the gap between highway revenue and spending will grow to about $147 billion over the next decade and that new fuel efficiency mandates will make the hole even deeper. Once fully implemented, CBO says fuel economy rules will reduce gasoline tax receipts by 21 percent.
Raising the existing taxes on gasoline and diesel purchases would be the most straightforward way to boost revenue quickly, but that's a non-starter in a weak economy and anti-tax political climate. Gasoline taxes also give the owners of electric cars and high-mileage hybrid vehicles a free ride, undercutting the "user pays" principle that has been the foundation of the federal highway program since it was created in 1956.
At the same time, a mileage tax raises concerns that the electronic devices installed to record road use — and conceivably even assess higher charges for travel on the most congested roads or at peak times — also might allow the government to track a motorist's every movement.
Which Way to Turn on Transportation Issues?
A small but growing group of conservative Republicans would like to get the federal government out of the business of building roads and bridges entirely and turn the responsibility over to the states — including the need to pay for infrastructure improvements. So far, that idea lacks broad support, and many Republicans who are small-government advocates still regard transportation spending as one of the few things Washington should be doing. It was, after all, Republican President Dwight D. Eisenhower who sold the construction of a nationwide Interstate Highway System as a national security imperative.
The resulting stalemate has paralyzed efforts to enact another multi-year authorization since the last highway bill expired in 2009 and has frustrated the broad coalition of business and labor groups advocating big investments in transportation infrastructure.
Times have changed since Eisenhower was promoting the Interstate system. "We're past that point and the goals aren't as clear," says Jack L. Schenendorf, a transportation lobbyist who was a Republican chief of staff on the House Transportation and Infrastructure Committee and served on a second commission charged with looking into the issue in the past decade. Schenendorf worries that the financing issue is "so toxic that none of the real solutions are viable right now." That doesn't mean Congress should continue to defer the debate, he says. "It's crystal clear that the gas tax is not going to be a viable way to pay for infrastructure going forward."
Taxed at the Pump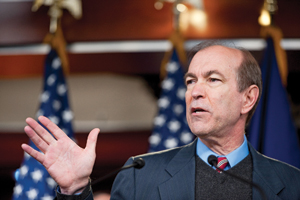 | | |
| --- | --- |
| PUSHING DEVOLUTION: Garrett wants to turn road-building responsibilities over to the states. (BILL CLARK / CQ ROLL CALL) |   |
Gasoline taxes were last increased in 1993 to 18.4 cents a gallon and diesel taxes to 24.4 cents, and, because they weren't indexed to rise with consumer prices, the tax receipts paid into the Highway Trust Fund have lost ground to inflation ever since. But two other trends are amplifying the erosion of the trust fund: Americans are driving less and their vehicles are more efficient.
Total annual miles driven peaked at 3.03 trillion in 2007 before falling to 2.98 trillion in 2008, when gasoline prices surged and the economy imploded. In 2011, miles driven slipped further to 2.93 trillion, the fewest since 2003. Meanwhile, the EPA reports that 2011 model year cars and light trucks got an average of 22.8 miles per gallon, an 18 percent increase over the 2004 model year.
John Horsley, executive director of the American Association of State Highway and Transportation Officials, says habits began to change in 2008 when gasoline prices broke the psychological barrier of $4 a gallon. Before 2007, Horsley says, total miles driven "was increasing at 2 or 3 percent a year for nearly 30 years, which meant perpetually higher gas tax revenue."
But, he says, "That's no longer the case."
New fuel-economy standards that Obama, with the support of automakers, unions and environmental groups, rolled out in July 2011 promise to speed up the trend. By 2025, the rules will require a fleetwide average mileage of 54.5 miles a gallon, almost double what is in place today. That's a far cry from the 13.1 miles-per-gallon fleetwide average in 1975, when President Gerald R. Ford signed the first fuel economy standards into law.
Consumer demand is encouraging automakers to roll out more fuel-efficient vehicles ahead of the mandates.
General Motors has reported better-than-projected sales of its Chevrolet Volt plug-in hybrid and introduced its American-made Chevrolet Sonic subcompact in the current model year. Toyota, meanwhile, is expanding the lineup of its flagship hybrid Prius model, while Ford plans all-electric and clean diesel versions of its popular Focus small sedan. Korea's Hyundai announced in January that the cars it sold in 2011 already attained a fleetwide average of 36 miles a gallon, which beats the requirement for 2016.
This is good news for anyone who cares about greenhouse gasses and pollutants. The EPA reports that carbon dioxide emissions from passenger cars and light trucks fell 15 percent from the 2004 to 2010 model years. Improved fuel economy is also helping the United States reduce its dependence on imported oil. Petroleum imports fell in 2011 to the lowest level since 1999.
Which Way to Turn on Transportation Issues?
CBO's projections show an inexorable decline in fuel-tax receipts, although the budget office estimates it will take as long as 30 years for the full effect to be felt. Still, there's a long history behind calls for closing the gap between highway spending and revenue.
One of two commissions created by the 2005 law reauthorizing federal highway programs recommended a 10-cents-per-gallon increase in the federal gasoline tax and a 15-cents-per-gallon increase in diesel taxes. The other commission proposed a gasoline tax increase of as much as 40 cents over five years. And a year after those commissions reported in 2009, a presidential deficit reduction commission led by former Republican Sen. Alan K. Simpson of Wyoming and former Clinton White House Chief of Staff Erskine Bowles recommended a 15-cent gasoline tax increase. Lawmakers and administration officials rejected those recommendations out of hand.
Obama took a motor fuels tax increase off the table shortly after moving into the White House, arguing it would be counterproductive to raise the burden on consumers during a recession. Congressional Republicans have generally opposed tax increases of all types, and the election of tea party-backed freshman lawmakers in 2010 only strengthened that opposition.
Still, the shortfall is already acute, and has forced lawmakers to scale back their ambitions for a transformative highway authorization bill for the next five years. Mica had initially wanted to spend $1.5 trillion over that period on surface transportation infrastructure improvements, but the bill being negotiated in a House-Senate conference committee is likely to assume a small fraction of that level of spending. Expectations are for a short-term extension of existing highway programs that hew close to the Senate's two-year, $109 billion blueprint.
Even that will require lawmakers to find an estimated $13.9 billion in revenue from spending offsets to cover the trust fund shortfall, according to CBO.
Rather than look to a gasoline tax increase, however, lawmakers have been exploring a variety of financing patches, including many that have little or no connection to highway usage. These include draining $4.7 billion from a trust fund intended to cover cleanup costs for leaking underground fuel storage tanks and withholding the passports of tax scofflaws to make them pay up.
Many of those measures are one-shot revenue sources, and some would pay for two years of highway spending with money collected over a decade. The net effect is to avoid addressing the financing shortfall directly, an approach that the conservative Competitive Enterprise Institute has said amounts to using "every last-ditch funding trick available."
Making Users Pay
Many opponents of using increased fuel taxes to finance the rising cost of road construction raise concerns that electric-car owners wouldn't be assessed for their highway use and that hybrids and other high-efficiency vehicles would benefit from a big discount because their fuel use is so low.
It's an argument that cuts to the heart of the highway program and harks back to its creation. And it also speaks to the transition toward higher fuel economy that CBO and other experts warn about.
As long ago as 2009, the congressionally mandated National Surface Transportation Financing Commission said reliance on fuel taxes for highway improvements "is not sustainable in the long term and is likely to erode more quickly than previously thought."
The commission said the "consensus choice" for a long-term solution is a vehicle mileage tax, an idea that CBO also has called the most fair and "efficient" way of charging for highway use. But a mileage tax may be even more difficult to enact than a simple fuel tax increase.
Which Way to Turn on Transportation Issues?
For a mileage tax to be levied, vehicles could be equipped with electronic devices similar to the EZ-Pass transponders that allow tolls to be assessed electronically. Besides capturing highway use by high-efficiency vehicles, such a system might be devised to account for highway congestion, by imposing higher charges for driving at rush hour. Other variables might include setting higher charges for heavier vehicles that cause more wear and tear on roads.
The idea isn't new. Under President George W. Bush, Transportation Secretary Mary E. Peters was bullish on the concept, and Oregon has run pilot programs for several years. Former Transportation secretaries Norman Y. Mineta and Samuel K. Skinner also have endorsed the idea.
Rural lawmakers object to the notion, saying their constituents would be disproportionately taxed since they tend to drive more. And CBO has said most motorists would end up paying "substantially more than they do now — perhaps several times more" under a vehicle mileage tax.
The biggest concerns, however, center on privacy. Critics worry that the devices installed to clock mileage would also make it easy for "big brother" to keep track of where individuals drive. Indiana GOP Gov. Mitch Daniels told reporters last month at the National Press Club that privacy concerns led him to dismiss the idea that Oregon had been testing.
"Like so much else government does, unintended consequences would kill it," said Daniels, who served as director of the White House Office of Management and Budget under Bush. "People might think it was OK as a way to raise highway money, but it would kill the small motels of Oregon."
Just expressing interest in the idea during the first days of Obama's presidency got LaHood in trouble. The White House press secretary and a spokesman for LaHood's own department publicly disowned the idea and said it was not administration policy.
But the concept of a mileage tax resurfaced last year in an unofficial draft of surface transportation legislation that the Transportation Department circulated among lobbyists and congressional aides. Conservative bloggers and talk show commentators erupted with outrage.
"Big Brother Barry wants to track your every move," conservative blogger Jim Hoft said in a post, in a reference to Obama. Former Arkansas Gov. Mike Huckabee issued a Twitter post that the idea was "ridiculous." And Lou Dobbs of Fox News referred to proponents as "idiots." The National Republican Senatorial Committee posted a petition accusing Democrats of wanting to "tax you for every mile you drive."
Mileage tax supporters dismiss the privacy arguments, saying the technology can be designed to protect privacy. For example, Atkinson says trip logs could be erased once charges are assessed when a driver fills up.
LaHood hadn't forgotten the public rebuke he suffered two years earlier and wasted no time rejecting the idea. "Listen to me very carefully," he said at a May 2011 news conference. "I am not in favor, the administration is not in favor, of vehicle miles traveled."
What About the States?
There is a third option, but it would entail a wholesale reversal in the federal government's role in shaping national surface transportation priorities — and handing the responsibility to the states. Supporters of preserving the federal role in transportation financing call the idea an abdication, but a growing group of congressional Republicans sees merit in the proposal.
Which Way to Turn on Transportation Issues?
This idea, which its adherents refer to as "devolution," has been a dream of several conservative and libertarian think tanks for years. At its most extreme, the notion is to take Washington out of the road-building business entirely, turning over to the states the choice of how and when to collect taxes and spend the money on infrastructure.
Until recently, there was relatively little support for the idea on Capitol Hill, even among Republicans. A 1998 proposal by Reps. John R. Kasich of Ohio and Connie Mack of Florida to hand most non-interstate highway and transit programs to the states was rejected on a 98-318 vote, with fewer than two of every five Republicans in support. Opponents, including Pennsylvania Republican Bud Shuster, chairman of the House Transportation and Infrastructure Committee at the time, said the nation needed a coordinated transportation program and there was no guarantee the states would raise their taxes to offset reduced federal aid.
But the idea is gaining traction. South Carolina Republican Sen. Jim DeMint offered an amendment to the highway bill earlier this year that would have cut the federal gasoline tax over five years to 3.7 cents a gallon from the current 18.4 cents. DeMint called the idea "commonsense" reform that would "empower states" and remove costly regulations. His amendment drew 30 "yea" votes — still a minority, but almost two-thirds of DeMint's fellow Republicans joined him.
In the House, meanwhile, a bloc of devolution advocates pressed for including in their highway bill at least a pilot program to let some states opt out of the federal system.
"Many members want more of a commitment to devolution," says Scott Garrett, the New Jersey Republican who pushed the idea. "Whenever you spend more money that you take in, that makes it harder to return the program to the states. If there is some compromise, we want progress toward devolution."
The effort contributed to the impasse among House Republicans that forced Speaker John A. Boehner of Ohio to abandon the planned five-year highway bill that Mica had written and that he had embraced. Devolution is certain to be part of the conversation whenever Congress next tackles a full highway programs authorization bill.
A 2008 report from the Government Accountability Office said that states would face fiscal challenges in deciding whether to fully replace lost federal aid by raising their own gasoline taxes. "With states deciding what type of programs to continue there is no way to predict which federal programs would be replaced with equivalent state programs," GAO reported.
The GAO's analysis of a scenario where virtually all transportation programs were turned back to states and the national tax on motor fuels was eliminated found that 27 states could maintain current highway and transit programs with a net per-gallon reduction in the combined state and federal gasoline taxes. But 24 states plus the District of Columbia would need increases above the current total state and federal tax burdens to maintain the same level of financing — some by significant amounts.
The federal government has used the stick of reduced highway aid and the carrot of additional grants to encourage states to enact such safety measures as a 21-year-old minimum drinking age, mandatory seat belt requirements and minimum blood-alcohol levels to determine impaired driving. Eliminating federal highway aid programs would remove that tool to influence state policies.
That's one of the main selling points for devolution supporters, who chafe at what they see as federal meddling in state affairs. The devolution concept dovetails with broader conservative goals of shrinking the federal government and tilting power back to states.
Dan Holler, communications director for Heritage Action for America, an advocacy group affiliated with the conservative Heritage Foundation, says the use of transportation bills to drive other policy agendas has "highly politicized" the process. While Holler acknowledges it would take big conservative Republican majorities in both chambers plus an ally in the White House to devolve transportation spending fully to the states, his group says it's time to begin the process.
But much of the Republican establishment, along with GOP-leaning business groups such as the U.S. Chamber of Commerce and the National Association of Manufacturers, remains committed to a robust federal surface transportation program. Even some of the party's most fiscally conservative members see a leading federal role in financing transportation.
Critics Call Devolution Impractical
Which Way to Turn on Transportation Issues?
"There are two areas where I am a big spender," says Sen. James M. Inhofe of Oklahoma, the top Republican on the Environment and Public Works Committee, who likes to call himself the most conservative member of the Senate. "One is in national defense, and one is in our infrastructure."
Sean McNally, spokesman for the American Trucking Association, says transportation infrastructure is a "national problem, and it needs a national solution." The group's president, former Kansas Gov. Bill Graves, a Republican, says even the highway bill that Congress is now considering is "woefully inadequate," and would push more road cost pressures "downstream" onto states.
Devolution critics from the other side of the aisle say it is simply impractical. Peter A. DeFazio of Oregon, the top Democrat on the House Transportation and Infrastructure Subcommittee on Highways and Transit, accuses devolutionists of wanting to return to a time when one state's super highway ended in a neighboring state's cornfields.
"They are so dyspeptic on their side, they're arguing over whether or not the federal government should be involved in transportation," DeFazio said. "That's nuts. We settled that debate 60 years ago when Dwight David Eisenhower said this doesn't work."
If the current highway bill debate has proven anything, though, it's that nothing about transportation financing is even close to being settled. The financing structure constructed more than half a century ago no longer works, but none of the main alternatives enjoys a sufficient mass of political support. Lawmakers will probably patch together a short-term bill to keep surface transportation program operating through the next fiscal year, but there are no signs that the next Congress will be better positioned to resolve the fundamental disagreements.
And that, the National Surface Transportation Financing Commission warned in 2009, will have long-term consequences: "If the federal government fails to act now, and to act dramatically, we will only compound these problems for future administrations and Congresses."
FOR FURTHER READING: Pending highway extension bill (HR 4348), p. 1203 and CQ Weekly, p. 886; Mica's highway bill (HR 7), p. 536; highway bill obstacles, 2009 CQ Weekly, p. 1434; infrastructure investment, 2008 CQ Weekly, p. 2660; vehicle tax, 2007 CQ Weekly, p. 588; 2005 highway programs authorization (PL 109-59), 2005 Almanac, p. 18-3.