CQ WEEKLY – IN FOCUS
June 16, 2012 – 1:04 p.m.
Dredging Up More Money for Maintenance
By Nathan Hurst, CQ Staff
For ports along the Eastern Seaboard and Gulf Coast, the $5.3 billion expansion of the Panama Canal to accommodate wider and heavier vessels is an opportunity to grab a bigger share of trans-Pacific cargo shipping. Instead of sending Asian cargo across the country by rail, for instance, it could be shipped directly by sea to major East Coast ports.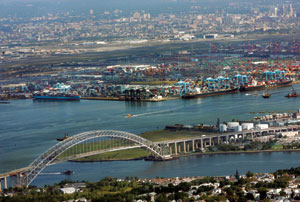 | | |
| --- | --- |
| BIG BUDGETS: Harbor improvements would cost billions for ports such as Newark, N.J. (MEL EVANS / AP ) |   |
Seizing that opportunity will be an expensive proposition. The only eastern port completely ready for "New Panamax" ships — those that will fit through the expanded canal, as opposed to "Panamax" ships that can fit through it today — is Norfolk, Va. Navigation channels in most major harbors are too shallow, while the port of New York and New Jersey would have to spend about $1 billion to raise the Bayonne Bridge by about 64 feet so larger ships could pass.
Compounding the challenge is an estimated $2.2 billion backlog in current harbor maintenance before new, deeper channels could be dredged. The Army Corps of Engineers reports that the full, authorized channel dimensions at the 59 busiest U.S. ports are available less than 35 percent of the time, increasing the risk of collisions and groundings and raising the cost of shipping because vessels have to carry lighter loads.
The good news is that there's plenty of money available to address the upkeep problem — at least on paper. The Harbor Maintenance Trust Fund, supported by a tax of $1.25 per $1,000 on imported and domestic cargo, boasts a growing surplus that exceeds $7 billion. But the trust fund is not a separate, off-budget account, so expenditures are set by appropriators and subject to Corps of Engineers budget ceilings. That encourages congressional budget writers to hang on to much of the money to mask overall budget deficits.
"We don't fund dredging enough for maritime commerce," Sen. David Vitter, a Louisiana Republican, lamented during the opening session of the House-Senate highway bill conference. "We allow that trust to be stolen from, and we really need to stop that."
Rep. Charles Boustany Jr., a Louisiana Republican, included language in the House-passed highway bill extension to require that all trust fund tax receipts and any interest credited to the fund be appropriated annually for dredging and harbor maintenance. Sen. Carl Levin, a Michigan Democrat, has introduced companion legislation in the Senate, and supporters hope the provision will be part of a highway bill conference report.
That legislation by itself wouldn't prepare harbors for the New Panamax shipping, since the law allows Harbor Maintenance Trust Fund money to be spent only on maintenance dredging — not new excavation. The Corps of Engineers is preparing a congressionally mandated report due later this month on strategies for modernizing ports and inland waterways. Raising the fees currently charged shippers and then extending use of the trust fund to pay for dredging deeper channels is among the financing options under review.
But a House aide who has worked on the issue says deepening the ports is a waste of time unless the harbor fund is freed up to pay for ongoing maintenance.
"The long-term concern is making sure we have the resources to pay for harbor maintenance," the aide says. "If we're not doing a good job now, it's unlikely the corps can keep up without full funding when they need to be deeper."
The Panama Canal expansion has sparked a drive by major Eastern and Gulf Coast ports — often in competition with one another — to deepen their shipping channels. Persuading Congress to authorize and help pay for it in the current fiscal climate is difficult though, and a test of priorities for fiscal conservatives from coastal states.
For instance, Sen. Saxby Chambliss, a Georgia Republican who swore off budget earmarks, has said repeatedly that he would make an exception to pay for deepening the harbor at Savannah, which is about 17 miles upriver from the ocean. Georgia officials have said they need about $461 million in federal aid to complete the project.
In the competition for limited federal dollars, Savannah has been at odds with Charleston, S.C., which is looking for about $120 million in federal aid to deepen its harbor channels to the 50-foot depth needed to accommodate New Panamax shipping.
Dredging Up More Money for Maintenance
Like Norfolk, New York and Baltimore have deep enough channels to handle the bigger ships. But the Bayonne Bridge is currently an obstacle to bringing the bigger container ships into the port of New York/New Jersey, and Baltimore does not have the same capacity as some of the larger ports. Florida is paying to dredge a deeper channel for the port of Miami.
Dependent Economy
The stakes are enormous for an economy increasingly dependent on international trade. "Today, international trade accounts for more than a quarter of America's gross domestic product," Jerry Bridges, executive director of the Virginia Port Authority and chairman of the American Association of Port Authorities board, testified at a House Transportation and Infrastructure subcommittee hearing last year. "America's seaports support the employment of 13.3 million U.S. workers, and seaport-related jobs account for $649 billion in annual personal income. For every $1 billion in exports shipped through seaports, 15,000 U.S. jobs are created."
The idea of raising the tax on imported and domestic cargo and then using the Harbor Maintenance Fund to finance improvements may be attractive to policy makers because the shippers using the ports would pay the higher fees. But one problem is that deep-water West Coast ports that handle much of the ship traffic would be forced to subsidize their competitors along the East and Gulf Coasts, which require more maintenance dredging.
Already, natural deep-water ports support the shallower ports that rely on regular dredging. Los Angeles and Long Beach in California are two of the nation's three busiest ports (New York is the third), together accounting for more than a quarter of the total value of imported cargo in 2005, according to figures compiled by the American Association of Port Authorities. But California accounted for just 6.6 percent of all expenditures from the harbor fund in the decade from 1999 through 2008, according to the Congressional Research Service (CRS).
By comparison, almost one-fifth of all harbor fund money from 1999 through 2008 was spent in Louisiana — far and away a larger share than any other state — even though the three Louisiana ports that ranked among the top 25 U.S. ports in 2005 accounted for just 5.1 percent of the value of imported cargo. The single most expensive shipping channel in the nation is the 250 miles of the Mississippi River stretching from Baton Rouge to the Gulf of Mexico, which accounted for 8 percent of all Harbor Maintenance Fund expenditures from 1999 through 2008.
Another issue with the Harbor Maintenance Fund is that the shippers contributing the user fees are subsidizing ports that handle little or no cargo.
For example, Oregon Inlet, which connects North Carolina's Pamlico Sound with the Atlantic Ocean, received over the decade ending in 2008 more than $60 million from the fund to maintain a 14-foot-deep, 400-foot-wide channel that tends to clog with the sand that naturally circulates around the Outer Banks, according to the CRS. The channel is popular with charter boat operators, fishermen and recreational boaters, but handles no cargo at all. Nevertheless, Oregon Inlet ranked among the 25 most expensive Harbor Maintenance Fund projects in the decade that ended in 2008, costing more than drift removal in New York Harbor and maintenance in Oakland Harbor in California.
Likewise, the only cargo regularly shipped through the Cape Cod Canal in Massachusetts is barge-loads of heating oil, according to CRS. Yet, the seven-mile canal costs the harbor fund $7.7 million annually for maintenance — almost twice the cost of maintaining the channels for the far larger port of Boston.
The 10th most expensive harbor maintenance project in the decade from 1999 through 2008 was the Chesapeake and Delaware Canal, which cuts across the state of Delaware. The canal received more than $128 million over the decade for dredging — more than such major ports as those in Savannah, Ga.; Charleston, S.C.; Norfolk; Baltimore; or Houston.
In the long run, harbor funding advocates would like to see a more equitable user fee levied on fishing and recreational boaters to fund their needs, although a new tax on pleasure boaters would be a difficult sell politically.
For now, the priority for supporters of bigger investment in the nation's ports is to make sure the highway bill includes the requirement that all funds collected for the harbor fund in a given year to be spent on dredging and other maintenance.
Dredging Up More Money for Maintenance
"A little over half of it is being used for the appropriate purpose," Boustany said recently on the House floor, referring to the money collected from shippers for the harbor fund. "The rest is being funneled off into other accounts. This is not fair to those who pay this tax."
FOR FURTHER READING: The highway bill is HR 4348; Boustany's bill is HR 104; Levin's bill is S 412; ports face budget woes, 2008 CQ Weekly, p. 119; 2007 Water Resources Development Act (PL 110-114), 2007 Almanac, p. 18-3.