CQ WEEKLY – VANTAGE POINT
June 16, 2012 – 1:29 p.m.
Sanctioned, Yet Sanctioned
By John M. Donnelly, CQ Staff
Russian helicopters aren't all they're cracked up to be, as diplomatic leverage or political talking points.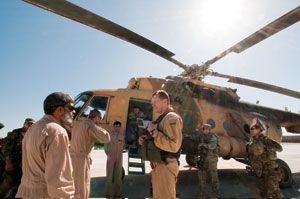 | | |
| --- | --- |
| WORLDLY BIRD: A Lithuanian Air Force captain prepares to board a Russian-made Mi-17 helicopter with an Afghan crew at an airfield in Kandahar province last year. The aircraft is used by militaries in more then 80 countries. (STAFF SGT. BERNARDO FULLER / U.S. ARMY) |   |
For instance, Secretary of State Hillary Rodham Clinton last week said Russia was threatening to significantly escalate the conflict in Syria by sending the Syrian government a shipment of attack helicopters that could be used against pro-democracy rebels.
The State Department later acknowledged, however, that the helicopters in question apparently were older models, already owned by Syria, that had been in Russia for repairs and refurbishment. Russia, in fact, hasn't sold any helicopters to Syria for at least a decade, though State Department spokeswoman Victoria Nuland said whether or not the helicopters were new, "the concern remains" that they would be used to kill civilians.
One nation that is indeed buying new Russian helicopters for the region is the United States.
The Russian-built Mi-17 medium helicopter has been in production for more than three decades and is used by the militaries of more than 80 countries. The Pentagon has bought them for the militaries of Iraq, Afghanistan and Pakistan because those forces are more familiar with the Russian aircraft than with U.S. helicopters.
Republican John Cornyn of Texas, a senior member of the Senate Armed Services Committee, implied that he might hold up a top Pentagon nomination unless the Army quit buying Russian helicopters for Afghanistan's army from the Russian arms agency Rosoboronexport. He says the agency supplies the Syrian regime of Bashar al-Assad with arms, some of which are used against the rebels.
The Army quietly acknowledged to a House subcommittee in 2009 that its purchase of the helicopters through several Russian companies during part of 2008 — the last full year of the George W. Bush administration — had effectively violated U.S. trade sanctions against those companies because they had done business with Iran, Syria or North Korea. The Pentagon said that once it realized the error, it secured a State Department waiver for the deals.
The Army purchases of Russian helicopters for U.S. allies have for years been criticized by some in Congress as too costly. Not coincidentally, most of those congressional critics represent states where helicopters are manufactured. Bell Helicopter Textron, for instance, is headquartered in Cornyn's state of Texas.
Cornyn wrote to Defense Secretary Leon E. Panetta last week that he was "deeply troubled that the DoD would knowingly do business with a firm that has enabled mass atrocities in Syria."
"This issue," Cornyn continued, "is especially pertinent in light of the Senate's consideration of the nomination of Ms. Heidi Shyu to serve as the assistant secretary of the Army for acquisition, logistics and technology. I hope to be able to support the confirmation of this nominee."
In March, a bipartisan group of 17 senators that included Cornyn wrote to Panetta asking that the Defense Department stop doing business with Rosoboronexport.
Congress has begun to weigh in on the issue legislatively. The Senate Armed Services version of the fiscal 2013 defense authorization bill would require a Government Accountability Office report on the purchases. The House version would halt funding for efforts to control nuclear, chemical and biological weapons in Russia under the Cooperative Threat Reduction program until the Pentagon could certify that Moscow was no longer supporting Syria's "suppression" of its people or providing Syria, North Korea or Iran with any weapon of mass destruction or missile technology.
Sanctioned, Yet Sanctioned
The Pentagon, for its part, wants to continue buying the Russian helicopters because Afghan crews know them. Cornyn responds that the Army could buy the same machines by using an entity other than Rosoboronexport as the middleman.