CQ WEEKLY – IN FOCUS
June 23, 2012 – 12:14 p.m.
Moving Beyond Farm Subsidies
By Philip Brasher, CQ Staff
Sens. Debbie Stabenow and Pat Roberts started writing this year's farm bill last fall when they were putting together a cost-saving proposal for the deficit reduction committee. Change the plan for helping out farms in time of economic stress, they contended, and you can reduce the deficit. The time had come, they said, to end the system that had been created in 2002, in which farmers of major crops get fixed payments from the federal government, as well as more money when market prices drop below a specific target price.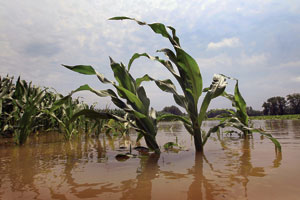 | | |
| --- | --- |
| RUINED CORN: Crop insurance protects against losses from disasters, such as this Mississippi flood. (SCOTT OLSON / GETTY IMAGES) |   |
In lieu of those direct payments, farmers would be offered a choice of two new insurance policies and an insurance-like subsidy program, all designed to compensate farmers for revenue losses not covered by traditional crop insurance. The plan, included in the farm bill that the Senate passed June 21, would cut the cost of farm programs by about 10 percent.
Some farmers, such as those who produce the two biggest crops — corn and soybeans — said the change was fine with them. Others, especially those in the South who run rice and peanut farms, said it would devastate their operations. But it turns out the new plan could be a bit more lucrative, or at least desirable to farmers, than it first appeared. The two new insurance policies that the bill would create, one for cotton and the second for other crops, could be especially attractive to large-scale farmers who are affected by the restrictions that come with conventional subsidies.
Under these crop insurance policies, farmers would have to pay a small portion of the premium, but there would be no limit to how much land they could cover or how much they could receive in benefits. There would also be no public disclosure requirement for the money they would receive. And unless the final bill retains a couple of controversial provisions added by the Senate, there also would be no income eligibility limit or conservation requirements, all of which come with conventional crop subsidies.
That de-emphasis on restrictions and accountability has some experts worried.
"Silently, by switching from traditional subsidies to crop insurance, we've eliminated payment limitations and conservation compliance in a way that could never have been done politically if it had been done by frontal assault," says Chuck Hassebrook of the Center for Rural Affairs, a nonpartisan advocacy group based in Nebraska.
Two Types of Policy
Most reports about the Stabenow-Roberts farm bill have focused on their effort to get rid of the fixed, annual payments that grain and cotton farmers have been collecting since 1996. But farm groups and agricultural economists are intrigued with the effect of the two insurance policies the bill would create. One, called a Supplemental Coverage Option (SCO), is designed to cover up to 90 percent of a farmer's crop revenue in combination with a conventional policy. The second policy, called the Stacked Income Protection Plan, or STAX, would be established for cotton growers.
The government pays about 62 percent of the premiums for crop insurance, but would pay 70 percent for the SCO premiums and 80 percent for the STAX program. At the same time, farmers would not have to follow the same rules the government imposes for other forms of aid, such as direct payments.
The lack of restrictions, as well as the amount the government would pay for premiums on an insurance policy, make the proposal an attractive alternative to the current system for many farmers.
The head of the National Cotton Council, Mark Lange, recently pointed to the lack of "limits or means tests" in explaining his industry's support for the STAX program.
But those factors also have begun to draw dissent from groups ranging from fiscal conservatives to environmentalists.
Moving Beyond Farm Subsidies
Critics of crop insurance have called for capping insurance premium subsidies the same way commodity payments are limited, but the idea went nowhere in the Senate, in part because such a move would hit some regions harder than others. Premiums are higher in dry areas of the Great Plains, for example, than they are in Iowa or Illinois, so the premium subsidies are higher, too. The Government Accountability Office this spring said the government could save $1 billion a year by capping premium subsidies at $40,000 a year, which is the same limit on direct payments set in the most recent farm bill. Imposing a cap on premium subsidies could help smaller farms, GAO wrote, citing USDA studies that say government payments allow larger operations to bid more for land and obtain more credit.
Another study by the Environmental Working Group said 26 policyholders got premium subsidies of at least $1 million in 2011, including one in Minnesota that received $1.7 million to insure corn and soybeans, crops for which SCO could be popular. The name of the farm was not available because the Agriculture Department is barred from disclosing information about crop insurance policyholders.
Yet Another Option
Even with its emphasis on crop insurance programs, the Senate farm bill would also create a producer protection program called Agriculture Risk Coverage, or ARC. It would be free to farmers, but the coverage would be more restrictive and would come with all the rules attached to a traditional commodity program.
The SCO would pay out more than the ARC program to farmers in most corn and soybean growing counties of Illinois, Iowa and Indiana, says University of Illinois economist Nick Paulson, who has been analyzing the bill with colleagues at other universities.
But the calculations are not simple. Because ARC payments would be based on a five-year rolling average in county or farm-level revenue, that program would provide farms with better protection against extended declines in commodity prices, Paulson said. SCO would be more attractive to farmers whose biggest concern is short-term volatility in prices and yields.
Still, there's another reason more farmers would be inclined to choose the SCO policies over the ARC program: Crop insurance agents — who work on commission, earning a portion of the subsidized premiums — make better salespeople than personnel in county USDA offices. "I know from personal experience how well-prepared a crop insurance agent is when you go in to meet with him," said Paulson, whose father farms in Minnesota.
Sam Willett, a lobbyist for the National Corn Growers Association, initially thought the premiums on SCO policies would discourage participation, but he now says it may prove to be popular. Large farms, for example, might skip the risk coverage program and buy the new insurance policy, knowing that they could sign up for the other later, he said.
"A lot of this depends on what the final price is going to be" for the policies. "That's the big guess," he said.
Crop insurance has attracted the attention of fiscal hawks, such as Republican Sen. Tom Coburn of Oklahoma, who sponsored an amendment that could raise premiums for high-income farmers after he couldn't get support for a $40,000 cap on premium subsidies. Environmentalists and advocates for smaller-scale farms also back restrictions on crop insurance, and hope tea party conservatives fight to include them in the House bill.
On the Senate floor, Arizona Republican John McCain attacked the SCO provision. The policy "subsidizes crop insurance deductibles," McCain complained. "Subsidized insurance, subsidized premiums and subsidized deductibles. I'm hard-pressed to think of any other industry that operates with less risk at the expense of the American taxpayer."
House Plans Similar Steps
The House Agriculture Committee, which is set to mark up its bill July 11, hasn't released a draft, but SCO is likely to be in it. The chief House sponsor of versions of both that plan and its companion for cotton farmers — STAX — is Republican Randy Neugebauer, who represents a west Texas district where farms are often thousands of acres in size.
Moving Beyond Farm Subsidies
During debate on the bill, the Senate took steps to address some concerns about the move to crop insurance, although farm groups may fight to keep the added provisions out of the final bill, or at least modify them. One amendment would require policyholders to comply with the same conservation requirements now tied to commodity programs, and another — Coburn's — would raise premiums for farmers with average adjusted gross incomes of more than $750,000 a year, but the increase would be contingent on a USDA study showing that it wouldn't significantly boost premiums for other farmers or increase the cost of running the program.
Kansas' Roberts, the bill's GOP manager, argued against both restrictions. He said the conservation measure was unnecessary because farmers who receive any commodity subsidies already are required to comply with the rules. But Georgia Republican Saxby Chambliss said the conservation requirements should be added to crop insurance because the bill would encourage farmers to rely on insurance instead of commodity programs.
Advocates of the conservation measure worry that it won't make it into the final legislation. Stabenow, the Michigan Democrat who heads the Senate Agriculture, Nutrition and Forestry Committee, joined Roberts in arguing against any new restrictions on crop insurance other than a "sodsaver" provision intended to discourage farmers from breaking up virgin grasslands. Stabenow and Roberts will be the lead Senate negotiators when the farm bill reaches a House-Senate conference committee.
North Dakota's Kent Conrad, a Democrat who joined Grassley in voting against the conservation measure, indicated that he may work for exemptions. Farmers in the Dakotas chafe at restrictions on farming areas that the government classifies as wetlands.
Stabenow emphasizes concerns raised by Willett and representatives of other commodity groups that imposing restrictions on the program could prompt large operations to reduce or drop their coverage, which could lead to premium increases for other farms.
"My worry is that we shift the cost to smaller farms. I'm cautious right now," she said, suggesting that Congress could revisit the issue in the next farm bill.
FOR FURTHER READING: Passage of Senate farm bill (S 3240), p. 1312; controversies, CQ Weekly, p. 974; 2008 farm law (PL 110-246), 2008 Almanac, p. 3-3.