CQ WEEKLY – IN FOCUS
June 23, 2012 – 12:19 p.m.
Committee Mired in Moral Quandaries
By Amanda Becker, CQ Staff
When the House Ethics Committee largely absolved itself of wrongdoing in its investigation of Maxine Waters recently and said it could further pursue the matter, members took a step toward resolving a case that has dogged the panel for three years and tarnished its image with accusations of misconduct, racism and partisanship.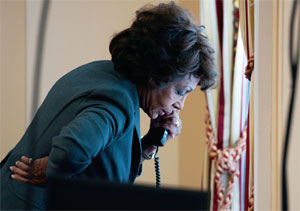 | | |
| --- | --- |
| IN LIMBO: The Ethics Committee says its investigation of Waters was proper, but its course is uncertain. (TOM WILLIAMS / CQ ROLL CALL) |   |
The Waters case, though, is only the highest in profile of about a half-dozen that appear to have stalled.
In fact, four years after the House created an Office of Congressional Ethics to screen complaints and energize the investigative process, the Ethics Committee itself seems incapable of resolving some cases that the ethics office passes along. It has neither punished nor cleared the targets of those OCE referrals in recent months, leaving the cases, and the members involved, in administrative limbo.
In past years, "the complete failure of the House Ethics Committee was that it was burying issues, not pursuing cases and not coming out with recommendations," says Craig Holman, a government affairs lobbyist for Public Citizen who assisted the House with its 2008 creation of the outside ethics office. The whole point of that effort, he says, "was to force the House Ethics Committee to carry through with its mission," which has not come about.
Rising Workload
The committee won't comment on the Waters case or others under its purview, but the chairman, Alabama Republican Jo Bonner, and senior Democrat Linda Sánchez of California have indicated in reports to congressional leaders that the committee is swamped. A big reason, they have said, is that the panel cannot set its own caseload because many of the matters it reviews originate in the Office of Congressional Ethics.
The office was created by a rules change as part of then-Speaker Nancy Pelosi's pledge to "drain the swamp" of corruption and rid the House of unethical behavior. A string of ethics cases, including the Jack Abramoff influence-peddling scandal, had been exacerbated by an ethics panel that largely declined even to meet. The OCE, led by an eight-member board appointed by the Speaker and minority leader, was supposed to change that by vetting allegations of wrongdoing and sending findings that needed further consideration to the Ethics Committee, which can conduct formal investigations and apply sanctions.
In an effort to keep the cases moving, the House decided that once its new ethics office referred a case for further review, the committee would generally have 90 days to either put together a formal investigative subcommittee or release the OCE's report on the lawmaker. The public disclosure trigger was intended to press the committee to decide whether a lawmaker should be sanctioned, cleared or investigated within an allotted time period.
Since the ethics office opened its doors, dozens of reports on alleged misconduct by House members have been made public after the office referred its findings. The results have earned high marks from watchdog groups that had been wary because the OCE was not given subpoena power and other tools initially recommended.
"The OCE has been better than I ever thought it would be," says Meredith McGehee, policy director for the Campaign Legal Center, a nonpartisan ethics watchdog group in Washington. "I think they have given the public some place to go to have allegations and concerns heard and to get action on those, and it's been credible."
The Waters matter was one of the first the office reviewed and sent to the committee in the summer of 2009, proceeding through the dual review process as intended. The ethics office thought the committee should consider whether Waters, a Democrat from Los Angeles, had a conflict of interest when she organized a meeting between Treasury Department officials and members of the National Bankers Association to discuss OneUnited Bank. Waters' husband had been a member of the bank's board in the past and held a financial stake in the institution.
The committee empaneled an investigative subcommittee and announced that an adjudicatory subcommittee would be formed. A rare public ethics trial was scheduled for November 2010 but never happened; just days before it was to begin, the committee announced that new information had been uncovered that required more investigation. Leaked documents later revealed that its staff director at the time questioned whether the investigation was compromised by staff members who improperly discussed the merits of the case with lawmakers who would sit in judgment of Waters.
Committee Mired in Moral Quandaries
Unprecedented Step
Waters subsequently charged that the committee broke its own rules on a series of technical matters. More seriously, she alleged that leaked information, ex parte communication and subpoenas that were issued based on incomplete facts had compromised her right to a fair trial. The committee took the unprecedented step last summer of hiring former Justice Department prosecutor and trial lawyer Billy Martin as an outside counsel to determine whether the committee had violated Waters' rights before deciding whether its case could continue.
During the course of Martin's review, which included 100,000 pages of documents and more than two dozen interviews, six committee members who had worked on the Waters probe voluntarily recused themselves, and alternates were appointed to take their places.
It was those alternates — Republicans Robert W. Goodlatte of Virginia, Mike Simpson of Idaho, Steven C. LaTourette of Ohio, Shelley Moore Capito of West Virginia and Tim Griffin of Arkansas, and Democrat John Sarbanes of Maryland — who along with four regular members considered Martin's findings. Goodlatte acted as chairman.
The acting chairman and ranking member told Waters in a June 6 letter, accompanied by a brief public statement, that Martin concluded that the committee had not violated the lawmaker's constitutional rights during her disciplinary proceedings, which amounted to the "notice and opportunity to be heard."
Although Goodlatte and Yarmuth acknowledged that a former aide had probably broken rules by leaking confidential information, and that one had made racially insensitive remarks — it was not clear whether it was the same individual — the stand-in committee members unanimously decided the behavior amounted to minor infractions that did not compromise the integrity of the proceedings, which the committee could pick back up.
Other cases sit in limbo. In recent months, the ethics office has referred for possible action allegations involving Democrats Gregory W. Meeks of New York, Jesse L. Jackson Jr. of Illinois, Alcee L. Hastings of Florida and two referrals involving Florida Republican Vern Buchanan. The committee has announced that at the end of the 90-day time period the referrals will continue as Rule 18(a) investigations — a preliminary and open-ended stage that allows the committee to continue gathering information if it chooses but does not require further public comment on the case unless it empanels a formal subcommittee.
"The process was put in place to protect members of Congress and ensure the process had some integrity, but there's a glitch in the process," says the Campaign Legal Center's McGehee, who wanted the ethics office to have more authority. "Now we have the Ethics Committee back to doing what it used to."
It is unclear whether the delays reflect any change in tactics or merely a committee that is both overworked and trying to conduct complete investigations. After all, the FBI and the Justice Department sometimes take years to prepare white-collar cases for trial.
Although some ethics cases have stalled, the committee has closed about a dozen of the OCE's public referrals since the beginning of the 112th Congress within the allotted time period. The committee also has to spend time advising lawmakers on the propriety of privately sponsored travel and approving trips. The insider trading law enacted this spring added to the workload, requiring lawmakers and some staff members to file more frequent reports of personal financial transactions.
Many of the committee's staff members are probably working with two active subcommittees, one examining issues related to former Rep. Eric Massa, a New York Democrat who resigned in 2010 after alleged improper conduct with members of his staff, and another that has been investigating since last November whether California Democrat Laura Richardson violated rules or laws related to the alleged use of her government-paid employees for campaign events and non-official purposes.
The status of the committee's investigation is not known. Richardson is running for re-election in a newly drawn district against another Democratic incumbent, Janice Hahn, and may lose her seat, which would probably end any inquiry, although the committee could still decide to release its findings.
Although attorneys for those implicated in the delayed investigations cite the committee's workload as the reason their clients haven't been cleared, even those who typically seek investigations of members of Congress say the delays aren't fair.
Committee Mired in Moral Quandaries
"You deserve the opportunity to have your name cleared," McGehee says. "I feel sorry for these members who are in limbo, in purgatory."
Amanda Becker is a Roll Call staff writer.
FOR FURTHER READING: 2010 CQ Weekly, p. 1910; background, 2009 Almanac, p. 5-8, 2008 Almanac, p. 5-4, 2007 Almanac, p. 5-13, 2006 Almanac, p. 4-9.