CQ WEEKLY – VANTAGE POINT
July 7, 2012 – 2:37 p.m.
Papers? What Papers?
By David Harrison, CQ Staff
Now that the Supreme Court has ruled that Arizona officials can implement the controversial "show me your papers" provision of the state's immigration law, officials will have to address thorny questions about how to enforce it.
The provision, which will go into effect soon, requires that police officers ask the Department of Homeland Security to verify the immigration status of people they stop for other reasons if the officers suspect those people of being in the country illegally.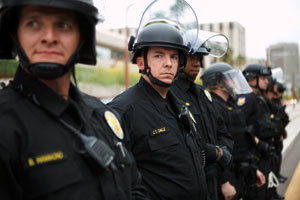 | | |
| --- | --- |
| ON THE SPOT: Arizona police officers watch a protest in Phoenix against the state's immigration law in April. (Jonathan Gibby / Getty Images) |   |
The problem is determining who is a U.S. citizen or a legal resident and who isn't. Legal residents are required to carry their registration cards, but there are no papers to show that someone is a U.S. citizen.
Officers enforcing the new law will call the DHS Law Enforcement Support Center, which is based in Vermont. Federal agents at the center will run the subject's information against the Automated Biometric Identification System (IDENT), a federal database tracking all legal immigrants, as well as illegal immigrants who have come into contact with federal authorities.
The database includes information such as names, addresses, fingerprints and alien identification numbers (like a Social Security number for non-citizens). The database also includes information that agencies have acquired about illegal immigrants, such as those who have been deported in the past or whose cases are pending before a judge.
Sometimes the data checks take a few minutes; sometimes they take longer, an administration official said.
But the DHS database includes no information on U.S. citizens. An officer checking someone's legal status will not get a match from IDENT if the person in question is a citizen.
Although the DHS center routinely performs those kinds of checks for law enforcement agencies around the country, it risks being flooded with calls from Arizona officers. Both the House and the Senate fiscal 2013 Homeland Security spending bills propose cutting spending for Immigration and Customs Enforcement, the agency that oversees the center. So Arizona police may have to wait before an agent can run their checks.
Holding someone in custody for a long time while this goes on could be a problem. Justice Anthony M. Kennedy 's majority opinion explicitly stated that someone shouldn't be detained for an unreasonable period for a minor offense while authorities check his legal status.
Alessandra Soler, executive director of the ACLU of Arizona, said the Supreme Court's June 25 decision left some questions unanswered.
"I think it's impossible to enforce this law without engaging in racial profiling," she said. "There has been no adequate guidance by the state, by the governor, by the attorney general as to what constitutes reasonable suspicion."
Attorneys will be watching closely, legal challenges at the ready.
Papers? What Papers?
If a U.S. citizen finds himself in jail while officers determine his legal status, "we're going to have our case," says Michael A. Olivas, a law professor at the University of Houston.
At the same time, DHS guidelines almost guarantee that the vast majority of undocumented people swept up by local officers will be released, undermining the intent of Arizona's law. The agency has announced that it will try to deport only illegal immigrants who match certain criteria, such as those who commit serious crimes or who cross the border repeatedly. Otherwise law-abiding undocumented people will be cut loose.
"This law puts police officers in a very difficult position, because there's a provision in the law that allows them to be sued by an individual if that individual feels like they're not adequately enforcing the law," Soler said. "And they're at much greater risk for a discrimination lawsuit."