CQ WEEKLY – IN FOCUS
July 7, 2012 – 2:37 p.m.
Hidden Threats in Health Care Ruling
By John Gramlich, CQ Staff
The Supreme Court ruling upholding the constitutionality of the 2010 health care overhaul might pose a hidden threat to longstanding environmental and civil rights laws previously regarded as unassailable.
The decision, written by Chief Justice John G. Roberts Jr. and delivered on the final day of the court's term, came as a bitter political disappointment to many Republicans eager to see the court strike down President Obama's signature legislative achievement. But although the court found the law constitutional under Congress' power to tax, Roberts' opinion limited Congress' power to use its spending powers to force states to do what it wants and drew new boundaries around its power to regulate interstate commerce. The opinions within the opinion promise to provide conservatives with years of courtroom ammunition to challenge the federal government's power.
Even some liberals worry that Roberts' reasoning might aid the efforts of conservatives and libertarians to weaken government power.
"Embedded in the decision is a ticking time bomb that may have profound implications for the future," said Nan Aron, president of the Alliance for Justice, a liberal advocacy organization, in the wake of the decision. "Five conservative justices may have signaled that they are prepared over time to undo or limit a host of economic and social policies that are rooted in long-established federal powers to regulate interstate commerce."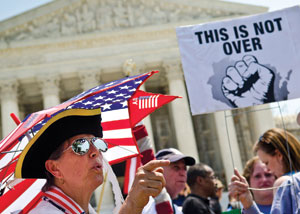 | | |
| --- | --- |
| RULING WATCH: Protesters outside the Supreme Court on June 28 argue about the Affordable Care Act. (KRIS CONNOR / GETTY IMAGES) |   |
The laws the decision leaves most vulnerable to legal challenge include a central tenet of the 1990 Clean Air Act and three historic statutes preventing discrimination in federally funded programs on the basis of race, gender or disability, according to legal experts on both sides of the political spectrum.
The validity of those laws may be tested because they operate on the premise that the federal government can force states to take certain actions — such as reducing air pollution or providing more accommodations to disabled students — or risk forfeiting large sums of federal funding. In its health care decision, the court wrote that Congress' ability to demand state action or risk federal funding was limited, an opinion that might open the door to court challenges of other federal laws thought to be overly coercive on the states.
Separately, Roberts' opinion might place a new restraint on the Commerce Clause, the constitutional provision that the court had interpreted for more than half a century to give Congress far-reaching powers to regulate interstate commerce.
The court appeared to draw a new conclusion that the Constitution does not permit Congress, as Roberts wrote, "to compel individuals not engaged in commerce to purchase an unwanted product."
The newly articulated limit could lead individuals and industries to challenge federal mandates previously seen as falling well within Congress' powers to regulate commerce, experts say. Under one scenario, for instance, companies might sue to overturn a requirement that they purchase equipment to prevent pollution. Under another, noted by Aziz Huq of the University of Chicago Law School, any congressional proposal that Americans purchase private retirement accounts instead of relying on Social Security is "now out of bounds, at least under the Commerce Clause."
"We've actually moved constitutional law, on the books, in a positive direction," Randy E. Barnett, the Georgetown University law professor who developed much of the legal reasoning against the health care law, said during a panel discussion on the ruling last week. Barnett said he was personally "devastated" by the outcome, but stressed that his side won important limits on federal authority that promise to pay dividends.
Difference of Opinion
Of course, there is no shortage of legal scholars who assert that the high court's ruling, like the health care law itself, sets unique and complex precedents not easily wielded to topple other statutes. Using the Commerce Clause to overturn the requirement that most uninsured Americans buy health insurance, after all, is hardly the same thing as striking down a requirement that companies already engaged in commerce upgrade their facilities to prevent pollution.
Hidden Threats in Health Care Ruling
But liberals and conservatives agree that the decision will invite fresh legal challenges to federal power, a point underscored by the worried reaction of prominent liberals to the decision. New York Democratic Sen. Charles E. Schumer typified such concern, saying the court's restriction of the Commerce Clause may end up "limiting the ability of the federal government to help average families."
In remarks from the bench, Justice Ruth Bader Ginsburg went further, predicting that the court's limitation of the Commerce Clause "invites assaults on national legislation irreconcilable with the framers' anticipation" and that it "harks back to the era, ended 75 years ago, when the court routinely thwarted legislative efforts to regulate the economy in the interest of those who labor to sustain it. It is a stunning step back that should not have staying power."
Medicaid Precedent
Some legal observers say the vulnerability of environmental and civil rights laws became apparent in the court's opinion that Congress has only a limited ability to force states to expand Medicaid. Six justices agreed with Roberts' opinion that for Congress to give states a choice between dramatically expanding their Medicaid programs or losing all of their federal money for those programs is no choice. "It is a gun to the head," he wrote.
Lawyers say that the court's reasoning, although specific to Medicaid, could be applied to other federal laws that threaten to cut off significant federal funding unless the states follow requirements laid out by Congress.
"Jointly funded [state-federal] programs are extremely common, with federal dollars provided on condition that states go along with the standards," said Daniel O. Conkle, a professor at Indiana University School of Law.
Kevin Russell, a partner at the Washington law firm Goldstein & Russell, said in a blog post after the ruling that states, in particular, are likely to try to take advantage of the court's finding that the terms of the health care law's expansion of Medicaid overstepped Congress' spending powers.
"States can now point to the Supreme Court's striking down of the Medicaid expansion for support for the proposition that the coercion doctrine — which had been mentioned but never enforced by the Supreme Court in prior decisions — is real and has teeth," Russell said.
Russell, a former Justice Department civil rights attorney, contends that fundamental federal discrimination curbs are likely to be targeted because they often threaten states with the loss of substantial funding if they balk at fulfilling Congress' civil rights directives.
He expects states to test, for example, the tough penalties Congress set under Title VI of the 1964 Civil Rights Act to stop racial discrimination in federally funded programs as well as similar penalties imposed on states that fail to expand educational access for women, including in collegiate sports, under Title IX of the 1972 Education Amendments Act. Likewise, states are likely to challenge similar provisions that threaten to cut off federal funding if they fail to comply with provisions to end discrimination of the disabled under the 1973 Rehabilitation Act. The three laws were in the states' cross hairs a decade ago, and the health care ruling, Russell says, will probably re-energize those challenges.
Russell cites the hypothetical case of a high school student with a reading disability who sues his local school district, citing the Rehabilitation Act, for failing to take steps to give him adequate time to prepare for a test. Russell says the Supreme Court's ruling may have given school districts a considerably stronger argument: that the federal penalty for failing to make accommodations for a reading-disabled student — the loss of significant federal funding — is overly "coercive."
"I would be surprised if the Supreme Court ended up striking down any of these civil rights provisions," Russell wrote. "But I would not be surprised to see some lower courts holding the statutes unconstitutional, and I would be shocked if states did not ask them to do so."
Environmental lawyers see a similar tactic being used to challenge the Clean Air Act. Specifically, they predict that the law's requirement that states comply with federal air quality standards or risk losing almost all their federal transportation funding will be challenged as too coercive.
Hidden Threats in Health Care Ruling
States and the federal Environmental Protection Agency have long been at odds over that aspect of the Clean Air Act, says Pat Gallagher, director of the Environmental Law Program at the Sierra Club. Both sides, Gallagher says, agree that the potential loss of all federal surface transportation funding amounts to a "draconian" penalty.
Even so, Gallagher argues, there are many important legal distinctions between the requirements of the Clean Air Act and the terms of the Medicaid expansion that the Supreme Court rejected. Among them, he says, is that the Clean Air Act's sanctions are imposed in stages — they get tougher as states fall short of specific benchmarks, and only after a state repeatedly fails to meet the requirements is its federal transportation money put at risk.
That mechanism differentiates the environmental law from what Roberts called the flawed "gun to the head" approach used in the health care law's Medicaid expansion.
How different the statutes really are in that respect, however, is probably an issue for the courts to decide.
Commerce Clause 'Seed'
It's also not clear how the Supreme Court's decision that appears to limit the scope of the Commerce Clause might filter through the federal courts to test other federal statutes.
Unlike Congress' common practice of using its spending power to threaten the loss of federal funds for programs that benefit the states, the health care law's requirement that individuals buy health insurance was "novel," in the words of the high court. That suggests that Commerce Clause challenges to federal mandates in other areas might not apply, since the Supreme Court made clear that it was ruling on a unique federal law. "I don't see the angle," says Gallagher.
However, David Driesen, a Syracuse University College of Law professor, sketched out a possible challenge to environmental regulation using the Commerce Clause approach.
"Under the Clean Air Act, the government has the authority to order a company to install a pollution control device," Driesen wrote in an analysis published by the Center for Progressive Reform. "Does use of this authority compel a firm inactive in the market to become a market participant against their will in violation of the health care ruling?"
But, like Gallagher, Driesen is not convinced that the argument will hold up in the nation's high court.
"Although doctrinally the court has virtually erased distinctions between corporations and real people, it remains easy to imagine defections from the opinion's strict logic if applied to ongoing commercial concerns," he wrote. "And businesses will, at least in ordinary cases, be hard-pressed to argue a lack of engagement in commercial activity."
Even so, many lawyers assert that industries chafing against a variety of federal regulations will be motivated to test new Commerce Clause arguments in court. After all, testing the boundaries of the ruling may be worth the gamble, particularly if a favorable outcome could reduce significant costs confronting an industry, even if the law at first glance does not seem to be on their side, says Akhil Reed Amar, a Yale University constitutional law professor. Which commercial interests might pursue such lawsuits, Amar says, depends on two things: "Who has deep pockets and a lot to gain?"
Benjamin Cole, director of communications for the American Energy Alliance, a petroleum industry group, said his organization is reviewing the health care decision closely for its possible ramifications for energy policy. And although it's too early to view the court's Commerce Clause ruling as a tool to challenge environmental regulations that the petroleum industry sees as unfairly onerous, Cole said, there is potential. The health care opinion "is a seed in the court's jurisprudential trajectory," he says. "What fruit it bears going forward will really be dependent on how the court interprets its own language."
Hidden Threats in Health Care Ruling
FOR FURTHER READING: After the ruling, CQ Weekly, p. 1254; court challenge tests Congress' power, p. 580; health care law enactment (PL 111-148, PL 111-152), 2010 Almanac, p. 9-3.