CQ WEEKLY – IN FOCUS
July 7, 2012 – 2:37 p.m.
Lacey Act: A Law of Unintended Consequences
By Geof Koss, CQ Staff
The blogosphere was on fire this spring with rumors of a government plot to spoil the summer's music festivals. Fox News in mid-May raised the possibility that the government could confiscate guitars from musicians returning from gigs in other countries under a law that bans commerce in illegally harvested timber. Soon The Washington Examiner reported that lawmakers were "scrambling to save the summer concert season from federal agents poised to seize the instruments of rock and country stars."
The source of these scary stories was, ironically, a news release by Sen. Lamar Alexander of Tennessee intended to calm such concerns, which were occasioned in part by a government raid on several Gibson Guitar facilities in his home state. The agents were looking for exotic wood from India that might have been imported illegally. After meeting in May with environmentalists and representatives of the music and imported-wood industries, Alexander, a Republican, issued a statement insisting that a law enacted four years ago to address illicit logging was never intended to allow the confiscation of wood instruments made before 2008.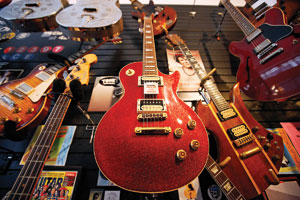 | | |
| --- | --- |
| ROCKIN' ON: Gibson's legendary Les Paul guitars are displayed at a New York City music shop. (JEMAL COUNTESS / GETTY IMAGES) |   |
"I don't want the musicians from Nashville who are flying to Canada to perform this summer to worry about the government seizing their guitars," said Alexander, an original cosponsor of the 2008 legislation. He noted that the Justice Department and the Fish and Wildlife Service had both indicated they had no plans to take anybody's guitars, and he assured musicians he would introduce legislation to protect them if he didn't get a clear ruling from enforcement officials.
The episode illustrates the challenge facing supporters of the 2008 revisions to the Lacey Act, a century-old anti-poaching law now expanded to outlaw the trade in trees and other plants protected by state, federal, tribal or foreign laws. Backers worry that trying to fix relatively minor flaws through more legislation — to protect guitars, for instance — might give business groups and opponents of government regulation an opening to challenge more of the Lacey Act, including its recognition of foreign laws as the basis for determining violations of U.S. statutes.
Trouble Ahead
Already, two other Senate Republicans, James M. Inhofe of Oklahoma and Jeff Sessions of Alabama, have called for hearings with an eye to a broad overhaul of the Lacey Act. Others have introduced bills to exempt some industries from the law or repeal the statute's recognition of foreign laws.
That's why Alexander and another 2008 sponsor, Oregon Democrat Ron Wyden, are approaching the repair job cautiously. "It's not uncommon for a good law after two or three years to have some unintended consequences, and this one did," says Alexander. "We're willing to make the changes."
They plan to start by pressing for administrative steps, rather than new legislation, to clarify legal issues that worry the music industry. "Here you have a law that all sides, in terms of the principals, will tell you has done a lot of good," Wyden says. "So you want to be careful with respect to how you proceed."
There was virtually no opposition during negotiations to amend the Lacey Act in the first place, says Mark Rey, a top Interior Department official in the George W. Bush administration who now teaches natural-resource policy at Michigan State University.
"We didn't hear a lot of concerns at that point," says Rey. Among the supporters was the American hardwood industry, which considers the law protection against cheaper, illegally logged foreign products.
Illegal logging costs governments some $5 billion annually in lost royalties and $10 billion to $15 billion in lost revenue, the World Bank says. By some estimates, illegally logged timber accounts for as much as 30 percent of all hardwood lumber and plywood sold worldwide. U.S. demand for timber from tropical countries drives much of the world's illegal logging — roughly 80 percent of Peruvian mahogany is illegally harvested, according to a 2006 study by the Natural Resources Defense Council.
The revised Lacey Act aims to snuff out demand for contraband wood products by prohibiting the trade and requiring that importers declare the country of origin and species name of all plants used in their products.
Lacey Act: A Law of Unintended Consequences
Matter of Enforcement
Implementing the changes ultimately proved more challenging than foreseen, prompting the Agriculture Department's Animal and Plant Health Inspection Service to delay enforcement of some provisions. Overall, the changes in the law escaped much notice.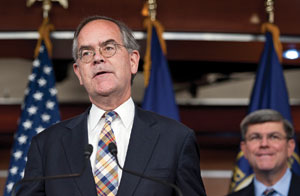 | | |
| --- | --- |
| GRANDFATHER CLAUSE: Cooper's legislation would bar confiscation of wood products that were illegally harvested before 2008. (BILL CLARK / CQ ROLL CALL) |   |
That is until last August, when federal agents served four search warrants on facilities owned by Gibson Guitars, whose instruments have been popularized by the likes of Eric Clapton, B.B. King and Chuck Berry. Items seized in the raid included computers, records and thousands of guitar fingerboards. Agents were seeking ebony and rosewood allegedly exported from India in violation of Indian law.
Gibson Chairman and Chief Executive Henry Juszkiewicz complained last year that the dispute did not involve illegal harvesting, but, rather, alleged violation of an Indian export restriction "designed to keep wood finishing work in India." While the company has not faced any charges, the event fueled an intense debate about the Lacey Act.
"It's taken on a life of its own," says Lisa Handy, a senior policy adviser for the Environmental Investigation Agency, an advocacy group that supports the law.
Among the questions was whether individuals who owned products containing illegally imported wood purchased before 2008 would face criminal liability or forfeiture.
Leading the rapid legislative response was Rep. Jim Cooper, a Tennessee Democrat who introduced a bill to grandfather in products purchased before the law's enactment.
Opponents of Cooper's bill say the issue is a red herring, noting that federal officials have said they have no intention of seizing musical instruments. Among the musicians who have signed a petition in support of the Lacey Act, in fact, are Mick Jagger, Sting and Willie Nelson. One of Gibson's leading competitors, the Martin Guitar Co. — whose guitars have been used by Bob Dylan, Elvis Presley and Woody Guthrie — has embraced a "responsible timber purchasing policy" and expressed its commitment to the Lacey Act requirements.
Alexander says he is sympathetic to the concerns of musicians, but hopes a Justice Department statement clarifiying the enforcement policy will preclude the need to address it with legislation.
More Exemptions
What worries Lacey Act supporters more is language in Cooper's bill that would exempt some wood products from the import declaration requirements. That would give a free pass to importers of pulp, paper and paperboard, as well as to products made from them. That is "by far the largest segment of imports covered" by the 2008 amendments, according to a letter that forest products companies sent to House members in June. The wood industry and environmentalists also oppose provisions that would reduce monetary penalties and allow companies to avoid forfeiting wood products deemed illegal.
Despite the opposition, the House Natural Resources Committee approved Cooper's bill on June 7. Republican leaders have indicated the bill will come to the floor in July.
Lacey Act: A Law of Unintended Consequences
A competing legislative effort would go even further. Conservatives in the House and Senate introduced legislation to delete all references in the Lacey Act to foreign laws, essentially limiting its reach to the United States, while also removing criminal penalties from the law.
Kentucky Republican Rand Paul, the chief Senate sponsor, said the bill would address "broad overcriminalization," citing the cases of four defendants who were imprisoned for importing more than 400,000 tons of lobster tails valued at more than $4 million in violation of Honduran seafood packaging regulations. Officials said the shipment that arrived in an Alabama port in 1999 included undersized, unprocessed and uninspected lobster tails. A federal appeals court upheld their convictions under the Lacey Act, ruling that foreign regulations and other legally binding requirements — not just statutes —have the force of law.
Paul Larkin, a senior legal research fellow at the Heritage Foundation, says the case illustrates a "defect" in the law: the risk of conviction and imprisonment for making a mistake under foreign law. He calls it "sheer lunacy" to assume an average citizen has any awareness of the multitude of foreign laws recognized under the Lacey Act.
Lacey Act supporters say the defendants in the lobster case were hardly naive, average citizens — one owned a fleet of boats that harvested the shellfish. Supporters of the law say Paul's legislation would eviscerate the law's protections at home and abroad. They dispute the notion that the law has resulted in widespread prosecution and point out that its recognition of foreign law has been in statute for many decades.
Rey, the former Bush administration official, says philosophical objections may be based "on a new realization" that the 2008 amendments for the first time applied long-standing provisions of the law to new segments of the public. Lacey Act supporters say concerns about the 2008 amendments can be addressed without legal changes, noting that the law allows the executive branch broad implementation authority.
Meanwhile, Inhofe and Sessions are pressing for a hearing on the law. Sessions, who, as a U.S. attorney, prosecuted Lacey Act cases, concedes the law has been effective in protecting wildlife, but says he has long had concerns about its reach. "As a matter of constitutional law and principle, some of the provisions in there ought to be corrected, I think," he says.
FOR FURTHER READING: House bills to revise the Lacey Act are HR 3210 and HR 4171; the Senate bill is S 2062. Gibson Guitar raids, 2011 CQ Weekly, p. 2310; lumber provision in 2008 farm law (PL 110-234, PL 110-246), 2008 CQ Almanac, p. 3-7.