CQ WEEKLY – IN FOCUS
July 7, 2012 – 2:37 p.m.
Risky Partnership With Yemen's Untested Leader
By Jonathan Broder, CQ Staff
In the decade that preceded the violent uprising in Yemen last year, U.S. relations with the impoverished Arab state focused mainly on the fight against al Qaeda. In exchange for relatively small amounts of American aid, President Ali Abdullah Saleh quietly allowed U.S. special operations forces to train his military. He even claimed credit for American airstrikes within his territory to help conceal the secretive U.S. role there.
The uprising, inspired by the Arab Spring, eventually toppled Saleh, ending his 33 years of authoritarian rule. A new president, Abed Rabbo Mansour Hadi, was installed in February, promising to address the country's deep divisions, long-neglected poverty and the official corruption that brought on the rebellion.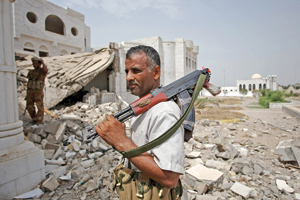 | | |
| --- | --- |
| BATTLE DAMAGE: The Yemeni government last month moved back into several southern towns that had long been under the control of militants. Al Qaeda gunmen were believed to have fled eastward. (MOHAMMED HUWAIS / AFP / GETTY IMAGES) |   |
The Obama administration, with the full support of Congress, has embraced Hadi, promising the untested, 66-year-old leader more aid than it gave his predecessor. U.S. policy toward Yemen and its government, however, appears to have changed very little. It remains focused largely on airstrikes by unmanned planes against al Qaeda targets and on using small numbers of U.S. military personnel to train local troops. Economic aid remains negligible.
Critics say that by stressing America's short-term counterterrorism needs in Yemen, Washington is not doing enough to help put the country on the kind of sound democratic and economic footing that might provide long-term stability.
"The country is now the headquarters for al Qaeda in the Arabian Peninsula. It's a poor country; it's running out of oil, running out of water. So [Hadi] has enormous problems, and it's in our interest to help him," says Susan Collins of Maine, the senior Republican on the Senate Homeland Security and Governmental Affairs Committee. "We don't have a lot of levers in Yemen, other than training and drone strikes."
For fiscal 2012, the United States provided Yemen with only $68 million in military and economic aid, according to State Department figures — by comparison, that is the exact same sum that the Federal Emergency Management Agency granted to New Orleans for street repairs this year.
But Hadi's challenges extend far beyond the threat posed by al Qaeda's dangerous Yemeni affiliate. For starters, he's inherited a stubborn rebellion by Shiite Houthi tribesmen in the north, who charge that the government has long ignored their needs. The southern part of Yemen, once a separate country, wants to break away again for the same reasons. Further complicating Hadi's task, a number of brigades and key government posts are still in the hands of Saleh family members or loyalists who have refused to relinquish power. And the protesters who helped oust Saleh could quickly grow impatient with Hadi.
"What brought Yemenis into the street had nothing to do with al Qaeda," says Barbara Bodine, a former U.S. ambassador to Yemen and now a professor of international relations at Princeton University. "It has everything to do with economics and governance. Yet we're doing the same thing as before, even though the political topography has totally shifted. This policy is not going to serve us well."
A Bumpy History
Ever since Washington established relations with Yemen in 1946, it's never been a smooth ride. When the 1967 Arab-Israeli war erupted, Yemen severed diplomatic ties with the United States in solidarity with Egypt. At the end of that year, southern Yemen broke away to form an independent country, which Washington recognized but soon shunned as a state sponsor of terrorism. The United States re-established relations with North Yemen in 1972, and with South Yemen in 1990, shortly before the two countries reunited. Modest amounts of U.S. military and economic assistance followed.
The aid was drastically cut back after Yemen sided with Iraq over its 1990 invasion of Kuwait. Relations reached their low point in 2000, when al Qaeda suicide bombers rammed an explosives-filled boat into the U.S. Navy destroyer Cole anchored off the southern city of Aden, killing 17 sailors and wounding 39. Hostile Yemeni officials obstructed the FBI investigation into the bombing, while state-run television ran nightly broadcasts of Yemeni parliamentarians calling for jihad against America.
All that changed after the Sept. 11, 2001, terrorist attacks. Just two months later, Saleh visited Washington, where he agreed to cooperate with the George W. Bush administration on counterterrorism operations. The United States began sending special operations forces to train Yemeni soldiers and its coast guard, as well as limited weapons supplies. Those ties deepened as al Qaeda militants in Saudi Arabia fled a crackdown there and took refuge in Yemen's lawless badlands.
Risky Partnership With Yemen's Untested Leader
From there, the Yemeni al Qaeda affiliate challenged local government forces and attacked U.S. and other targets, including the attempted 2009 bombing of a Detroit-bound airliner. In May, the group carried out a suicide attack on a Yemeni military parade that killed 120 soldiers.
The Bush administration, consumed with the wars in Afghanistan and Iraq, launched only one drone attack in Yemen, according to a study released last month by the New American Foundation think tank. Under President Obama, however, the pace of attacks has picked up considerably, with an estimated 28 drone strikes and 13 airstrikes in Yemen against al Qaeda targets so far. The strikes have killed as many as 779 people, including Anwar al-Awlaki, an American-born militant.
The cooperation between the two countries on counterterrorism intensified as Yemen's strategic importance grew. But Washington turned off the aid spigot last year after Saleh tried to suppress pro-democracy protests violently. Saleh finally agreed to step down in February in return for immunity from prosecution and the freedom to remain in politics.
With Hadi in power, the administration upped its aid request, asking Congress to provide Yemen with $76.7 million for fiscal 2013, mostly in military aid. So far, lawmakers support the administration's Yemen policy. "There are targets that need to be pursued in Yemen, and I hope we will continue to be aggressive and prudent in conducting special operations and drone attacks there," says Connecticut Democrat Richard Blumenthal, a Senate Armed Services Committee member, echoing a sentiment held widely on Capitol Hill.
But there's no appetite for going further.
"While we would like to help the people of Yemen, we have to do it in relation to the resources we have," says New Jersey Democratic Sen. Frank R. Lautenberg. "It's a tough situation for us to take on another assignment."
One Step Forward, Two Back
Hadi has vowed to eradicate al Qaeda in Yemen, saying he can't take the country forward until the group is destroyed. In recent weeks, his forces claim to have recaptured several towns in eastern Yemen that were under al Qaeda's control. But, in May, an al Qaeda suicide bomber managed to penetrate a military motorcade in Aden and kill the Yemeni commander of the offensive, exposing worrisome holes in the army's security and intelligence operations.
Meanwhile, civilian casualties caused by the U.S. airstrikes have hurt Hadi's legitimacy and the U.S. image in Yemen. "What the Yemenis see is the United States turning Yemen into another Afghanistan and Pakistan," says Bodine, the former ambassador.
A further complication is the resistance of Saleh's relatives to Hadi's efforts to restructure the army. Their obstructionism led Obama to issue an unusual executive order in May that threatened to freeze the assets of anyone interfering with Yemen's transition under Hadi.
Even if Hadi exerts control over the army and defeats al Qaeda — a big if — he faces a long list of other destabilizing crises. In addition to the rebellions in the north and south, the country is running out of oil, its main source of income, as well as fresh water.
To tackle the problems, Yemen says it needs major assistance. "All of our economic, humanitarian and development indicators show troubling signs," says Mohammed Albasha, a spokesman for the Yemeni Embassy in Washington. "So we ask all our partners to look at a more holistic approach in supporting Yemen. Even counterterrorism support should include economic and development assistance."
The administration has made some efforts. The head of the U.S. Administration for International Development, Rajiv Shah, went to Yemen last month and pledged another $52 million in civilian aid for fiscal 2013. But after the hundreds of billions spent in Iraq and Afghanistan and with the tepid economy at home, lawmakers are in no mood to fund anything that smacks of overseas nation building. In May, House appropriators zeroed out Obama's request for a $770 million incentive fund to help the economies of countries hurt by the tumult of the Arab Spring. Their Senate counterparts boosted the fund to $1 billion, earmarking $77 million for Yemen. They also set aside an additional $38 million for economic aid, and $75 million for counterterrorism efforts in Yemen and East Africa.
Risky Partnership With Yemen's Untested Leader
"The Pentagon calls the policy in Yemen," says Charles Schmitz, a specialist on Yemen at Towson University in Baltimore. He says any development aid is "window-dressing for our military policy."
Bodine and other Yemen experts warn that a predominantly military approach to Yemen's problems is both myopic and self-defeating. "The problem with our military aid is that it has no ripple effect," says Bodine. "It doesn't do anything for economic development, sustainability, health food security, or any of the other elements that can prevent Yemen from becoming a failed state."
"You can't," she adds, "kill your way out of a problem."
FOR FURTHER READING: House State-Foreign Operations Appropriations bill is HR 5857; Senate version is S 3241. Arab Spring, CQ Weekly, p. 762.