CQ WEEKLY
July 14, 2012 – 12:27 p.m.
Public Affairs: 38 North Solutions
By Kristin Coyner, CQ Staff
The line of 38 degrees north latitude runs through Washington, D.C., and the San Francisco Bay Area, making it a fitting symbol for a new clean-energy and high-tech public affairs firm, 38 North Solutions. The firm is the brainchild of the energy team of the public affairs and lobbying firm QGA Public Affairs: Patrick Von Bargen, 63, a former chief of staff to Sen. Jeff Bingaman , the New Mexico Democrat who chairs the Energy and Natural Resources Committee; Katherine Hamilton, 50, former president of the GridWise Alliance coalition for "smart grid" electric transmission technology; Allyson Groff, 29,a former Democratic spokeswoman for the House Natural Resources Committee; and Jeff Cramer, 29, a former clean-tech investment banker.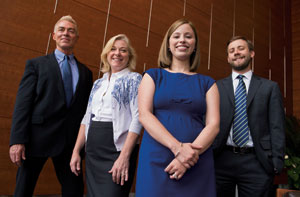 | | |
| --- | --- |
| ( TOM WILLIAMS / CQ ROLL CALL ) |   |
"We worked well as team for several years in the clean-energy space," Von Bargen says. "We wanted to do more and had this opportunity to think about it."
QGA does a lot of work for the financial services industry, so 38 North's team says a separation was natural, though some QGA leaders, including its founder, Democratic operative Jack Quinn, and Republican adviser John Feehery, will serve as consultants.
At QGA, the team's clients included Spanish wind turbine manufacturer Gamesa, electric-vehicle maker Coda Automotive, precious-materials recycler Umicore and the Electricity Storage Association, a trade group of manufacturers of energy storage technologies.
38 North opened an office between Capitol Hill and Union Station earlier this month and plans on offering existing clients services and, of course, building up new business. Much of what 38 North will do, as with their work at QGA, is very different from traditional lobbying, the team says. "A lot of our clients are small firms," says Groff. "There's a lot of explaining how Washington works."
"Quite often we don't lobby," Hamilton adds. "Quite often it's at a lower level." That means introducing new technology firms and clean-energy companies to government agencies and targeting Capitol Hill offices for outreach, even lawmakers who don't necessarily have a reputation for friendliness toward clean-energy policies. "Innovators don't always understand how to communicate," Hamilton says. A recent law making it easier for smaller companies to raise capital and make initial stock offerings, the JOBS Act, may be a boon for new 38 North business as small companies find they need to make Washington connections.
Peter A. Peyser
After working in the government relations shop of the law firm Blank Rome for seven years, Peter A. Peyser has relaunched his own public affairs and business development consulting firm, Peyser Associates. Peyser splits his time between Washington and New York, building up public and private sector support for large infrastructure projects.
"In a perfect world we'd be able to continue funding all of these needs strictly with public money," says Peyser. "That's usually the most efficient way to build a major public project, but that's not the world we're living in."
Peyser's clients at Blank Rome include the Portland, Ore., transportation system; Seattle transit authority Sound Transit; and the Southeastern Pennsylvania Transportation Authority. Before he started his first firm in 1982, Peyser, 58, was a Washington representative for New York City Mayor Ed Koch.