CQ WEEKLY – IN FOCUS
July 14, 2012 – 12:30 p.m.
Scaling Back Plans for Afghanistan
By Emily Cadei, CQ Staff
At a high-profile international conference in Tokyo last week, Secretary of State Hillary Rodham Clinton and her counterparts teamed up to pledge $16 billion in non-military aid to Afghanistan over the next four years. The "sustained economic support," Clinton said, "will help Afghanistan meet its fiscal needs" even as the multinational troop presence winds down and the Afghans take full security control in 2014.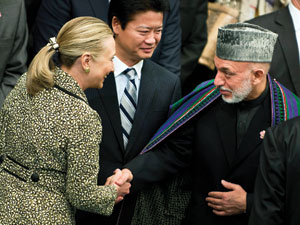 | | |
| --- | --- |
| FIRM GRIP: Clinton shakes hands with Afghan President Hamid Karzai before an international conference held in Tokyo in early July to address the scope and scale of plans to aid Afghanistan. (BRENDAN SMIALOWSKI / AFP / GETTY IMAGES) |   |
The communiqués out of Tokyo were, however, noticeably short on specifics. Clinton said only that the Obama administration "will request from our Congress assistance for Afghanistan at or near the levels of the past decade." But U.S. aid levels have varied greatly over the last 10 years — from hundreds of millions to several billion dollars annually. State Department officials acknowledge that fact, noting that Clinton's ambiguity was intentional. The administration wanted to signal a commitment to Afghanistan while maintaining flexibility. The trajectory, they add, is downward.
Congress, though, wants stronger assurances that the United States is downsizing its presence, and quickly. Lawmakers, many of them skeptical about foreign aid to begin with, are war weary. Many have also been alarmed by the collapsing State Department-led rebuilding effort in Iraq that followed the withdrawal of U.S. troops. One reaction — from Congress and the administration — has been to scale back ambitions for a long-term civilian presence in Afghanistan. Lawmakers want to make sure the downsizing actually happens.
Funding on civilian operations and aid to Afghanistan reached $4.2 billion in the current fiscal year, according to the Congressional Research Service. But Senate appropriators want to chop that for fiscal 2013, citing leftover money from previous years. And the House and Senate both seek to limit new personnel being sent to Afghanistan.
This all adds up to a far more modest approach than the civilian buildup the State Department oversaw as troops pulled out of Iraq in 2011. That was touted as the biggest U.S. diplomatic presence in the world and the most ambitious rebuilding program since the Marshall Plan. But that talk has stopped, too.
Just six months into the State Department's turn at the helm in Baghdad, officials are already quietly reducing the U.S. presence in Iraq. According to one Hill aide, administration officials have indicated that their budget for fiscal 2013 will come in hundreds of millions of dollars below what they expected when they assembled the budget request in the fall of 2011.
Foggy Bottom's grand experiment in Iraq has quickly become a symbol on Capitol Hill of Washington overreach — yet another cautionary tale in U.S. nation building. The experience is coloring the entire Afghan effort.
"My boss," says one House aide, "does not want to see us fall into the same trap as we did in Iraq."
'Questionable' Role
In assessing the White House fiscal 2013 budget request for aid to Afghanistan, House Foreign Affairs Chairwoman Ileana Ros-Lehtinen was blunt in expressing her doubts.
"Given the transitional experience in Iraq, the ability of DoD and State to properly transfer and assume certain roles and responsibilities remains questionable," the Florida Republican wrote — using an abbreviation for the Department of Defense — in a March letter to the House Budget Committee.
Scaling Back Plans for Afghanistan
Ros-Lehtinen showed particular concerns about the State Department's big jump in requested money for counternarcotics and law enforcement activities in Afghanistan, intended to cover the transition of some Pentagon operations, such as military detainee housing, to the Afghan government and State. She complained that State hasn't provided enough information about the finances, operations and timing of the transition, and she requested specifics from both departments.
Other lawmakers are also troubled by what they say has been a lack of detail from the administration on transition planning. Foggy Bottom, House appropriators complained in their report on the State and Foreign Operations spending bill, has provided "insufficient information" on the planned troop drawdown and its impact on civilian aid programs.
While the House Republican version of the appropriations bill, approved in committee in May, meets the administration's $4.6 billion request for Afghanistan operations and aid funding, it would withhold 15 percent until the administration submits a detailed plan "for civilian operations, personnel and security as the drawdown of combat troops in Afghanistan proceeds" as well as information on agreements with the Afghan government to support these operations.
That harks back to a key problem in Iraq — the lack of buy-in from Baghdad on U.S.-led operations, including the $800 million-per-year police training program, the centerpiece of State's new responsibilities in Iraq after the U.S. troop withdrawal. That program is now all but being abandoned, in large part due to a lack of Iraqi cooperation.
The House bill also doesn't support State's request for increased staff in the "frontline" countries, which include Iraq and Pakistan, as well as Afghanistan, other than for what is needed for security.
Both House and Senate appropriators are putting pressure on State to lower costs and personnel for Afghanistan from what was first requested for fiscal 2013. In their bill report, Senate appropriators wrote that the U.S. Embassy in Kabul should "continuously conduct rightsizing exercises to ensure that a minimal, but appropriate number of personnel remain in country." To reinforce that, the bill would require a report every 90 days through September 2014 that includes updated staffing and construction plans.
The Senate bill would provide roughly $1 billion less than the administration requested for Afghanistan for the coming year, although the committee notes that the State Department has more than $100 million for operations in Afghanistan left over from previous years, not to mention what it says are billions in unobligated foreign aid appropriations.
Pointing to the cash in the pipeline, one Hill aide says, "it shouldn't be seen as somehow we're pulling up stakes in Afghanistan."
But State Department officials say they factored that leftover money into their fiscal 2013 request, which they say accurately reflects what the department needs. "We will continue to make the case that what we asked for was a responsible amount," says one official. "And if we don't get what we requested then we will have to cut a lot of programs."
Troop Presence
In some ways, the civilian strategy for Afghanistan has always been less ambitious than the original Iraq plan. In Iraq, all U.S. troops withdrew, leaving the State Department trying to train Iraqi police while also having to provide for its own security. In Afghanistan, U.S. troops are expected to remain after 2014 under a strategic agreement reached earlier this year between Washington and Kabul. One key function of those troops will be continuing to train Afghan National Security Forces. But their presence should also help reduce the need for private security contractors.
"It will be a military-civilian partnership," says South Carolina Sen. Lindsey Graham, the ranking Republican on the Appropriations subcommittee for the State Department and foreign aid, "not just dumping it in the laps of the State Department, who is not really trained up" to handle security operations. "That's what we don't have in Iraq," he says.
Other senior lawmakers also highlight differences between the transitions in Iraq and Afghanistan. When it comes to the shape of future aid to Afghanistan, "what we have to do is find something, frankly, that is consistent with the Afghan culture, and it's not going to look like Iraq because they are two different societies," says Democratic Sen. Jack Reed of Rhode Island, a member of the Armed Services Committee. Reed says Iraq has a literate, middle-class population, while Afghanistan is far lower on the development scale.
Scaling Back Plans for Afghanistan
A State Department official acknowledges the department learned "a lot of lessons" from the Iraq transition. And Graham, for his part, agrees but adds that the Afghan plan also needs to be far less costly in the years to come.
"Right now, basically, our money is almost a drug for the Afghan economy," says Graham. "So we're going to wean them off that."
FOR FURTHER READING: Fiscal 2013 State Department and Foreign Operations appropriations bills (HR 5857, S 3241), CQ Weekly, pp. 1050, 1101; Iraq drawdown, 2011 CQ Weekly, p. 1856.