CQ WEEKLY – IN FOCUS
July 14, 2012 – 12:37 p.m.
CBO Faces Tough Call on Costs of Health Care Overhaul
By Emily Ethridge, CQ Staff
Yet another front in the never-ending war of words and statistics over the 2010 health care overhaul will be opened in the next two weeks, when the Congressional Budget Office releases a new estimate of how much the law will cost — or save — taxpayers.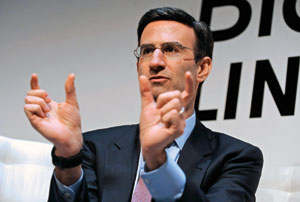 | | |
| --- | --- |
| TOUGH JOB: Orszag says his former agency will have difficulty estimating the effects of the court's ruling. (PETER FOLEY / BLOOMBERG NEWS) |   |
Although the Supreme Court held in large part that the law is constitutional, a majority of the justices ruled against its requirement that states broaden their Medicaid programs or risk losing federal support for the health care program that serves the poor.
In the aftermath of the ruling, CBO analysts are rushing to produce a new estimate of the law's fiscal consequences, with delivery now scheduled for the week of July 23.
Whatever the estimate says, it is sure to shape arguments further both for and against the law, which remains at the center of this year's campaign and at the top of Congress' agenda. That puts the typically under-the-radar budget office on the hot seat while lawmakers and stakeholders await what will surely be only a best guess. Fiscal experts and health care observers say figuring out what the court's ruling means is a complex process, with little certainty about the outcome.
"This is going be a very difficult estimate to make," says one former top congressional budget aide. "There is data there to make an estimate; it can be quantified. But all these ancillaries, these factors — and I think CBO will be the first one to admit it — will make it highly speculative anyway."
The law's supporters — mostly Democrats — like to tout that CBO in the past has found that the law will reduce the federal budget deficit over time. Opponents — mostly Republicans — have derided the law, saying it's full of budgetary gimmicks and insist that its spending provisions will add to the government's red ink.
Although CBO's new estimate is likely to take into account a range of economic and demographic factors as well as political decisions, budget watchers agree that the biggest single effect will come from the court's ruling that states cannot be coerced into participating in the Medicaid expansion.
"Hundreds of billions of dollars are on the table with the Medicaid decision," says Douglas Holtz-Eakin, a former CBO director and current president of the conservative American Action Forum.
The Medicaid expansion is meant to cover anyone whose income is at or below 138 percent of the federal poverty level. Beyond that, the law provides subsidies for persons with an income from 100 percent to 400 percent of the poverty level so they can buy insurance, provided that they are ineligible for Medicaid or cannot afford employer-provided coverage.
Some states — although the exact number is still unknown — are expected to opt out of the expansion, which means that many people who would have received Medicaid coverage will instead buy federally subsidized insurance through state-run exchanges.
The basic question that CBO must answer is: How much money will the federal government save by not paying for the Medicaid expansion in all 50 states, and how much more will it spend by giving subsidies to that population?
Conservatives tend to think the law's overall price tag will go up, while liberals say it might result in more savings for taxpayers — while leaving more people without health coverage at all. But given the uncertainty over what the states might do, any estimate will be subject to further debate.
CBO Faces Tough Call on Costs of Health Care Overhaul
States Up in the Air
CBO has a roster of experts, numerous analytical tools and years of experience in making such estimates. And judging the law's budgetary effects is business as usual for the agency. But lawmakers are waiting to pounce on the score and use it for their own messaging purposes.
Already some Democrats have voiced disappointment that CBO did not estimate last week the cost of repealing the law, before House Republicans voted to do so. CBO explained at that time that it was still working on the new budget score.
When the law was passed, CBO's estimate found that it would reduce the deficit by $210 billion over 10 years. That number will be altered to include administrative decisions and congressional modifications as well as the Supreme Court's decision.
The more states that participate in the Medicaid expansion, the closer the updated score will be to CBO's original estimate. Previously, the agency said the federal government would spend about $931 billion over eight years for the expansion to cover all costs from 2014 through 2016, and to cover at least 90 percent of the costs thereafter.
If more states opt out, however, many people who would have been eligible for Medicaid may choose to take federal subsidies to purchase insurance through state exchanges.
Peter Orszag, a former director of the Office of Management and Budget under Obama and the director of CBO before that, says no simple solution exists for determining how much more the government will have to pay in subsidies. The mix of people who choose subsidies will vary "significantly from state to state," Orszag said during a conference call with reporters after the court ruled. "You can't really do an easy rule of thumb without knowing which states are not participating."
And that may not be known for some time. The administration has told states they have no deadline to inform Washington of their plans to expand Medicaid. And although at least a half-dozen governors — including those from populous Florida and Texas — have said they won't participate, no one knows how many will follow through.
Governors who now say they will opt out may change their minds if they encounter resistance from state legislatures or from hospitals and pharmacists. Moreover, the party control of some state legislatures may switch after the fall elections.
Even opponents of the health care law say state legislators should take time to weigh the costs and the benefits of participating in the Medicaid expansion. "It's a far-from-obvious decision," says Holtz-Eakin. "They should take their time and sort of do the calculus carefully."
Orszag says the lure of a 90 percent federal share of the costs of the expansion may be too great for some states to resist — but nonetheless he does expect that some will stay out.
"I wouldn't be surprised to see numbers like a third of the people who are projected to be covered under Medicaid being endangered by, you know, not taking up the additional coverage," he said.
CBO Faces Tough Call on Costs of Health Care Overhaul
If all states implemented the expansion, between 16 million and 17 million people would get coverage through Medicaid, according to CBO.
Parsing the Costs
The expansion of Medicaid to cover a portion of the uninsured population was included in the health care overhaul, Holtz-Eakin says, because lawmakers realized that the expansion would be cheaper than providing those individuals with subsidies to buy insurance.
That's why he thinks that the law will be more costly — or at least will generate less savings — now that states have the option to opt out without putting their basic federal Medicaid money at risk.
"Now that it's optional, it can't cost less, so it's going to cost more," Holtz-Eakin says. "The question is, how much?"
Charles Blahous, a senior research fellow at the Mercatus Center at George Mason University in Virginia and deputy director of the National Economic Council under President George W. Bush, agrees. "It could thus well be that if the court's decision shifts coverage from Medicaid to the new health exchanges, the law's budgetary effects may be much worse than last projected," Blahous wrote in a blog post for Economics 21.
But not everyone expects CBO to project a rise in the law's price tag. Edwin Park, vice president for health policy at the Center on Budget and Policy Priorities, says CBO will find that reduced Medicaid spending results in a net savings overall.
States that opt out of the expansion will leave a population that won't be covered by regular Medicaid and that isn't eligible for subsidies, Park says. That's because many states don't offer Medicaid to people with incomes at 100 percent of the federal poverty level, where the subsidies kick in.
Those below the poverty line who don't meet the criteria for Medicaid are "most likely not going to be covered at all, and they're not eligible for federal subsidies," he says. The government won't spend anything to help people who fall into that gap obtain coverage, he says.
Far more people have incomes below the poverty line and would be newly eligible for Medicaid under the expansion than exist in the "thin sliver" of incomes between 100 percent and 138 percent of poverty, Park says. Projections that an increase in subsidy costs will outweigh Medicaid savings "ignore all the savings from, unfortunately, people being left without coverage who are below poverty."
The former congressional budget aide agreed with Park's assessment that CBO might find more savings. He said people who might have been covered under the Medicaid expansion and who are eligible for subsidies might choose not to buy insurance at all.
"I think the number will be rather significant in terms of the savings from not having Medicaid expansion in those states," the aide says. "Yes, the subsidies will be there, but how many will actually take advantage of them?"
FOR FURTHER READING: House repeal bill (HR 6079), p. 1453; Supreme Court upholds law, CQ Weekly, p. 1380; state Medicaid programs vary, 2011 CQ Weekly, p. 1362.