CQ WEEKLY – IN FOCUS
July 14, 2012 – 12:39 p.m.
Secure Communities Plan Leads to Insecurities
By David Harrison, CQ Staff
Fresh off its partial victory in the Supreme Court case against Arizona, the Obama administration is facing another challenge to its immigration policy from state and local governments. This time, however, the resistance comes from the left.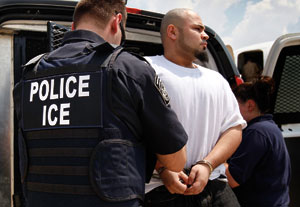 | | |
| --- | --- |
| DEPORTED: A Chicago prisoner is moved to a plane for the flight south and to the Mexican border. (SCOTT OLSON / GETTY IMAGES) |   |
At least eight localities, including President Obama's hometown of Chicago, have proposed or enacted ordinances limiting the extent of police cooperation with federal agents to deport undocumented people. Local officials contend that the administration's policy turns police officers into immigration agents and discourages residents from reporting crimes because they fear they will be deported.
Immigration and Customs Enforcement Director John Morton threatens to crack down on those renegade jurisdictions that he says are refusing to enforce federal law. The administration is considering a lawsuit, according to an ICE official. But legal experts caution the government to think twice about that option because states could argue they are being unconstitutionally coerced into implementing a federal program.
At the same time, the lenient local governments pose a tricky political problem for the Obama administration. After taking such a strong stance against Arizona for its tough immigration enforcement law, Obama is under pressure to act as forcefully against Democrat-run localities that flout the federal government by enacting less-restrictive statutes. But an aggressive response could hurt Obama among the Hispanic voters.
As with so many immigration questions, tension between the federal government and states such as Arizona or localities such as Cook County, Ill., is a symptom of a broken system, experts say, that Congress hasn't fixed.
More than 11 million undocumented people live in the country, many with spouses and children who are citizens. Congress eventually will have to figure out what to do about these people, recognizing that it would be unrealistic to deport all of them, said Doris Meissner, commissioner of the Immigration and Naturalization Service in the Clinton administration and now a senior fellow at the Migration Policy Institute, a nonpartisan think tank. "In the meanwhile," she said, "I think these kinds of tensions will rise."
At a July 10 House hearing, Rep. Ben Quayle, an Arizona Republican, pressed Morton over a "sanctuary" ordinance adopted last year by Cook County, which includes Chicago. "It was pretty swift when Arizona passed their own law and the DOJ came in pretty quickly," Quayle noted. But in Cook County, he asked, "There has been no talk about a lawsuit? Or is there a lawsuit pending?"
Morton replied that he has met with the Justice Department to discuss legal options. "I expect to hear from them shortly, and I can tell you that resolving the issue in Cook County is very important for me," he said. "They are releasing no individuals to us, including very violent offenders, and I just don't think that's good policy."
Requests From Washington
At issue is Secure Communities, a four-year-old program in which local officers provide names and fingerprints of arrested individuals to ICE to run through a database to check their legal status. The federal government has rolled out the program across the country gradually and says it will be in place nationwide by early next year.
If ICE determines that someone in custody is subject to deportation, it can issue a detention request asking local authorities to hold the person for a couple of days until the agency can pick up the individual. Local governments say a detention request is just that, meaning they can choose whether to honor it.
The federal government says Secure Communities is designed to take illegal immigrants who commit serious crimes off the street and deport them. But a government task force report last year found that many of those deported under the program had no criminal record and came to ICE's attention after being stopped for minor traffic violations. The report also found that the program has a chilling effect in immigrant communities, where many crime victims were afraid to call the police.
Secure Communities Plan Leads to Insecurities
In response, ICE said it would not target for deportation people who are charged with minor traffic violations. The agency also will not try to deport victims of domestic violence who call the police or people who have witnessed a crime.
But many cash-strapped local governments still object to having to hold detainees without being reimbursed by the federal government. In Cook County, where a jail bed costs $143 a day, the county government now forbids the sheriff from honoring ICE detention requests, even in the case of violent offenders.
Morton called that a violation of federal law and said county officials would be to blame if the policy leads to repeat criminal offenses. "Their approach is ultimately going to lead to additional crimes in Cook County that we would have been able to prevent," he said. Morton added that he was also looking into denying the county funding from a federal program known as the State Criminal Alien Assistance Program, or SCAAP.
In the city of Chicago, Mayor Rahm Emanuel, Obama's former chief of staff, recently unveiled an initiative that would send only the names of those convicted of serious crimes to ICE for deportation. Other jurisdictions to buck Secure Communities include New York City; Washington, D.C.; San Francisco; Milwaukee; Taos County, N.M.; and Santa Clara County, Calif.
But the biggest challenge to Obama's deportation policy could come in the next few weeks in California, home to 2.5 million suspected illegal immigrants, more than in any other state. This month, the state Senate passed a measure similar to Chicago's that would direct law enforcement agents to comply with ICE requests only in the case of people convicted of serious and violent crimes.
California officials say the law would simply codify existing federal policy, pointing to ICE memos last year directing the agency to focus deportation resources on people convicted of serious crimes or who cross the border repeatedly. Federal officials counter that only they have the authority to decide who should be deported and who should not.
Despite Morton's increasingly outspoken criticism of Cook County's ordinance, local officials refuse to back down. Before enacting its ordinance, the county got an opinion from the state's attorney's office stating that ICE detention requests are purely voluntary.
The county also is not worried about the potential loss of SCAAP funding — it received only $2.25 million in the last fiscal year, a fraction of its sheriff's office budget.
10th Amendment Concerns
Should the federal government decide to sue places such as Cook County or the state of California, it is unlikely to prevail, according to Bill Hing, a law professor at the University of California, San Francisco.
"The state does retain its own police powers, and when the federal government forces or commandeers state officials to do something, then that might raise a 10th Amendment problem," Hing said. "It's going to be a close case, but I think the state has an argument."
The administration could resolve much of the tension by simply paying local governments to hold suspected illegal immigrants or by picking them up from local jails before they are released, he said.
"I don't think it's a slam dunk for the government in terms of saying they can commandeer state resources to assist with federal immigration enforcement," said Aarti Kohli, senior fellow at the Warren Institute for Law and Social Policy at the University of California, Berkeley, law school. "It's a very fine line the government is walking."
Secure Communities Plan Leads to Insecurities
The administration is also not getting much help from immigration advocates on Capitol Hill. Rep. Zoe Lofgren of California, a Democrat and former immigration attorney, says the administration has been too heavy-handed in its application of the Secure Communities program. Nobody objects to turning over violent offenders for deportation, she says, but when federal agents go after people charged with minor traffic violations and force jails to hold them for two days, it poisons the government's relationship with local authorities.
"Morton's shop has been very unwilling to show any reasonable flexibility on this," Lofgren said. "You can have a much more effective program if you have a collaboration."
Rep. Luis V. Gutierrez, an Illinois Democrat, said the efforts in Cook County and Chicago are intended to send a message to immigrant communities: "You're not a criminal? You're not involved in criminal activities? You're one of us. You're a Chicagoan."
And while Gutierrez praises the administration's new deportation policy targeting violent offenders and its recent announcement allowing some young undocumented people to stay in the country, he says the White House needs to realize it does not have to appear tough on immigration enforcement to appease conservatives. Polls show a majority of voters approve of Obama's more lenient immigration policies, he adds.
That, he says, should be a signal to the White House.
FOR FURTHER READING: Arizona's "show me your papers" provision , CQ Weekly, p. 1354; two-pronged immigration policy alienates both sides, p. 753.