CQ WEEKLY – COVER STORY
July 14, 2012 – 12:45 p.m.
Running Low on Power
By Geof Koss and Pam Radtke Russell, CQ Staff
June brought bad news for the beleaguered U.S. coal industry. In the span of one week, the Senate upheld new federal limits on toxic emissions from coal-fired utilities, a federal appeals court rejected an industry challenge to the EPA's authority to regulate greenhouse gases, and a major U.S. coal producer announced it was eliminating 750 jobs in Kentucky and West Virginia. The news got worse in July, as Patriot Coal, one of the largest Appalachian producers, filed for bankruptcy protection.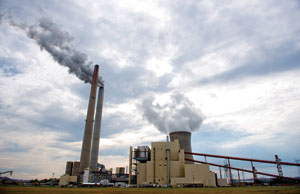 | | |
| --- | --- |
| POWER PLAY: American Electric Power scuttled plans last year for the world's largest carbon capture facility at its Mountaineer coal power plant in New Haven, W.Va., citing a weak economy and regulatory uncertainty. (SAUL LOEB / AFP / GETTY IMAGES) |   |
Congressional defeats, lost lawsuits and mine shutdowns have become a familiar pattern for U.S. producers of coal and the electric power plants that burn it. A suite of new environmental regulations and unexpected competition from a seemingly endless domestic supply of cheaper — and cleaner-burning — natural gas has King Coal, long the dominant American power source, backed against the wall. The industry's congressional allies point to the flurry of new regulations as proof of what they see as an Obama administration "war on coal."
Coal producers remain a formidable political force on Capitol Hill. Despite a 2010 accident that killed 29 miners, the industry has blocked mine safety legislation in both chambers from even advancing to markups in the 112th Congress. The House has passed multiple bills to ease restrictions on mountaintop mining and other regulations that are problematic for coal. And the industry led the successful fight in the last Congress to block cap-and-trade climate change legislation. The American Coalition for Clean Coal Electricity, an industry group that spends millions of dollars on television ads touting the benefits of "clean" coal, reported $380,000 in lobbying expenditures in the first quarter of 2012 alone.
But even some of coal's friends in Congress say the industry is becoming a victim of its uncompromising fight against regulatory efforts to reduce power plant pollution.
"This foolish action wastes time and money that could have been invested in the future of coal," said West Virginia Democrat John D. Rockefeller IV during Senate debate last month on an industry-backed resolution aimed at blocking new EPA limits on power plant mercury emissions. "Instead, with each bad vote they give away more of their leverage and they lock in their failure."
In unusually harsh tones for a lawmaker from a coal-dependent state, Rockefeller denounced the coal industry's "all or nothing" strategy of fighting EPA rules one by one rather than negotiating for concessions that would bolster the economic and environmental reasons for the fuel's continued use.
Rep. Henry A. Waxman, a California Democrat who has battled coal for decades, says greater collaboration would have yielded increased federal investment in technology to burn coal more cleanly. (Clean coal, p. 1447) "Instead, they've put their head in the sand, and natural gas is picking up the utilities because it's a better competitor," Waxman says.
As a result, utilities are turning off their coal-fired plants and turning to natural-gas-powered plants at an unfettered rate. Coal's declining share of the nation's electricity generation left it tied with natural gas at 32 percent in April, according to the most recent statistics from the Energy Information Administration. For much of the past decade, coal accounted for closer to 50 percent of the generation mix.
The industry's response to its setbacks has been to double down on its political bet, hoping that Republican gains in November — including the election of Mitt Romney as president — will hold back the regulatory tide long enough to permit a rewrite of the Clean Air Act that would free coal from some of its restraints and stem its downward slide.
History suggests that's a risky proposition. Efforts to rewrite the law under President George W. Bush were unsuccessful even when Republicans controlled both the House and Senate. Democrats fared no better during the 111th Congress when they controlled both ends of Pennsylvania Avenue.
Coal backers are also betting that energy economics will eventually swing back to their favor. "I'm glad natural gas prices are down," says Kentucky Republican Edward Whitfield, chairman of the House Energy and Commerce subcommittee with jurisdiction over power production. Still, Whitfield says, "everybody understands" that natural gas prices "are going to start going up again." He says there's simply no way to meet growing electricity demands at home and abroad without America's estimated 239-year supply of coal reserves.
"Coal has to be part of the mix," agrees Nick Akins, president and chief executive of American Electric Power Co. (AEP), the nation's third-largest power generator with a capacity of almost 38,000 megawatts of electricity, 66 percent of it from burning coal.
Running Low on Power
Such optimism doesn't comfort those who fear most for coal's future, such as Oklahoma Republican James M. Inhofe, sponsor of the unsuccessful Senate resolution to roll back the EPA's restrictions on mercury emissions. Allowing the air toxics rule to take effect, Inhofe said on the floor, would mean "coal is dead."
Economic Challenges
Trends in coal markets lend strong support to Inhofe's apprehensions. The Energy Information Administration projects that coal deliveries to U.S. power plants — which consume 93 percent of domestic coal — will fall to 798 million tons in 2012 from 929 million tons last year. Increased exports also aren't likely to pick up the slack. Although the appetite for coal in Asia is growing, the infrastructure to move U.S. coal from the West Coast isn't yet built.
The downward trend in domestic coal consumption is hurting the ability of domestic producers to raise capital. Share prices for U.S. coal-mining companies have fallen as much as 70 percent in the past year, says Lucas Pipes, vice president and senior equity analyst for Brean Murray, Carret and Co.
Instead of pinning blame on new EPA rules designed to control emissions of mercury, sulfur dioxide, nitrogen oxides and greenhouse gases, Pipes and other analysts say coal's current decline results from the combination of inexpensive natural gas (which fell to a record low of $1.90 per million British thermal units in April), a mild winter, low overall demand for electricity and a weak world economy. Pipes says coal deliveries were already projected to drop 115 million tons a year because of the EPA regulations. But even without those regulations in effect, cheap natural gas and falling demand drove coal consumption in the first quarter of 2012 to the lowest level since the second quarter of 1988.
"I would say now that there is not much further downside because of the regulations," Pipes says. Few, if any, further declines in consumption are expected, he says.
Demand for coal is expected to rebound somewhat as electricity use rises with the recovering economy and as the price of natural gas strengthens. The Energy Information Administration forecasts that coal will remain the dominant domestic source of electric generation for decades, although at a reduced level of 38 percent of generation in 2035, down from 45 percent in 2010.
Still, while the price of natural gas has bounced back somewhat, it remains historically low — and currently costs about half what it did for most of the past decade. As a result, utilities are reconsidering whether they can justify investing $750 million to retrofit coal-fired plants as large as 300 megawatts to meet new emissions requirements, if instead they can purchase natural-gas-produced power on the market or build new gas-fired plants for less, says Mark Gabriel, vice president and executive director of strategy for the consulting arm of the engineering and construction company Black and Veatch.
The new EPA rules were initially expected to primarily affect smaller, older, inefficient power plants. Gabriel says the EPA expected that plants producing between 15,000 megawatts and 20,000 megawatts from coal would close because they could not comply with the regulations. With the additional economic pressure from inexpensive natural gas, Gabriel says his engineering company forecasts up to 65,000 megawatts of coal plant closures.
Not all utilities, though, can simply shut down their coal plants. Some are needed at specific spots on the electric grid for reliability reasons, says Akins. And a natural gas plant sometimes can't simply replace a coal-fired plant because there's no pipeline built to bring in fuel. Akins contends there isn't enough time to engineer and build replacement gas plants before the rules would require coal plants to shut down.
To meet regulations and keep its coal generation plants operating, AEP has spent $7.2 billion over the past two decades, and is planning to spend $6 billion to $8 billion more to meet the new rules. The company also expects to retire about 20 percent of its coal plants, equal to 5,200 megawatts.
AEP and other utilities, however, are pushing for additional time to meet the regulations. Under the current schedule, Akins says the utility would be forced to shut some coal plants prematurely.
Running Low on Power
"At this point, we will take what we can get," Akins says. "We continue to support a rational, coherent and consistent view to deal with emissions and provide timing to deal with it in a very responsible way." If the regulations are implemented too quickly, he says, AEP customers may see electric bill increases of 10 percent to 35 percent.
However, the EPA and its supporters say the compliance schedules are achievable, noting that more than half of coal-fired power plants already meet the new limits for mercury, having installed pollution reduction equipment to comply with state air requirements.
Daniel J. Weiss, a senior fellow at the liberal Center for American Progress, says utilities that held out making upgrades are paying the price for making bad business decisions. "These companies should have seen the handwriting on the wall," he says, noting that regulations to control many of the pollutants have been in the works for years. "But instead, Big Coal and Dirty Utilities' strategy has been delay, delay, delay."
Some utilities have hesitated to pay for pollution controls until the rules are final or because the technology isn't available, Gabriel says. The starting price to add a post-consumption carbon dioxide capturing system is about $750 million, and no utility wants to install a system only to find out later that it won't meet the regulations, he says.
Last year, AEP shelved plans for a large-scale project to demonstrate carbon capture and sequestration technology at its Mountaineer generating plant in West Virginia, citing the weak economy and uncertainty about national climate policy.
"No one is saying 'we don't want to do this,'" Gabriel says, referring to investments in new technology. "But at the end of the day, it's about engineering and physics and economics — it's not about philosophy or policy."
Yet while the regulatory and economic challenges facing existing coal plants are difficult, the future for coal beyond existing generating plants is — currently — difficult to imagine.
The lack of commercial-scale carbon capture technology means that the most widely used type of natural gas plant has essentially become the default power source for new fossil fuel plants. In fact, the EPA's proposed greenhouse gas standards require new power plants to meet the carbon dioxide emissions of existing natural gas technology.
"The industry does not have a lot of growth prospects," says Pipes.
Familiar Stalemate
Coal and its backers are eying a two-pronged, post-election strategy for obtaining relief from their regulatory challenges.
In the short term, if President Obama isn't re-elected, a Romney administration is widely expected to use its administrative authority to slow implementation of major air quality regulations issued by Obama's EPA. That would provide breathing room for coal producers and power generators while lawmakers push a more ambitious, longer-term solution — overhauling the 1970 Clean Air Act.
Running Low on Power
Weiss says utilities followed a similar strategy shortly after George W. Bush was sworn into office in 2001. They lobbied the administration to ease a Clinton-era crackdown on power plant pollution, and within months, the new administration announced it would propose legislation to relax the Clean Air Act's application to utility emissions.
Should Romney be elected, Weiss predicts the coal industry "will make a quick path to his doorway seeking the same kind of relief."
Among the options for delaying rules already in effect would be extending compliance deadlines through executive order or using consent decrees to settle industry litigation against specific rules. Environmentalists would almost certainly challenge such actions — as well as expected Romney administration attempts to scuttle pending EPA greenhouse gas rules — in federal court.
As judges sort out the legal tangles, Congress might try to move on the elusive goal of rewriting the underlying statute. Although even most of its critics agree the 42-year-old law has succeeded in clearing up air pollution, attempts to weed out the multiple layers of regulation it dictates is a longstanding industry goal.
It's also a goal that has taken on increased urgency since the Supreme Court ruled in 2007 that the law applies to greenhouse gases. That decision ultimately triggered a new layer of regulations on power plants and other industrial facilities. Those regulations are under development by Obama's EPA.
House Republicans have pushed to passage multiple bills that would block or weaken clean-air regulations on emissions of greenhouse gases and other pollutants, but the legislative reprieve that industry says it so desperately needs remains out of reach as long as Democrats control the Senate.
Kentucky Republican Whitfield sees coal's political fortunes rising after November: "If Obama's defeated and if we can maintain the House and just make a few gains in the Senate, we'll make some changes related to coal."
Later this month Whitfield will lay the groundwork for a rewrite of the Clean Air Act by convening the first of a series of forums on the law's effectiveness. Among the issues he wants to address are what he calls the oversized role of environmental litigation in driving clean-air policy and the law's consideration of economic and health factors in setting air quality standards, which critics say are biased in favor of additional regulation.
Although Whitfield concedes benefits from reducing air pollution, he says Congress needs to take a look at the "inequitable things" borne by coal in the air law. "There isn't any act up here that is sacrosanct in my view," he says.
Making changes to the Clean Air Act has proven to be one of the more challenging undertakings on Capitol Hill. Michigan Democrat John D. Dingell, the longest-serving House member in history, has said the 1990 clean-air overhaul that he helped shepherd into law was among the most difficult legislative endeavors of his career.
The 1990 amendments — the last time major changes were made — are also noteworthy in that they resulted from cooperation between Republican President George Bush and a Democratic Congress.
Bush's son had no success, however, when he tried to amend the law to allow for emissions trading to cut mercury, sulfur dioxide and nitrogen oxides pumped from the smokestacks of coal-fired power plants. With Republicans in charge of Congress, the prospects for Bush's "Clear Skies" proposal seemed favorable. But strenuous opposition from environmentalists led to a deadlock in the Senate Environment and Public Works Committee in 2005, killing the measure.
Committee Democrats wanted to include carbon dioxide emissions as part of the legislation, which Oklahoma's Inhofe, who was chairman at the time, vigorously opposed.
Running Low on Power
Obama fared no better during the Democratic 111th Congress, when he sought to amend the Clean Air Act to create a national cap-and-trade program to reduce emissions of carbon dioxide and other greenhouse gases. The House in 2009 just barely passed a sweeping climate change bill sponsored by Waxman and Massachusetts Democrat Edward J. Markey. But efforts to push a companion measure through the Senate collapsed.
Both the Bush and Obama efforts further poisoned the already-toxic politics of the Clean Air Act, says Tennessee Republican Sen. Lamar Alexander, who worked with moderates from both parties on legislation to address multiple pollutants in a coordinated fashion after Bush's Clear Skies plan fell short.
There's plenty of blame to go around, says Alexander. "The utilities and the environmentalists take extreme positions, Congress has been in a stalemate, and EPA's left as the only game in town," he says. "And that's not good government for me."
Willingness to Change
Glenn English, a former 10-term Democratic representative from Oklahoma who heads the National Rural Electric Cooperative Association, says one effect of the congressional impasse on coal is clear: "We don't believe any new coal-fired plants can be built in this country, period."
And for all the intensity surrounding clean-air policy, there is broad desire on both sides of the aisle to revisit the law — albeit for very different purposes.
Jeff Holmstead, who served as the top EPA air official from 2001 to 2005, says lawmakers need to review the multiple layers of regulation that facilities face. "There's a lot of overlap, but no acknowledgment of that in the statute," says Holmstead, now in private law practice with Bracewell & Giuliani.
The Bush administration's Clear Skies proposal marked the first attempt to "harmonize" regulation of coal plants through various programs under the law by capping emissions of multiple pollutants, while also exempting or delaying compliance with other requirements. Environmentalists said the proposal would have weakened the overall targets for reduced emissions of mercury, sulfur dioxide and nitrogen oxides under the existing statute.
Holmstead says that adamant opposition to changes from environmentalists stems from the fact they "have a lot more leverage if they can pull the various strings, so I think they are not very interested in that kind of overall reform at this point."
Nonetheless, he says, changes in the clean-air law might yield the same environmental benefits at lower cost. "I think everyone would agree that there are more efficient and effective ways of accomplishing our goals, but I think the politics of getting there are going to be a challenge," says Holmstead.
Federal efforts to clamp down on the same toxic pollutants that were at issue in the Clear Skies effort continue to bedevil regulators and regulated industries. After the collapse of Clear Skies, the Bush administration tried to implement some of its provisions through regulations — only to be rebuffed by federal courts.
The Obama EPA's later attempts to deal with the same pollutants by separate regulations are now the subject of legal challenges from industry. Pressure on affected interests and lawmakers to return to the table to discuss a legislative solution would increase if the courts invalidate any of the pending rules, observers say.
Running Low on Power
"The Obama administration has made it quite clear they don't want to reopen the Clean Air Act, but if there is a Romney administration, I think there's quite likely to be an attempt to fix some of these things," says Holmstead, a Romney supporter who says he has played an informal role in advising the campaign. But it isn't clear how far negotiators might get, since climate change remains the 800-pound gorilla in any discussion involving the clean-air law these days.
Romney and other Republicans have made clear they want to amend the Clean Air Act to exclude regulation of greenhouse gases. For many Democrats, reducing emissions of carbon and other gases that they say contribute to global warming is the only topic they want to discuss.
While it would be an uphill fight, making statutory changes might be the only avenue available to those who want to bar the EPA from regulating carbon dioxide. That point was driven home last month when a federal appeals court in Washington dismissed industry challenges to EPA climate rules. In doing so, the judges found that the EPA's interpretation of its regulatory authority to be "unambiguously correct."
The ruling was a major setback for EPA critics, although some lawmakers and lobbyists say they are confident that there are major legal flaws in upcoming EPA greenhouse gas regulations that industry will be able to exploit to gain some relief.
Still, Sen. Lisa Murkowski, the Alaska Republican who led an unsuccessful attempt in 2010 to block climate regulations, says the more recent ruling highlights the need for congressional action. "We're not doing as well in the courts as I think many of us would like," she says.
Broader legislative changes, Murkowski concedes, will hinge on GOP electoral gains and how many sympathetic Democrats can be counted on to provide the 60 votes needed to break a Senate filibuster.
Alexander similarly agrees that Congress needs to address greenhouse gases, but he is less optimistic that the debate can move past the earlier stalemate. "The EPA has no business regulating carbon," he says. "We should be deciding that question, but apparently we can't agree enough to decide any question when clean air is the issue, so we leave it to bureaucracies."
No matter who wins in November, English says, industry and environmentalists need to confront a future where coal is still burned to produce electricity, and where the regulatory environment is stringent.
"Somewhere, the reality needs to take hold. Otherwise, we aren't going to meet the nation's power needs," English said. "I am not sure that either side is going to achieve the position that they would like."
Lauren Gardner contributed to this story.
FOR FURTHER READING: EPA emissions rule, 2011 Almanac, p. 7-3; climate change legislation, 2010 Almanac, p. 12-7; House cap-and-trade climate bill, 2009 Almanac, p. 10-3; "clean" coal provisions in 2005 energy law (PL 109-58), 2005 Almanac, pp. 8-10, 8-14; 1990 Clean Air Act amendments (PL 101-549), 1990 Almanac, p. 229.