CQ WEEKLY – VANTAGE POINT
July 21, 2012 – 9:16 a.m.
Skirting the Loaded Issue of Gun Control
By Rob Margetta, CQ Staff
The horror over last week's shooting at a movie theater in a Denver suburb, which left at least a dozen people dead and many more wounded, has led to an outpouring of sympathy and support for the victims on the part of federal officials. It probably won't lead to a stepped-up debate over gun control, though, as it might have in earlier years.
"I'd be amazed if it brought about such a conversation," said William A. Galston, a senior fellow for governance studies at the Brookings Institution in Washington.
In a hotly contested election year in which polls have shown dwindling public support for stricter laws limiting the sale of guns, Galston says, the subject is too controversial for the president or members of Congress to take on. Gun control is simply not a viable issue for most politicians.
"Look at the states that are most likely to decide the presidential election and the majority in Congress," Galston says. "I don't think you're going to hear much talk about gun control in Montana or Missouri or Virginia.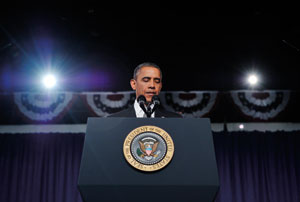 | | |
| --- | --- |
| GRIEVING: After the shooting, President Obama told a somber crowd, 'Such violence, such evil, is senseless.' (MANDEL NGAN / AFP / GETTY IMAGES ) |   |
Nor have other recent high-profile shootings — such as the 2007 massacre of 32 people at Virginia Tech University and the attempted assassination of Arizona Democratic Rep. Gabrielle Giffords last year, which left six people dead — created momentum for a broad congressional debate on gun control.
"It's unlikely to produce any sort of policy shift at this time," says Donald F. Kettl, dean of the University of Maryland's School of Public Policy.
The lengthy congressional inquiry into a botched gun-tracking operation known as "Fast and Furious," in which federal agents allowed traffickers to take guns into Mexico to build cases against drug-cartel leaders, has focused on the Obama administration's actions but not on gun laws, which some Democrats have lamented.
At each of the hearings, Republicans admonished any lawmaker who attempted to talk about gun control.
Donald Wolfensberger, director of the Congress Project at the Woodrow Wilson International Center for Scholars, says that although several Democrats, including Rep. Gerald E. Connolly of Virginia, have said Congress should overhaul gun laws, that isn't the same as building a consensus for action. "I don't see any leaders stepping up on the subject and rallying their colleagues," Wolfensberger says.
That might be because they don't want to take the risk, Galston says. He served as a White House adviser when President Bill Clinton in 1994 pushed through a comprehensive crime bill that included an assault-weapons ban. Several Clinton allies felt they suffered politically for that measure, Galston says, and Democrats grew wary of taking positions on gun control that could leave them politically vulnerable.
"There was a time when Democrats thought this was a winning issue for them," he says. "That time has passed."
Skirting the Loaded Issue of Gun Control
But Winnie Stachelberg, of the liberal Center for American Progress, maintains that some efforts to make gun laws stricter can find bipartisan support. Policies such as background checks, when presented as reasonable measures intended to save lives, can gain the support of gun control advocates and National Rifle Association members alike, she says.