CQ WEEKLY – IN FOCUS
July 21, 2012 – 10:23 a.m.
Is the Sting of Sanctions Enough to Change Iran?
By Jonathan Broder, CQ Staff
Ships plying the Persian Gulf are encountering an unusual sight these days: a growing number of Iranian tankers, brimming with oil, resting at anchor, waiting for buyers to defy the latest round of Western sanctions over Tehran's disputed nuclear program.
These idle tankers are the most visible sign that new measures passed by Congress late last year, bolstered by a European Union embargo of Iranian oil that kicked in on July 1, are starting to bite. Iran's oil exports have plunged by nearly half since January; food prices have spiked, along with unemployment; and the value of the country's currency, the rial, has plummeted.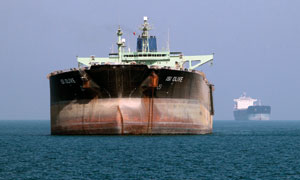 | | |
| --- | --- |
| FLOATING STORAGE: The Persian Gulf is dotted with anchored Iranian oil tankers looking for buyers. (ATTA KENARE / AFP / GETTY IMAGES) |   |
But Iran is still finding plenty of ways to work around the edges of the sanctions, oil experts say. For example, the government has set up private consortia to act as cutouts, or intermediaries, for oil sales. To get around banking sanctions that prevent money transfers to Iran, Tehran is accepting gold, and even barter, as payment from its dwindling number of oil customers. So far, it appears, the regime is managing to export enough to pay its bills.
This mixed picture of Iran is mirrored in Congress by conflicting assessments of the effectiveness of sanctions. Some lawmakers, such as Democratic Sen. Robert Menendez of New Jersey, are confident it's only a matter of time before the sanctions compel Tehran's leaders either to halt the nuclear program or to face overthrow by their disgruntled citizens. But even as Congress prepares additional measures against Iran, others are far less sanguine, noting Iran's long expertise at smuggling and circumventing foreign pressure. And these critics say that even if sanctions are beefed up, they almost certainly won't force the regime to change its behavior, once again raising the specter of military action.
Sanctions, of course, have almost never been used successfully on their own to oust recalcitrant rulers. Most notably, a decade of suffocating international sanctions on Iraq served only to strengthen Saddam Hussein's grip on power, although it did prevent him from rebuilding his nuclear weapons program. And in the case of Iran, the sanctions are significantly weaker. Some 20 countries, including big oil customers such as China, India and Turkey, have received waivers from the Obama administration to buy Iranian oil.
This week, European Union and Iranian officials meet for another round of negotiations, but there are few signs of a pending breakthrough.
"The hope is that the leadership in Iran will begin to see there's another way to go," says California Democrat Dianne Feinstein, chairwoman of the Senate Intelligence Committee. "But that hasn't happened yet." Short of war, she frets, "there aren't a lot of things you can do."
A World Of Hurt
There is little doubt that the latest rounds of sanctions, targeting Iran's oil sales, the maritime insurance industry and banks doing business with Iran, have inflicted real economic pain. Iran's oil exports have dropped this year by a million barrels to around 1.2 million barrels a day, according to Jamie Webster, head of market intelligence at PFC Energy, a Washington-based oil consulting company. The falloff in exports is costing Tehran an estimated $106 million a day in lost earnings.
Iran's oil exports are expected to dip even lower in the months ahead, with maritime insurance companies such as Lloyd's Register refusing to insure Iranian ships and cargoes and international banks refusing to transfer payments to Tehran. The sanctions also have restricted Iran's access to outside financing.
"So pressures on ordinary Iranians are increasing because the regime is reducing imports," Webster says.
Meanwhile, the value of the rial has fallen 50 percent since last year, pushing up consumer prices — officially by 25 percent, but far higher according to U.S. officials who closely follow events in Iran. They also say unemployment is rising amid a wave of business closings and bankruptcies due to the rising cost of imports.
Is the Sting of Sanctions Enough to Change Iran?
"The bottom line is this is all headed in the wrong direction for them," says Menendez, a senior member of the Foreign Relations Committee who has led the charge in that chamber for tough Iran sanctions.
In earlier rounds of international negotiations, Tehran has demanded a lifting of the sanctions as a sign of good faith. Not only has the West refused, but the Obama administration recently announced additional sanctions targeting Iran's tanker fleet. Another set of punitive measures that would expand sanctions against those doing business in Iran's energy and financial sectors has passed the House and Senate and now awaits conference.
Menendez says the sanctions will break the Iranians, one way or another. "These sanctions will make the noose so tight that the Iranians will have to think and act in a different direction," he says. He predicts that by the end of the year, "we will get to where we want to be in terms of an Iranian populace that will demand they move in a different direction."
Survival Skills
Despite the economic pain, Iran is managing to export some oil and other products, and its leaders remain defiant as ever.
"Iran has stood up to all plots and sanctions," Supreme Leader Ayatollah Ali Khamenei said in a speech earlier this month. "Westerners don't understand that they themselves vaccinated Iran" against hardship through numerous sanctions that began soon after the 1979 Iranian revolution.
Webster has been keeping his eye on what he calls the country's "threshold price level" — the minimum amount of oil Iran must export at a certain price to balance its current account. For Iran, the minimum is 1.3 million barrels per day at $90 per barrel. With oil today at $106 per barrel and rising, Iran still has some wiggle room, he says.
Moreover, Iran is expert at deploying war-like rhetoric to keep oil prices high. Last week, Iranian commanders renewed threats to block the Strait of Hormuz at the mouth of the Persian Gulf, the route for one-fifth of the world's oil supply. Predictably, the price of crude oil jumped 6 percent on the news. Without firing a shot, Iran was able to boost its earnings from the dwindling amount of oil it is now selling.
Tehran employs other subterfuges to get around the sanctions, such as setting up private consortia throughout the Persian Gulf to unload its oil and striking deals on a spot basis with smaller trading companies. U.S. officials say some Iranian tankers are operating under revoked foreign flags. And in a form of barter, Iran is accepting Indian rupees as payment for its oil sales to India, then using those rupees to pay for Indian goods. In another circumvention of the banking sanctions, Turkey reportedly has paid for Iranian oil with gold. Iran is also said to be providing oil to China at discounted prices, but oil analysts say the discounts are far smaller than originally believed.
"The Iranians will try any number of different tactics," says Webster. "Remember that Iran has been under sanctions for decades. With all of the experience it has accumulated, Iran is now the global leader in how to get around sanctions."
For now, Iran also appears to have significant foreign currency reserves to fall back on — some $110 billion, according to the most recent CIA World Factbook estimate.
Finally, there are the waivers — 20 in all — that the Obama administration has granted to countries to buy Iranian oil, provided they reduce their imports.
Is the Sting of Sanctions Enough to Change Iran?
"These sanctions would have made a difference if the administration hadn't granted so many waivers," says Oklahoma Republican Sen. Tom Coburn. "Should there be some waivers? Sure. But the administration is playing both ends against the middle."
Says Virginia Democratic Sen. Jim Webb of the sanctions: "It seems clear that they're not very tight."
No Tipping Point in View
With the negotiations between Iran and the West losing momentum, the two sides appear to be at a stalemate.
Analysts say Iran can probably continue to get by economically for the foreseeable future. Israel, which views a nuclear-capable Iran as an existential threat, has warned that it might take military action, but the United States has made it clear it does not want Israel to act unilaterally. And President Obama appears unlikely to launch any attack of his own, particularly before the November election.
That's not to say that the sanctions or other outside factors — such as a collapse of the Syrian regime, Iran's only ally in the Arab world — won't eventually force Tehran to make concessions on the nuclear enrichment program. But most Iran experts agree that any tipping point is almost certain to come about very slowly as Iran acclimates to the sanctions and the negotiations for a resolution to the nuclear issue continue.
Some hawkish lawmakers, such as South Carolina Republican Sen. Lindsey Graham, would like to see the matter resolved militarily. And if Obama won't do it, then maybe Israel will. "I just don't believe the Israelis will sit on the sidelines and watch the window on their military capability close," he says. "And I don't think it's reasonable for us to ask."
But this prospect has other lawmakers clinging to sanctions as perhaps the last, best way to avoid war. "I worry a lot about Israel attacking and what Iran does afterward," says Feinstein. "One of the things we're not very good at is figuring out what comes next."
For Further Reading: Iran sanctions, CQ Weekly, p. 1088; Iran central bank sanctions (PL 112-81), 2011 CQ Almanac, p. 5-3; the latest Senate sanctions bill is S 2101, the House bill is HR 1905.