CQ WEEKLY – COVER STORY
July 21, 2012 – 12:04 p.m.
No Taxation Without Consternation
By Sam Goldfarb, CQ Staff
Whether campaigning in Virginia, Ohio or another battleground state, President Obama delivers a simple message to the voters: The tax cuts set to expire at the end of the year should be continued for middle-class families who have been struggling, but taxes should go up on wealthier Americans — "folks like me," Obama says — who have done well and can afford to do more to curtail government borrowing.
This same message worked for Obama the first time he ran for president, and he plainly thinks it will work again.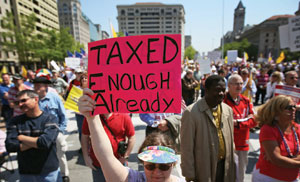 | | |
| --- | --- |
| BRINGING THE REVOLUTION: Tea party backers mark Tax Day, April 15, 2010, with a 'People's Tax Revolt' in downtown Washington. (MARK WILSON / GETTY IMAGES) |   |
Yet Obama might win re-election in November and still have trouble putting his policies into action. To this point, congressional Republicans — like their presidential candidate, Mitt Romney — have insisted on extending all of the expiring tax cuts that were first enacted in President George W. Bush's first term.
If Obama holds firm that tax cuts on household income over $250,000 should be allowed to expire, and if Republicans stand their ground that no tax cuts will be extended unless all are, then the president risks being blamed for what would amount to a tax increase on everybody.
The forces that drive tax policy in the United States, however, go beyond campaign trail tactics and partisan political debate on Capitol Hill. Whether in a lame-duck session or during a second term, Obama would be fighting not only Republicans, but also history in arguing that some Americans should pay more. Antipathy to taxes seems to be ingrained in the American psyche, and that constantly nurtured antagonism presents Democrats with a high hurdle to increasing federal revenue.
"We're historically a lower tax place than other countries," says a confident Grover Norquist, the anti-tax advocate and president of Americans for Tax Reform. "It's not just Republicans who think this. If Democrats believed that the American people wanted bigger government and they could raise taxes to do it, they'd run on that. But they don't. And they lose elections when they say we just want to tax a few of you."
From a global perspective, this might be called American tax exceptionalism. For the past 40 years, the combined tax revenue collected by federal, state and local governments in this country has seldom approached 30 percent of gross domestic product, according to the Paris-based Organisation for Economic Co-operation and Development. In 2010, U.S. tax collections at all levels of government totaled 24.8 percent of GDP. Only two of the 34 countries that belong to the OECD — Mexico and Chile — taxed their citizens at a lower rate. Denmark occupied the top end, collecting taxes worth almost half its economic output.
Many economists look at such statistics and conclude that the United States is missing an opportunity to raise additional revenue without jeopardizing the economy. Yet the last time Congress passed a net tax increase of any significance was almost two decades ago, during Bill Clinton's first year in the White House. And even that required a rare tie-breaking vote in the Senate by the vice president.
This month, the Senate will take a vote on a one-year tax-cut extension that is built upon Obama's $250,000 threshold. But there are complicated politics on the Democratic side of the aisle behind that seemingly simple income line that illustrate the passions and the election year calculations that surround tax matters.
The vote is occurring only after a vigorous push by administration officials who had to contend with Democratic lawmakers who thought it politically safer to raise taxes only on joint filers with annual incomes above $1 million. And, of course, no proposal to raise taxes has a chance of becoming law before the election.
Dueling History
Not everybody agrees that Americans are as anti-tax, or U.S. history as straightforward, as conservatives such as Norquist suggest.
No Taxation Without Consternation
Few liberals contend that raising taxes is politically easy. But for the most part liberal economists and historians see higher revenue as realistic and necessary. They point to instances when popularly elected representatives did raise taxes substantially, as well as narrowly missed opportunities that might have led to a larger government that was more responsive to the needs and demands of its citizens.
As Douglas Elmendorf, director of the Congressional Budget Office, has put it, Americans have complex views of what they want from the federal government. "The United States," he said in January 2010, "faces a fundamental disconnect between the services that people expect the government to provide, particularly in the form of benefits for older Americans, and the tax revenues that people are willing to send to the government to finance those services."
Although the U.S. tax burden is low compared with the rest of the world, it is still quite large today by historical standards. There are competing liberal and conservative narratives about that history, however, and what it means for Americans today.
As conservative historians like to point out, colonial America was something of the Cayman Islands of its day. In several cases, settlers were lured to the New World with the promise of 10- or 20-year tax exemptions. Alvin Rabushka, a Stanford scholar, has estimated that in the 18th century "British tax burdens were 10 or more times heavier than those in the colonies."
In 1750, a Swedish visitor, Pehr Kahn, marveled at the advantages offered to a "newly married man" in the colonies. "The taxes are very low, and he need not be under any concern on their account," Kahn wrote. "The liberties he enjoys are so great that he considers himself a prince in his possessions."
Historians have different views on the origins of the American Revolution, but it seems clear that colonists enjoyed their relatively tax-free existence and were disturbed when the British government started to experiment with new kinds of taxation that threatened their independence.
Following the formation of the federal government in 1789, Americans had additional responsibilities and difficult decisions to make. Famously, a divide developed between the Federalists, epitomized by Alexander Hamilton, and the Democratic-Republicans, led by Thomas Jefferson. Hamilton envisioned the United States as a powerful state with a vigorous bureaucracy, while Jefferson saw something of the opposite: a peaceful, agrarian society with a limited central government.
The debate between the two sides has persisted, with a few adjustments, and shows no sign of abating.
Of course, the modern Republican Party is more interested in military strength than was Jefferson, and modern Democrats differ from Hamilton in their emphasis on taxing businesses and the rich. Nevertheless, it's remarkably easy for liberals and conservatives today to pick sides in the arguments of the 18th century, and to come to radically different interpretations of history.
Depending on one's political perspective, it's possible to argue that American settlers were communitarian or libertarian, that the American Revolution was about the threat of high taxes, or that it was only about taxation without representation. One can emphasize the limits the Constitution places on federal power or note that it was written with the express purpose of expanding that power, due to the failures of the Articles of Confederation.
A Rupture With the Past
Looking at the Whiskey Rebellion of the early 1790s — which took place in western Pennsylvania when Congress levied a tax on distilled spirits — one can argue, as Norquist does, that the first hint of higher taxes "almost took the country apart."
No Taxation Without Consternation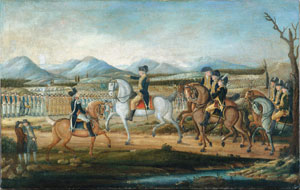 | | |
| --- | --- |
| FLEXING POWER: George Washington reviews the troops being sent to put down the Whiskey Rebellion. |   |
But Joseph Thorndike, a historian and columnist for Tax Notes magazine, draws a different lesson: "The founders created this power to tax, imbued the federal government with it, and the federal government through its elected representatives chose to exercise it. There was then a resistance movement to it. And they crushed it. They crushed it with George Washington at the head of the army himself."
After the Whiskey Rebellion was quelled, Federalists introduced new excise taxes and taxes on property. Yet none succeeded in raising very much revenue. And, in a reversal of direction that has echoes in the modern era, all were repealed soon after Jefferson became president in 1801.
Much as Jefferson would have wanted, for the next 120 years, the federal government was financed mostly through tariffs and land sales. Lawmakers experimented with different forms of taxes during wartime, including an income tax during the Civil War. The Supreme Court ruled income taxes unconstitutional in 1895. But the tax gained bipartisan support soon after, largely because of the increased concentration of wealth in the Gilded Age.
Congress adopted a constitutional amendment in 1909, which was ratified by the states in 1913. Still, until World War II, the income tax applied only to those businesses and individuals with the very highest earnings.
Although the United States was the world's largest economy by then, the federal government collected significantly less revenue as a share of GDP than other countries. In 1925, federal receipts equaled 4.5 percent of GDP. That same year, the British government collected 19.2 percent of its economic output in taxes, and the French central government raised revenue worth 13.5 percent of GDP.
By 1942, driven by the Great Depression, Franklin D. Roosevelt and a Democratic Congress had created a broad, progressive income tax system that has more or less survived to the present day. For the first time, low-income and middle-class families paid income taxes to the IRS, while the very highest earners faced top tax rates that climbed as high as 94 percent.
Almost overnight, the country's overall tax burden more than doubled. And yet polling data suggests that most people were happy to pay their levies out of a sense of patriotism, says Ajay Mehrotra, a professor of law and legal history at Indiana University. That they continued to do so after the war presents perhaps the biggest challenge to conservative assessments of the national character.
"If you're going to have an anti-tax culture, why wasn't it there when there were 94 percent marginal rates?" Mehrotra asks.
Patriotism grew during the Cold War, and the booming U.S. economy drew few complaints about taxation. "When times are good and Americans see a national highway system unfolding — which you can only do through national government, because it's a collective action issue — they're happy to pay taxes," he says.
Tradition or Accident
Attitudes toward taxation changed in the 1970s when the economy soured. A popular revolt against state property taxes in California helped pave the way for the modern conservative movement and the election of Ronald Reagan as president in 1980. Since then, tax rates on ordinary income and on investments have been slashed on several occasions, while Republicans have become unified against anything that can be characterized as a tax increase.
No Taxation Without Consternation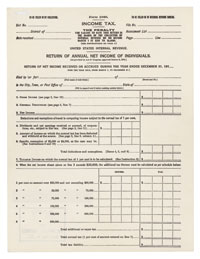 | | |
| --- | --- |
| 1913 EZ: The first IRS 1040 form in 1913 exempted the first $3,000 in income (almost $70,000 today). And income up to $20,000 (almost $464,000 today) was taxed at 1 percent. |   |
Today, few people maintain openly that the federal government should return to the pre-World War II era when it didn't raise much revenue, it wasn't a military superpower and it didn't provide health care to the elderly.
But the country remains set apart from the world. Compared with Europe and Canada, the United States has a low tax burden. At the same time, the tax code is one of the world's most progressive — largely because of the breaks it gives to low- and middle-income earners — but overall the federal government does relatively little to redistribute income.
Among OECD countries, only South Korea does less to redistribute wealth through its tax and spending policies. In the same pool of nations, the United States has the third highest GDP per capita and the fourth-highest poverty rate.
In short, most developed countries do much more to alleviate social and economic problems than the United States, which is having problems enough financing the social welfare programs it does have.
"The historical trends and the culture here, I think, have always had a little anti-tax underpinning," says Rabushka. "I think the history of this country still continues to be that sentiment we celebrate every July Fourth. And what are we celebrating? We're celebrating the Boston Tea Party. We're celebrating no taxation without representation — but for many colonists, it was no taxation regardless. We're celebrating low and limited intrusion of government. We're celebrating westward expansion where there was no government to catch up with you."
Differences in national sentiment can at least partly be explained by history, Rabushka says. "In Europe, central government is often seen as the solution to the problems of myriad local governments which were dictatorial, taxing brutally, and competing with each other."
But sentiment about taxes in the United States hasn't always stayed on the same path, and the country has looked in different directions in the search for revenue.
Mehrotra and others point to moments in the 1920s and 1940s when U.S. lawmakers almost embraced a value-added tax — the consumption tax that is ubiquitous around the world largely because it succeeds in raising a great deal of revenue while causing minimal economic drag.
Today, imposition of a VAT in the United States isn't a part of the congressional tax debate because of Republican concerns that it would finance bigger government and Democratic concerns that it would burden the poor the most. Adoption of a VAT stood a better chance when the income tax was in its infancy and in the 1940s, a time of clear national emergency.
In fact, Roosevelt and congressional Democrats tried to construct the most palatable kind of tax system in 1942 but may have ended up doing the opposite, says Andrea Campbell, a political science professor at the Massachusetts Institute of Technology.
"The problem with an income tax as a principal source of revenue, especially federal revenue, is that with graduated rates you're taxing most heavily the most vocal segments of society," Campbell says. "That has kept the focus on the politics of taxation." By contrast, she says, "VATs are a good way to raise a lot of money if that's what you desire because they're relatively hidden compared to income taxes."
No Taxation Without Consternation
According to some social scientists, Americans might accept higher taxes more readily if the benefits were more visible. Many middle-class Americans pay relatively little in taxes, but also seem to get little in services for their money, with roughly half of the federal budget spent on the military and the two major entitlement programs for seniors.
"In Europe it's much easier to say that I pay a VAT, but I get this laundry list of benefits" in return, says Campbell. "Day care, paid parental leave, college tuition, the list goes on."
Conflict Continues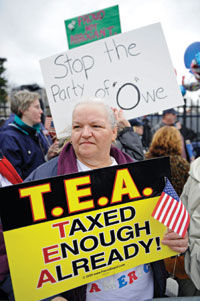 | | |
| --- | --- |
| THE BEGINNING: On April 15, 2009, demonstrators in Staten Island, N.Y., protest against Obama's tax plans. (EMMANUEL DUNAND / AFP / GETTY IMAGES) |   |
It's impossible to imagine that the United States might transform into something akin to Denmark, with bicycles clogging the streets of Chicago and citizens happily turning over half their earnings to the government.
But there will come a day, however near or distant, when difficult decisions about the level of taxes — and services — will need to be made. Last year, despite a financial and political crisis spreading across the continent, the European Union still had a lower debt-to-GDP ratio than the United States. And the 27 EU member countries, on average, produced smaller annual budget deficits.
Gross government debt equaled 82.5 percent of the EU's total GDP at the end of 2011. For the United States, it was 98.7 percent of GDP in the same year. Continued indefinitely, U.S. fiscal policy is "unsustainable," according to the CBO.
Still, the country has warmed to big government: Americans expect their roads to be paved, their meat to be inspected and services to work. This has led many political observers to argue that taxes will need to rise eventually, and not just on the rich.
It seems unlikely, however, that Americans will ever give up the Jeffersonian ideal, or turn their backs on the mythology of the tax rebellions of the 18th century. The modern tea party movement, which turned "tea" into an acronym for "taxed enough already," suggests how deeply these historic roots reach.
Raising taxes substantially may require a figure like Obama to tap into a different American tradition, one that stretches back to the Federalists and continued on to Roosevelt.
The outcome on whether taxes may go up or down may turn on whose version of history wins out — those who see current tax levels as a reflection of the national character or those who consider current law to be more of a historical accident, the latest result of the cyclical turns of politics.
FOR FURTHER READING: Tax cut clash, CQ Weekly, p. 1452; search for compromise, p. 1376; impact of tax increases, p. 805; Bush tax cuts (PL 107-16, PL 108-27), 2001 Almanac, p. 18-3, 2003 Almanac, p. 17-3; Clinton tax increase, 1993 Almanac, p. 107.