CQ WEEKLY – VANTAGE POINT
July 28, 2012 – 12:19 p.m.
Evidence in Question
By Anne L. Kim, CQ Staff
On TV dramas such as CSI and NCIS, police crime labs not only solve cases, they solve them between commercials. Such shows reinforce a public perception, shaped over decades by the FBI and its Washington labs, that conclusions drawn from forensic science are simple and all but infallible. The reality is more prosaic, complicated and fallible.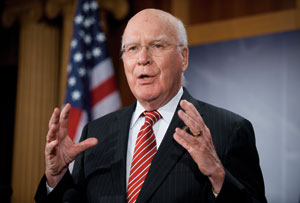 | | |
| --- | --- |
| MORE PROOF NEEDED: Leahy wants the Justice Department to set standards for crime laboratories. (TOM WILLIAMS / CQ ROLL CALL) |   |
Much of the "science" behind forensic science, in fact, has been developed in the field by crime labs over decades and not through traditional scientific research and testing.
And questions about forensic science have drawn the attention of Congress, which is considering federal regulation of crime labs that receive federal support and the development of national standards for what they do.
A National Academy of Sciences panel that looked into forensic science in 2009 reported, "The simple reality is that the interpretation of forensic evidence is not always based on scientific studies to determine its validity."
"This is a serious problem," the panel wrote. "Although research has been done in some disciplines, there is a notable dearth of peer-reviewed, published studies establishing the scientific bases and validity of many forensic methods."
Forensic evidence, in other words, might not be all that reliable.
More recently, testimony and conclusions based on forensic evidence have been called into question in a number of criminal cases, and previous convictions in some have been overturned .
Peter Neufeld, co-director of the Innocence Project, which takes on such cases, told members of the Senate Judiciary Committee earlier this month about cases where FBI forensic examiners had wrongly associated hair fibers with two men who were innocent.
The issue with hair microscopy, he said, is that no one in the country "had done the basic, essential research to validate that discipline and to validate the limitations of proper testimony."
Unlike DNA analysis, which has been developed through basic and applied research and was initially used in medicine, Neufeld said in a recent interview, other forensic disciplines such as fingerprinting and bite marks were invented specifically for solving crimes. The people who developed them, he said, were not as steeped in the scientific method as those who developed DNA tests and were not necessarily knowledgeable in probabilities and statistics, so conclusions they have drawn have never been validated.
"Of equal importance, they never established scientific standards defining the parameters" of what would or wouldn't be permissible, and well-meaning people might have made statements they probably shouldn't have, but didn't know better, he said.
Several senators have spent months and years on ways to address research and what some forensic scientists acknowledge is a lack of uniformity in their methods. Peter M. Marone, who heads the Consortium of Forensic Science Organizations, has said that a national direction is needed in which forensic scientists operate in the same manner.
Evidence in Question
"It comes down to this — you want the accurate science," Patrick J. Leahy , the Vermont Democrat who chairs the Senate Judiciary Committee, said at the hearing. "The forensic science isn't designed to help one side or the other. It is designed just to be accurate and give the truth."
Leahy's solution is an expansive bill, still being developed, that would create an Office of Forensic Science within the Justice Department to set a research strategy, standards and guidelines for the certification of forensic scientists and the accreditation of their labs.
The head of the office would get advice from a multimember board of experts but would make the final decisions. Labs would need to be accredited and personnel certified in order for them to get federal funding.
Meanwhile, the chairman of the Senate Commerce, Science and Transportation Committee, West Virginia Democrat John D. Rockefeller IV , has a more narrowly focused bill — in keeping with his committee's jurisdiction — that would create a National Forensic Science Coordinating Office within the National Science Foundation to design a federal research strategy. The National Institute of Standards and Technology would develop standards, and the Justice Department would require federal forensic labs to adopt them.
Neither bill has moved yet.