CQ WEEKLY – IN FOCUS
July 28, 2012 – 12:30 p.m.
When Money Is Short, Strategy Reigns Supreme
By Eliza Newlin Carney, CQ Staff
Soon after Election Day 2010, EMILY's List President Stephanie Schriock convened a meeting of top labor, women's and environmental organizers at the political action committee's headquarters in downtown Washington.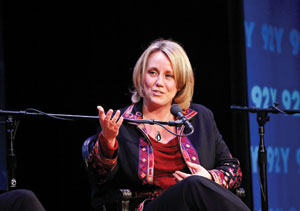 | | |
| --- | --- |
| FIGHTING BACK: EMILY'S List President Schriock is pushing Democrats to find ways to counter the Republican Party's head start in a fundraising cycle transformed by a 2010 Supreme Court decision. (AMY SUSSMAN / GETTY IMAGES) |   |
Schriock was blunt. Republicans had taken over the House thanks, in part, to heavy spending by GOP-friendly outside groups that organized quickly after the Supreme Court's 2010 ruling to deregulate political money. Schriock wanted to know what liberal organizers planned to do about it.
Many who left the room that day decided to fight fire with fire. Within months, Democrats unveiled a new roster of unrestricted super PACs to back their party's candidates, including Priorities USA Action, which supports President Obama, and the House Majority PAC, which promotes House Democrats. EMILY's List, which backs only Democratic women who favor abortion rights, had already started its own super PAC, called Women Vote.
Two years later, Democrats still trail badly in the money race, but organizers are trying to make up for the deficit by divvying up and closely coordinating their activities.
At the center is EMILY's List, which has teamed up with labor, veterans and Democratic super PACs to back a record number of women candidates in this election. Key to the strategy is making sure that super PACs such as Majority PAC don't duplicate efforts by issue-driven groups such as the League of Conservation Voters. Several super PACs are also pooling resources on ad campaigns.
"Stephanie was a tremendous leader within our coalition in encouraging new independent expenditure vehicles to work closely, in terms of fundraising and in terms of programs, with the existing progressive organizations, many of whom are focused on issues," says Greg Speed, executive director of America Votes, a progressive umbrella group that is also helping liberals coordinate their activities. He is a former communications director for the Democratic Congressional Campaign Committee.
Fundraising Pioneer
EMILY's List has been a pioneer in big-money election organizing since it was formed in 1985 with the moniker "Early Money Is Like Yeast" in the basement of founding President Ellen Malcolm. Malcolm perfected the art of bundling — collecting small checks in behalf of candidates — helping the group become the top-grossing PAC for three straight elections from 1998 to 2002.
In 2003, Malcolm was one of a coterie of liberal operatives who helped Democrats set up so-called 527 groups, political nonprofits that are allowed to raise unrestricted amounts of money as long as they report their donors to the IRS and promote issues instead of explicitly endorsing candidates. In that election, Democrat-friendly outside groups vastly outspent GOP ones — the reverse of what's happening today.
EMILY's List was "on the vanguard of the new independent expenditure landscape even before Citizens United," Speed says.
But the Supreme Court's Citizens United v. Federal Election Commission ruling led super PACs to supplant 527 groups as the fundraising vehicle of choice, because they can collect unlimited amounts of labor and corporate money as long as they operate independently from candidates. And EMILY's List is no longer at the top of the political money heap.
Although the group's conventional EMILY's List PAC has raised $24 million and is still among the top three traditional PACs, according to the Center for Responsive Politics, EMILY's List's Women Vote super PAC ranks 25th, with $1.6 million in receipts. (Traditional PACs, which can donate directly to candidates, must limit contributions and expenditures to $5,000 a pop.)
When Money Is Short, Strategy Reigns Supreme
By contrast, Restore Our Future, the top super PAC backing presumed GOP nominee Mitt Romney, has collected $82.2 million. Overall, the top GOP-friendly super PACs have outraised their Democratic counterparts by almost three to one.
In a recent interview, Schriock acknowledged the discrepancy but downplayed its importance. The GOP House takeover has actually been good for EMILY's List, says Schriock, who took over from Malcolm as president in 2010. The House GOP agenda — which she says features votes to redefine rape, defund Planned Parenthood, reverse contraception mandates in the new health care law and block pay equity legislation — has helped drive membership from 400,000 at the beginning of 2010 to more than 1.5 million.
"It's ultimately about the power of the people versus the power of the money," Schriock says. "And our growth has been in people."
The last comparable growth spurt for EMILY's List was in 1992, remembered as the Year of the Woman, a year after the Anita Hill hearings, she says.
"This election is about women candidates, it's about women voters," Schriock adds. "And women voters in this country are going to decide who's in power and who isn't. I really believe that."
The group's visibility has been boosted by a strong year for recruitment and retirements that created Senate opportunities for Democratic Reps. Tammy Baldwin in Wisconsin, Shelley Berkley in Nevada and Mazie K. Hirono in Hawaii. The group's endorsed candidates include 11 women running for the Senate, 30 running for the House and one running for governor.
"I think women voters will be decisive," says Matt Canter, spokesman for the Democratic Senatorial Campaign Committee, which is heavily promoting its female candidates and women-oriented messages this year. "I don't think there's any question about that. And I think that presents a big challenge for Republicans and a big opportunity for Democrats."
Pollsters concur that female voters will be a key bloc but caution that women will not necessarily swing to Democrats. A gender gap that had long favored Democrats evaporated into a 1-point advantage for Republicans in 2010, according to polling by Lake Research Partners.
The number of women in the House dipped after that election for the first time since 1978. And despite efforts by Democrats, including President Obama, to portray Republicans as anti-woman, the overriding concern for voters of either gender remains the economy, says Karlyn Bowman, a senior fellow at the American Enterprise Institute.
"The so-called women's issues in this campaign don't appear to be getting any traction nationally," Bowman says.
GOP Uses Similar Tactics
Even as EMILY's List and its liberal allies have pooled resources and coordinated strategy, conservative activists are doing the same. Leading outside spending and organizing on behalf of Republicans is American Crossroads, the super PAC launched with the help of GOP operatives Karl Rove and Ed Gillespie. American Crossroads, with its affiliated nonprofit, Crossroads GPS, has pledged to spend at least $240 million in this election.
Conservative leaders regularly gather at the Crossroads operation's Washington offices to compare notes, and they have roughly divvied up House races, Senate contests and the presidential campaign. Participants include organizers with Grover Norquist's Americans for Tax Reform; the conservative nonprofit American Action Network, led by former Minnesota Sen. Norm Coleman, a Republican; and its super PAC, the Congressional Leadership Fund.
When Money Is Short, Strategy Reigns Supreme
Some conservative outside groups have teamed up with like-minded local organizations to promote their issues and candidates, similar to EMILY's List efforts. Coleman's group, for example, has recently launched a $10 million grass-roots campaign that will focus on such issues as deficit reduction and health care repeal with the help of tea party and other local activists, says the group's president, Brian Walsh.
By partnering with state-level groups that have more energy than infrastructure, Walsh says, "all of a sudden we have a pretty organized apparatus that allows us to get really aggressive when things come up." The effort is not built around high-dollar TV ads but around direct mail, phone banking and digital advocacy, Walsh adds.
It's the kind of campaign that EMILY's List has mounted for years and continues to champion in 2012. In Oregon's January special election, for example, EMILY's List helped Democrat Suzanne Bonamici win by teaming up with the House Majority PAC, Planned Parenthood and the Service Employees International Union.
The SEIU and House Majority PAC ran TV and direct-mail campaigns focusing on an economic message, Schriock says, and EMILY's List and Planned Parenthood ran a cable TV and direct-mail campaign focused on reproductive health issues.
In this year's Missouri Senate contest, similarly, EMILY's List has teamed up with Majority PAC, VoteVets.org and Patriot Majority PAC to spend roughly $1 million collectively on behalf of Democratic Sen. Claire McCaskill.
McCaskill has already been the target of about $6 million in negative advertising paid for by conservative outside groups. In 2010, EMILY's list helped beat back a similar challenge to Washington Democratic Sen. Patty Murray, who chairs the Democratic Senatorial Campaign Committee, by teaming up with labor and environmental groups in a $4 million campaign to defend her. That strategy may or may not work for McCaskill this year, now that conservatives have taken a page out of EMILY's List's book.
Eliza Newlin Carney is a Roll Call staff writer.
FOR FURTHER READING: Fundraising race, CQ Weekly, p. 400; super PACs, 2011 CQ Weekly, p. 1192.