CQ WEEKLY – COVER STORY
July 29, 2012 – 1:58 p.m.
The Benefits of Doing Nothing for Housing
By Ben Weyl, CQ Staff
Standing outside the Treasury Department four years ago this month, Treasury Secretary Henry M. Paulson Jr. told the world the federal government was taking unprecedented steps to keep the country's housing market afloat.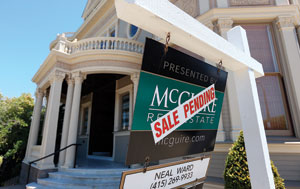 | | |
| --- | --- |
| CLOSING COSTS: Home sale prices have stabilized in recent months, and markets such as that in California are seeing a rebound in sales and pricing. (JUSTIN SULLIVAN / GETTY IMAGES) |   |
Home prices were tumbling, and houses were selling at two-thirds the rate of the previous year. The financing pillars of the housing market, Fannie Mae and Freddie Mac, were collapsing, their finances frozen and their share prices down almost to zero. Almost half of all mortgages were either owned or guaranteed by Fannie and Freddie, raising concerns that too much of the business was concentrated in the two companies.
Their fate and the fate of an economy deeply dependent on housing was in doubt. Although many people incorrectly assumed that Fannie and Freddie were already propped up by the government, Paulson suggested exactly that course of action. He proposed giving the two companies essentially unlimited access to government credit and to allow the Treasury to buy their shares.
The global financial meltdown was still in the future, but the proposal was a clear sign of the grim times ahead. Congress passed Paulson's plan within three weeks, and the federal government seized Fannie and Freddie three months later to give lawmakers and regulators time to build a longer-term solution.
Four years after, there's little evidence that much work has been done to create a different, more durable model for housing finance. Instead, tight credit markets have only given Fannie and Freddie a much higher profile in the mortgage market — in fact, they and other government entities are now responsible for about 95 percent of all home loans. Although there are signs of a U.S. recovery in housing, Washington has done very little to abet the rebound.
And while it may be small solace for those who were battered in the housing storm, it now looks as if not doing very much at all — not restructuring the system of mortgage finance, not bailing out underwater homeowners and not tearing apart Fannie Mae and Freddie Mac — may have been the best medicine for the fragile market.
"The economic recovery is extraordinarily dependent on these entities functioning without disruption," says David H. Stevens, president and chief executive of the Mortgage Bankers Association. "A 'do no harm' environment is probably the safest way to be right now."
President Obama and Congress did pursue some housing measures, including a homebuyer's tax credit and narrowly drawn mortgage modification and refinance programs, but those actions yielded minor results. There was no large-scale principal reduction program, in part because of political objections from both sides of the aisle. Republicans opposed further government intervention in the economy, and Democrats focused on overhauling regulation of the financial industry.
The most notable case of inaction involves Fannie and Freddie, and the future of housing finance. Putting the two companies into a government conservatorship was supposed to be a temporary palliative, but nothing has changed since 2008. And it's unclear what might spur lawmakers to act. Just about all parties agree that Fannie and Freddie — at least in name — have to go. But there is no consensus on what should replace them.
Democrats want a government backstop of the mortgage market to ensure that homeownership remains affordable. Republicans are divided, with some arguing for a completely private system of mortgage finance and others calling for a government guarantee — something the powerful housing and financial industries also desperately want.
Regardless of who controls the White House and Congress next year, it will be difficult to settle these policy disagreements and craft complex legislation that would surely disappoint major stakeholders.
Yet the status quo looks increasingly creaky, with credit tight and the federal government struggling to manage the $10 trillion mortgage market. Some observers say an improving economy will open political space to transform the system. Without the market in crisis, however, the impetus for change may be lost, leaving a government-run mortgage market as the foundation for housing in America for years to come.
The Benefits of Doing Nothing for Housing
Collapse and Rebuild
Like many economic problems, the housing crisis snuck up on government officials, lawmakers and the public.
After years of rapid and sustained growth — and few warnings that the value of residential real estate was inflated beyond proportion — the U.S. housing market began a sustained slump in mid-2007, long before the financial crisis that it helped precipitate became evident.
The number of existing American houses sold actually began to decline in late 2005, and by the summer of 2007 the drop in sales was feeding a decline in home prices. In the spring of 2007, resales were falling at an annual rate of greater than 20 percent. By September, the median resale price of an American house was falling by about 6 percent a year.
Suddenly, many Americans couldn't afford to sell because the value of their houses was less than they owed on their mortgages. People stopped paying, or they lost their jobs and couldn't pay, and the pace of foreclosures soared.
In the fall of 2008, the price collapse reached a double-digit pace, and the deepening financial crisis had already prompted unprecedented steps by the Federal Reserve and Congress to shore up banks and other lenders. In October, President George W. Bush signed into law the Troubled Asset Relief Program, which was originally intended to bolster the mortgage market but then transformed into a means to capitalize failing banks.
The recession that began in December 2007 — and was judged to have ended in June 2009 — was the longest and deepest since the Great Depression. Resales of single-family houses at the end of the recession were running at barely half their pre-recession pace.
And although Fed Chairman Alan Greenspan had declared before he left office in January 2006 that a sustained national decline in real estate prices seemed highly unlikely, he was proved completely wrong. At what might be regarded as the bottom of the market, just this past January, the median resale price for a single-family house in the United States was $154,600. That was a full 33 percent lower than the price peak recorded in August 2005.
Roughly 2 million American families lost their houses to foreclosure, and millions more remain underwater or are in default. The persistent weakness in the housing market has been a drag on the broader economy, crippling the construction industry and cutting into retail demand as homeowners' wealth spiraled downward.
But there have been strong signs this year that the market has started to turn, or at least is no longer in decline. Resales now are running at an annual rate of about 4.4 million — below the pre-recession norm, but well above the bottom. The National Association of Realtors reports that the inventory of houses for sale reached about 6.6 months at the June resale rate. That figure is historically low, but it is rising as more sellers get into the market. Critically, the median resale price was $189,400 in June, the highest since October 2008, when resale prices were in a freefall.
There are still clouds. A quarter of all resales in June were either foreclosed properties or short sales, in which the lender accepted less than the value of the loan in payment. And sales of both new and existing houses declined in June from their May pace.
Still, in the midst of all this, PulteGroup Inc., the country's largest homebuilder, reported a larger-than-expected profit last quarter, following a loss in the same quarter a year ago. That gave a hint of optimism about the business the company is in.
The Benefits of Doing Nothing for Housing
"While many challenges continue to weigh down the housing recovery — including those related to builders' and buyers' access to credit, poor appraisals and the number of distressed properties in certain markets — production of single-family homes is now the strongest it has been since 2010," said David Crowe, chief economist for the National Association of Home Builders, this month.
Modest Proposals
Housing is such a core piece of the U.S. economy that Washington was never going to stand idly by as billions of dollars in home value disappeared. But the actions the administration and Congress took weren't big enough to make a significant dent in the troubled market, and what impact there has been has often been fleeting.
One proposal to halt falling home prices and boost home construction centered on a tax credit for first-time homebuyers. The 2008 law that empowered Treasury to seize Fannie and Freddie included a tax credit worth up to $7,500. A similar tax credit valued up to $8,000 was included in the 2009 economic stimulus law.
The market got a boost from that 2009 tax credit, but only temporarily, according to an April 2012 report by the liberal Center for Economic and Policy Research. Not long after the stimulus law was enacted in February 2009, home purchases rose significantly, and home prices stabilized and began to rise. After the credit expired in the spring of 2010, home sales fell again, along with prices.
By the end of 2011, home prices were 8.4 percent below the tax credit-driven high point. The credit simply postponed the full effects of housing's collapse, according to the center, and largely transferred wealth from homebuyers to sellers and lenders.
"While offering a tax credit to new homebuyers did lead to a jump in home sales, a big part of the story is that people who were thinking about buying in the next year or two simply bought earlier to take advantage of the credit," says Dean Baker, author of the report and a co-director of the center.
Other initiatives from the Obama administration also produced only ripples in the housing market.
To stem the rising tide of foreclosures that helped depress home prices, the administration established the Home Affordable Modification Program, which offers incentives to lenders to restructure troubled loans. When administration officials unveiled the program in February 2009, they predicted that it would help 3 million to 4 million people modify their payments. As of May 2012, slightly more than 1 million homeowners had received permanent modifications.
The Home Affordable Refinance Program has also fallen short of expectations. It was intended to help 4 million to 5 million Americans refinance their mortgages at what are historically low interest rates. But only about 1.1 million have used the program, although eligibility was expanded to reach more people.
Obama has acknowledged that his actions haven't moved the meter. "I'll be honest, the programs that we put forward haven't worked at the scale that we hoped," the president said in February. "Not as many people have taken advantage of it as we wanted."
Peter Swire, a member of the White House National Economic Council from 2009 to 2010 who worked on housing policy, says Obama came into office following 30 straight months of falling prices and with $500 billion of negative equity in the market, "a very, very deep hole to dig out of."
The Benefits of Doing Nothing for Housing
Although Swire says he doesn't believe other solutions were necessarily available, he recognizes the policies' shortcomings. "All the programs that involved the banks underperformed," says Swire, now a law professor at Ohio State University. "This was a public-private partnership where I think the private sector didn't step up."
'Moral Hazard'
One policy tool that might have made a difference was a broad principal-reduction program, but the administration decided against that step. Almost a third of all homeowners, or 15.7 million people, were underwater on their mortgages in the first quarter of this year. That added up to $1.2 trillion in negative equity. Writing down those mortgages might have removed a drag on the market, but the administration faced the problem of the so-called moral hazard — a unilateral write-down would surely have been seen as a bailout of borrowers who took on more than they could afford.
"How can you help someone who went out and borrowed in ways that were wholly unrealistic, while their next-door neighbor played by the rules and is in trouble?" said Jared Bernstein, a former economist for Vice President Joseph R. Biden Jr., at an American Action Forum discussion in June.
"You need to wear Kevlar business suits," added Douglas Holtz-Eakin, who was a top policy adviser to Arizona Republican Sen. John McCain's 2008 presidential campaign and is now president of the conservative think tank. "The politics were never going to work."
At the same time, there are restraints on Capitol Hill to aggressive intervention.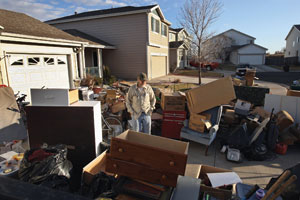 | | |
| --- | --- |
| LIVING UNDERWATER: A Colorado homeowner evicted in 2009 was among the 2 million Americans who lost their homes to foreclosure during the housing crisis. (JOHN MOORE / GETTY IMAGES) |   |
Republicans are loath to further involve the federal government in the mortgage market and have strongly opposed the administration's programs. In March 2011, the GOP-led House voted to repeal the Home Affordable Modification Program, calling it ineffective and a waste of money. For good measure, the House again voted to repeal the program in May 2012 as part of a broad measure to prevent cuts to the Defense Department. Neither repeal measure became law.
Yet refinancing such loans might be a boon to a stumbling U.S. economy. With 30-year interest rates falling to a historic low of 3.49 percent this month, a kind of reset of mortgages could put millions of dollars into homeowners' pockets and potentially into circulation in the consumer economy.
The president has recently pushed for new legislation to encourage people to refinance at the low rates, which he says would save homeowners roughly $3,000 per year. His proposal has gone nowhere in Congress.
As it turns out, the biggest help Washington might have given to the housing industry has been to do nothing much about Fannie and Freddie.
Inaction might have resulted in part from partisan gridlock and an unwillingness to confront tough political choices. But it was also the result of a fear — almost certainly justified — lawmakers had that abruptly folding up the two mortgage financing companies would throw the housing market and broader economy into greater turmoil.
The Benefits of Doing Nothing for Housing
As weak as the market is today, it does function to facilitate the buying and selling of houses. Many, especially those involved in the industry, are terrified to tinker with it.
"In the short run, I think all the focus has to be on stabilizing the housing system — because it's so critical not just to the industry, it's critical to the economy — and ensuring a continuous flow of mortgage capital in the United States," says Stevens of the mortgage bankers group, who previously served as chief of Obama's Federal Housing Administration.
Lawrence Yun, chief economist at the National Association of Realtors, says even an uneasy status quo isn't as bad it seems.
Fannie and Freddie now are "essentially a government corporation," Yun says. "That's what Fannie and Freddie have essentially become since the conservatorship, and it's working well."
While the federal government has always played an outsized role in the mortgage market, today there is virtually nothing else. Fannie and Freddie back roughly two out of every three mortgages in the United States, and the FHA backs another 30 percent. Private capital is waiting on the sidelines and is expected to continue to do so until the housing recovery is on a firmer foundation.
"We're not anywhere near an environment for private capital to emerge," says Stevens.
But critics of the federal role in housing point to Fannie and Freddie as the source of many of the market's fundamental problems and say private capital would be better off with those entities out of the picture.
The federal government fully embraced its role in propping up housing in 1938, when the Federal National Mortgage Association (Fannie Mae) was chartered as a government agency, in the wake of the Great Depression's banking crisis. Congress created the Federal Home Loan Mortgage Corporation (Freddie Mac) in 1970 to provide additional liquidity and stability to the market.
Eventually, the two were sold to private shareholders, and their missions changed. The companies today provide capital for mortgages by buying some home loans and holding them on their balance sheets, and by repackaging others for sale to investors as mortgage-backed securities that are guaranteed against default.
In recent decades, critics of the two enterprises warned that they were growing too large. The tipping point came in the fall of 2008: When the subprime mortgage market crumbled, the companies faced enormous losses and were seized by the government.
Four years later, Fannie and Freddie are in the same position, and their fraying seams are starting to show.
The mortgage market remains tight, with even many responsible borrowers unable to secure a loan. In the early part of the past decade — before the housing boom — people with credit scores of 710 could routinely get mortgages. Now, some people with scores as high as 730 are denied loans.
"Structurally, it's not sustainable, and second, access to credit is very tight right now, and it's harming families who might otherwise be ready to buy," says Julia Gordon, director of housing finance and policy at the liberal Center for American Progress. "Complete inaction in this area is not a long-term option. Inaction is also dangerous."
The Benefits of Doing Nothing for Housing
When Paulson's Treasury under the Bush administration took control of Fannie and Freddie, it placed them in the hands of a new regulator, the Federal Housing Finance Agency, which has long passed the life expectancy Congress intended.
It isn't easy for a small agency to run two of the largest financial institutions in the world, including overseeing some trillions of dollars in assets, and its future remains uncertain. Loss of personnel and weaknesses in policy making are likely the longer the current finance system remains in limbo, says Gordon, a former top official at the agency.
A host of senior managers have left Fannie and Freddie in recent months, including the chief executives at both companies. "The conservatorship is not a tool that is supposed to be used for years on end," Gordon says. "It's very clunky."
What Comes Next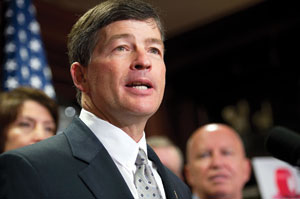 | | |
| --- | --- |
| DEBATING SUPPORT: Hensarling is among some members of Congress who want to eliminate government backing of the mortgage market, saying it distorts the market and risks future bailouts. (CHRIS MADDALONI / CQ ROLL CALL) |   |
Determining the fate of Fannie and Freddie will force lawmakers to confront fundamental questions about the government's role in the economy and the American Dream of homeownership. And Congress seems, for now, to prefer not to seek the answers.
Various stakeholders, including real estate brokers, bankers and consumer advocates, all have proposals. One common thread among their plans is a government backstop of the mortgage market. Without one, they say, credit would dry up, the traditional 30-year mortgage would disappear, and homeownership would become unaffordable for millions of Americans.
That industry position largely tracks with that of Democrats. Republicans are more divided. On one side are conservatives such as Reps. Jeb Hensarling of Texas and Scott Garrett of New Jersey who want to eliminate government backing of the mortgage market completely. They say the guarantee distorts the free market and exposes taxpayers to future bailouts. On the opposite side are GOP Reps. John Campbell and Gary G. Miller of California, who say their constituents would be unable to afford to buy houses without a government guarantee.
Bringing these divergent views together seems almost impossible: Either the government will guarantee mortgages, after all, or it won't. Most politicians have decided it's safer not to come down on one side or the other.
"You just can't get anybody to put their toe in the water," says Campbell, who hopes for legislative progress after the election. He sees an opportunity for action "because everybody, left, right and center, understands that the current status quo has to stop and isn't working."
Some say lawmakers will act when the overall housing market achieves more than its current fragile equilibrium.
"The government has such a large share of mortgage finance now that Congress is going to be terrified to touch it," said Holtz-Eakin. "They're not going to move on any of this before we see a better housing recovery."
Scott Talbott, senior vice president for government affairs at the Financial Services Roundtable, also says recovery will provide an impetus. "We need to have the housing market strengthened, and that will, in turn, strengthen Fannie and Freddie, which, in turn, will create an environment for legislation to move," Talbott says.
The Benefits of Doing Nothing for Housing
But an improved economic climate won't wipe out the ideological and political conflicts. If anything, rosier numbers might make lawmakers even more reluctant to push for change.
Meantime, Fannie and Freddie — which have relied on roughly $180 billion in public funds — appear to be growing stronger. In May, Fannie reported its first profitable quarter since it was taken over by the government, paying $2.8 billion to the Treasury. Freddie has had four quarters without needing federal assistance.
But if taxpayers are being paid back, albeit slowly, and if the housing market does more than chug along, that might sap the political will for lawmakers to make the tough decisions that many say are needed to overhaul the system.
"The longer we don't change anything, the longer Congress will become complacent and not want to do anything," says Anthony B. Sanders, a professor of real estate finance at George Mason University in Virginia. "The government does many things well, but trying to manage the housing market is not one of them."
FOR FURTHER READING: Republican divide on housing finance, 2011 CQ Weekly, p. 238; blueprints for overhauling Fannie and Freddie, 2010 CQ Weekly, p. 548; proposals to bolster housing, 2009 CQ Weekly, p. 64; Fannie and Freddie rescued, 2008 CQ Weekly, p. 1970; housing rescue law (PL 110-289), 2008 Almanac, p. 7-9.