CQ WEEKLY – VANTAGE POINT
Aug. 4, 2012 – 11:15 a.m.
Voter Quantification
By Shawn Zeller, CQ Staff
Given the historic nature of the 2008 campaign, which featured the first black major party presidential nominee, it stands to reason that African-Americans came out in large numbers to help President Obama win. But as it turns out, no one had quantified the increased turnout until the National Urban League released a report last month. It found that black turnout did reach an all-time high and, for the first time, was close to the turnout rate for whites. Almost 65 percent of voting-age blacks participated in the 2008 election, while 66 percent of whites did.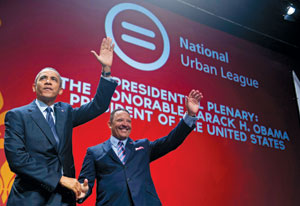 | | |
| --- | --- |
| CORE SUPPORT: Obama greets National Urban League President Marc Morial at the group's July convention. (SAUL LOEB / AFP / GETTY IMAGES ) |   |
More important, though, the report says that while enthusiastic black voters helped Obama win in 2008, their support might be even more crucial in 2012 if the election is as close as expected. For example, the report says if black turnout were to recede to the 1980-2004 average of 57 percent, Obama would have a much tougher time winning swing states such as Virginia and Ohio, and would almost certainly lose North Carolina, which he won by fewer than 15,000 votes over Arizona GOP Sen. John McCain four years ago.
That thesis runs counter to conventional wisdom, says Chanelle Hardy, executive director of the League's policy institute. "There is almost an assumption that we know how black voters vote and that black voters don't vote in sufficient numbers to have an impact."
The report found that nearly a fourth of Obama's margin of victory in Ohio and Virginia would disappear if black turnout this year were to fall back to 60 percent. He'd also lose substantial support in two other states, Florida and Indiana. That might hurt badly, since Obama won more than nine out of every 10 black votes in 2008.
The Gallup Organization reported last month that more than three in four black voters said they intend to vote in November. But that figure is lower than Gallup found in October and November 2008, when 87 percent of black voters told pollsters they intended to vote. Gallup says the relatively low figure it found in its May-July survey, 76 percent, might well rise by Election Day.
Experts in black voting patterns say they see arguments both for a high turnout and a low one. "Is it going to be as great this time as last time? I think there are things arguing that it's not," says David A. Bositis, a senior research associate in civic engagement and governance at the Joint Center for Political and Economic Studies, a Washington think tank. "Last time, it was an historic first and there was a lot more enthusiasm. Right now, you have a lot of discouragement because the economy is doing so poorly."
Bositis also points out that a number of states have adopted laws since 2008 requiring voters to produce photo identification in order to cast ballots. Democrats say these requirements may reduce black turnout, since African-Americans are less likely than whites to have government-issued IDs.
A year ago, Congressional Black Caucus members criticized Obama for not doing enough to help blacks find work — the unemployment rate for African-Americans is still above 14 percent — but this year the group has aimed its attacks at Republicans. The caucus chairman, Democratic Rep. Emanuel Cleaver II of Missouri, says the president has done better on the jobs situation.
Obama campaign officials in swing states say the president isn't taking a high black turnout for granted. "The Obama campaign has been engaging African-American supporters in Virginia through grass-roots phone banks, house parties and voter registration drives since the launch of the campaign last April," says Marianne von Nordeck, the campaign's Virginia press secretary. She notes that Obama last month created a working group to study how to improve educational achievement for African-Americans.
Such efforts, along with other policy initiatives that could help blacks, such as the health care law, may well inspire them to turn out big again in 2012, Bositis says. And that's not to mention the motivation to vote that might come from the realization that the first black president's legacy might be at risk.