CQ WEEKLY – VANTAGE POINT
Aug. 4, 2012 – 11:22 a.m.
The Check Isn't in the Mail
By Rachael Bade, CQ Staff
While the cash-strapped U. S. Postal Service defaulted on a multibillion-dollar payment last week, there was no impact on mail delivery or other operations. But a more crucial deadline for the nation's mail carrier looms in mid-October, and avoiding a service disruption then may require intricate maneuvering.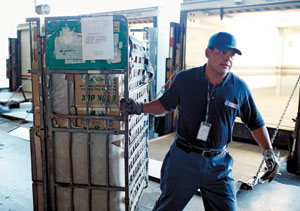 | | |
| --- | --- |
| PRESSURE: The Postal Service is in arrears, and an October bill may put it in the red if Congress doesn't let it restructure. (JUSTIN SULLIVAN / GETTY IMAGES) |   |
The Senate passed an overhaul to shore up the USPS in April, but the House delayed action on its version and isn't expected to act before the election. Since the Senate acted, the service has lost almost $2.5 billion as the volume of first-class mail has plunged. Postal managers say they need to cut $22 billion in operating costs by 2016, with Congress' permission needed for tough steps such as stopping Saturday delivery or restructuring employee benefits.
The $5.5 billion payment that was due Aug. 2 was mandated by a 2006 law requiring the service to "pre-fund" 40 years' worth of future retiree health care benefits over a decade. The payment had been due last fall, but Congress bumped the date ahead when the USPS couldn't afford it. The shortfall didn't affect customers or employees, since the money won't be spent until 2017.
A second $5.6 billion pre-funding payment for health benefits is due in September, and it's likely the USPS will skip that as well, without immediate consequences.
But the October deadline won't be so negligible; it's expected to bring trouble.
A payment of $1.4 billion is required to pay for workers' compensation benefits. In a letter to a House committee last fall, the Labor Department warned that it would have to stop paying benefits to injured postal workers if USPS were to miss its fiscal 2011 payment.
According to a July 25 Postal Service Inspector General report, paying that workers' compensation bill would put the service $100 million in the red — and that estimate presumes USPS will get an additional $300 million in revenue by the deadline.
"To the best of my knowledge, we have never come anywhere near this close to actually running out of liquidity," Postal Service spokesman David A. Partenheimer said last week in an email.
The service needs about $1.3 billion to operate each week, so the $100 million shortfall would amount to a small fraction of the money the service needs to keep the mail moving.
Partenheimer said the mail carrier intends to bite the bullet and make the payment.
The quasi-governmental agency has a few options to juggle its finances. The inspector general report noted that the service could save money by suspending federal pension payments, since it has overpaid into the fund by over $11 billion. In other words, missing those payments shouldn't jeopardize retirement benefits.
The service also has about $2 billion worth of borrowing capacity left under its $15 billion borrowing limit at the Treasury. It could turn to that pot of money in a time of serious need.
The Check Isn't in the Mail
Postal Service managers will get an update on their finances this week when third-quarter results are released Aug. 9. In the meantime, postal leaders say they'll do everything they can to keep the mail moving.
"Our highest priority is to continue to pay employees and suppliers so there is no interruption of mail service," Partenheimer said.