CQ WEEKLY – IN FOCUS
Aug. 4, 2012 – 11:24 a.m.
Can 'Maglev' Trains Attract Investors?
By Nathan Hurst, CQ Staff
Imagine a day when travelers could ride between Washington's Union Station and midtown Manhattan in an hour, rocketing along a magnetic field at twice the top speed of Amtrak's Acela trains.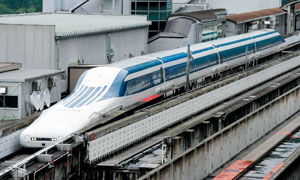 | | |
| --- | --- |
| OFF THE RAILS: The Central Japan Railway's 'maglev' bullet train, which is levitated above a guideway by powerful magnets that propel it at more than 300 miles an hour, sits on a platform near Tokyo. (TORU YAMANAKA / AFP / GETTY IMAGES) |   |
If the idea sounds like something out of Star Wars, the politics of selling a futuristic, multibillion-dollar passenger rail service to a budget-cutting Congress may seem just as farfetched. After all, the Republican-controlled House has already put the brakes on President Obama's dream of building a nationwide network of high-speed passenger trains.
But with Congress set to take up passenger rail reauthorization legislation next year, a proposal to bring a Japanese railroad's "superconducting magnetically levitated" train technology to the congested Northeast Corridor is drawing serious interest. The idea has the potential to bridge divergent visions for high-speed rail and garner bipartisan support.
Focusing resources on the route from Washington to Boston, introducing innovative technology that would operate trains at faster speeds than the current generation of Japanese and European bullet trains, and — crucially — attracting substantial private investment is a formula that satisfies the criteria for high-speed rail laid out by two key Republicans: House Transportation and Infrastructure Chairman John L. Mica of Florida and Bill Shuster of Pennsylvania, who chairs the subcommittee with jurisdiction over railroads.
At the same time, the plan could offer Obama the legacy-building opportunity to deliver on his vision of bringing high-speed passenger trains to the United States.
Emil H. Frankel, a former assistant Transportation secretary in the George W. Bush administration and a consultant to the Bipartisan Policy Center, says any successful high-speed rail plan for the region will depend on a public-private partnership that would satisfy GOP demands for privatization while preserving the public ownership of rights-of-way and other assets that Democrats want to protect.
"The public side should pay for and be the principal owner of the right of way," Frankel says, adding that the public investment would make it viable for a private company "to be able to operate trains on a profitable basis."
Attractive Technology
Magnetic levitation, or "maglev," technology employs powerful magnets to propel trains along a frictionless track bed at high speeds. It is not a new concept — Congress authorized maglev research funding as long ago as 1991 — but the high cost and relatively untested technology has discouraged its introduction. Plans to build maglev demonstration projects linking Baltimore and Washington, as well as Pittsburgh and the city's airport, never advanced beyond the planning stage. So far, Shanghai operates the world's only commercial maglev service, with trains that cover the 20 miles between the city and Pudong International Airport in eight minutes.
But the Central Japan Railway Co. is now building a high-speed maglev railroad that will link Tokyo, Nagoya and Osaka with trains that can top 300 miles an hour over a 320-mile distance. The company says the technology — which uses electromagnets made with supercooled wire that increases the magnetism and reduces energy loss — will provide the fastest ground transportation on the planet. Because there is no friction, trains can reach full speed just 5.5 miles after leaving a station.
A privately held Washington-based company called The Northeast Maglev is trying to sell the idea of introducing the new Japanese technology in the Northeast Corridor. The company spent more than $280,000 in the first half of this year on Washington lobbyists, including the firm DLA Piper, which employs former Senate Majority Leader Tom Daschle, a Democrat from South Dakota, as senior policy adviser.
While the company has kept details of its proposal close to the vest, it has sent representatives to talk with Mica and other legislators who will shape the coming rail authorization.
Can 'Maglev' Trains Attract Investors?
"They've done their homework, and it's definitely ready to go," said a House aide who was briefed on the proposal.
Not only would the maglev trains easily outrun the fastest trains in Amtrak's current fleet, the 150-mile-per-hour Acela, but they would be considerably faster than the 220-mile-per-hour trains that Amtrak has promised under its 30-year Northeast Corridor modernization plan. Even more appealing to deficit-conscious lawmakers is the promise of private investment contributing to the construction and operation of the service.
Mica has long been a critic of Amtrak, which he likens to a Soviet bureaucracy. He and Shuster, who is in line to take over as Transportation chairman if Republicans retain control of the House in November unless Mica gets a waiver from term limit rules, last year proposed forcing Amtrak to sell off its Northeast Corridor business.
While Mica and Shuster later backed down, agreeing that Amtrak will play a central role in developing higher-speed service in the Northeast, they say the government-owned corporation will never get the billions of dollars it wants for its 30-year plan. Shuster said there is "no way" to introduce high-speed rail in the Northeast without private investment.
"We can employ twice as many people in this industry if we would unleash some of the ideas and innovation in the private sector," Mica said at a hearing last week. "There are models that we can adopt."
An aide said Mica is "willing to sit down with Amtrak and anyone else interested in bringing true high-speed rail to the Northeast Corridor to talk about how it can be achieved."
Frankel says selling off the rights of way would be problematic because commuter rail systems serving Washington, Baltimore, Philadelphia and New York also operate in the congested corridor. He says any privatization plan must be tailored to fit the region's needs.
"I find it hard to believe that anything will happen exactly as anybody has it planned now," he says. "There is a national interest in the growth of these regions that need high-speed rail, and it's worth making sure these areas have better, reliable passenger rail service. It doesn't have to be exactly like the Tokyo-Osaka bullet train, or a 220-mile-per-hour Amtrak train either."
Skeptical Republicans
Even the promise of private investment and the economic benefits stemming from a more efficient transportation system may not be enough to sell a multibillion-dollar government expenditure on passenger trains to skeptical House Republicans.
Earlier this year, House Speaker John A. Boehner, an Ohio Republican, abandoned his five-year, $260 billion transportation bill after members of his caucus balked at authorizing spending levels that exceeded Highway Trust Fund tax receipts.
Opposition is likely to be even more intense when it comes to reauthorizing Amtrak — especially among lawmakers from rural areas not served by passenger trains. Obama's public embrace of high-speed rail may make even a plan to bring fast trains only to the Northeast Corridor toxic among many of the president's Republican adversaries.
"If you thought the highway bill was bad," says a transportation lobbyist, "buckle up."
Can 'Maglev' Trains Attract Investors?
The surface transportation bill that House Republican leaders gave up on offers a glimpse of the fight ahead for Amtrak. The bill would have cut Amtrak's authorized funding for operations by about a quarter in fiscal 2012, to $466 million from $616 million, according to a Congressional Research Service analysis. A reduction on that scale would hamper the company's ability to fulfill its modernization blueprint.
Amtrak officials recognize the struggle they face. In announcing a $7 billion plan to renovate and expand Washington's Union Station, Amtrak President and Chief Executive Joseph H. Boardman acknowledged last month that federal funding hasn't been authorized.
"You've got to have a vision to get anything done," Boardman said. "If you don't have a vision or a plan of where you are going, you are not going to get anything funded."
Mica insists Amtrak won't get a blank check for its high-speed rail strategy, meaning its best hope may lie in attracting private investors and operators.
"Congress is certainly not going to give $117 billion to Amtrak based on its track record," Mica says.
FOR FURTHER READING: Amtrak privatization, 2011 CQ Weekly, p. 1677; Obama's high-speed rail plans, 2009 CQ Weekly, p. 2360; Amtrak reauthorization (PL 110-432), 2008 Almanac, p. 3-16; Rail Passenger Service Act (PL 91-518), 1970 Almanac, p. 804. The House surface transportation bill is HR 7.