CQ WEEKLY – COVER STORY
Aug. 4, 2012 – 11:56 a.m.
Managing Portion Sizes
By Paul M. Krawzak, CQ Staff
To federal government budget planners, a day doesn't mean what it means to most everyone else. The average person who looks at the law that created the spending sequester would see the Jan. 2, 2013, effective date as a precise and unbending deadline, the very day the country figuratively falls off the "fiscal cliff."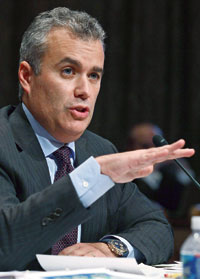 | | |
| --- | --- |
| TIMING OUT: Acting OMB Director Zients, shown testifying in February, says budgeting complexity makes it hard to generalize about the timing of spending reductions. (MARK WILSON / GETTY IMAGES) |   |
But to those mapping out the way dollars are spent across agencies and across time, the beginning of a budget period is only the start of a monthslong process of bending the calendar to match the money in the bank, stretching out spending in some accounts while hoarding dollars in others before meeting the specific spending demands of a huge number of policies and programs.
That fundamental of budgeting provides a sort of flexibility that might be used to stave off the immediate impact of the sequester, perhaps providing a cushion for departments that need to absorb deep reductions and even giving lawmakers extra time to strike a deal to undo the scheduled across-the-board cuts.
Planners at the Office of Management and Budget aren't talking much about the budgetary tools they have at their disposal. But experts in federal budgeting, including some with specific experience with sequesters, are looking from the outside at what the government might do to soften the impact of what seems to be a ticking budget time bomb.
It would take OMB's using the power in its middle name, its "management" responsibility, to allocate spending throughout the year under an administrative process called apportionment. "OMB apportions budget authority to all the agencies and they can basically regulate the speed at which budget authority is being obligated," says Charles S. Konigsberg, who was assistant budget director under President Bill Clinton.
Under the basics of federal budgeting, OMB is required to specify and direct the rate of spending among federal departments and agencies to prevent them from spending too much too fast. With this authority comes managerial flexibility. As a result, OMB might tell departments and agencies to spend more than they normally would early in the fiscal year, saving many of the across-the-board cuts until later in 2013. That would give Democrats and Republicans more time to reach a deal on replacing the sequester, which otherwise would trim $109 billion off the top of spending over the course of the year.
The fiscal year begins Oct. 1, and will be one-fourth over when the sequester is scheduled to kick in.
Neither President Obama nor congressional leaders are talking about the flexibility afforded by apportionment. But Barry Anderson, who was in charge of administering several sequesters as a top career official at OMB in the 1980s and 1990s, calls apportionment "a subject which is very unknown outside of a small group of people at OMB and a few agency officials. The Hill doesn't understand it. The contractors, agencies don't. And it is a very powerful tool."
The potential for the use of apportionment may be one thing lawmakers are trying to learn about as they seek more information from the administration about the plans for implementation of the sequester.
"We are witnessing a massive game of chicken, are we not?" says Anderson. "Apportionment can play into the president's hands in that game of chicken."
How It Works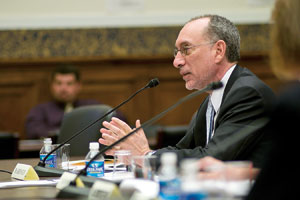 | | |
| --- | --- |
| APPLYING THE BRAKES: Budget expert Greenstein says agencies may slow down spending even without OMB direction. (HEINZ FAMILY FOUNDATION ) |   |
Managing Portion Sizes
The practice of apportionment derives its authority from a provision in the century-plus-old Antideficiency Act, a law designed to prevent agencies from spending too quickly in ways that would demand a supplemental appropriation before the end of the year. Basically, federal departments can't spend the money that has been appropriated for them until it is apportioned by OMB.
The budget office typically apportions money every quarter, telling each department how much it can spend in that three-month period on specific programs, projects and activities. As the Government Accountability Office explains in a volume on appropriations law, apportionment "is required not only to prevent the need for deficiency or supplemental appropriations, but also to ensure that there is no drastic curtailment of the activity for which the appropriation is made."
Anderson says apportionment can be used to delay the pain of automatic spending cuts by directing agencies not to reduce spending until later in the year. And he stresses he has no information about whether the administration plans to do so.
But OMB does have flexibility in apportionment. "They can do it quarterly, they can do it monthly, they can do it annually, they can do it at any rate they want," Anderson says. And OMB might direct spending at different rates for defense programs than for domestic programs, and at different rates within the Pentagon and within domestic agencies.
The power of apportionment has its limits. For instance, Anderson says delaying all cuts affecting personnel until late in the year would be unworkable. "I don't think they could do this for an account that pays for employees, because they basically have to furlough the entire agency in the last quarter," he says. "So they probably wouldn't do this for a payroll account. But they could do it for a procurement account."
OMB officials have not given any indication of whether they might use apportionment to delay the impact of the cuts, or how it would be employed. Responding to a request for comment, an OMB official pointed to guidance about the sequester issued by the agency last week, which did not address apportionment. "Nothing more to add at this time," the official said.
But when he testified to the House Armed Services Committee on Aug. 1, Acting OMB Director Jeff Zients acknowledged that the sequester cuts would hit programs at different times.
"As you know, some programs are seasonal, so more spending might be up front, in which case you need to save up front," Zients said. "Some might be backend-loaded, in which case the money's going to come out of the later months of the fiscal year." By the end of the year, every agency would have to achieve its across-the-board cut if the sequester is not stopped, Zients told lawmakers.
But, he also said, "There's a lot of complexity. There's a lot of nuance. I think it's hard to generalize about how that'll be achieved."
Slowing Spending
OMB probably could use apportionment to slow spending in the first quarter of the fiscal year starting Oct. 1 — essentially to spread the pain of the sequester over 12 months — but the administration has indicated there are no plans to do that. In a July 31 memorandum to department and agency heads, Zients said "agencies should continue normal spending and operations since more than five months remain for Congress to act" to stop the automatic cuts.
But spending may slow anyway as the fiscal year begins and as department heads take stock of the possibility of the sequester.
"Some agency spending is going to slow on its own — it doesn't entail OMB doing something," says Robert Greenstein, president of the Center on Budget and Policy Priorities and a former administrator at the Agriculture Department. "You're an agency head and you have to plan based on the potential for the reduction in January, so the last thing you want to do is make all kind of commitments that then would require you to do an even deeper reduction afterwards."
Managing Portion Sizes
In fact, Scott Lilly, a senior fellow at the Center for American Progress, thinks agencies already are slowing spending ahead of Jan. 2. In a confidential survey conducted by Deutsche Bank in the spring, almost a third of Defense Department program managers who were interviewed said they had already started adjusting their government contracting to prepare for a sequester, says Lilly, a former Democratic staff director of the House Appropriations Committee.
"If I were in a budget office or running a program," he says, "I want my program to succeed and I want to get credit for doing a good job. And I'm going to start squirreling money away to try to deal with contingencies."
Lawmakers also may be calibrating their political messages to the idea that the budget year won't begin and end on a single day in January, and that Jan. 2 may mark the start of a new budgeting process, not the end.
"The 'let 'er rip' crowd, from my perception, is growing every day," Anderson says of those who argue that the automatic cuts should simply go forward. "The let 'er rip crowd, with respect to the sequester, think they can fix it sometime in the next year with the new Congress — and they may be right."