CQ WEEKLY – VANTAGE POINT
Sept. 15, 2012 – 11:51 a.m.
Fractured Reactions: Responses to Libya Attacks Reveal GOP Divide
By Emily Cadei, CQ Staff
Foreign policy wasn't supposed to be much of a factor in this presidential election. But Mitt Romney's decision to blast President Obama in the immediate aftermath of a deadly assault on a U.S. consulate in Libya could end up as a defining moment for the GOP presidential candidate. It also exposed just how deeply divided Republicans have become over the messy Arab Spring of 2011.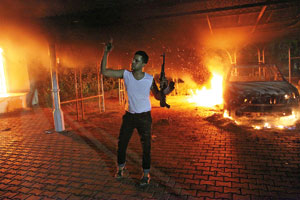 | | |
| --- | --- |
| ON FIRE: An armed man celebrates inside the compound in Benghazi where four Americans were killed. (AFP / GETTY IMAGES) |   |
The initial debate centered more on the propriety of launching a partisan attack even as U.S. officials were trying to learn about how four Americans, including U.S. Ambassador to Libya Chris Stevens, were killed during a protest over an American-made film that mocked Islam.
Several congressional Republicans joined Romney in accusing the Obama administration of apologizing for American values when the U.S. Embassy in Egypt distanced itself from the amateur video. James M. Inhofe of Oklahoma, a member of the Senate Foreign Relations Committee, issued a statement blaming Obama's "failure to lead and his failed foreign policy of appeasement and apology."
Several went further, demanding a new approach to the Arab world. Sen. Rand Paul of Kentucky and a few House Republicans, including Jeff Landry of Louisiana, called for cutting off aid to Libya and Egypt. Conservatives have been unhappy with sending aid to the Muslim world, particularly after conservative Islamists associated with the Muslim Brotherhood won control of Egypt's new government earlier this year.
"They invade our embassy, basically, the grounds of our embassy, and strip our flag off the pole," Landry said of Egypt last week. "I don't think they deserve any funding; they surely don't deserve the hard-earned dollars of our taxpayers."
But notably, many of the most senior Republicans, particularly in the Senate, avoided the initial partisan debate, implicitly distancing themselves from their standard-bearer.
"Chris Stevens was a close and dear friend of mine, and I'm not going to get into the back and forth of that today," John McCain of Arizona told reporters. Minority Leader Mitch McConnell of Kentucky took to the Senate floor to call for national unity.
Instead, McCain, along with GOP colleague Lindsey Graham of South Carolina and independent Joseph I. Lieberman of Connecticut, quickly came to the defense of U.S. policies supporting emerging Arab democracies.
"If we turn our backs now on the millions of people in Libya, and Egypt, and Syria, and other countries across the Middle East — people who share so many of our values and interests, people who are true authors of the Arab Spring — we will hand our common enemies, the terrorists and extremists, the very victory they seek," McCain said.
While McCain has called on Obama in the past to act more decisively to support rebellions against Arab autocrats, his remarks last week were directed at colleagues such as Paul, who introduced an amendment to a veterans' jobs bill on the Senate floor that would cut all funding for aid to Libya and Egypt as well as Pakistan.
Bob Corker of Tennessee, who is in line for the top GOP seat on the Senate Foreign Relations Committee in the next Congress, agrees with McCain. "These countries are not monolithic," he said. "You've got extremists who are trying to destroy what's happening on the ground or shape it in their way, and the last thing that we, in my opinion, need to do as a country is to step back away from that. We need to influence it in a positive way."
But even here, there's a split between Corker and McCain over just how proactive the United States should be in intervening in uprisings inspired by the Arab Spring. While McCain has advocated arming rebels and conducting air strikes in Syria, Corker has been much more skeptical of U.S. intervention. Romney has also been short on details when it comes to handling the Arab Spring, giving Republicans little to coalesce around.
Fractured Reactions: Responses to Libya Attacks Reveal GOP Divide
Obama did hand Republicans one clear point of attack last week, when he suggested in a television interview that Egypt, while not an enemy, was also not an ally. White House officials tried to clarify his remarks, but the damage was done. Republicans finally had one clear attack line on which most of them, at least, could agree. By that point, however, Romney had returned to talking about the economy.