CQ WEEKLY – IN FOCUS
Oct. 6, 2012 – 12:32 p.m.
A Surprisingly Uneasy Alliance With Brazil
By Jonathan Broder, CQ Staff
As the two most populous democracies in the Western Hemisphere, the United States and Brazil seem like natural allies. But their relationship has been tumultuous, roiled most recently by Brazil's decision to move ahead with a controversial program to build, of all things, a nuclear submarine.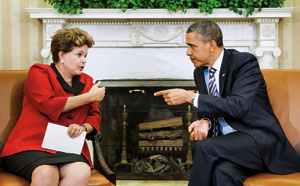 | | |
| --- | --- |
| REBUILDING: Rousseff and Obama have worked to patch up the relationship between Washington and Brasilia after a long rough patch, but it remains a testy one. (BRENDAN SMIALOWSKI / AFP / GETTY IMAGES) |   |
"I don't know why they think they need nuclear subs," says Texas Republican Michael McCaul, a senior member of the House Foreign Affairs Committee and its Western Hemisphere subcommittee. "Who's the enemy?"
The dispute threatens to reverberate beyond this hemisphere to the Middle East. Iran, citing a loophole in the nuclear Non-Proliferation Treaty which Brazil has used to justify its program, now says it too plans to build nuclear submarines. The United States wants Brazil to abandon its program in order to deny Iran another precedent. But so far, Brazil refuses to bend.
The nuclear dispute plays into a larger issue that Brazil watchers call a "respect deficit" on both sides. Dynamic, fast-growing Brazil feels it deserves more respect from the United States as befits a new global power, while Washington sees Brazil in less grandiose terms. At the same time, the United States, asserting its historic role as the hemisphere's overlord, expects Brazil to show it more deference — a posture Brazil feels it has outgrown.
This is playing out in several disputes, including nuclear policy, Middle East diplomacy and Brazil's ambitions for a permanent membership on the United Nations Security Council. There are also long-running disputes over trade and U.S. tourist visas that have been aggravated by the deadlock on Capitol Hill.
Post-Lula Thaw
"Brazil is starting to feel its oats, and as an important emerging power, they don't want to be affiliated too much with us," says Eliot L. Engel, top Democrat on the House Foreign Affairs Western Hemisphere subcommittee. He agrees that U.S.-Brazil relations have improved since the days of former Brazilian President Luiz Inacio Lula da Silva, who appeared to go out of his way to rankle Washington with high-profile overtures to Iran and Venezuela's Hugo Chavez during his tenure from 2003 to 2011. But despite moves toward rapprochement by President Obama and Brazil's new president, Dilma Rousseff, the two countries still don't see eye to eye in a number of areas. Rousseff, says Engel, "still doesn't want to be looked at as someone who does our bidding."
Brazil's independent streak reflects its growing economic might. Following a financial crisis in the 1990s that saw several Brazilian banks fail, sound economic management succeeded in slashing inflation, stabilizing the currency and attracting foreign investment. Rising incomes created a burgeoning consumer market for Brazil's population of nearly 200 million, especially for U.S. goods.
Over the past decade, Brazil has emerged as one of the world's fastest-growing economies, fueled by lucrative agricultural exports such as coffee and sugar and a range of industrial exports including civilian and military aircraft. Brazil is also the world's largest producer of sugar-based ethanol and is expected to become a major U.S. energy supplier with the recent discovery of vast petroleum reserves offshore. Underscoring Brazil's growing international clout was its selection as host for the 2014 World Cup and the 2016 Olympic Games.
Yet despite the economic benefits to both sides, geopolitical tensions have prevented the United States and Brazil from developing the strategic relationship that both claim to want. At the top of the list of Washington's complaints is the independent position Brazil has taken on its own nuclear efforts.
Brazil, which abandoned its covert nuclear weapons program in 1990 and signed the Non-Proliferation Treaty in 1998, says it's entitled to build a nuclear submarine under a provision in the treaty that permits a member to produce highly enriched, weapons-grade uranium if it is used for "non-explosive purposes," such as naval propulsion.
A Surprisingly Uneasy Alliance With Brazil
Paulo Sotero, director of the Brazil Institute at the Woodrow Wilson International Center for Scholars, says the Brazilian military wants the submarine to protect the country's offshore oil reserves, while its nuclear industry seeks to leverage plentiful uranium deposits and its enrichment skills into lucrative exports of nuclear-reactor fuel and medical isotopes. "It's our right," he says.
In addition to its refusal to halt its submarine program, Brazil defied the United States when it joined with Turkey in 2010 to broker a deal under which Iran would export most of its low-enriched uranium in exchange for processed nuclear fuel. The deal went nowhere after the United States angrily rejected it, saying there was no guarantee Iran would stop enriching uranium, a process that violates five U.N. resolutions, as part of its suspected nuclear-weapons ambitions.
The episode was a sign of the tensions that have emerged as rising powers such as Brazil have challenged major powers such as the United States on the international stage. Many Brazilians thought the White House tried to put Brazil in its place in April when it denied a visiting Rousseff the pomp and ceremony of a full state dinner.
During that visit, Rousseff was hoping to hear Obama explicitly support Brazil's bid for a permanent seat on the Security Council as acknowledgment of the country's economic and political stature. But Obama only noted Brazil's aspirations for the seat, even though President George W. Bush backed India's bid in 2010. U.S. officials also criticized Brazil during its temporary tenure on the council last year for blocking efforts to pressure Syria's President Bashar al-Assad into halting his deadly crackdown on pro-democracy protesters.
Since then, Rousseff, a former political prisoner, has distanced Brazil from Iran, and her diplomats voted earlier this year to censure Assad at the United Nations. But lawmakers and officials remain wary of Brazil's moves to insert itself into Middle East diplomacy, especially the U.S.-led effort to pressure Iran into halting its nuclear enrichment program.
"Our tensions with Brazil over Iran are largely the reason why the United States hasn't advocated a seat for Brazil on the United Nation Security Council," Engel says.
Waiting for Congress
While trade between the two countries is robust and expected to grow stronger, they have no free-trade agreement, largely because Brazil prefers having such agreements with its Latin American neighbors over the United States. Meanwhile, several economic issues continue to stir tensions among Washington, Brasilia and Congress.
One involves expedited visa treatment for Brazilians visiting the United States. Some 1.5 million Brazilians visited the United States in 2011, spending more than $6.8 billion, according to U.S. officials, but until recently they have had to wait as long as four months for a tourist visa. Consular officials say they have cut wait times to less than a week, but the U.S. tourism industry has lobbied lawmakers hard for Brazil to be included in the U.S. Visa Waiver Program, which permits nationals from all European countries, Japan, the United Kingdom, the Baltic states, Singapore, Australia and New Zealand to travel to the United States for three months without a visa. Taiwan was added last week.
In May, New York Democrat Charles E. Schumer introduced a bill in the Senate that would, among other things, extend the Visa Waiver Program to Brazil. In the House, Nevada Republican Joe Heck introduced companion legislation in June. Meanwhile, Brazil has been working with U.S. officials to meet the program's security requirements, such as enhanced law enforcement and data sharing with the United States.
But the measures have been bottled up in the Judiciary committees, where Republicans and a few Democrats, including California Sen. Dianne Feinstein, oppose Brazil's inclusion in the program, citing both security concerns and concerns that Brazilians will overstay their visas to remain as illegal immigrants.
Texas Republican Lamar Smith, chairman of the House Judiciary Committee, notes that Zacarias Moussaoui, the French-born Moroccan believed to be the 20th hijacker in the Sept. 11, 2001, terrorist plot, entered the United States on the Visa Waiver Program and that many others have used it to remain in the country illegally. "Why should we expand a flawed program that facilitates illegal immigration and leaves the U.S. vulnerable to terrorist attacks?" he says.
It is unlikely either bill will advance during the lame-duck session in November.
A Surprisingly Uneasy Alliance With Brazil
Another issue that continues to roil U.S.-Brazil relations is a 2009 ruling by the World Trade Organization that government subsidies to U.S. cotton farmers gave them unfair advantage over Brazilian cotton exporters. Despite the ruling, the United States never stopped providing the subsidies.
With Brazil threatening to levy nearly $1 billion in retaliatory tariffs on a long list of American goods, Washington agreed in 2010 to pay Brazil $147 million annually to back off until Congress took up the WTO ruling in the 2012 farm bill.
But congressional action on that measure remains stalled. Both the House and the Senate versions would replace the cotton subsidies with a revenue protection insurance program that would make up for the losses of U.S. cotton farmers not covered by crop insurance. Brazilian officials say they're waiting to see what emerges officially from Congress and whether any new legislation eliminates the subsidy or merely replaces it with an indirect subsidy.
"So far, the things that are evolving seem to keep a lot of distortions in the U.S. programs," says a senior Brazilian diplomat, who spoke about the farm bill on condition of anonymity. "This could make it very difficult to arrive at a definitive solution for the dispute."
It now appears that the best Brazil can expect at this point is an extension of the 2008 farm bill during the lame-duck session. In the meantime, however, the current farm bill expired on Sept. 30, with no replacement that addresses the issue of the cotton subsidies or the U.S. payments.
The Obama administration says Congress' inability to agree on a new farm bill risks serious economic repercussions. "We have to work with the Brazilians to assure them that some point in time — in the near future, hopefully — there is going to be a resolution to this," Agriculture Secretary Tom Vilsack told reporters last month. "We don't want the retaliation that Brazil would be entitled to trigger under the [WTO] decision, which would be very devastating to our economy."
He acknowledged that the most immediate hurdle was convincing the Brazilian government that lawmakers will act during the lame-duck session or early in the next Congress. "It's going to be complicated," he said. "We're basically counting on people who haven't been able to solve these complicated problems in two years being able to do it in three to four weeks."
Even with all these differences and conflicts, however, many in Washington believe the two countries, by virtue of their sizes, their economies and their common embrace of democracy, are destined to get along. Todd C. Chapman, the deputy U.S. ambassador to Brazil, notes that the two sides are engaged in more than two dozen diplomatic dialogues on issues including nuclear non-proliferation, agriculture, cybersecurity and sanitation. Such discussions, he says, reflect what he calls a "maturing relationship that's becoming routine."
Some lawmakers say both countries still have a long way to go before they get to that point.
"There are going to be times when they're going to ruffle our feathers and times when we ruffle theirs," Engel says. "But we should make a concerted effort to have a rapprochement with Brazil. They are too important to ignore, and we're too important to them to lash out at us."
Ellyn Ferguson contributed to this story.
FOR FURTHER READING: Lame-duck agenda, CQ Weekly, p. 1981; farm bill (S 3240, HR 6083), p. 1914; economic diplomacy, p. 718; 2008 farm bill (PL 110-246), 2008 Almanac, p. 3-3 . The bills that would extend visa waivers to Brazil are S 3199 and HR 5741.