CQ WEEKLY – IN FOCUS
Oct. 6, 2012 – 12:51 p.m.
Sugar Might Sweeten Pacific Trade Deal
By Finlay Lewis, CQ Staff
At the 29th International Sweetener Symposium, held in early August in scenic Coeur d'Alene, Idaho, an assistant U.S. trade representative assured the assembled delegates from the American sugar industry that the Obama administration has no intention of negotiating trade agreements that would open the U.S. market to more imported sugar.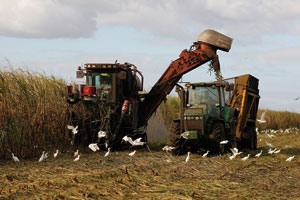 | | |
| --- | --- |
| RAISING CANE: U.S. sugar producers may be be losing their grip on protections against competition. (JOE RAEDLE / GETTY IMAGES) |   |
At least not right now.
The immediate subject was the ongoing negotiations among nine Pacific Rim nations for a regional trade pact called the Trans-Pacific Partnership. The group includes Australia, which has been trying for years to crack the U.S. sugar market. Strict U.S. quotas, backed by the political power of domestic sugar producers, have constrained imports and kept out the Australians and most other countries.
"There is no intention at this time to be negotiating any further with Australia on market access tariff issues," the USTR official, Sharon Bomer Lauritsen, told the conference delegates, who applauded appreciatively. Bomer Lauritsen meant possible changes in a market access agreement the two countries had signed after the 2004 U.S.-Australia free-trade agreement, with sugar pointedly excluded.
The phrase "at this time," though, has hung in the air, even as the Pacific Rim negotiators met and concluded a round of talks at a Northern Virginia golf resort in September, and even as the presidential campaign got into full swing last month. Bomer Lauritsen's appearance at the conference, in fact, was a testament to the political importance of the sugar lobby, particularly in the swing state of Florida.
Despite the assurances, U.S. Trade Representative Ron Kirk has made clear that very few products are off the negotiating table in the talks. And some trade experts say that, for the first time in broad trade negotiations, sugar might not be protected.
"I think the tide may be turning against the sugar people," says Gary Clyde Hufbauer, a trade expert for the Peterson Institute for International Economics in Washington. "They have had a good long run in both parties, but what's riding on this will be big enough and sugar will have to give."
Expanding Market
The United States is the world's largest consumer of sweeteners, including sugar, corn syrup and honey, and one of its biggest producers, at about 8 million tons of sugar a year. Sugar producers have for decades been politically active, including lobbying and contributing to campaigns, in an effort to keep the federal sugar program — and their protections against large-scale imports — intact.
The industry has been under fire since the 1970s and faces several challenges today. Industries that use sugar, notably candy and soft drink companies and bakeries, want lower sugar prices and are fighting domestic producers to allow an increase in imports as one way to push costs down. At the same time, some health and consumer groups worry that the United States consumes too much sugar and contend that the sugar lobby has too much power.
A Trans-Pacific trade pact that reduces or even abolishes U.S. barriers to sugar imports from member countries — Australia, Vietnam, Peru, Brunei, Chile, Malaysia, New Zealand, and Singapore, with Mexico and Canada expected to join the talks next year — might effectively demolish the U.S. sugar program.
Sugar Might Sweeten Pacific Trade Deal
In written testimony last month to the International Trade Commission, the American Sugar Alliance, the industry's main lobbying arm, said that granting Pacific Rim sugar producers duty-free access to the American market would "clearly be ruinous to the U.S. sugar industry."
Imports from Australia alone, the Alliance warned, could "swamp" the U.S. market, dealing a heavy blow to the income of sugar growers, trigger crop forfeitures and prompt a costly government bailout — and a likely erosion of legislative support for the longtime politically resilient program.
With a harvest of about 4 million metric tons last year, Australia ranks as the world's ninth-largest sugar producer. Adding to the sugar lobby's concerns is the prospect that Thailand, with more than twice Australia's production, might join the talks.
The alliance's warnings have a familiar ring. It unsuccessfully opposed provisions of the six-nation Central America Free Trade Agreement that allowed increased imports from countries including Guatemala and Nicaragua for many of the same reasons that it objects to increased market access for Australian sugar under a Trans-Pacific, or TPP, agreement.
But Jack Roney, the sugar alliance's director of economics and policy analysis, says the sugar lobby's concerns about CAFTA had more to do with its role as a door opener and far less with the relatively modest quantities of Central American sugar that are now being imported under an expanded import mechanism known as a trade-related quota.
The threat posed by the TPP would be quite different, Roney says. "We are not worried about the TPP as a precedent," Roney says. "It's that the TPP in and of itself could just utterly devastate our industry."
Frequent Congressional Target
Lawmakers have made several attempts over the past two years to dismantle or weaken the sugar program, which undergirds the domestic industry with a safety net of import restrictions, price supports and production restraints.
Few of the efforts have gotten very far, although Senate supporters mustered 46 votes in June for an anti-sugar amendment to a five-year farm programs reauthorization bill. The legislation, offered by New Hampshire Democrat Jeanne Shaheen, would have repealed the 18.75-cents-per-pound price support for raw cane sugar and the 24.1-cent bulwark for refined beet sugar. Although the amendment was tabled, backers were heartened by the bipartisan support it attracted.
Shaheen and other backers estimated that repeal of the price supports would save consumers and businesses an average of about $11 per U.S. consumer.
By contrast, a 2003 study by the Department of Agriculture found that the federal program helped to ensure that sugar beet growers in western Minnesota's Red River Valley earned almost 20 percent more than their neighbors who had planted other crops, such as corn or soybeans.
The situation remains fundamentally unchanged in the valley, the largest sugar beet growing region in the country. Dean A. Bangsund, a research scientist in the Department of Agribusiness and Applied Economics at North Dakota State University, says other crops grown in the region generate considerably less economic activity than sugar beets and the processing facilities that convert the harvest into a product with large market value.
The sugar industry has demonstrated distinct advantages in its lobbying. Import restrictions are said to add only pennies to the price of food, and the sugar program doesn't cost taxpayers, only consumers. Moreover, the big sugar industry opponents — consumer advocates and the food and beverage industry — are often at odds .
Sugar Might Sweeten Pacific Trade Deal
The calculus may be changing, however, at least in part as a result of hostility to farm programs from tea party Republicans, who see price supports and quotas as distorting free market principles.
One prominent sugar industry foe in the House, Oregon Democrat Earl Blumenauer, says the odds of changing the program have improved. "I think it's in play," Blumenauer says, "I really do."
Strengthening the hand of such sugar program critics as Blumenauer and Republican Jeff Flake of Arizona is that trade deals normally come to Congress for approval under a parliamentary procedure that bars amendments and allows only for an all-or-nothing, up-or-down vote in both chambers.
That would mean, Blumenauer says, that sugar lobby supporters wouldn't be able to offer changes on the House floor intended to divide their supporters.
"I think there will be more sympathy for having a cleaner treaty that is negotiated without special deals like those protecting the exalted position sugar enjoys, and I think there'd be support in Congress," Blumenauer says. "So, it's a different dynamic."
The sugar lobby may not be able to count on a more sympathetic ear in the White House if Republican Mitt Romney wins. Asked in a January debate in Florida about the government's role in supporting the industry, Romney said, "My view is, we ought to get rid of subsidies and let markets work properly."
Bryan Riley, a trade expert with the free-market Heritage Foundation, says trade agreements "can help to create changes that are otherwise not possible because of the concentrated power of special interests."
Riley says U.S. farmers need access to overseas markets and should be open to increased imports in return. "Across the board, these groups should have a very big interest in reducing barriers," he says. "That would include accepting reforms to the sugar program."
Hufbauer also says the interests of the sugar lobby are likely to be at odds with the desires of those who grow the bigger crops — wheat, corn, soybeans and cotton — for greater access to Pacific Rim markets.
And, he says, U.S. negotiators will be eager for greater access to Australian markets for American pharmaceuticals and to gain stronger protections for foreign investors from adverse rulings by the Australian courts. Sugar, he says, stands out as a bargaining chip.
"These things are all related," says William A. Reinsch, president of the National Foreign Trade Council. "What they're doing — what I would do if I was their negotiator — is not agreeing to things we want in order to send a signal."
FOR FURTHER READING: Obama and Romney on Trans-Pacific Partnership, CQ Weekly, p. 1864; Australia free-trade agreement (PL 108-286), 2004 Almanac, p. 15-3.