CQ WEEKLY – COVER STORY
Oct. 6, 2012 – 1:02 p.m.
The Medicare Conundrum
By Emily Ethridge, CQ Staff
The future of Medicare lines up with the economy as one of the hottest topics in this year's presidential campaign. Republican nominee Mitt Romney accuses President Obama of stealing money from the program to pay for parts of his 2010 health care law. Obama says the GOP plan would "end Medicare as we know it."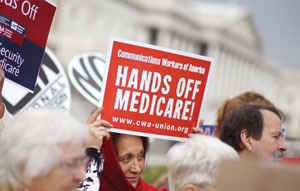 | | |
| --- | --- |
| CLEAR MESSAGE: Medicare continues to be popular among seniors, who do not want to see changes or reductions in their federal health care program. (MARK WILSON / GETTY IMAGES) |   |
Both reiterated those points last week in the first debate of the campaign. "The idea of cutting $716 billion from Medicare to be able to balance the additional cost of Obamacare is, in my opinion, a mistake," Romney said. Obama's response: "The savings that we obtained from Medicare bolster the system, lengthen the Medicare trust fund by eight years. Benefits were not affected at all."
The two men are courting voters 65 and older with essentially the same message: "The other guy wants to change your Medicare. I won't do that. Vote for me."
In fact, both candidates do want to change Medicare, recognizing that something needs to be done to address the financial crisis facing the half-century-old health care program for the elderly and disabled. At the same time, neither wants to mess with the benefits so dear to the hearts of a demographic group that has a reputation for showing up at the polls.
The candidates have good reason to respect the wishes of the more than 48 million people who receive Medicare benefits. A September public opinion survey by The Washington Post and the Kaiser Family Foundation found that seniors in three swing states favor maintaining Medicare's current benefits system — rather than changing it — by majorities of more than 70 percent.
That attitude is why Medicare has for years been considered part of the "third rail" of American politics. Candidates knew that even suggesting big changes to the program carried a political risk.
But, the affection seniors show for their federal health care program doesn't diminish the fact that Medicare's fiscal outlook is dire. In their latest report, Medicare's trustees warned about the program's financing for the seventh straight year. Without changes to current law, they said, the hospital insurance fund will become insolvent — unable to cover all its costs — in 2024. And that doesn't take into account the rising cost of Medicare physician services, much of which is borne by taxpayers.
To find a financing solution and at the same time try to avoid that third rail, administration officials, lawmakers and health care policy experts have searched for ways to save money that don't put the burden directly on Medicare beneficiaries, even though paring back benefits would be a quick way to improve the program's financial picture. Instead, the path of least resistance, they have found, would be to put the onus on health care providers — hospitals, doctors and other caregivers — to reduce costs through a reconstruction of the program's payment system.
Cutting provider payments "is a politically easier sell than cutting benefits or raising premiums," says Gail R. Wilensky, who ran the Medicare and Medicaid programs in the early 1990s under President George Bush.
Conventional wisdom has it that any transformation of that payment system would be a huge undertaking. The new system would have to be acceptable to lawmakers and administrators as well as providers and beneficiaries — and it would need to reduce Medicare's costs and make better use of taxpayer dollars. But a change in the payment system would be more palatable to seniors than direct changes to their current benefits. And Medicare already has proven to be flexible when it comes to incorporating new ideas, successfully adding a prescription drug plan and a private insurance component to the program. Practically speaking, experts say, a gradual transformation wouldn't be so difficult to pull off.
"I don't think this would be a particularly traumatic thing for CMS to go through," says Thomas A. Scully, chief of the Centers for Medicare and Medicaid Services under President George W. Bush.
In fact, CMS already has made alterations to the fee-for-service payment system that Medicare has used since its inception. Under that system, the government pays hospitals and doctors for each service performed. Critics say it encourages caregivers to focus on volume — the number of patients served and the number of services rendered — rather than effectiveness of care.
The Medicare Conundrum
"Fee for service rewards physicians who do more tests and more procedures, even if those services are unnecessary. It does not encourage physicians to coordinate patient care to save money and improve results," Montana Democrat Max Baucus, chairman of the Senate Finance Committee, said at a hearing earlier this year. "We need an efficient system that rewards physicians for providing high-quality, high-value care."
Exploring Options
Medicare is starting demonstration programs for new payment systems meant to encourage providers to coordinate care and reduce costs. And private insurance companies already participate in Medicare through Medicare Part C, known as Medicare Advantage, and through the Medicare Part D prescription drug benefit.
Of course, any substantial change to Medicare's payment system must have providers on board. They could stop seeing Medicare patients if the payment cuts become too steep, which in turn would limit choices for beneficiaries seeking care and treatment. Changing the payment system also could negatively affect beneficiaries, although less directly than cutting their benefits or requiring them to pay more for care.
That means that any transition will have to be gradual. Beneficiaries and providers are familiar with fee for service and would be wary of change. Some health experts advocate using it as a foundation and improving it with new systems, such as bundled payments and so-called accountable care organizations, to encourage coordination of care.
Others insist that a more extreme change is necessary, such as a premium-support system in which private insurers would have a greater role in adding flexibility and choice to the system. But that idea, chiefly promoted by Republicans, isn't popular with all voters. In Florida, just 29 percent of voters said they would prefer such a plan, while only 33 percent in Ohio and 35 percent in Virginia supported a premium-support plan over current benefits, according to the Washington Post–Kaiser Family Foundation survey.
The administration's demonstration programs — overseen by the Center for Medicare and Medicaid Innovation — allow CMS to test different payment models without a complete overhaul. They use only willing providers and don't change how beneficiaries receive care or how their health care is financed. In essence, these demonstration plans keep Medicare the same for as many people as possible while moving away from the worst problems under fee for service.
"At the very least, you need to have a payment system that supports and is compatible with the kinds of changed behavior you're trying to encourage, and micro-level fee for service is not compatible with any of the things we're talking about now," Wilensky says.
This year, CMS began demonstration programs for accountable care organizations, or ACOs, in which doctors, hospitals and other providers such as nurses and long-term care workers come together voluntarily to coordinate care. Medicare reimburses the entire organization for its care services, but if the ACO provides care for lower costs while still meeting quality benchmarks, the participants get to share in the savings.
The idea is that because providers are jointly responsible they have a financial incentive to avoid duplicating services or unnecessary procedures. The administration says the initiative might save up to $940 million over four years.
But there are concerns about whether patients will still have freedom of choice for their providers. Beneficiaries might want to see a specialist who is outside the ACO of their normal provider. Under the current CMS demonstration programs, patients are allowed to do so, but that might limit the realized savings.
And not all the ACOs are going as far as they might. The 32 ACOs in the Pioneer Program, aimed at more experienced health groups, are responsible for any costs resulting from more expensive care. But that is not the case yet for all the ACOs in the other demonstration program.
The Medicare Conundrum
Robert A. Berenson, a fellow at the Urban Institute, says that in order to achieve real savings, providers will need to be at financial risk if they don't meet care goals.
He suggests that in six or eight years, the ACO program would develop enough that CMS could make it widely adopted in Medicare — including provisions that put all providers at risk to save money.
"If you don't want to be in this, if you want to stay in the traditional model for physicians," he says, "you're not going to be getting very generous payments anymore."
But providers might be reluctant to participate in such a system — particularly those who aren't experienced or who don't have strong health care systems around them with which to coordinate.
Seeking Bigger Savings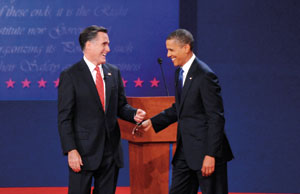 | | |
| --- | --- |
| TWO VIEWS: Obama and Romney went after each other's plans for Medicare in the Oct. 3 debate. (MANDEL NGAN / AFP / GETTY IMAGES) |   |
CMS is also preparing an initiative to test bundled payments, in which Medicare combines payments for services that patients receive across a single episode of care, such as a hip replacement. Medicare still pays providers for services, but the payment is combined to encourage coordination between physicians and specialists.
"A move to bundled payment is still a type of fee for service," Wilensky says. "It does get away from some of the worst attributes of fee for service — particularly as it exists at the physician level."
Providers have a financial incentive to deliver services more efficiently and work together from a patient's entry into care throughout his recovery time, because they will all share in the payment.
However, it can be difficult to determine which services should be included in the bundled episode of care and which can be billed outside of it. And the payment system doesn't necessarily discourage unnecessary procedures, which might limit savings.
In addition, patients might be denied care if doctors choose to avoid those they think are at a high risk of needing more services. And again, providers would need to be encouraged to participate in the new payment system.
Berenson says an effective way to find savings quickly would be to move to a system called capitation, in which a provider gets a fixed per-patient prepayment, regardless of the services received.
"What I actually scratch my head about is why everybody thinks you need to take these ginger steps through shared savings and bundled episodes and things like that, rather than move into moderated capitation," he says.
The Medicare Conundrum
Under capitation, doctors and hospitals keep savings they accumulate for providing services under the fixed amount, but they are responsible for any costs above it. That makes costs predictable for the government and for providers. But it also might encourage doctors and hospitals to stay away from high-risk patients, because they would be paid the same amount for treating patients who require many services as those who don't need as much care.
Many experts and lawmakers, including Wisconsin Republican Paul D. Ryan, chairman of the House Budget Committee and his party's vice presidential nominee, have pushed to move Medicare toward a premium-support model, under which beneficiaries receive a set amount of money from the government to buy insurance.
Supporters See Competition
This would be a much more noticeable change. Rather than having the government cover a defined set of benefits, it instead would provide a fixed amount of money for people to buy different plans. In most versions, the beneficiary would spend that money to buy private health insurance or traditional Medicare.
Those who promote premium support say it will control costs by forcing competition among private plans. Private plans would have more flexibility to innovate to keep costs down and quality up, advocates of premium support say, and would encourage enrollees to see better providers by keeping them in the network.
Under the current system, "there's no competition for price and quality," Scully says. "The biggest issue for Medicare has been that every doctor . . . gets paid the same thing, so they compete for volume, which is the problem."
In addition, a premium-support system puts a limit on how much money Medicare would spend on beneficiaries. Participants would be responsible for any insurance costs above that amount.
In practical terms, experts say, implementing a premium-support system wouldn't be that difficult. Scully says it might be as simple as expanding the private plans set up under Medicare Advantage, which covers about one in four beneficiaries today.
Third-Rail Trouble
Robert E. Moffit, a senior fellow at the conservative Heritage Foundation, says the first step in a shift to premium support would be to transition traditional Medicare into a unified plan that would compete with private insurance plans.
"You would have to take the fee-for-service system and turn it from just simply a system of payment into a plan," Moffit says. "Actually, that's not that hard to do because all you're talking about basically is streamlining something that is, as they say, unnecessarily complex."
But politically, making such a change might prove to be difficult — in part because it would limit how much money beneficiaries would get for their health care coverage. And that would mean lawmakers would have to walk dangerously close to the third rail.
The Medicare Conundrum
Sensing that, Democrats have jumped all over Ryan's plan, saying a premium-support system would leave seniors and the disabled vulnerable to rising costs. At an Oct. 2 House Democratic Steering and Policy Committee hearing, Connecticut Democrat Rosa DeLauro accused Ryan and Romney of trying to gut Medicare with their premium-support plan.
"Their budget tries to dramatically cut spending on health care for seniors, turn the program into an underfunded voucher and end the Medicare guarantee for every American under the age of 55," DeLauro said. "It shifts health care costs to seniors without doing anything about lowering the cost of health care."
Democrats also say the premium-support payment amount won't keep pace with rising health care costs, making decent coverage unaffordable for many beneficiaries.
Premium-support critics also question whether increased competition among private plans really does bring in extra savings. They point to the Medicare Payment Advisory Commission's estimation that payments to the private plans in Medicare Advantage in 2012 will be about 107 percent of the spending for traditional fee-for-service Medicare.
Much of extra value that Medicare Advantage "plans provide is due to the fact that Medicare spends more under the MA program than under [fee for service] for similar beneficiaries," the advisory commission said in its March 2012 report.
"I don't know why anybody thinks that having competition between private plans would suddenly produce savings that we don't see in Medicare Advantage," Berenson says. "Why do we think the premium support is suddenly going to unleash competitive forces?"
Republicans counter that maintaining the status quo won't work either, emphasizing the hospital trust fund's approaching insolvency. They also say that Obama's health care law — the statute that kicked off the payment model demonstration programs — will make Medicare worse, by cutting payments to some providers and to Medicare Advantage plans.
"Look, even President Obama, in some rare moments of candor, will acknowledge that Medicare is on an unsustainable path," Ryan said at a campaign event in Ohio in September. "He took $716 billion from the Medicare program to spend on Obamacare. He basically treats Medicare like a piggy bank to pay for Obamacare."
Supporters hope the demonstration programs will at least lead to some answers, but even if they do, it would still be a matter of years before they show clear results.
Wilensky warns that lawmakers might easily get discouraged if not all the models work in every area in which they're tested. "There's nothing wrong with trying it out and seeing if it works," she says.
And she cautions against giving up on the different models and resorting to a blunter instrument to limit costs and spending. "You've just got to not get bogged down," she says. "And it's easy on these pilots and demonstrations to get bogged down, and at potential losers to try to lob grenades."
At the same time, although the process won't be easy, Wilensky says it's necessary. "It's just the alternative is so terrible, which is just whacking prices across the board."
Scully says he holds out hope that the increasingly obvious need to shore up Medicare's financing and transform its payment system will lead to acceptance and agreement, even in the political realm — where, he says, "both parties are guilty" of trying to scare beneficiaries.
The Medicare Conundrum
"Outside the context of the understandably incredibly intense politics of Medicare and seniors," Scully says, "it's a very rational, basic economics discussion."
FOR FURTHER READING: Sequester's effect on Medicare, CQ Weekly, p. 1615; effort to repeal IPAB, p. 601; Ryan budget plan (H Con Res 112), p. 684; health care law (PL 111-148, PL 111-152), 2010 Almanac, p. 9-3; original Medicare law (PL 89-97), 1965 Almanac, p. 236.