CQ WEEKLY – VANTAGE POINT
Oct. 20, 2012 – 12:54 p.m.
Cybersecurity Bill's Second Shot
By Jennifer Scholtes, CQ Staff
On the sleepy Saturday afternoon of Oct. 13, while much of Washington mourned the collapse of its baseball Nationals, Senate Majority Leader Harry Reid released a statement saying that he plans to bring cybersecurity legislation to the floor again, when this year's lame-duck session gets under way.
This was the first that many key negotiators from either party had heard of the leader's commitment to give the issue another shot, after a bipartisan bill stalled on the Senate floor Aug. 2. And so far, it's the last they've been told of his plan.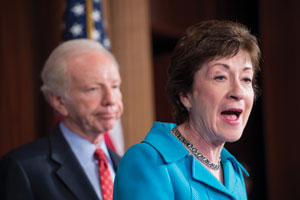 | | |
| --- | --- |
| LAST CHANCE: Lieberman and Collins are still negotiating but have seen no breakthrough on cybersecurity. (BILL CLARK / CQ ROLL CALL) |   |
The statement, short on specifics, has left those wrangling over various cybersecurity proposals wondering whether the Nevada Democrat will call up the bill that didn't get enough votes this summer, take up a modified version or start over with a new approach.
Reid's office says the plan is vague because it's flexible. But the senator did cite a non-negotiable condition: One more failed procedural vote, and the Senate won't touch any cybersecurity bill again this session.
"In the lame duck, time is a premium and is of the essence," says Reid spokesman Adam Jentleson. "We don't have time to do it more than once in the weeks we have, given everything else we have to do."
The measure, informally referred to as "the Lieberman bill," was written by Senate Homeland Security and Governmental Affairs Chairman Joseph I. Lieberman , a Connecticut independent, and the panel's top Republican, Susan Collins of Maine. Sponsors, who include leaders of the Commerce and Intelligence committees, have said in recent weeks that there has been no breakthrough or even incremental headway in negotiating provisions of the legislation.
In August, the bill came up eight votes short of the 60 required on a procedural motion after disputes over the number and type of amendments that would be allowed. If a new agreement isn't reached to limit amendments or modify that bill, it is likely that Democrats will essentially call for a do-over of the earlier vote, crossing their fingers in the hope that enough senators will feel free of election pressures and will change their stance. New reports of severe cybersecurity threats have come in since August.
Collins noted earlier this month that those factors seem to be the only hope for additional support, given that legislative changes have been largely fruitless. The decision this summer to yank language mandating that the nation's most crucial infrastructure be protected by minimum cybersecurity safeguards, a big issue to opponents, didn't seem to yield even one additional vote, she said.
But GOP aides involved in the negotiations say it's naive to think that the bill's opponents have only recently realized the severity of the cybersecurity threat or that lawmakers would miraculously cast off their policy concerns after Nov. 6.
Many Republicans want to see the Lieberman bill stripped of language that would put the Homeland Security Department in charge of coordinating the sharing of cybersecurity-threat information between companies, saying that would disrupt longstanding business relationships. And the U.S. Chamber of Commerce is still holding out hope that additional provisions will be added to protect businesses from lawsuits for sharing information, to ensure that the data is not made public and to prevent the government from using it to create regulations.
Lawmakers and aides on the House and Senate Intelligence panels from both parties have met quietly during the recess to craft a new bill, say aides in both chambers. They see the endeavor as writing on a clean slate rather than amending the Lieberman bill or a measure the House passed last spring or one that Arizona Republican Sen. John McCain offered in March. The Intelligence bill in the works would focus on information sharing and would leave other hot issues, such as crucial-infrastructure guidelines, for future action.
Privacy advocates and civil-liberties groups have been largely appeased by tweaks made over the summer to the information-sharing portion of Lieberman's bill. But they can't abide the House approach, which they say lacks privacy safeguards. "We know House Republicans will be pushing information sharing this fall, and the bills just couldn't be more different," says Michelle Richardson, legislative counsel for the American Civil Liberties Union. "There's just so much daylight between the two."