CQ WEEKLY
Oct. 20, 2012 – 1:02 p.m.
Environment: Hite
By CQ Staff
As senior counsel for Republicans on the Senate Environment and Public Works Committee, Matthew Hite worked closely with Oklahoma's James M. Inhofe for five years on mining, coal and superfund issues. In his new job as policy counsel for the environment and agriculture committee at the U.S. Chamber of Commerce's environment, technology and regulatory affairs division, Hite is working on many of the same issues.
He will help develop and lobby for business friendly policies on coal and public lands, for example.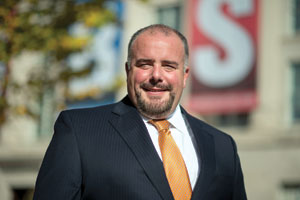 | | |
| --- | --- |
| Hite (BILL CLARK / CQ ROLL CALL) |   |
"It's environmental quality minus clean air," Hite says. "It's chemical, water and mining issues that would come up."
While on the committee staff in 2009, Hite worked with Kansas Republican Pat Roberts to appropriate money to buy out a former zinc and mining town in southeastern Kansas that allowed residents to move away instead of living through land remediation.
"When you're owning a property in a Superfund area, it's pretty tough to transition out and sell it," says Hite, 40. "The EPA was great to work with on that."
Before joining Inhofe, Hite was an aide to four other Republican members of Congress: Sen. Mike DeWine and Rep. Paul E. Gillmor, both of Ohio; Rep. Don Young of Alaska; and Rep. Bill Sali of Idaho.
Scott E. Stewart
After three years practicing environmental law at Washington-based Patton Boggs, Scott E. Stewart has changed law firms. Stewart, a former environmental litigator for the Justice Department, is a new partner in the environmental and natural resources group at Husch Blackwell, a Missouri-based firm.
Stewart, 44, helps companies comply with environmental rules and defends them when necessary. "Over the last decade or so, the enforcement landscape has changed," he says. "The EPA has really moved to more holistic, wholesale enforcement focusing on areas where they perceive widespread noncompliance." Stewart, 44, worked at Justice from 2001 to 2009 on environmental law enforcement.
Angela Bonarrigo
Outreach Strategies, a boutique environmental and sustainability public affairs firm, is growing and has hired Angela Bonarrigo to develop communications and advocacy campaigns for its clients, which include the accounting and consulting firm KPMG and the Environmental Defense Fund.
Bonarrigo, a senior vice president, had been Washington director for Ceres, a nonprofit group that brings together business leaders and public interest organizations around stainability issues.
Environment: Hite
Before Ceres, she worked at Rasky Baerlein Strategic Communications and as a public affairs specialist for the EPA.
Jake Thompson
Nebraska's senior senator, Democrat Ben Nelson , is retiring after two terms, prompting his staff to line up new jobs. Jake Thompson, communications director, is one of the first of Nelson's senior staff members to leave, having recently joined the federal communications team at the Natural Resources Defense Council.
"I wouldn't have chosen to leave," says Thompson, 56, a reporter for 25 years with the Omaha World-Herald and the Kansas City Star before joining Nelson's office in 2008. "I basically helped tell the Ben Nelson news story, and helped him reach Nebraskans as much as we were able to."
The NRDC's federal communications shop is headed by former Los Angeles Times and Bloomberg News reporter Ed Chen.