CQ WEEKLY – COVER STORY
Corrected Oct. 22, 2012 – 10:59 a.m.
Fear of Prying
By Tim Starks, CQ Staff
Stephen McKeever, a transplanted Brit living in Oklahoma, dreams of turning his state into the capital for drones — the unmanned aircraft that, the Federal Aviation Administration predicts, will swarm the skies by the thousands within two decades.
Overseas, drones have bombed terrorist targets to smithereens. In the United States, drones have flown into hurricanes to monitor storm developments, hovered along borders to monitor drug smugglers and spied on suspected cattle thieves. This year, Congress ordered the FAA — via a provision quietly tucked into a long-delayed authorization law — to speed up and expand its integration of drones into domestic airspace for use by both government entities and businesses. The number of uses could grow exponentially; in some fanciful scenarios, they're even envisioned delivering pizzas.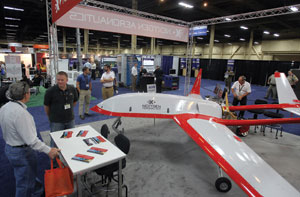 | | |
| --- | --- |
| EXHIBITION: A drone made by Los Angeles-based NextGen Aeronautics is displayed at a recent Unmanned Systems North America trade show in Las Vegas. (ISAAC BREKKEN / GETTY IMAGES) |   |
"We're at the beginning of really a brand-new industry," says McKeever, a professor at Oklahoma State University and the science and technology secretary for Gov. Mary Fallin, a Republican. With the university's drone-engineering program, a Department of Homeland Security test site and a variety of industries that could benefit from using domestic drones, Oklahoma is poised to become an economic hub for the unmanned aircraft, McKeever believes. "The estimates for how this is going to grow globally, nationally — the figures are very attractive," he says.
But just as McKeever sees a wealth of opportunity in the expansion of drones into U.S. airspace, others see potential problems. The FAA reauthorization bill passed Congress overwhelmingly, but some lawmakers now question whether current regulations will safeguard citizens' privacy when thousands of drones are airborne. Also, members of Congress and airline pilots, among others, have raised questions about whether drones can be flown safely in crowded airspace and whether the Department of Homeland Security should have a stronger role in ensuring that the aircraft don't become terrorist weapons.
Those worries crystallized only after the FAA bill was enacted, in February. When the House Transportation and Infrastructure Committee and the Senate Commerce, Science and Transportation Committee approved the legislation, they didn't even mention the drone language. Rep. Jeff Landry, a Louisiana Republican, voted for the bill but says people were soon stopping him at Wal-Mart, or pinging him on Facebook, to voice concerns about the possibility of a fleet of robotic aircraft watching their every move. That led him to sponsor and win approval for an amendment to the fiscal 2013 defense authorization bill that would forbid any Department of Defense drone data from being used in a court of law without a warrant.
"At the end of the day, the American people have a distrust of their government," Landry says. "Congress' approval rating is at an all-time low, mainly because they don't trust the government. The reason they don't is because they intrude on our business lives and our personal lives. Do we want to live out the Orwellian Big Brother future?"
Unexpected Consensus
At a time when bipartisanship is in short supply on Capitol Hill, fears about drones have drawn Democrats and Republicans into unusual alliances. Democratic Rep. Rush D. Holt of New Jersey, who attached to the fiscal 2013 Homeland Security appropriations bill an amendment that would prohibit the Department of Homeland Security from arming its drones, says that at one summer meeting he was surprised to find himself in agreement with conservative Utah Republican Jason Chaffetz.
Industry officials and others who would benefit from the expanded use of the technology, such as law enforcement agencies, have seen the concerns proliferate and are responding. Perhaps more privacy safeguards are needed, they acknowledge, but none that would have unintended consequences. One police association has issued drone-use guidelines that address both privacy and security.
Some of the fretting has arisen simply because the technology is in its infancy; it's so new that there is no agreed-upon terminology for the devices. The public knows them as drones, but their proponents alternately call them unmanned aerial vehicles (UAVs), unmanned aerial systems (UASs), remotely piloted aircraft or remotely piloted vehicles. And Tim Adelman, an aviation attorney at Adelman, Sheff and Smith, notes that aircraft-specific and privacy-specific bodies of law exist whereas a drone-specific doesn't.
But new technology can introduce new problems, and as the FAA faces a series of deadlines to speed the aircraft into the sky, some critics contend that the policies haven't yet caught up to the technology. The FAA is supposed to issue by Nov. 10 guidelines for government drones as well as a comprehensive plan to integrate non-government drones into the national airspace by Sept. 30, 2015.
"The technology has gotten out ahead of us," says Holt. "This applies domestically and internationally. A lot of people are discovering this is a pretty nifty technology, and they're using it without fully considering the implications."
Fear of Prying
The current Congress, which has little time in which to address a long agenda, is unlikely to delve into drones again. But as constituents continue to react to every news headline that contemplates some potentially objectionable use of drones, and as industry looks to head off opposition, lawmakers might find the next session an opportune time for revisiting what they have wrought, before that final FAA rule-making deadline comes and goes.
Growth Industry
There is little doubt that drones would be beneficial in the United States. The list of safety, industrial and commercial applications is virtually endless, and that in turn means job-creation opportunities for a struggling economy.
Drones range in size from the Air Force's 16,000-pound Avenger, manufactured by General Atomics, to the Nano Hummingbird, a device being developed by AeroVironment Inc., which weighs less than an ounce. Both companies are in the Los Angeles area.
Most of the drones flying domestically would be on the smaller side. Those regulated by the FAA include the very small variety, up to 4.4 pounds in weight, and those up to 55 pounds. They could be used in myriad ways and could perform hazardous tasks.
"Anything you can think of that would be putting a pilot in harm's way, a UAS can do," says Gretchen West, executive vice president of the Association for Unmanned Vehicle Systems International (AUVSI).
McKeever sees drones as "a brand-new commercial industry," one that's "going to open a lot of economic-development doors." Besides Oklahoma State's drone-engineering program and Homeland Security test site, he says, the state has a number of industries that could prosper from using domestic drones: Oil and gas are a big part of Oklahoma's economy, and drones could be deployed for pipeline inspection; agriculture is also significant there, and drones could be used to spray crops.
Teal Group Corp., an aerospace and defense consulting firm, predicts that drones will "continue as the most dynamic growth sector of the world aerospace industry this decade," becoming an $89 billion industry worldwide within 10 years. The United States will account for 55 percent of all purchases and 62 percent of research-and-development funding.
In its 2012 aerospace forecast, the FAA estimated a fleet of 10,000 domestic drones within five years. The 2011 forecast went so far as to predict that the fleet of domestic drones could reach 30,000 by 2030. Customs and Border Protection already operates 10 drones for border patrol, and the FAA has issued more than 1,300 certificates of authorization to operate drones, 358 of which are currently active, the agency says. Some of the certificate holders were disclosed as the result of a records request from the Electronic Frontier Foundation, a San Francisco-based digital-rights group. The list includes local law enforcement entities, universities and federal agencies.
But some in Congress grew impatient with the pace at which the FAA was issuing licenses, and the drone provision — the result of work by subcommittees of the House and Senate panels that wrote the authorization measure — was added. Drone lobbyists have been cited in media accounts as the source of the language but, West says, her organization did not write it. The group has, however, boasted of getting its alterations to the language adopted.
Drone-related lobbying has been taking off. AUVSI more than doubled its lobbying budget in 2011, to $280,000. That year, lobbying budgets for manufacturers authorized to fly drones domestically and those seeking permission to do so, as compiled by First Street Research, totaled more than $25 million; manufacturers included powerful defense contractors such as Raytheon Co. and General Atomics, which might find Defense Department drone spending on the decline as the Afghanistan War winds down.
But even as the industry is poised for expansion and the FAA is under orders to expedite that expansion, some Americans have misgivings.
According to a June poll by Monmouth University in New Jersey, a majority of Americans supports the expansion of drones into U.S. skies for a variety of purposes, such as border protection, search-and-rescue and tracking criminals. But a majority opposes the use of drones to issue speeding tickets, and 64 percent are "very concerned" or "somewhat concerned" about the effect on privacy of law enforcement using drones equipped with high-tech cameras.
Fear of Prying
'Potential for Abuse'
Those concerns about privacy have reached Congress, and such ideologically distant lawmakers as Republican Sen. Rand Paul of Kentucky and Democratic Rep. Edward J. Markey Massachusetts have filed legislation to institute privacy rules for domestic drones. Some had supported the FAA measure.
"I did not have concerns until after the bill was passed and after constituents brought the potential for abuse to my attention," says Rep. Austin Scott, a Georgia Republican who voted for the FAA bill and now is sponsoring a domestic-drone privacy bill. "Quite honestly I did what a congressman should do, which is investigate those concerns and move forward to try to see that it was a legitimate concern."
The FAA bill included no reference to privacy safeguards. The FAA says that its "chief mission is to ensure the safety and efficiency of the entire aviation system, and the agency is working to ensure the safe integration of unmanned aircraft," but adds that privacy concerns need to be addressed during integration.
In a September letter to Markey, the agency noted that some pre-existing measures might protect privacy, such as the FAA making available information about individual registration data for drones and citizens filing Freedom of Information Act requests.
Several headlines have contributed to the worries about privacy. Last year, a North Dakota sheriff chasing cattle thieves sought help from a Customs and Border Protection Predator drone so he could find out whether the rustlers were armed; when the drone's sensors detected that they were not, he arrested them.
In a more recent example, Virginia's Republican Gov. Bob McDonnell in May endorsed the use of police drones over his state.
"I think it's great," he said. "We need to address civil liberties like privacy, but I believe if you're keeping police officers safe and you're making them more productive and you're ultimately saving money," then it's "absolutely the right thing to do."
In determining whether surveillance without a warrant is lawful, one of the legal standards used is a person's "reasonable expectation of privacy." As technology evolves, though, it alters the definition of "reasonable expectation." The courts have already been permissive with regard to which types of aerial surveillance are legal, say privacy advocates, and drones — closer to the ground and able to continuously monitor a target with powerful cameras — could be a very powerful tool for aerial surveillance.
In Kyllo v. United States, the Supreme Court in 2001 decided that the warrantless deployment of a thermal imager to detect activity within a house was unconstitutional, citing the government's use of a "device that is not in general public use." But if the cost of domestic drones drops and their use increases, as is the case with most technologies, then the reasonable-expectation standard will be weakened, say privacy advocates.
Courts, too, are unsure of how to proceed with some of these new technologies; at least one Supreme Court justice thinks Congress should have a bigger role in regulating them. In a concurring opinion on United States v. Jones, Justice Samuel A. Alito Jr. wrote this year that Congress should consider legislation for new technologies, such as GPS, that enable police to conduct surveillance without installing equipment.
Much of Congress' response to the drone-related concerns about privacy has addressed the circumstances in which a warrant is required. That is the focus of Landry's amendment to the defense authorization bill; Scott's bill would require the federal government to obtain a warrant for gathering evidence or other information pertaining to the violation of regulations, with exceptions for border patrol, in emergencies and if the risk of a terrorist attack were high; and Paul has introduced a Senate version of that bill.
Fear of Prying
Privacy advocates support those and other measures. Amie Stepanovich, litigation counsel for the Electronic Privacy Information Center, told the House Homeland Security Subcommittee on Oversight, Investigations and Management in July that Congress should enact language that bars nonspecific, untargeted surveillance; requires independent audits of drone use; and specifies the circumstances in which Customs and Border Protection drones may be deployed for non-border-protection purposes.
Also, Markey has written draft legislation that would require the Transportation Department to study domestic drones' probable impact on privacy and to incorporate privacy protections in its rulemaking and its license-application process.
Scott says that, were his legislation to come up for debate in committee, lawmakers would surely propose amendments governing the use of drones in the private sector. In some scenarios, drones could be used by the paparazzi or by others to invade privacy.
Fear of Overregulation
The strongest proponents of domestic-drone expansion in Congress, in law enforcement and in industry acknowledge the concerns about privacy. They are, however, trying to guard against overly intrusive rules.
"We probably need to look at some legislation," Texas Democrat Henry Cuellar, co-chairman of the House's unmanned systems caucus, said at the July Homeland Security subcommittee hearing. "As you know, a lot of the privacy issues have already been decided by the Supreme Court. All we're looking at is use in a different type of platform, so whether it's a helicopter, an airplane or, in this case, a UAV, a lot of those privacy issues have been addressed by the Supreme Court."
Adelman, the aviation attorney, says that some of the fears are overblown and that some of the proposed legislation is an overreaction. Requirements for warrants, he says, could become very restrictive.
"If there is a car accident and it results in criminal charges, and a UAS takes pictures, do you have to get a warrant for that?" Adelman asks.
Both AUVSI and the International Association of Chiefs of Police have introduced domestic-drone-usage guidelines that touch on privacy. The police association's guidelines reflect some concerns of privacy advocates; for example, they recommend that warrants be obtained for collecting evidence. And Don Roby, the police chief of Baltimore County and the chairman of the association's aviation committee, emphasizes that few law enforcement agencies can afford to buy even modest drones, which are priced between $50,000 and $100,000.
"People need to understand," Roby says, that "local law enforcement is not going to be out there operating Predator drones."
The American Civil Liberties Union praises the police standards but contends that legislation is needed because guidelines are not requirements.
Scott says he is working with drone manufacturers to mitigate their concerns about his bill.
"We met with the industry. It was a very positive meeting," he says. "They understand that it's better for us to be proactive than reactive. They just put out a best-practices with their industry, which is an indication that they do recognize the potential for abuse is there. I'm hopeful we can have their support as we go forward. They understand the risk of what a couple of bad actors could do to their industry."
Fear of Prying
Eyeing Security
Most of the concerns about domestic drones have been privacy-related, but some critics are more worried about safety and security. Although Congress has given the FAA the job of integrating domestic drones into a crowded airspace, it has not addressed every detail; its next steps might depend on how the FAA handles the task before it.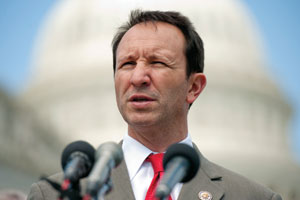 | | |
| --- | --- |
| BIG BROTHER: Landry voted for the FAA bill, but soon he was hearing from constituents worried about an Orwellian future where drones could be a tool for the government to intrude into peoples lives. (TOM WILLIAMS / CQ ROLL CALL) |   |
"That's the very question that not just the FAA but the whole of the community is asking: How can we do this in a very safe way so we're not going to be colliding or landing on top of somebody's head?" McKeever says.
Crashes are inevitable, as is the case with any aircraft. Last year a CIA drone crashed in Iran, and downed drones are not uncommon in Afghanistan. In June, a RQ-4A Global Hawk crashed during what officials said was a routine training flight from Naval Air Station Patuxent River, landing in a marsh in Salisbury, Md.
Right now, for safety reasons, most drones may be operated domestically only if they remain below 400 feet and in their pilots' lines of sight, under a standard known as "see and avoid." Congress wrote into the FAA bill requirements that any civilian drone include "sense and avoid" capability. Under the provision, the FAA could allow pilotless aircraft to be outfitted with technology, such as a GPS-like anti-collision system, that would enable it to meet the standard. Such technology hasn't been perfected, though.
"We just don't know what those rules are going to look like yet," says West.
And if the number of domestic drones increases, safety issues will arise even if regulations are on the books. For example, a fixed altitude for drone flight won't necessarily avoid collisions, says Lee Moak, president of the Air Line Pilots Association, because helicopters fly lower than planes. And even with limits on the size of drones, a collision could be catastrophic.
"If one of those were to hit a jet — jets are not capable of sustaining impacts of those type of aircraft in the air," Moak says. He is confident, he says, that the FAA will address these potential problems, because it has a great track record for safety. Also, he thinks, the emphasis should be on the ground-based pilots of drones.
"I believe the pilot who is operating this needs to go through the same certification process that other pilots do," he says. "He needs to have all the same requirements to fly in the national airspace." Oversight of pilots is also needed, he says, to ensure their compliance.
In addition, some lawmakers are concerned about drones being used as terrorist weapons. Last year, a Massachusetts man pleaded guilty to a plot to attach a bomb to a remote-controlled model aircraft, prompting questions about whether drones could be used in a similar manner.
Hijacking is another threat. Todd Humphreys, an assistant professor at the Cockrell School of Engineering at the University of Texas at Austin, this year demonstrated how the GPS systems that operate drones can be jammed, and he used the tactic to bring down an unmanned civilian helicopter.
AUVSI responds to those concerns by noting that it took a college professor several years to develop the capability to hijack a drone, meaning that the risk of someone else doing so is low, and by noting that anti-hijacking technology is under development. But lawmakers are still worried by the possibility presented by the University of Texas experiment.
Fear of Prying
"These findings are alarming and have revealed a gaping hole in the security of using unmanned aerial systems domestically," East Texas Republican Rep. Michael McCaul said at the July hearing of the Homeland Security subcommittee he chairs.
Under an amendment that was added to the FAA bill, the Department of Homeland Security would be consulted on a comprehensive plan for integrating civilian drones into U.S. airspace.
"The FAA is operating with their own mission in mind," says Michigan Republican Candice S. Miller, who chairs the Border and Maritime Subcommittee of the House Homeland Security panel and who sponsored the amendment. "The Department of Homeland Security needs to have a seat at the table."
More specifically, McCaul says, the department should take the responsibility "to address the proliferation of unmanned aerial systems in U.S. airspace, the potential threats they pose to our national security and the concerns our citizens have of how drones flying over our cities will be used, including protecting civil liberties of individuals under the Constitution."
Like all new rules, strict safety rules could have an impact elsewhere. West says that the FAA's prediction of huge numbers of drones overhead within 20 years could be undone by the agency itself. "If the rules are still very restrictive for flight, it could potentially limit that number," she says.
And Moak says that involving agencies other than the FAA when regulating drones could cause confusion and reduce safety.
Congress may be able to address its second thoughts about domestic drones even after 2015. The FAA has already fallen behind on some deadlines and "could miss others," according to the Government Accountability Office. Hurdles include concerns about privacy, safety and security as well as questions about whether these devices will be accompanied by the technology — such as "sense and avoid" — needed to address those concerns and to meet Congress' deadlines.
"While FAA has taken steps to meet them, it is uncertain when the national airspace system will be prepared to accommodate UAS, given that these efforts are occurring simultaneously and without monitoring to assess the quality of progress over time toward the deadlines Congress established," a September report concluded.
Also, Congress isn't ready yet to delve into the subject in depth, Scott says, at least not this year. But it is poised to do so.
"I want to get the committee process started," he says. "There may be a tremendous number of new members in Congress soon, so maybe this is an issue the 113th takes up. Americans need to pay attention to the issue. The technology is here. The technology is going to expand."
Maybe Congress wasn't prepared for the backlash against domestic drones the first time around. But those on all sides of the debate plan to make sure that everyone's eyes are wide open for the next round of domestic-drone legislation.
In a news release last month announcing the formation of a Senate caucus on unmanned aerial systems, Oklahoma Republican James M. Inhofe and West Virginia Democrat Joe Manchin III, who will co-chair the group, repeatedly emphasized the positive uses of drones as well as the concerns about privacy, and they said they planned to educate their fellow senators on both.
"The increased use of unmanned aerial systems carries great potential," said Manchin, "and great risk."
Fear of Prying
FOR FURTHER READING: Military demand for drones, CQ Weekly, p. 1968; House fiscal 2013 Homeland Security spending bill (HR 5855), p. 1201; House fiscal 2013 defense authorization bill (HR 4310), p. 1040; FAA reauthorization law (PL 112-95), p. 301. The Paul bill is S 3287; the Scott bill is HR 5925.
First posted Oct. 20, 2012 1:05 p.m.
Correction
Corrects spelling of Candice S. Miller's name and corrects the name of the subcommittee she chairs.