CQ WEEKLY – COVER STORY
Oct. 27, 2012 – 2:05 p.m.
Without Resolution: The Derailed Appropriations Process
By Kerry Young, CQ Staff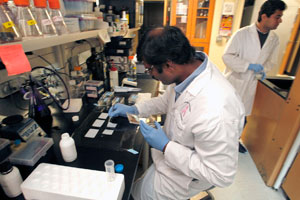 | | |
| --- | --- |
| RESEARCHING CANCER: The University of Kansas Medical Center is a designated National Cancer Institute facility that is eligible for federal grants to fund research on cancer treatment. (FRED BLOCHER / THE KANSAS CITY STAR / AP) |   |
Andrew Feinberg says he will try again to get federal funding to study pancreatic cancer after failing to win support in the past year, but the proposed study will be less ambitious than the Johns Hopkins University researcher had hoped. That's not because of a lack of need — Feinberg is trying to unlock the secrets of one of the deadliest cancers in the United States — but because he needs to match his research to the political and budget realities on Capitol Hill.
Feinberg is one of many medical researchers who depend on backing from the National Institutes of Health, and his grant application to NIH's National Cancer Institute was one of those rejected at least in part because the agency, like others, is operating in a spending limbo. Although NIH was hoping for a $100 million increase in its $30.6 billion budget this year, the agency is operating on basically the same spending it had last year.
That means not only that less money is available for innovation, but also that the policy decisions and choices Congress normally makes through its annual appropriations bills — picking some programs to expand, say, and others to constrict — are being set aside this year.
Appropriations bills in general are spoken of in the aggregate, with hundreds of billions of dollars distributed across large, impossibly detailed spending bills. Yet they are the accumulation of thousands of individual items — a description, direction and dollar figure for every program, activity and account in the federal budget — reviewed, enacted and accounted for line by line, down to such precise items as the NIH's grant programs. It's the purpose behind these line items that often is cast aside when Congress appropriates through a continuing resolution such as the one Congress approved this year before the fall recess.
Scientists such as Feinberg, for instance, are making adjustments in their work because of the increased competition for federal money caused by stopgap funding.
"It causes us to be more conservative in what we do," said Feinberg, who is scaling back the goals of his planned cancer research in hopes of meeting more limited spending. "We might not try a high-risk experiment. You are, by design, throwing away the most daring work."
The CR keeps the government running for the next six months, but except for a few added wrinkles, it also keeps current programs locked in place. For scientists, medical researchers and others who depend on government backing, that may mean falling behind in the global marketplace for people and ideas. To agency budget planners, the results are more immediate, from the delayed construction of a polar icebreaker that the Coast Guard needs and the postponed multibillion-dollar modernization of an aircraft carrier to work on schools for American servicemembers abroad and the needed maintenance of roads and hospitals in American Indian communities.
But for many federal departments, the decision to punt appropriations at least into next year represents far more: Congress is effectively giving up on governing, abandoning the countless difficult but necessary decisions that come with oversight of federal operations. That may have been the easiest path for lawmakers locked in scorched-earth politics, but for cancer researchers and shipbuilders, it comes at a cost.
"To the extent that a growing segment of Congress is focused on ideology rather than problem-solving, that definitely creates obstacles to governing," said Charles S. Konigsberg, president of the Federal Budget Group LLC and a former staff member for both Democratic and Republican members of the Senate Finance and Budget committees. "And that applies to both sides of the aisle. Ideological opposition to any tax increase or any investments in our nation's education, training and infrastructure, or opposition to any changes in entitlements, stand in the way of effective governing."
Squandering Time, Money
Federal agencies have experience in dealing with continuing resolutions, of course. With lawmakers often delaying votes over the years until the last minutes of some sessions, many agencies routinely are left in limbo for a quarter or more each budget year. They then adjust when new funding arrives with new directions.
The chief financial officer for the Pentagon, Robert F. Hale, told the House Armed Services Committee in September that the ongoing budget battles have taken a toll on the Defense Department, an impact that is being exacerbated by the potential automatic spending cuts that may kick in at the start of 2013.
Without Resolution: The Derailed Appropriations Process
"Now we face the prospect of sequestration and yet another long-term continuing resolution," Hale said. "Dealing with these extraordinary actions is sapping the time we could be spending on other things, including audit readiness.
"The single biggest thing you could do to help me would be to return to a more orderly budget process," he said.
Don't look for that to happen anytime soon. Appropriators in both chambers want to finish the budget year's work with an omnibus spending bill during the upcoming lame-duck session. But with leaders certain to be immersed in larger fights over taxes and spending, there is a strong chance that Congress may simply extend the stale fiscal 2012 appropriations laws for another six months through another continuing resolution.
That would effectively keep in place the political barriers that blocked appropriations bills over the past months, even after many congressional leaders began the year saying they were intent on passing the full array of spending measures.
As it turned out, House appropriators moved ahead and brought seven bills to the floor. Three of these — Defense, Legislative Branch and the Military Construction-Veterans Affairs bills — had strong bipartisan support, while the remaining measures drew 17 or more Democratic votes.
But the House ended up passing only seven of its 12 appropriations bills after getting bogged down in voting marathons on amendments on some and then hitting the brakes completely with some of the more contentious bills awaiting action, including Agriculture and Interior-Environment.
In the Senate, Majority Leader Harry Reid, a Nevada Democrat, said he planned to bring spending measures to the floor but then reversed course in July, citing the House GOP's decision to not adhere to the spending cap that had been agreed to in 2011. Leaders in both chambers had signed on to the $1.047 trillion cap on fiscal 2013 discretionary spending as part of last year's debt limit agreement. But House Republicans, starting with their work in the Budget Committee, set spending at $1.028 trillion, sent directions to the Appropriations Committee based on that lower figure and passed their budget resolution along party lines.
That put the chambers on separate tracks and set the stage for the agreement to fall back onto a CR, in what has become a time-honored default position for Congress.
Only three times in the past three decades has Congress completed all its annual spending bills before the start of a new year. Federal agencies have adapted to a "feast or famine" approach in response to these persistently tardy appropriations, conserving funds early in the year and spending more quickly later, helping ensure that the messy process on Capitol Hill doesn't hit their operations.
"They do their best to make sure that citizens don't see that," said Thad Juszczak, director at Grant Thornton's global public sector division, who earlier served as a budget officer at several federal agencies, including the Internal Revenue Service.
Many agencies, for example, plan to begin new projects in the second half of the year while taking other steps to keep operations running smoothly even while Congress is approving their funding in fits and starts, Juszczak said.
Yet that very resilience also allows Congress to shrug aside orderly budget and spending needs as it considers annual spending bills.
Without Resolution: The Derailed Appropriations Process
In the decade preceding 2006, Congress managed to complete appropriations during four of five election years. In the one case where it did not do this, 2002, lawmakers wrapped up this work by early February. Since 2006, however, there has been little to suggest that order and efficiency figure high in the appropriations calculations.
For fiscal 2007 and 2011, the majority of annual spending bills were never completed, and scores of federal agencies were left operating through CRs for the entire budget year. Fiscal 2009 brought a package of new spending bills, known as an omnibus, but only after more than five months of the budget year had already lapsed.
Ripple Effects
Budget experts say there is a cost to doing the nation's business this way, although no one has come up with a broad estimate of that cost.
Perhaps the best work done on this topic remains a 2009 Government Accountability Office report that looked at how CRs affected several agencies, said Paul L. Posner, director of George Mason University's Centers on the Public Service in Virginia and a former top budget researcher at GAO, who left before the 2009 study was done.
Although the report did not put a bottom-line figure on overall costs, GAO cited several specific cases where delays in funding added to the costs of running projects. It said, for instance, that a delay in awarding a contract for the federal Bureau of Prisons' McDowell Correctional Center in West Virginia added some $5.4 million to the final cost. The Veterans Health Administration has estimated that operating under a one-month CR resulted in more than $1 million in lost productivity at its medical centers and more than $140,000 in additional work for the agency's central contracting office.
"Clearly you hamstring efficient and effective government" with CRs, Posner said. "You're absolutely raising costs. You're absolutely reducing the ability to get things done efficiently."
And that inefficiency undermines activities and goals in areas such as science, Hopkins' Feinberg said. Delays in NIH grant awards due to uncertain funding can drive young scientists who come to the United States from other countries back to their home countries, he said, and causes others to forgo lab research for fields with more stable funding.
"We lose them," he said. "I have seen that happen."
A CR causes an interruption in the flow of the "lifeblood" of America's enviable scientific research, the NIH and National Science Foundation grants that fund much of the work done in university laboratories, said Jean Morrison, provost and chief academic officer of Boston University. NIH is allowing the use of only about 90 percent of some previously awarded grants under the current CR. In some cases, researchers may need to lay off technicians in coming months and scramble for support as they wait for their funding through final annual appropriations, Morrison said.
"When you scale that across a large institution, it gets to be something that is really a serious concern," said Morrison. "The identical conversations are happening at all of these universities. It is a national-level frustration."
The result, she said, is that the United States gives ground to other countries in the global search for talented scientists and the innovations they create. "Continuing resolutions are a good example of how we are tying the hands of the people we need to win this increasingly important competition," Morrison said.
Without Resolution: The Derailed Appropriations Process
Back to Basics
Some lawmakers appear to be frustrated by what critics have called Congress' abdication of its most direct way to govern. Mark Pryor of Arkansas, a Senate Democrat and member of the Appropriations Committee, said it is time to overhaul how Congress handles the federal budget.
"We need a new procedure," Pryor said. "We need to go to work on that and revise it and make it work in the 21st century."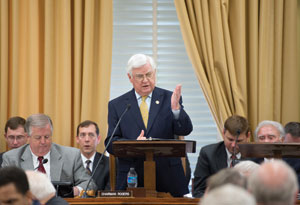 | | |
| --- | --- |
| MARKING UP: House Appropriations Committee Chairman Harold Rogers, R-Ky., opens the panel's markup of the fiscal year 2013 Defense appropriations bill, one of seven the House ended up passing this year. (BILL CLARK / CQ ROLL CALL) |   |
The derailed appropriations process has revived interest in many budget overhaul ideas that have been kicking around Congress for decades. There have been several bills introduced that would create a two-year budget cycle, for instance, which would effectively concede that Congress won't handle spending bills during election years.
Philip Joyce, a professor at the University of Maryland who has written widely on the federal budget, has proposed doing away with CRs entirely. That would force Congress to choose between completing the annual spending bills or shutting down the government. Taking the opposite approach, many lawmakers, including Republican vice presidential candidate Paul D. Ryan of Wisconsin, have backed measures that would permanently abolish the threat of a government shutdown by allowing current appropriations measures to be automatically extended until Congress completes the next set of spending bills.
Many of the ideas being kicked around by budget experts were considered for the last major bipartisan proposal for overhauling federal finances, done in the late 1990s by then-House Budget Chairman Jim Nussle, an Iowa Republican, and Benjamin L. Cardin, a Maryland Democrat.
Today, Nussle advocates another tactic for improving congressional oversight of federal finances. Testifying before the House Budget Committee in 2011, he noted that many of its members who have arrived in Congress within the past decade have never seen the process work entirely as it was supposed to.
"Before you search for new budget procedures to 'fix' the current process, actually give the current process a try," Nussle said. "Prove that Congress and the president can follow the current process and rules before you decide that a new process or rule will somehow do the trick."
But Joyce sees little hope that Congress will move toward more predictable processes. After all, he said, most lawmakers and staff these days are attracted to Congress by the more divisive political debates, crowding out the strictly professional work focused on the nitty-gritty of how federal agencies operate.
"Nobody," Joyce said, "loses an election because government doesn't operate as efficiently as it might have because the appropriations process didn't work."
FOR FURTHER READING: CR's path through Congress, CQ Weekly, p. 1936; fiscal 2013 continuing resolution (PL 112-175), p. 1980; GOP drive for automatic CR, CQ Weekly, p. 1961; preview of fiscal 2013 appropriations, CQ Weekly, p. 856.