CQ WEEKLY – IN FOCUS
Nov. 3, 2012 – 11:58 a.m.
Storm Resets Debate on Public Works
By Nathan Hurst, CQ Staff
New Jersey Gov. Chris Christie became a darling of tea party Republicans two years ago when he refused billions of dollars in federal matching funds for a $10 billion rail tunnel to Midtown Manhattan.
"I don't care how much people want a tunnel to New York" Christie said at an October 2010 town hall event in Scotch Plains, N.J. "We don't have the money for that."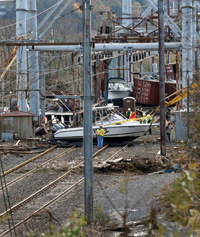 | | |
| --- | --- |
| DERAILED: Workers clearing debris from a New Jersey Transit draw bridge in South Amboy, N.J., after the Oct. 29 storm surge from Sandy pushed boats and cargo containers onto the tracks. (MEL EVANS / AP) |   |
Republican governors in Wisconsin, Ohio and Florida followed Christie's lead and turned down government-funded rail projects. When House Republicans got around to writing a surface transportation authorization earlier this year, they initially produced a bill that would have eliminated any funds dedicated to mass transit.
But two years after Christie kicked off a debate about downsizing federal public transit investments, he has embraced the federal help he will desperately need to restore a public transportation system devastated by Hurricane Sandy. The storm washed out critical rail connections, flooded cross-Hudson rail tunnels and parts of the New York subway system and cut off the main rail artery that binds together the entire Eastern Seaboard. Roads, bridges and railroads in Connecticut, Long Island and Westchester County also suffered crippling damage.
Beyond the billions of dollars that will be needed just for emergency repairs, the devastation in a region critical to the national economy highlighted the consequences of neglecting investment in maintaining and modernizing public transit. Sandy promises to renew the debate about the federal government's role in paying for public transit — but this time the focus is likely to be on the nation's responsibility for investing in a modern, efficient transit system.
"Longer term, this gives a greater opportunity to point out how important the transit services are, and to fund them to the level of service that people expect," says Mortimer L. Downey, who was deputy transportation secretary in the Clinton administration and is now a senior adviser at Parsons Brinckerhoff, one of the nation's largest engineering firms.
Emergency Funding
The surface transportation authorization law enacted this summer anticipated the need to help states and cities recover from disasters by establishing an emergency relief account. But appropriators never funded the account because the continuing resolution that has kept the government running is based on fiscal 2012 spending levels, which were set before the new program was authorized.
A 2008 Government Accountability Office report that reviewed the delays in approving money to restore public transit in the Gulf Coast region after Hurricane Katrina recommended creating a recovery fund. The GAO said the new fund would "address an important gap" in helping communities respond quickly to disasters.
It took as long as four months for transit restoration funds to come through after Katrina, hampering recovery in a region not nearly as dependent on mass transit as the New York area is. The widespread devastation caused by Sandy is probably more than even a fully funded emergency account would have been able to address.
"You will start to see folks talking more about the specifics of the cost estimates as the tracks are cleared and the electricity turned back on," says Brian Tynan, director of government relations for the American Public Transportation Association. "But it probably won't be cheap."
Once the costs of recovery are tallied, transit advocates say, Congress will need to come up with additional recovery funds.
Storm Resets Debate on Public Works
"I'm expecting there would be some kind of supplemental to deal with Sandy from across a number of governmental perspectives, including transit needs," Downey says.
He expresses hope that a supplemental would include money for the new emergency disaster fund. Waiting for another continuing resolution next spring, he says, "would be too late."
In the immediate aftermath of the storm, President Obama authorized the Federal Emergency Management Agency to cover 100 percent of emergency transit costs at least through Nov. 9, waiving the usual state and local matching fund requirements.
"This is not a New York disaster or a New Jersey disaster or a Connecticut disaster but a national disaster," said Sen. Charles E. Schumer of New York, chairman of the Senate Democratic Policy and Communications Committee.
The impact of the storm on the tri-state New York region highlights the fact that transportation issues are not confined to one state or another. For example, a critical section of track in northern New Jersey known as Kearny Junction washed out in the storm, cutting off hundreds of passenger trains that cross the Hudson River weekly to ferry commuters to New York's Pennsylvania Station.
"It does get you thinking about how important these systems are to these cities," a prominent transportation lobbyist says. "That's a difficult point to make sometimes, particularly when you're fighting hard to get potholes filled."
Federal Role Debated
The federal role in transit funding came under debate during deliberations on the surface transportation bill earlier this year. The Republican bill that the House Transportation and Infrastructure Committee marked up would have ended dedicated funding for the Mass Transit Account, which gets 20 percent of Highway Trust Fund receipts. The suggestion triggered a rebellion by Republicans from urban and suburban districts and was a factor in House leaders abandoning their proposal.
"It made no sense to break a bipartisan promise cities have come to rely on," said Ohio Republican Steven C. LaTourette, a top House transportation appropriator who is retiring at the end of the current session.
House and Senate Republicans also forced votes on proposals to "devolve," or give state and local governments, the responsibility for planning, funding and building transportation projects. While these efforts were unsuccessful, supporters hoped they set the stage for a more vigorous effort in the next highway bill.
Transit advocates think Hurricane Sandy might make the difference and reshape the national debate by demonstrating that the job of building and maintaining efficient public transit systems is bigger than any single jurisdiction can shoulder by itself. They also hope that by demonstrating the important role that mass transit plays, Sandy may help build support to address decades of underinvestment in maintenance and expansion.
Just a few blocks east of some of the New York subway tunnels where emergency crews were pumping out water late last week sits the unfinished Second Avenue subway line, which has been planned and sporadically under construction since 1929. So far, the Metropolitan Transit Authority has only been able to secure money for the first stage of the $17 billion project. Elsewhere along Sandy's path — from Washington to Boston — similar gaps in the transit network remain unfunded.
"These major disasters grab headlines," former Pennsylvania Gov. Edward G. Rendell, a Democrat, said, in a letter sent after the storm to President Obama and congressional leaders that urged creation of a long-term infrastructure planning commission, followed by bigger investment in public transit. "But the continued failure of our infrastructure to keep us safe, to improve the quality of our lives and keep us economically competitive is even more jarring."
Storm Resets Debate on Public Works
John D. Boyd contributed to this story.
FOR FURTHER READING: Highway funding, CQ Weekly, p. 1188; infrastructure investment, 2008 CQ Weekly, p. 2660; vehicle tax, 2007 CQ Weekly, p. 588; 2005 authorization (PL 109-59), 2005 Almanac, p. 18-3. Surface transportation authorization is PL 112-141.