CQ WEEKLY – VANTAGE POINT
Nov. 24, 2012 – 11:00 a.m.
From Green Card to Citizenship
By Chris Nehls, CQ Staff
While lawmakers are clashing over creating a "path to citizenship" for illegal immigrants, some groups are trying to bring attention to the woeful rate at which foreign-born residents living legally in the United States are following that bumpy road.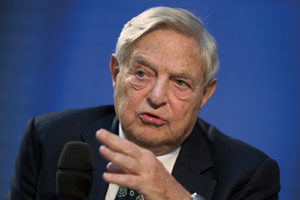 | | |
| --- | --- |
| PAYING IT BACK: Hungarian immigrant and billionaire Soros wants to smooth the path to citizenship for legal immigrants. ( THOMAS PETER/AFP/GETTY IMAGES) |   |
More than 8 million people with legal permanent resident status are eligible to begin the naturalization process. But only a tiny fraction applies for citizenship each year, so that number is sure to grow.
After running a 15-month pilot program, immigrant advocacy groups this month launched a national effort to help green-card holders navigate the daunting naturalization process. Half a dozen charitable foundations, including Hungarian immigrant George Soros' Open Society Foundations, have joined with large-scale immigration legal-service providers and faith-based groups to form the New Americans Campaign.
Immigration Legal Resource Center executive director Eric Cohen, whose organization is one of nine partners in the national campaign, says private initiatives are needed. Unlike other countries — for example, Israel — helping immigrants integrate into society "is not something that our country is doing well, that our government is not leading well," Cohen says. "They have very little money for immigrant integration."
Participants aim to increase the capacity of local charities in eight cities to offer educational support, legal advice and financial resources to naturalization applicants. The campaign estimates 3.3 million people eligible for citizenship live in these eight metropolitan areas.
To be eligible for naturalization, legal immigrants must live in the United States almost continually for five years, a standard Congress established in 1795. Campaign participants say longtime legal residents are intimidated about pursuing the process when they are eligible. Applicants must fill out complex forms, submit to rigorous background checks, undergo personal interviews with Citizenship and Immigration Services officers, be fingerprinted and pass civics and English language tests. The application process can take four to 10 months.
Naturalization is also expensive. Fees are almost 20 times larger than they were a quarter-century ago — rising to $680 today from $35 in 1985. Applicants can spend thousands of dollars more on legal fees and travel costs to meet with immigration service interviewers.
Cohen says the New Americans Campaign is helping to reduce these costs by encouraging poor immigrants to apply for fee waivers and by educating communities about how to get low-cost legal advice from nonprofit groups. The campaign has also developed its own simplified application checklists in four languages to cut some need for legal assistance.
Groups calling for reduced immigration rates, such as the Federation for American Immigration Reform and Progressives for Immigration Reform, don't object to boosting naturalization. Still, Ira Mehlman, FAIR's media director, warns that bureaucratic pressure "just to get people through the process as quickly as possible" shouldn't shortcut the vetting process.
Cohen dismisses these concerns, noting that immigrants passed similar checks to receive their green cards and that because of the high cost involved nonprofit groups will help only those they are sure will succeed in the process.
"I do think a big part of the American public doesn't understand what it means to go from being a green-card holder to becoming a citizen," Cohen says. Fulfilling all of the requirements of the naturalization process, he says, demonstrates a desire to become part of American society.