CQ WEEKLY – IN FOCUS
Nov. 24, 2012 – 11:43 a.m.
Fiscal Cliff: Counting On the Number Crunchers
By Paul M. Krawzak, CQ Staff
When Rep. Chris Van Hollen was asked recently what it would take for the parties to bridge the chasm on tax revenue, the Maryland Democrat said he had only one unbending demand for any Republican proposal: It would have to be based, he said, on "Congressional Budget Office scorable revenue."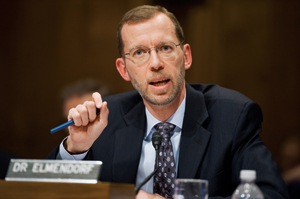 | | |
| --- | --- |
| A BASELINE MISSION: Elmendorf, shown before the Senate Budget Committee, hasn't shied away from contentious issues as the eighth director of the Congressional Budget Office. (TOM WILLIAMS/CQ ROLL CALL) |   |
His answer was a reminder that in Washington, at least, the CBO has something of a sacred trust.
Since it opened its doors in 1975, the CBO has walked a tightrope between politics and policy as it has produced cost estimates, analyses and projections that seek to put legislation through unfiltered accounting. Throughout the years, the agency has come under scrutiny for its methods and approaches, and the attention has intensified as the CBO has expanded its view by looking at alternatives to formal policy proposals and diving more deeply into the long-term drivers behind federal costs.
Yet the agency has preserved its reputation for impartial, professional assessment even as it has drawn criticism from members of each party, some of it aimed directly at the inner workings of economic models and some of it no more than highly charged attacks that show the vivid contrast between CBO's "just the facts" reports and the controversies surrounding the subjects.
Newt Gingrich, during his campaign for the GOP presidential nomination last year, called the CBO "a reactionary socialist institution" for its reports on the impact of federal budgets on the economy; his was the most colorful of the many barbs directed at the agency in recent years. Conservatives in 2010 criticized Democrats for working with the agency to get estimates that they were comfortable with on the health care overhaul. Paul Krugman, the liberal economist and New York Times columnist, in August wrote that House Budget Chairman Paul D. Ryan of Wisconsin had "gamed the system" to "get CBO to produce a report which looks to those who don't actually read it like a validation of his numbers."
Such varied criticism hints at the intense scrutiny the CBO will face in the coming weeks, as it assesses proposed solutions to the fiscal cliff. In that role, the agency and its analysts will be placed directly between Democrats and Republicans in a negotiation that might determine U.S. fiscal policy for years to come.
Barry Anderson, who served as the CBO's acting director in 2003, says he thinks the office is under greater pressure today than at any time in its history. "When CBO was started, we were still doing one-year budgets," says Anderson, deputy director of the National Governors Association. "Now we have a fundamental problem of fiscal sustainability. With the ever-growing partisanship, is holding a nonpartisan middle line — fair, balanced — a greater challenge? You bet it is."
CBO officials say the criticism has only made the agency more vigilant in protecting a mission built on the idea that nonpartisan objectivity can go hand in hand with sophisticated, rigorous analysis of policy proposals.
CBO Deputy Director Robert A. Sunshine, a 36-year employee of the agency, says there is "more intense scrutiny from people at both ends of the political spectrum because of the polarization." Maintaining the office's reputation for objectivity is "a constant thing we have to be concerned about."
"I think we spend a good amount of time and effort circulating words around here for people to look at. And saying, 'All right, is this complete? Does it convey the objectiveness with which we perform the analysis?' We try to be very careful about that," he said. "And particularly in a polarized political environment, I think, one has to be perhaps more careful than one would be in a less polarized environment."
Setting a Baseline
The CBO was created because of sharp divisions in Washington. Congress established the office under the Congressional Budget and Impoundment Control Act of 1974, after a budget showdown with President Richard Nixon, who threatened to impound funds appropriated for programs inconsistent with his administration's policies.
Fiscal Cliff: Counting On the Number Crunchers
Congress directs the agency's leadership in as nonpartisan a way as it can: The director is appointed to a four-year term jointly by the speaker of the House and the president pro tempore of the Senate. Director Douglas W. Elmendorf's term expires in early 2015.
With about 240 employees and a $44 million budget, the CBO turns out hundreds of estimates of the cost of legislation every year. Those come under its mandate to produce "objective, nonpartisan and timely analyses to aid in economic and budgetary decisions on the wide array of programs covered by the federal budget."
As part of its work assessing budget numbers, the CBO produces its famous baseline, a projection of spending, revenue and deficits over a 10-year period created under the hard-and-fast assumption that current laws will remain in place. That baseline sets the strict standard for projecting the likely impact of a budget or tax proposal, a comparison of what the world would look like with the plan and without it.
Some argue that the baseline has become less useful in recent years because Congress has gotten into the habit of extending tax cuts that were set to expire, resulting in less revenue and so changing the figures on which the CBO builds its projection.
Partly with such criticism in mind, the CBO has expanded the scope of its policy analysis, adding what it calls an alternative fiscal scenario in which it projects spending, revenue and deficits under the continuation of current policies. Still, the traditional baseline holds a distinct place as a neutral yardstick against which both parties can measure the cost of proposed policies.
Amid the CBO's in-depth reports addressing deficit reduction and other legislative issues are signs of its ambition to anticipate the larger questions. As Democrats and Republicans were jockeying for political position on fiscal cliff issues, for instance, the CBO issued a report, "Choices for Deficit Reduction," which describes the impact of various tax provisions that will expire at the end of this year.
The 32-page report was the latest example of the agency's effort in recent years to look more deeply at issues before Congress, using increasingly sophisticated computer models to estimate the macroeconomic effects of sweeping legislative proposals, such as those dealing with health care and energy.
The strategy was evident in 2010, when Congress considered the Democrat-sponsored health care legislation and the CBO went beyond estimating only the cost of specific provisions. Instead, the office projected the number of people who would be insured and how they would acquire coverage, the effect those changes would have on premiums and on the federal budget, and how much the measure would cost beyond the 10-year window.
The analysis was the culmination of years of dissecting health care issues, among them medical costs and demographics; it included the CBO's conclusion that health care would remain the largest driver of growth in federal spending in coming years. That likelihood underpins the agency's commitment to closer analysis of health care issues that go beyond the parameters of current legislation.
For exanple, the CBO is working on a project to broaden the capability of its health care model, which the office used to project how many people would be covered by insurance under different scenarios.
"We're trying to expand the kinds of things we can analyze," Sunshine says. Until now, the agency has done little to analyze supply issues in health care, such as how many doctors will be available to treat patients. "So we are doing intensive research into developing our capability to understand how the health care supply system will respond," he says.
Deficit Debated
The charge into the health care battle was one sign that CBO analysts don't shy away from contentious policy questions, even as they deliver their messages in famously dry language.
Fiscal Cliff: Counting On the Number Crunchers
The recent deficit report, for instance, blandly noted that the "need is growing to address the government's budgetary situation." It's that situation that is bringing greater attention to the CBO's analysis of budget and tax issues.
As the agency explained in a recent report, an aging population coupled with the rise in health care costs will require lawmakers to raise revenue, cut spending or agree on some combination of the two to prevent debt from rising to unsustainable levels.
The agency has always faced scrutiny, Sunshine says, but "maybe the stakes are higher" because debt has grown and a "heightened sense" of fiscal danger has spread.
The attention to the CBO's conclusions and its models has grown as those stakes have grown.
William W. Beach, director of the Center for Data Analysis at the conservative Heritage Foundation, calls the CBO a "great organization" but nonetheless slams it for its periodic estimates of the number of jobs created by President Barack Obama's $831 billion stimulus legislation in 2009.
Among his complaints: The CBO is using a computer model to estimate job creation instead of attempting to count the actual number of jobs created by the stimulus. "Rather than go through the really hard work of developing a system of measuring economic change as a result of government spending, which would be an amazing project by itself, they've taken an economic model that is a substitute for measurement," he says.
Defenders of the CBO's methodology argue that a model provides a more accurate estimate because an actual count would not show job growth fostered by tax cuts or by the indirect effects of stimulus.
In February, the House passed bills that would require the CBO to consider how a bill might affect economic growth, known as dynamic scoring, and to omit inflation from its baselines for spending forecasts.
Tom Kahn, the Democratic staff director of the House Budget Committee for the past 16 years, credits the CBO with maintaining its dispassionate professionalism under pressure from both sides. "They're not just the gold standard, they're the platinum standard," he says. "They're like a baseball umpire. They just call the balls and strikes as they see them. Sometimes they put out analyses that drive us crazy. And sometimes they put out scores that drive the Republicans crazy. And that means they are just doing their job fairly."
Doing so requires not only vigilance about their methodology, but also close attention to the language used in lawmakers' questions.
Paul N. Van de Water, now a senior fellow at the Center on Budget and Policy Priorities and the assistant director of budget analysis at the CBO in the 1990s, recalls that members of Congress used the CBO as an "adding machine," presenting certain assumptions with the expectation of getting the answers they sought. "Members produced requests of that sort for as long as I can remember, and they're still doing it," he says.
Analysts at the CBO sometimes worry that responding to a very narrow question could result in a misleading answer.
"We have told members from time to time, 'If you ask us question X, we'll give you answer X,'" Sunshine says. "But we're also going to have to write answer Y because that's the only way the reader can get a complete sense of our view of the situation."
Fiscal Cliff: Counting On the Number Crunchers
This awareness drives the agency's budget experts to create assessments that look at the broader questions surrounding issues and present lawmakers with alternatives to achieve their aims. To do that, the CBO has been using increasingly sophisticated models to produce analysis that is now examined not only in Washington but on Wall Street and in a broader business world concerned with how congressional actions might affect the economy.
"I think there is more of a demand, a legitimate demand, for more kinds of information," Sunshine says. "I think we are more capable now of addressing some of these things than we were 10 or 15 years ago.
"There's all kinds of important things people should be taking into account in making policy decisions besides just whether it costs or saves money," he says. "And we feel like the more we can help provide these other kinds of information that are relevant to the decisions they have to make, the better chance that they'll be able to make good decisions. Or at least feel that they have the kinds of information they need to make those decisions."
FOR FURTHER READING: CBO funding, CQ Weekly, p. 2138; health care estimates, p. 1436; fiscal cliff issues, p. 1370; House bills (HR 3582, HR 3578), p. 248; Budget Impoundment and Control Act (PL 93-344), 1974 Almanac, p. 145.