CQ WEEKLY – VANTAGE POINT
Dec. 1, 2012 – 10:00 a.m.
Still the Third Rail
By Shawn Zeller, CQ Staff
There's no budget deal in the offing yet, but just as anti-tax conservatives are rallying to hold Republican lawmakers in line against tax increases to avert the fiscal cliff, left-leaning advocacy groups are pressing their case that Democrats should refuse any "grand bargain" that puts cuts in Social Security and Medicare in play.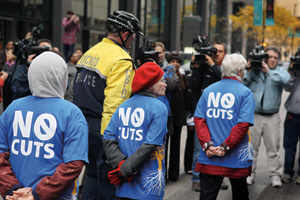 | | |
| --- | --- |
| JUST SAY NO: About 40 demonstrators were arrested in Chicago on Nov. 7 after blocking traffic. (SCOTT OLSON / GETTY IMAGES) |   |
A coalition of liberal advocacy groups, unions and left-leaning religious organizations says Congress must not endorse the offer President Barack Obama made in the summer of 2011 that would cut Medicare costs by at least $250 billion over 10 years, increase the eligibility age for Medicare benefits and reduce the rate of growth of Social Security benefits. The groups are bringing in union members to lobby on Capitol Hill and are running ads on TV and radio.
"I have never seen such a unified position," says Alex Lawson, executive director of the group Social Security Works. "I don't think anyone is going to waver from that very clear position that there should be no cuts to Social Security, Medicare or Medicaid."
The liberal push-back adds another layer of complexity to the thorny talks about the Bush-era tax rates, cuts in domestic and military programs that would come with a sequester, and concern about the federal debt.
Lawson cites the election as justification for his stance, which some Democrats on Capitol Hill have backed publicly. "The election was a really solid statement," he says. Lawson acknowledges that Obama previously endorsed the cuts and still won re-election, while Republicans who back cuts retained the House, but he insists that voters responded more positively to candidates who said they would fight entitlement cuts.
Last week, more than 100 members of the Service Employees International Union as well as dozens of members from the American Federation of State, County and Municipal Employees, the AFL-CIO, and the National Education Association held a lobbying day on Capitol Hill to argue for "jobs, not cuts." The week before, three of those unions joined to sponsor TV ads targeting Democratic Sens. Claire McCaskill of Missouri, Mark Warner and Jim Webb of Virginia, and Michael Bennet and Mark Udall of Colorado, asking the senators to protect "Medicare, Medicaid and education from cuts."
Radio spots aimed at four Republican representatives, Patrick Meehan and Michael G. Fitzpatrick of Pennsylvania, Don Young of Alaska, and Jo Ann Emerson of Missouri, urge them to pass legislation quickly that would make permanent the tax cuts first enacted in 2001 and 2003 for families earning less than $250,000 a year, and ignoring the year-end expiration of those tax cuts for higher earners. That argument, were it to take hold, would undermine GOP leverage to seek greater spending cuts and fewer tax increases, and allow Democrats to drive a tougher bargain on entitlements.
Even if the Republicans don't go along, says Chuck Loveless, AFSCME's federal government affairs director, Democrats can wait until next year, after the tax cuts expire, to enhance their leverage in negotiations. "No deal is better than a bad deal," Loveless says.
Meanwhile, the Leadership Conference on Civil Rights has asked its supporters to call their representatives on Capitol Hill to protest entitlement cuts, while a coalition of religious groups that includes the National Association of Evangelicals is pushing Congress to preserve welfare programs.
Leading Democrats are taking up that charge. Last week, Senate Majority Whip Richard J. Durbin of Illinois said Social Security and Medicare shouldn't be part of the fiscal cliff talks. Senate Majority Leader Harry Reid of Nevada says Social Security is off the table and that Obama, despite his offer in last year's grand-bargain talks, shares his view.
Conservatives say Democrats risk overreaching. Senate Minority Leader Mitch McConnell of Kentucky says cuts in entitlements are a precondition for approving higher taxes. Some conservatives are sounding more like Obama did in his campaign, arguing that both new revenues and cuts are needed to get over the fiscal cliff. Liberal groups "are playing old-style politics, setting the line as far to the left as they can, hoping they can define where the center ends up," says Bill Wilson, president of Americans for Limited Government. "In normal times, that probably would work. In this case, they undercut the credibility of their president."