CQ WEEKLY – IN FOCUS
Dec. 1, 2012 – 10:53 a.m.
Tuna Trade Barrier Ruling: 'Greens' Fear a Net Loss
By Lauren Gardner, CQ Staff
A World Trade Organization ruling late last spring that the United States had been unfair to Mexico's commercial fishermen with its labeling requirements for "dolphin-safe tuna" sent a chill through the U.S. environmental community.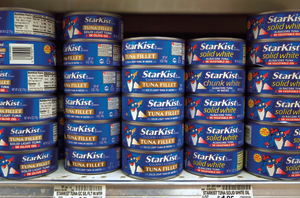 | | |
| --- | --- |
| SORRY, CHARLIE: Starkist doesn't want tuna with good taste — Starkist wants tuna that's 'dolphin safe.' (TIM BOYLE/GETTY IMAGES FILE PHOTO) |   |
The labeling law had been enacted in the early 1990s to induce tuna fishermen, mainly those from Latin American countries, to stop using nets that also ensnare dolphins traveling with the tuna. Earn the label, the theory went, and sell more tuna in the U.S. market.
After years of litigation, though, the WTO agreed with Mexico that the documentation its fishermen must provide to qualify for the dolphin-safe label amounted to an unfair barrier to trade. If the Obama administration accommodates this ruling, as it has indicated it will by next summer, that might mean the end of the tuna-labeling program.
Environmental groups worry that rulings such as this will lead to a flood of cases in which countries that have trade agreements with the United States, and even companies based in those countries, will use trade protections to undercut U.S. laws on air and water quality, wildlife and use of public lands.
Companies have already used trade agreements to challenge environmental laws in other countries. The U.S.-based Renco Group, for instance, is demanding $800 million from Peru under the U.S.-Peru free-trade agreement because the Andean nation refused to extend a deadline for Renco to complete a remediation program at a metal-smelter site.
Ilana Solomon, the Sierra Club's trade representative, says investors increasingly make use of third-party dispute settlement provisions in trade agreements to challenge environmental laws. Her group is one of several that has expressed concern that the Trans-Pacific Partnership now being negotiated among the United States and 10 other countries could lead to such challenges, because several of the participants have direct investments in the United States.
"We fear sort of the exponential increase in these types of cases coming up," Solomon says.
No foreign investors have successfully challenged U.S. laws through such third-party actions, a fact that leads supporters of the free-trade process to dismiss the concerns of environmentalists and consumer groups. But the worries are spreading. A group of state legislators wrote to President Barack Obama in July to express concern that if the Trans-Pacific agreement includes the arbitration process under which foreign investors can challenge the laws of member countries, it might have an impact on "state regulatory, legal and judicial authority."
Maine state Rep. Sharon Treat, a Democrat and one of those who signed the letter, says, "We just have a concern that companies that have been challenging these kinds of policies, through either the legislative or the regulatory or the judicial process, will go around those and challenge them under these arbitration provisions."
An Investment Decision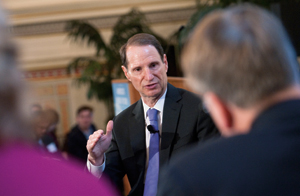 | | |
| --- | --- |
| TALKING TRADE:: Sen. Ron Wyden is pressing for strong environmental safeguards in trade deals. (CHRIS MADDALONI / CQ ROLL CALL FILE PHOTO) |   |
The focus of this concern is the possible conflict between what trade agreements say about issues such as environmental protection and what they say about the rights of business investors to seek arbitration through international tribunals if they have a grievance against, say, environmental laws in another country. Investor rights are usually protected in investment treaties, but many recent trade pacts include an investment chapter to accomplish the same thing.
Tuna Trade Barrier Ruling: 'Greens' Fear a Net Loss
The 1994 North American Free Trade Agreement, for instance, allows investors to seek international arbitration independent of their home countries. A Canadian drug company, Apotex, has appealed a U.S. court ruling to an international tribunal.
Although the Obama administration insisted that the four bilateral trade agreements it concluded during the past four years include binding and enforceable environmental protections, the investment and commerce sections of the agreements might be interpreted to give foreign corporations or investors the right to challenge U.S. laws.
And as more such trade agreements are negotiated — particularly agreements with the reach of the TPP talks, which involve countries around the Pacific Rim — the web of trade protections becomes broader.
"You have to think of this as a system of international governance," says Lori Wallach, the director of Public Citizen's Global Trade Watch and a frequent critic of trade agreements.
One of the terms included in free-trade agreements that gives environmentalists heartburn is the "minimum standard of treatment," a concept that generally prohibits discrimination on the basis of foreign status. If an investor feels that another country has not treated it fairly, the investor may submit a claim to a third-party arbitration panel, such as those based at the World Bank or the United Nations, to hear the dispute. Many investor-state quarrels have centered around host countries' environmental policies, with the foreign entities alleging that implementation unfairly prevents them from conducting business.
For example, Wallach says, U.S. support for provisions that classify mineral extraction rights and regulatory permits on public lands as "investments" could allow foreign operators of U.S. mines to challenge future action by Congress to strengthen mining laws.
"You don't want to lock in an inability to improve our policies," she says.
Tempest in a TPP Pot?
Business groups say such concerns are exaggerated. Linda Menghetti Dempsey, vice president of international economic affairs for the National Association of Manufacturers, says the free-trade regime provides foreign companies that take economic risks with a neutral venue for resolving disputes.
And, she says, the mechanism hasn't instigated an onslaught of challenges. "That has not been the experience at all," Dempsey says.
She also points out that foreign investors who are unhappy with U.S. policies can take advantage of its court system. International tribunals generally focus on claims that a host nation discriminated against a foreign business or failed to offer protections equal to those provided to domestic companies.
Indeed, an aide to Oregon Sen. Ron Wyden, a leading Democrat on trade issues, says it is difficult to regard the system as broken when the U.S. generally prevails in such cases.
Those closely following the TPP negotiations say the United States is mostly alone on pushing for a binding environmental-protection chapter — none of the other participating countries publicly favors one.
Tuna Trade Barrier Ruling: 'Greens' Fear a Net Loss
The perceived reluctance, according to the Wyden aide, might be a negotiating tactic or it might stem from policy disagreements or potential conflicts with existing trade pacts.
Wyden led a group of senators in asking the office of the United States Trade Representative to hold its ground demanding a legally binding environment chapter in any agreement resulting from the TPP talks. The senators stressed that other parts of an agreement, such as the investment chapter, shouldn't undercut the environmental chapter.
Environmental provisions in recent trade agreements are modeled on an accord between lawmakers and the administration of President George W. Bush in May 2007. Known as the May 10 language, it aims to prevent signatory nations from ignoring or undermining their environmental and natural-resource laws in the name of trade opportunities. Observers say they expect the United States to use that language as its negotiating position in the TPP talks, which are held in secret.
Democratic Sen. Sherrod Brown of Ohio, meanwhile, has introduced a bill that would require enforceable environment provisions in future trade pacts.
It remains to be seen whether the United States will use the TPP talks to seek an alternative resolution to the tuna trade barrier dispute. A USTR spokeswoman said the office is working to address the WTO's decision and is communicating with Congress, stakeholders and other agencies about options. 

The TPP is expected to include language similar to the elements of NAFTA that Mexico cited in its case against the United States, says the Sierra Club's Solomon, which might provide a broader range of countries an avenue by which to attack consumer awareness programs by claiming that they unjustly discourage trade. But Mexico also has an interest in the trade prospects the agreement would open up, she says, perhaps granting the United States a way to preserve the labeling regime.
"I think there's certainly an opportunity to use the TPP as a space to get some leverage," Solomon says.
FOR FURTHER READING: Trade-policy politics, CQ Weekly, p. 1864; bipartisan support for trade policy, 2011 CQ Weekly. p. 2082; three trade deals approved, 2011 Almanac, p. 12-3; Congress approves NAFTA, 1993 Almanac, p. 171.