CQ WEEKLY – IN FOCUS
Dec. 1, 2012 – 10:49 a.m.
Ethanol Mandate Caught in Regulatory Crossfire
By Ellyn Ferguson and Pam Russell, CQ Staff
This past summer, four governors sent a formal request to the EPA asking that it waive the federal mandate that a minimum amount of ethanol be produced each year, citing a depletion in corn stocks — exacerbated by the worst drought in 50 years — that was making it too expensive for local livestock producers to stay in business.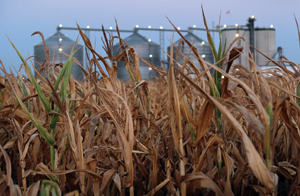 | | |
| --- | --- |
| COOKED CORN: A field of drought-damaged corn sits next to an Illinois ethanol plant this summer. (SCOTT OLSON/GETTY IMAGES) |   |
"Severe economic harm is being experienced by the State of North Carolina and many of its agricultural regions, as well as important economic sectors in the state, as a direct result of the implementation of the applicable volume requirements of the RFS," Democratic Gov. Bev Perdue of North Carolina said in her letter, referring to the renewable-fuel standard created in a 2005 energy law and extended in 2007.
Last month, EPA refused the request. "We recognize that this year's drought has created hardship in some sectors of the economy, particularly for livestock producers," said Gina McCarthy, assistant administrator for EPA's Office of Air and Radiation. "But our extensive analysis makes clear that congressional requirements for a waiver have not been met and that waiving the RFS will have little, if any, impact."
That action aside, opponents of the federal mandate for ethanol production — oil producers, the livestock and food industries and anti-regulatory lawmakers — believe circumstances and momentum might be in their favor in the next Congress. Corn production as of Nov. 9 is projected at 10.7 billion bushels, down 13 percent from 2011 and the smallest harvest since 2006, according to the Agriculture Department. In addition, overall demand for gasoline has dropped in recent years, and, as a result, ethanol producers are showing surpluses in their inventory.
"There's a broad range of pressures" indicating a need for change, says Kevin Book, managing director of ClearView Energy Partners.
Defenders of the ethanol requirement, on the other hand, think that with the help of friendly lawmakers and a White House that backs renewable-energy development they can hold their ground against the increasing push to undo the law. And those defenders, led by corn growers and backed by renewable-energy advocates, are likely to prevail even if the fight is tougher than in years past.
Supply-Demand Mismatch
Under the renewable-fuel standard, a minimum amount of ethanol must be produced every year. The target rises gradually, with a level of 36 billion gallons to be reached by 2022. Of that, 15 billion gallons must come from conventional ethanol largely made from field corn.
The target was based on the assumption that gasoline demand would rise to at least 150 billion gallons by the middle of the next decade and that the supply of oil would begin to dry up. Instead, gasoline demand has been falling since 2007, and ClearView estimates that because of new efficiency standards gasoline demand will fall to 108 billion gallons by 2022.
ClearView projects gasoline demand next year at 131.7 billion gallons, and the target for ethanol will rise to 13.8 billion gallons. That will leave ethanol producers with a 630 million-gallon surplus, according to ClearView. Although last year the EPA approved blending of ethanol up to 15 percent in gasoline, from 10 percent, there is resistance and concern about using the higher percentage ethanol fuel. Last week, the motor club AAA said gasoline retailers should halt the use of E15 — gasoline with a 15 percent level of ethanol — because it could damage vehicles and void car warranties. AAA said that of more than 240 million cars, trucks and SUVs on the road, just 12 million have manufacturers' approval for a 15 percent blend.
A shrinking domestic market for ethanol might make it palatable for corn growers to come to the table to renegotiate the mandate. And last week, the American Petroleum Institute called on Congress to end the mandate in the next session.
Restaurants Weigh In
Ethanol Mandate Caught in Regulatory Crossfire
The House may provide the best shot for a repeal effort given the Republican majority's dislike of regulations in general, its strong support of the oil industry and its pro-business stance.
The fight in that chamber will most likely be led by Rep. Robert W. Goodlatte, a Virginia Republican who is a senior member of the Agriculture Committee and the new chairman of the Judiciary panel. Goodlatte says Congress erred in creating the mandate.
"Our ultimate goal is to not have the government interfering in the market place," Goodlatte said last week at a press conference held by the National Council of Chain Restaurants. "This debate is no longer about fuel versus food. It's fuel versus jobs."
The council released a study it commissioned from PricewaterhouseCoopers that says the mandate has boosted demand for field corn, which is used in ethanol production as well as in animal feed. The added demand has raised corn prices, and in turn feed costs, and those are passed along to restaurants that buy meat and poultry.
As a result, the report estimated, chain restaurants pay an additional $3,000 to $18,000 a year on average per restaurant for food. Goodlatte called the ethanol mandate a tax, and the restaurant association said the money would be better spent creating jobs.
Rob Green, the council's executive director, said his members are committed to the repeal of the ethanol mandate.
Goodlatte prefers repeal but has a fall-back position. He plans to reintroduce two bills from the current Congress: One would repeal not only the ethanol mandate, but also mandates for production of advanced renewable fuels such as diesel made from animal fats or plant oils and fuels made from nonfood crops. The second bill would require the EPA to take into consideration projections by the Agriculture Department on corn harvests and to make appropriate reductions in the corn ethanol mandate when supplies are expected to be tight.
In the Senate, Republican James M. Inhofe of Oklahoma will continue to fight the renewable-fuel standard. He blasted the EPA's decision not to grant the waiver sought by the four governors and a coalition of livestock groups, environmentalists and the food industry because they had failed to demonstrate "severe economic hardship" in their petition for lowering the 2012 and 2013 ethanol mandate levels.
The EPA said its studies found that lowering the production mandate would, at most, reduce the price of corn by 1 percent.
Inhofe, who will be the top Republican on the Armed Services panel in the next Congress, plans to remain on the Environment and Public Works Committee. From that post, he expects to continue urging lawmakers to take a closer look at the mandate. But he faces opposition from Democrat Barbara Boxer of California, the panel's chairwoman.
"I am very much in favor of having the renewable-fuel standard," Boxer said, "because I think we can get off foreign oil and have less carbon in the air."
Her position is supported by Iowa Republican Sen. Charles E. Grassley, a staunch defender of corn ethanol, who insists that groups that want to end the mandate will have a harder time advancing their case. Grassley, alongside Midwestern senators from both parties, says the mandate not only aids their states' economies, but also provides the country with a domestic fuel that has helped reduce U.S. reliance on imported oil.
Ethanol Mandate Caught in Regulatory Crossfire
In the end, the enduring strength of the corn growers makes it unlikely that the renewable-fuel standard will be repealed any time soon.
But changes in the law are possible, according to an analysis by ClearView. For instance, Congress might come up with an expanded fuel standard that reduces some requirements for ethanol and encourages the use of natural gas- and electric-powered vehicles.
Another change might redefine the mandate into a straight percentage standard for ethanol in gasoline.
"It is asking a lot for a single fuel to provide energy security, farm jobs, environmental stewardship and social equity," the ClearView analysis said. "Likewise, policymakers may have overbought biofuels, too, at least in OECD nations where gasoline demand is flat or declining."
Moreover, it's possible that a Congress focused on tax and spending issues may devote little time to renewable fuels over the next two years.
"You're looking into next year and right now, we can't even handle this year," Inhofe says. "We have so many things that are on fire right now, I'm not really focused on that yet."
FOR FURTHER READING: Ethanol's growing pains, 2011 CQ Weekly, p. 1979; ethanol subsidies, p. 947; energy law (PL 110-140), 2007 Almanac, p. 10-3. Goodlatte's bills are HR 3097 and HR 3098.