CQ WEEKLY – IN FOCUS
Dec. 1, 2012 – 11:02 a.m.
Rebel Gains Bring Call for U.S. Action on Syria
By Jonathan Broder, CQ Staff
After nearly two years of civil war, rebels opposing the regime of Syrian President Bashar al-Assad finally appear to be making significant military and political headway.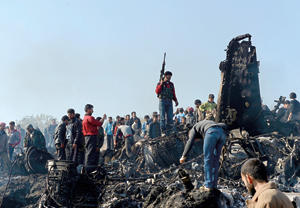 | | |
| --- | --- |
| PLANE WRECK: Syrian rebels and civilians gather around the remains of a government fighter jet that was apparently shot down last week. The opposition has made some significant gains in recent weeks. ( FRANCISCO LEONG/AFP/GETTY IMAGES) |   |
In the past few weeks, the fractious opposition formed a broad representative coalition that has won recognition from Britain, France and other powers. On the battlefield, rebels have overrun several Syrian military bases, capturing large caches of heavy weapons. And as NATO weighs a decision to station several Patriot anti-missile batteries on Turkey's border with Syria, videos posted on opposition websites show rebels downing a Syrian military helicopter with what appears to be a shoulder-fired missile.
These successes have moved the Obama administration to consider seriously several options to boost its support for the opposition. According to senior lawmakers and former administration officials, these ideas range from recognizing the opposition's exiled political leadership to opening a weapons pipeline to the rebels. Strategists say the deployment of the Patriots, purportedly aimed to protect Turkey from Syrian missile attack, could effectively create a no-fly zone over rebel-controlled border areas. Until now, a cautious Obama has provided only non-lethal assistance to the opposition.
Any such steps would certainly please Arizona's John McCain and several other Republican senators who have been urging the administration to help the rebels more actively. Last week, Pennsylvania Democrat Bob Casey also called for a more muscular policy to hasten Assad's downfall. "There's a bipartisan concern here that we've got to do more here," says Casey, who chairs the Senate Foreign Relations Middle East subcommittee. "We can't allow this to go in the direction it's been going."
But Obama may have a harder time convincing other lawmakers who have not warmed to such calls. They are, of course, appalled by the toll in Syria — last estimated at more than 40,000 dead. But, for the most part, Democrats and Republicans in both chambers still would prefer to avoid the issue of Syria, aware that most Americans would like to put the Middle East and its seemingly endless conflicts behind them.
"We can't get involved in every civil war that comes along," says California Democrat Dianne Feinstein, chairwoman of the Senate Select Intelligence Committee. "The people don't want to put troops in Syria."
As a result, there has been little debate on Capitol Hill over a greater U.S. role in Syria's civil war. But with the administration now preparing to recognize the opposition and debating whether to arm it, that is likely to change. The Senate Foreign Relations Committee held a closed briefing on the Syria situation with U.S. Ambassador to Syria Robert S. Ford, who was recalled from Damascus last fall in the face of escalating threats, and other panels are expected to follow suit.
Lawmakers will want to know, among other things, which rebel groups are dependably pro-Western, what kinds of weapons the United States might supply and what assurances the administration can provide that such hardware won't end up in the hands of anti-American Islamic militants. Then there are the difficult crystal-ball questions of the possible unintended consequences of a broader U.S. involvement.
"Before we start involving ourselves in Syria, you need to look down the road and see what's ahead," says Indiana Republican Dan Burton, a House Foreign Affairs subcommittee chairman who is retiring at the end of the year. "If we get rid of Assad, do we know we're going to get something better?"
Moving Cautiously
Ever since Assad's violent suppression of popular protests began in March 2011, Obama has kept his distance from the conflict. Unlike Libya, where the United States took part in a multinational military effort that eventually ousted strongman Muammar el-Qaddafi, the administration has provided the Syrian opposition with only humanitarian aid and communications gear, arguing that giving weapons would only militarize the conflict further. Obama has sent intelligence officers to the region in an effort to determine the political makeup of rebel forces.
Rebel Gains Bring Call for U.S. Action on Syria
On the political front, Secretary of State Hillary Rodham Clinton was heavily involved in helping the opposition overcome its differences to form a political coalition, a step announced in Doha, Qatar, on Nov. 11. France, Britain, Turkey, Italy, the European Union and Persian Gulf nations quickly recognized the coalition. Until now, Obama has declined to follow suit, drawing sharp rebukes from his critics. "If the French — the French! — are ready to go, we should go," says Robert Kagan, a neoconservative foreign policy expert at the Brookings Institution.
Now, officials say, Clinton is likely to announce the administration's diplomatic recognition of the opposition next week at a "Friends of Syria" gathering in Morocco.
"They are a legitimate representative of the Syrian people's aspirations, and we will work with them. We will cooperate with them," Ford told a Washington audience last week.
He said the administration was still debating whether to provide the opposition with weapons, noting that one of its considerations was the growing strength of Islamic extremist groups among the rebels.
Frederic C. Hof, the State Department's top Syria adviser until he stepped down this fall, says several factors caused Obama to take another look at his options in Syria. They included the increasingly dire humanitarian crisis inside Syria and the lack of any command-and-control structure among the various rebel groups — a situation that ultimately favors the Islamic militants, who are well-funded by wealthy private donors in Saudi Arabia and Qatar and are buying or capturing weapons from Syrian Army stockpiles.
Hof says the administration's Syria discussions have included such options for months but took on greater urgency in recent weeks.
"People in the administration are looking very closely at the old formula that we don't want to further militarize the conflict, and questioning whether that is still pertinent," says Hof, now a Syria specialist at the Atlantic Council, a Washington think tank.
Many Questions, Little Time
On Capitol Hill, McCain and his supporters argue that greater U.S. military involvement would advance the nation's interest because of the damage that Assad's fall would cause to Iran and its Lebanese proxy, Hezbollah. Elliott Abrams, the top Middle East adviser to President George W. Bush, says such a development would constitute a "strategic trifecta."
But most lawmakers generally fall into two broad, bipartisan groups: one, made up of many House Republicans, who want no part of a greater U.S. military role there, and another whose members are open to further steps but who remain deeply suspicious of another Middle East quagmire.
"We're not totally sure who the resistance is," says Georgia Republican Johnny Isakson, a member of the Senate Foreign Relations Committee. "You get too engaged in something like that and you can find yourself in big trouble."
Carl Levin, the Michigan Democrat who chairs the Senate Armed Services Committee, has placed a high bar for the administration to win his support for a greater U.S. military role in Syria.
"If and when the State Department concludes that the opposition is unified to speak with one voice — and that includes the people inside Syria, as well as the people outside Syria who oppose the regime — we should consider much more forward-leaning actions, including a no-fly zone and arming," he says. "But arming them will depend on what weapons we're talking about and what are the controls on those arms so they don't fall into the wrong hands."
Rebel Gains Bring Call for U.S. Action on Syria
Such questions are likely to come up in open and closed hearings as several committees examine the administration's Syria policy. But experts, including Hof, caution that neither the administration nor Congress will have the luxury of a leisurely policy debate.
"Time is really our enemy in all of this," Hof says. "The longer this war goes on under the kinds of circumstances we're facing, the worse the implications are for Syria and the entire neighborhood."
In some cases, "stalling for time and waiting for things to develop is a good way to go. This is not one of them," he adds.
Emily Cadei contributed to this story.
FOR FURTHER READING: Middle East policy, CQ Weekly, p. 1928; Congress and Syria, p. 1182.