CQ WEEKLY – COVER STORY
Dec. 1, 2012 – 11:07 a.m.
A Preview of Cliffs to Come
By Steven T. Dennis, CQ Staff
Members of Congress profess to hate the fiscal cliff they created to try to bring the federal budget under control. The sequester? Disastrous. Automatic tax increases on everyone? Untenable. But under virtually every scenario for dealing with this year's cliff, Congress is almost certain to set up a sequel. If this were a horror series, it might be Fiscal Cliff II: It's Alive.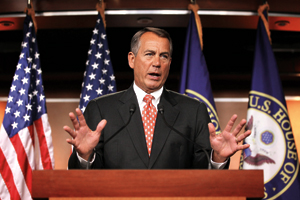 | | |
| --- | --- |
| CLIFF WALK: Boehner, pictured, and Reid traded barbs last week about the fiscal cliff negotiations. "I don't understand his brain," Reid said at one point. (PHOTOS BY ALEX WONG/GETTY IMAGES) |   |
Don't call it that, though. Lawmakers are having a hard enough time explaining to their constituents why they set up this year's version — a year-end fiscal apocalypse of expiring Bush-era tax cuts and across-the-board spending reductions meant to be so perilous that Congress would be forced to find a more rational solution.
It hasn't. Instead, members of Congress have been busy coming up with euphemisms to describe the next cliff, which almost certainly will feature automatic tax increases and spending cuts to enforce its intentions.
One favorite word among some of the senators, including retiring Budget Committee Chairman Kent Conrad, who liked the combination of tax increases and budget cuts advocated by the Simpson-Bowles debt commission two years ago, is "fail-safe," as in a fail-safe deadline. Certainly has a ring to it. But the idea isn't purely marketing. Their intention is that this year's fiscal cliff is too politically treacherous and economically damaging to allow it to repeat. If this group had their druthers, the new fail-safe date would be acceptable policy on its own if Congress again fails to act.
Speaker John A. Boehner, R-Ohio, for his part, likes "simple mechanisms" that would lock in place tax and spending policies unless and until Congress replaced them with something better.
Of course, one man's "simple mechanism" is another's next fiscal cliff.
Regardless, the near certainty that lawmakers will design some sort of time bomb of tax increases and spending cuts to be triggered if the deficit wanders further out of bounds is due to the Cold War atmosphere of suspicion pervading Capitol Hill.
Both parties concede that a truly comprehensive deal cannot be nailed down by Jan. 1. Neither side trusts the other to deliver promised entitlement cuts and tax revenue next year without some mechanism to force action. And it's been the nature of Congress in recent years — especially the last two — for its members to declare themselves incapable of getting much done without a legislative gun to their heads.
The pressures of modern Washington make compromise of the old-fashioned, have-a-cocktail-with-LBJ variety a dusty fable. Instead, the sides barely talk. Last week, the exchanges between Boehner and Senate Majority Leader Harry Reid grew so disconnected that the Nevada Democrat said of Boehner, "I don't understand his brain."
Part of the problem, says Sarah Binder, a political science professor at George Washington University and senior fellow at the Brookings Institution, is that the benefits of something like deficit reduction seem far off, while the political price for voting for tax increases or budget cuts can be just around the corner.
"In a world where the parties don't feel the immediate costs, it seems they fail to compromise," Binder says. "They seem to recognize that the only thing that works is the brinkmanship scenario."
The larger reason for erecting the cliff or something like it is as old as politics, she says. "It's all a way for members to avoid blame."
A Preview of Cliffs to Come
Enter the Enforcers
Increasingly sophisticated redistricting tools have made primaries, rather than general elections, the biggest concern for most House members, particularly in the Republican Party. Already a phalanx of outside enforcement groups including the tea parties and Club for Growth are ready to challenge any incumbent or establishment candidate who strays from orthodoxy. Lawmakers need to have their backs against a wall — or cliff — to contemplate reaching a deal with the other side.
The most likely triggers to emerge may be the same ones that are already in law — and are assumed to remain in place under bills that have passed both the House and Senate — the sequester and an expiration of the Bush-era tax cuts for everybody.
Walking in Place
The reason is simple politics: Despite almost universal distaste for aspects of the cliff, getting lawmakers to vote for an alternative mix of revenue increases and budget cuts will be no easy task, especially after all the giddy talk from leaders about how the prospect of a budget sequester would scare last year's special joint deficit-reduction committee into agreeing on a solution.
So, under a Republican bill the House passed in early August, the Bush-era tax cuts would be extended for another year. Under a Democratic bill passed by the Senate, the tax cuts would be extended for a year, except for the wealthy. If either bill becomes law, come next December, Congress would still face a tax cliff nearly as large as this year's.
Neither bill would extend the payroll tax cut, President Barack Obama's major stimulus initiative of the past two years that has nonetheless become the forgotten stepchild in the cliff debate.
Obama's latest offer to avoid the cliff included extending the payroll tax cut — or its equivalent — and putting off the sequester for a year, along with assorted other goodies, including effectively doing away with the debt limit as a practical matter. His proposal was summarily rejected by Republican leaders.
Congress seems likely to keep some version of a sequester in place in future years, although almost all members want to replace it or delay it for at least several months to give negotiators more time to reach a comprehensive deal.
Republican lawmakers, meanwhile, say they will need "ironclad" assurances that Democrats will cut entitlements before signing on to any revenue hike, and they are demanding at least some entitlement savings up front. "It's too easy to undo or not actually do the cuts you promised to do in exchange for revenue," says Sen. John Cornyn of Texas, the new Republican whip.
"There's going to be some uneasiness about triggers being pulled that might raise taxes but not cut expenses," says Saxby Chambliss, a Georgia Republican and member of the bipartisan "gang of six" senators who have promoted a fiscal solution along the lines of Simpson-Bowles.
"You can blow through caps; we've done that before," Chambliss says. "There's got to be some sort of ironclad method of ensuring that spending cuts are going to be real cuts."
A Preview of Cliffs to Come
The 2010 Simpson-Bowles plan, which was so controversial at the time that not even the full commission would endorse it, called for a combination of spending cuts and revenue increases. The plan proposed doing away with some popular and expensive tax deductions for mortgage interest and health insurance premiums paid by employers, and recommended raising the federal gasoline tax by 15 cents a gallon. Simpson-Bowles also proposed saving money by raising the eligibility age for Social Security and Medicare, freezing salaries of civilian federal employees and cutting the size of that workforce.
Taxing and Spending
In charting a path past the fiscal cliff, tax reform will be a tricky maneuver as well. Republicans want to set parameters that would lower the top rate as much as possible and Democrats insist on maintaining the progressivity of the tax code so that the wealthy pay proportionately more.
"There's a lot of ideas on how to design that, but we aren't at the point yet of knowing which one's most effective," Senate Finance Chairman Max Baucus says. But, the Montana Democrat adds, "we need something."
Democrats demand that the framework be set with the baseline for tax reform at a 39.6 percent top rate instead of 35 percent, said Sen. Mark Warner, a Virginia Democrat and another member of the group that likes the Simpson-Bowles approach. Tax rates could end up lower than 39.6 percent, Democrats acknowledge, provided that progressivity is maintained and enough revenue is generated.
That's not to say there aren't efforts under way to replace both the sequester and the tax cliff with something more palatable — and perhaps more durable.
Sen. Benjamin L. Cardin, a Democrat from Maryland, says the cliff itself has hurt the country and shouldn't be repeated.
"I want to avoid putting us in a position where we have another cliff that could cause this type of problem for our economy," Cardin says, "because we've already been damaged. The uncertainty has already hurt us."
Conrad, D-N.D., describes one possible replacement and what could be an architecture for a grand bargain. It effectively could look like a supersized budget reconciliation package with expedited floor procedures and targeted sequesters. Reconciliation is, as its name suggests, Congress' method of harmonizing tax and spending policy with the goals of its annual budget resolution.
Unlike last year's Budget Control Act that created the so-called supercommittee, instructions for agreed-upon levels of budget cuts and increased revenues would, in Conrad's formulation, go to the relevant committees of jurisdiction.
Then, if they failed to deliver, automatic cuts and revenue increases would hit across the board, but only in that committee's area of jurisdiction. If the agriculture panel, for example, failed to deliver its prescribed amount of cuts, agriculture programs would get slashed and so on. That would be somewhat more targeted than the blunderbuss approach of the sequester. Alternatively, says Sen. Richard J. Durbin, an Illinois Democrat, groups of senators could be granted expedited consideration of replacement savings if the committees fail to report.
Others have soured on the sequester idea.
"What people are searching for is a better approach than this hammer that drops down," says Sen. Mike Johanns, a Nebraska Republican. "What we've learned is that doesn't necessarily guarantee a result."
A Preview of Cliffs to Come
One goal is that any new fallback would not be as damaging as the cliff and, in fact, would be good policy on its own, Johanns says.
"The fallback would be meaningful and it wouldn't be catastrophic," he says, although that seems almost wishful thinking.
What, No Fiscal Cliff?
There's also at least a chance that next year's tax cliff could be pushed off as well.
A Senate Democratic leadership aide, speaking on condition of anonymity because of the sensitivity of the issue, says that Democrats would prefer a year-end deal to extend tax cuts for the middle class for the next decade.
Fiscal cliff fatigue has also led some senators to seek a year-end deal that would not delay most of the tough decisions until next year. Cardin, along with Tennessee Republican Bob Corker, who has offered his own plan, and Missouri Republican Roy Blunt argue for getting as much done up front as possible.
"No Congress is ever going to know more about this than this Congress does at this moment," Blunt says, "and, frankly, no White House is going to know as much as this White House."
"You ought to do everything you can do," he says, "rather than just have another backstop that will just create another crisis in 90 days."
Still others can contemplate giving the White House more authority to decide how to implement sequester cuts so that they are applied with more consideration than a blunt percentage cut to every program. That would be a stunning transfer of power to the White House but would provide legislators with some desperately sought political cover.
To be sure, both sides have strong incentives not to just leave everything to next year and to a future cliff to resolve. Every day that passes brings lawmakers closer to the next election — and those pesky primaries, like the Republican one that Senate Minority Leader Mitch McConnell probably faces in Kentucky in 2014.
The president, at a minimum, is demanding tax increases on the wealthy up front. Boehner and McConnell have demanded that Obama come to the table with real entitlement savings as well. They privately want many of the same things Obama was contemplating in the ill-fated grand-bargain talks with Boehner in 2011 — an increase in the Medicare retirement age, putting Social Security cost-of-living increases on a diet and other benefit cuts that are strongly resisted by Obama's liberal base.
And Obama's own leverage probably will never be greater than it is at this moment — just weeks from an Electoral College blowout and with 90 percent or so of the fiscal cliff aimed squarely at what are historically GOP priorities — taxes and defense spending.
But in the end, they'll likely be arguing about triggers, and what next year's fiscal cliff should look like.
A Preview of Cliffs to Come
"They may put another term on it, but it's still a pig," Chambliss says.
Or, as Durbin says, in the end, "somebody has to pay."
FOR FURTHER READING: Latest developments, p. 2424; negotiation outlook, CQ Weekly, p. 2382; prospects for compromise, p. 2204; gas tax, p. 2045; grand bargain, p. 1370; debt limit deal and joint committee, 2011 Almanac, pp. 3-11, 3-18; Simpson-Bowles commission, 2010 CQ Almanac, p. 4-11.