CQ WEEKLY – VANTAGE POINT
Dec. 8, 2012 – 12:03 p.m.
Arms Control and the Men
By Emily Cadei, CQ Staff
Sen. Richard G. Lugar spent much of his 2012 Republican primary campaign bashing President Barack Obama for delaying the Keystone XL oil pipeline from Canada, a desperate — and unsuccessful — attempt to show his partisan bona fides. Lugar's relationship with Obama proved to be a bogeyman for the veteran Indiana senator, who was pummeled by conservative Richard E. Mourdock for being too bipartisan.
All was forgiven between the former mentor and protégé last week, when Obama visited the National War College to salute the departing Lugar and his partner in arms-control efforts, former Georgia Democratic Sen. Sam Nunn. In a remarkably personal tribute to Lugar, Obama at one point spoke directly to the senator.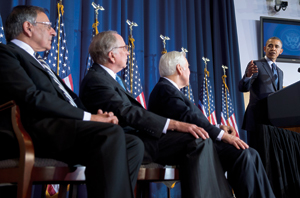 | | |
| --- | --- |
| HAILING A MENTOR: Obama credits Lugar with showing him the importance of arms control. (SAUL LOEB/AFP/GETTY IMAGES) |   |
"Dick, I want to take this opportunity to say something else," Obama said. "One thing we've always shared is a notion of what public service should be. That it ought to be more than just doing what's popular in the moment. That it ought to be about what's right for our nation, over the long term."
It's an approach, Obama added, "where bipartisanship is actually considered a virtue — to be rewarded, not punished."
Lugar's primary loss ended a 36-year Senate career. His most prominent cross-party endeavor, the law that informally bears his and Nunn's names, was a program the two men crafted in the early 1990s to fund efforts to destroy nuclear weapons in the former Soviet Union, which had just come apart.
Obama called Nunn-Lugar "one of the country's smartest and most successful national- security programs."
He warmly recalled, in a series of anecdotes that a White House aide said were occasionally ad-libbed, how Lugar took the then-Illinois freshman under his wing and brought him on what was Obama's first overseas trip as a senator — to Russia, Ukraine and Azerbaijan so he could see how U.S. funding was helping those nations destroy weapons.
At one of the sites, "I started leaning in for a closer look, and one of the workers said, 'Don't touch that orange stuff,'" Obama said. "It turned out to be TNT."
"At another point, the workers were taking apart munitions — gloves on their hands, masks over their faces — and I'm thinking, wait a second, why don't we have masks on?" He continued, drawing laughter, "This is the kind of trip you take with Dick Lugar."
In his first term as president, Obama made nuclear non-proliferation a signature issue, signing a new nuclear-weapons-reduction treaty with Russia.
Kenneth A. Myers, a former Lugar adviser who now heads the Defense Threat Reduction Agency, which implements parts of Nunn-Lugar, was on the trip. He said last week that it was quickly clear that "the vision was the same" for both men when it came to arms control.
Asked whether he takes pride in having helped turn the future president into an arms-control activist, Lugar replied, "Of course." In his understated manner, Lugar called Obama's remarks "a very generous remembrance of our activities together."