CQ WEEKLY – IN FOCUS
Dec. 15, 2012 – 1:43 p.m.
Pondering Cuts in Medicare Spending
By Emily Ethridge, CQ Staff
As negotiations on a deal to avert the fiscal cliff continued last week, Democrats began to unite behind a stance of protecting benefits in the federal health care entitlement programs from cuts, saying that the most vulnerable people should not be at risk.
"Why is it that now somehow we have to couple cuts to the poor and the disabled and the elderly and those out of work with raising taxes on the superwealthy in our country?" said Sen. Tom Harkin, D-Iowa, at a Dec. 11 news conference. One of the suggestions that Democrats particularly oppose is raising the Medicare eligibility age from 65 to 67 — something Republicans are promoting. But on the day Harkin made his plea, President Barack Obama, in an interview with ABC News, didn't completely rule out the idea of a higher eligibility age.
"When you look at the evidence, it's not clear that it actually saves a lot of money," Obama said. "But what I've said is let's look at every avenue, because what is true is we need to strengthen Social Security, we need to strengthen Medicare for future generations. The current path is not sustainable because we've got an aging population and health care costs are shooting up so quickly."
To Restructure or Tinker?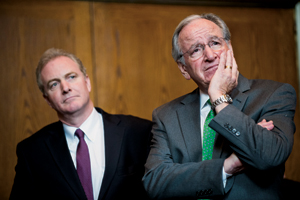 | | |
| --- | --- |
| TOUGH STANCE: During a Dec. 11 news conference on federal health care entitlements, Harkin right, argued against a move to increase the Medicare eligibility age from 65 to 67 as part of a fiscal-cliff deal. (BILL CLARK/CQ ROLL CALL) |   |
It's almost certain that changes to Medicare, in some form, will be part of a fiscal-cliff deal, but continued murkiness around the details has lawmakers, analysts and advocacy groups concerned. Although both sides have proposed big targeted savings from health entitlement programs — ranging from $400 billion to $600 billion over 10 years — health experts say you can reach those levels without significantly restructuring Medicare. A plausible deal could get savings that affect providers and some beneficiaries but still include nothing that would cause a fundamental shift.
Republicans have been pushing for proposals that look like significant changes, including increasing Medicare's eligibility age and asking wealthier beneficiaries to contribute more. So far, Democrats have been warmer to the idea of means testing but have become more steadfast in the last couple of weeks in their opposition to raising the eligibility age. Members of both parties also are concerned about looming cuts in payments to health care providers.
"They don't want to have any proposals that affect beneficiaries, but then of course Republicans and some Democrats are nervous about any reductions to providers, so you've got this kind of standoff," said G. William Hoagland, a senior vice president of the Bipartisan Policy Center and former Budget Committee aide. "We're almost on a stalemate on entitlement reform."
Even so, changing the eligibility age, as well as extending means testing on wealthier beneficiaries, at least looks like a significant alteration to the program, Hoagland said.
"Something like age of eligibility is easy to understand and is scoreable. And so I think Republicans will continue to press for that," he said. "It's symbolic if nothing else."
And that's why health care experts worry that even with the fiscal stakes as high as they are, lawmakers still lack the appetite for doing something substantive to Medicare. As far as health care entitlements are concerned, the fiscal-cliff debate could result in nothing more than another missed opportunity to fix Medicare's main problems and put the program on a more sustainable path, they say.
"Medicare in particular is going to need something more substantive in the near-term," Hoagland said. "Right now — I hope I'm wrong — I don't see it happening here between now and the end of this year."
Means Testing
Pondering Cuts in Medicare Spending
Medicare already contains a means-testing component: Beneficiaries with incomes of at least $85,000 a year for individuals, or $170,000 for couples, pay higher premiums for Part B services, which cover doctor visits and outpatient care. A deal could either have more beneficiaries pay those higher premiums, or increase the level of the higher premiums.
Doing so could be a way to get money from higher-income earners, something Democrats have pushed for as they insist that the President George W. Bush-era tax cuts on Americans with more than $200,000 in individual annual income expire.
"That's one way to do it that does hit beneficiaries, but you structure it so it doesn't hit low-income beneficiaries and hits high-income beneficiaries more, and that's non-trivial," said Alice Rivlin, a former director of the Congressional Budget Office and the Office of Management and Budget.
Obama included additional means testing in his fiscal 2013 budget, saying he would raise $28 billion by making wealthier beneficiaries pay slightly higher premiums for Medicare Parts B and D, the latter of which covers prescription drugs. While many Democrats, including Senate Finance Chairman Max Baucus of Montana and Senate Majority Whip Richard J. Durbin of Illinois, have said they would be open to adding more means testing to the program, not everyone in the party is on board.
"I'm not sure this was a great idea, but it's done, and I don't think we need to do that any further," said Rep. Henry A. Waxman, D-Calif.
Hoagland said he thought Democrats could agree to greater means testing, along with boosting the total amount paid for Part B premiums. Currently, Part B premiums cover 25 percent of total program costs.
Rivlin, in her deficit reduction proposal with former GOP Sen. Pete V. Domenici of New Mexico, proposed gradually raising that percentage so that premiums would cover 35 percent of Part B costs. "That's not extraordinary, but that saves in the first 10 years, it saves $263 billion," she said.
Of course, total savings from means testing would depend on how much premiums were increased and how many higher-income beneficiaries would be paying them.
Eligibility Age
When it comes to increasing the eligibility age, Democrats are much more resistant. Republicans have called for gradually raising the age from 65 — where it has been since the program's creation more than 40 years ago — to 67. Doing so would certainly be an overt change to Medicare, and Democrats who oppose it say it would put people in that age range at risk for being uninsured.
Senate Budget Chairman Kent Conrad said making such a move would be unnecessary to reach the targeted health savings figure.
Pondering Cuts in Medicare Spending
"If you don't raise the retirement age on Medicare, you can still save $500 billion over the next 10 years, which is not quite what the Republicans are asking for, and somewhere in between what the president has called for and what they say they need," Conrad, a North Dakota Democrat, told MSNBC.
Opponents of raising the eligibility age also say it would not end up saving the government much money. People on the younger end of the Medicare eligibility scale generally are healthier, with lower health care costs.
According to the Congressional Budget Office, gradually raising Medicare's eligibility age from 65 to 67 by two months every year from 2014 to 2027 would reduce federal Medicare spending by $148 billion over 10 years. The program's net spending would be about 5 percent less by 2035 than what it would be otherwise, the CBO said.
Rivlin said while the higher eligibility age would save Medicare money, those seniors could cost the government in other ways, such as by receiving federal subsidies to buy insurance through the state insurance exchanges created in the 2010 Affordable Care Act.
"They go to the exchanges set up under the ACA, or they go to Medicaid, but in both cases, that's government money," Rivlin said. "So the net benefit to the government is very small."
Long-Term Reach
Some other items Democrats are looking at include requiring drug companies to give Medicare the same rebates they pay to Medicaid for drugs given to enrollees who are eligible for both programs.
"It's using the market power of Medicare to negotiate a better deal with drug companies, and that's a good idea, and that doesn't hit the beneficiaries," Rivlin said.
In his fiscal 2013 budget, Obama proposed requiring new beneficiaries who buy Medigap plans, which broaden coverage and have low cost-sharing requirements, to pay a surcharge, bringing in $2.5 billion over 10 years. He also would create a copayment for home health services in Medicare, which he said would save $350 million over 10 years.
But some experts say that all these changes being discussed, even those that would affect beneficiaries directly, don't count as substantive alterations to the Medicare program.
"The Democrats have made it clear they have no interest in real, structural reform," says Gail Wilensky, who ran Medicare in the early 1990s under President George Bush.
Items such as raising the eligibility age, or making minor cuts to various providers, do not fix the flaws in Medicare's payment system, which pays providers for doing more services, instead of rewarding quality and efficiency, Wilensky said.
"I don't hear any willingness to change incentives on either side, either from the provider community or the user community," she said. "It does not address the problems at all, doesn't have you reimbursing for the kind of behavior you want to encourage, doesn't support coordinated care for illness."
Pondering Cuts in Medicare Spending
Hoagland and Rivlin both agreed that raising the eligibility age or adding more means testing would not put Medicare on a path to long-term sustainability. "It's not a structural reform; it just cuts benefits, and you get them later," Rivlin said.
Medicaid
Another area unlikely to see big changes in the fiscal-cliff negotiations is Medicaid, the federal-state program that provides health care coverage for low-income people. Although the program was on the table during other deficit-reduction discussions, the situation has changed thanks to the Supreme Court.
Because the court allowed states to opt out of the health care overhaul's expansion of Medicaid to those with incomes up to 138 percent of the federal poverty level, the administration is wary of making any changes to the program. Any potential for change could discourage state officials from agreeing to go ahead with the expansion in the health care law.
"If you start changing the Medicaid program this year, then all the governors say, 'Well, if they change it now, maybe they'll change it later,'" Waxman said. "So they might want to hold back on moving forward with the Affordable Care Act."
In announcing that it no longer supported a single "blended rate" for the federal share of Medicaid payments, the Health and Human Services Department said it was focused on implementing the law's expansion.
"The Supreme Court decision has made the higher matching rates available in the Affordable Care Act for the new groups covered even more important to incentivize states to expand Medicaid coverage," the department said.
Despite indications that these fundamental changes are off the table, analysts insist that lawmakers must confront these items eventually.
"The real sources of growth over the long run are the health care entitlements," Rivlin said.
Melissa Attias contributed to this story.
FOR FURTHER READING: Fiscal cliff, p. 2526; changing Medicare, CQ Weekly, p. 2016; health care law (PL 111-148, PL 111-152), 2010 Almanac, p. 9-3.