CQ WEEKLY – IN FOCUS
Dec. 29, 2012 – 10:20 a.m.
Katrina's Lessons Seen In Response to Sandy
By Tim Starks, CQ Staff
When former New York Mayor Rudy Giuliani declared, shortly after Superstorm Sandy ravaged the East Coast in October, that the federal government's response was worse than it had been to Hurricane Katrina and when Michael D. Brown, who had resigned as director of the Federal Emergency Management Agency after the Katrina debacle, criticized the Obama administration for a "premature" response to the latest storm, they were virtually laughed off the national stage. Most chalked it up to election-season politics.
That's not to say that FEMA handled Sandy perfectly. But Mississippi Rep. Bennie Thompson, the top Democrat on the Homeland Security Committee, says the major difference in the government's performance for Sandy compared with Katrina was: "It was adequate." And with disasters on the scale of Sandy or Katrina, where unpredictable chaos reigns, "adequate" is an accomplishment.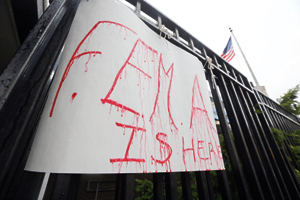 | | |
| --- | --- |
| AFTERMATH: FEMA, which set up response stations throughout New York City and other affected areas, received more favorable reviews for its Sandy response than those from victims of Hurricane Katrina. (MARIO TAMA/GETTY IMAGES) |   |
The improvements on display in the response to Sandy came only after hard lessons from the catastrophic Katrina in 2005. Congress made some of the changes when it enacted a law in 2006 to restructure FEMA. Seven years worth of accumulated spending for state and local grants, even after repeated funding reductions, have paid off. And since Katrina, Washington has cultivated vital partnerships with state and local governments and become better about planning ahead when a disaster threatens.
"The low point for FEMA probably in its history coincided with one of largest storms in American history, Katrina," says Irwin Redlener, director of the National Center for Disaster Preparedness at Columbia University. "There has been a substantial amount of rebuilding of that vital agency, and we saw the consequences of that effort" during Sandy, Redlener says.
Yet Brown and Giuliani were right about the response to Sandy being worse than Katrina — in some ways. Fuel shortages and power outages lingered longer after Sandy, for instance. Some of that owes more to the private sector and state government responsibilities than to the federal government, and some of it has to do with the fundamentally different nature of the two storms. Disaster response experts and professionals caution that it's difficult to compare responses to such different disasters.
And because of Sandy, Congress already is looking at ways for FEMA to distribute relief money more quickly.
Meanwhile, incoming House Homeland Security Chairman Michael McCaul, a Republican from Texas, says he isn't ready to pass judgment on FEMA's latest performance. He plans to request a Governmental Accountability Office review on what went well and what went poorly. "The jury's still out," he says.
Clear Improvements
There is a broad consensus that, only two months after the storm, the emergency response to Sandy has demonstrated marked improvements from Katrina.
At a Dec. 4 hearing, the chairman of the House Transportation and Infrastructure Committee, Florida Republican John L. Mica, said he toured the storm-damaged region and found time and again that there were few complaints about the Sandy response — only with receiving recovery money from past storms. Mica said New York Mayor Michael Bloomberg took him aside during a tour of the city to say "he was still having difficulty getting money from FEMA from Hurricane Irene" in August 2011.
Improvements in response, though, are due to two things, Redlener says: the 2006 FEMA law and a number of smart steps FEMA officials have taken to improve the agency. Those two things go hand in hand, Redlener says. After the outcry over Brown, whose job before joining FEMA had been as a commissioner of the International Arabian Horse Association, Congress specified that future administrators have five years of relevant experience. The current administrator, Craig Fugate, had been director of the Florida Division of Emergency Management and is well-regarded in the field.
Thompson says the 2006 law also helped in the Sandy response by clarifying who was in charge of what and when, so that state and local officials as well as other federal agencies knew where to go when they had a problem.
Katrina's Lessons Seen In Response to Sandy
Better Coordination
In a major attempt to avoid some of the mistakes of Katrina, the White House on Dec. 7 launched the Hurricane Sandy Rebuilding Task Force, naming as its leader Housing and Urban Development Secretary Shaun Donovan, a native New Yorker who worked on housing issues there and in New Jersey before joining the Obama administration.
In 2009, President Barack Obama had asked Donovan and Homeland Security Secretary Janet Napolitano to review how more than 20 federal agencies could better coordinate their responses to disasters. This resulted in FEMA's publishing a draft proposal in 2010 for a national disaster recovery framework. The final version was published in September 2011, and it helped in shaping the duties of Donovan's new task force for Sandy recovery.
"I think that communications between federal, state and local partners has improved," says Mark Merritt, president of Witt Associates, a public-safety and crisis management consulting firm led by President Bill Clinton's FEMA director, James Lee Witt, and currently working with New Jersey and a number of towns and cities in that state. "This was something that was a lesson learned: We have to communicate."
And Fugate told Senate appropriators at a Dec. 5 hearing that the federal government already has applied some of the tough lessons learned from Katrina and previous storms. FEMA, for example, was able to send its teams to states before Sandy hit, he said.
"Previously, it was oftentimes seen that we'd have to wait for governors to experience total devastation before they would be able to ask for assistance, before the federal government could respond," Fugate said. "Congress clarified that is not the case."
Delays in Reimbursements
Likewise, the intervening years have given appropriators time to make deeper investments in disaster preparedness, says Brian Jackson, director of Rand Corp.'s safety and justice program. Although spending on state and local grants has declined overall, each Homeland Security appropriations bill has been sending money to FEMA, and it has added up, Jackson says.
That state and local governments are still waiting for checks from past hurricanes, though, illustrates that FEMA hasn't totally conquered its problems. And even if it had, other agencies, state and local governments, and businesses all play a big role in mitigating how much damage a storm does.
The House approved a FEMA reauthorization bill in September that would have made a series of changes aimed at cutting through red tape. Fugate told the panel that he used the legislation's proposals to speed up debris removal, for instance, on his own — but Mica said his panel's measure had a variety of other necessary provisions.
A number of lawmakers on both sides of the aisle have called on FEMA to use more advanced cost estimates of damage to get funding out the door quickly.
"If the insurance industry can use cost estimating to hurry up the process of clearing after an event," said a member of Mica's committee, District of Columbia Del. Eleanor Holmes Norton, a Democrat, "I will be very interested to learn whether or not cost estimating will for the first time be used after Hurricane Sandy."
Fugate and others worry about that proposal because there is often a correlation between quickly disbursing funds and fraud and waste.
Katrina's Lessons Seen In Response to Sandy
"That's the great challenge," McCaul says. "It's hard, when you've got the people affected wanting the assistance and hurting, to balance that versus being accountable, efficient and effective."
In the Senate, Mary L. Landrieu a Louisiana Democrat who chairs the Homeland Security Appropriations Subcommittee, has her own proposals for improving disaster response and recovery, including advanced cost estimates, but also ideas aimed at streamlining FEMA assistance, among them expanding how grant funds can be used and for what.
Sandy was a particular problem for dense, populous New York City. Rep. Jerrold Nadler, a Democrat who represents parts of Manhattan and Brooklyn, noted that FEMA had set up supply distribution centers around the city, but flooding and lack of transportation trapped residents at home, one of several "particular challenges of an urban setting that our emergency response agencies are ill-equipped to handle or at least haven't had to contemplate on a scale of this magnitude."
Sandy also demonstrated the limits of what the federal government can do. Redlener says that averting the kind of fuel shortages that arose during Sandy requires better cooperation between states to make sure fuel is distributed equitably. Power companies that rely on aging infrastructure contributed to the Sandy outages, too. While the federal government could help, power companies share in the burden.
Nonetheless, most agree that FEMA is better off now than it was in 2005. "The legacies of Katrina still echo in Sandy's response," Fugate said. "Tools that we did not have, we now have."
Jackson says, "It's not like we've solved all the problems." But, he adds, "Where we're at, we've come a long way from where we were during Katrina."
Kerry Young contributed to this report.
FOR FURTHER READING: Sandy impact on flood insurance, CQ Weekly, p. 2160; FEMA reauthorization (HR 2903), p. 503; 2006 FEMA law incorporated into fiscal 2007 homeland security appropriations (PL 109-295), 2006 CQ Almanac, 2-23.