CQ WEEKLY – COVER STORY
Jan. 19, 2013 – 4:05 p.m.
Keeping Score: The Power of Lawmaker 'Report Cards'
By Eliza Newlin Carney, CQ Staff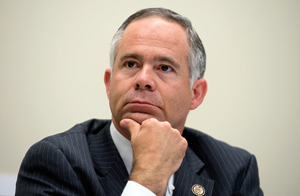 | | |
| --- | --- |
| CLIFFHANGER: Huelskamp says vote scoring by some conservative groups killed Boehner's Plan B for avoiding the fiscal cliff. (TOM WILLIAMS/CQ ROLL CALL FILE PHOTO) |   |
On the late-December day when House Speaker John A. Boehner hastily called a news conference to tout his Plan B for averting an economic crisis from the fiscal cliff, the Ohio Republican had some influential allies in his corner.
Americans for Tax Reform President Grover Norquist had issued a statement that his group wouldn't consider a vote for Boehner's compromise to raise taxes on Americans' income over $1 million to be a "violation" of his group's anti-tax pledge. The U.S. Chamber of Commerce had urged House members to vote for the plan. The tea party group FreedomWorks had likewise voiced support.
But within 24 hours, Boehner had just as hastily pulled Plan B from the floor, forced to admit that he lacked the votes within his own caucus for passage. Although more than one factor scuttled the measure, some Republicans say the turning point was the announced opposition by two conservative groups, the Club for Growth and Heritage Action for America. Both groups said they would include Plan B as a "key vote" in the legislative scorecards they use to tell voters how their lawmakers are doing in Washington. By then, FreedomWorks, too, had reversed course and rejected Boehner's tax plan.
"These groups scored 'no' and it killed Plan B," says conservative Republican Rep. Tim Huelskamp of Kansas, whose clashes last year with Boehner and other GOP leaders led to his removal from two high-profile House committees. "And close to two-thirds of the conference voted 'no' on the fiscal-cliff deal."
The death of Boehner's effort at compromise illustrates both the power and the limitations of advocacy scorecards. Issued for decades by the full gamut of interest groups, congressional voting report cards have become more popular, more controversial and, in some cases, more potent on the campaign trail.
From anti-tax and anti-abortion organizers on the right to environmental, labor and women's advocates on the left, activists tout scorecards as a way to boil down the often-obscure workings of Congress to an easy-to-grasp number or grade. Groups use the ratings to choose which lawmakers to back financially, to rally grass-roots supporters, to lobby Congress directly and to hold elected officials to their claims.
"Sometimes, politicians aren't excited about having their votes publicized," says Donna Crane, policy director of NARAL Pro-Choice America, whose scorecard dates back to 1977. "Sometimes they like to have it both ways on issues. And sometimes, politicians deserve rewards for the positions they have taken — and smart spankings."
The Supreme Court's 2010 ruling to deregulate political spending has given some interest group scorecards extra bite. Armed with unrestricted super PACs, outside activists may target low-scoring lawmakers with millions of dollars in attack ads. This threat has particularly strengthened conservative groups such as the Club for Growth, which have brandished scorecards to challenge moderate Republicans in GOP primaries.
"Voting cards started out with the notion of informing people how their elected officials stand on issues," says Fred Wertheimer, president of Democracy 21, which endorses tighter campaign finance restrictions. "Super PACs are not about that. They are about beating up the person you are opposed to."
At the same time, the proliferation of interest group report cards has served to dilute some of their messages and, as in the case of Plan B, send mixed signals to Capitol Hill. Shifts in public opinion have made some once-influential report cards seem less potent. As Congress faces pressure to compromise on long-contested issues such as taxes and entitlements, advocacy groups bent on purity tests may find it harder to extract perfect scores from elected officials.
"These organizations and their power are going to be put to the test," says Illinois Democratic Rep. Jan Schakowsky.
At one time, Schakowsky says, a National Rifle Association announcement that it would score a key vote sent a ripple of fear across Capitol Hill. Not so today, she says, pointing to polls showing a drop in public support for the gun owner rights group and its positions: "I definitely think that the score means less than it used to today."
Keeping Score: The Power of Lawmaker 'Report Cards'
In the aftermath of the school shootings in Newtown, Conn., at least three lawmakers with "A" ratings from the NRA, for example, have signaled that they may now be willing to consider some form of restrictions to limit gun violence. The NRA is one of several groups whose scorecards have been seized on by their political adversaries as a tool to rally the opposition.
There are other variables in the vote scorecard game. Democrats tend to fear less from report cards than do Republicans, because so far progressive advocacy groups have stayed out of primaries, says David Rohde, a political science professor at Duke University. Moreover, it takes more than issuing a report card and buying advertising to affect an election. Groups that seek to punish bad grades with huge super PAC spending won't get far unless blocs of voters pay attention, Rohde says.
"We just watched these conservative super PACs spend well over $100 million in the 2012 elections, and they had almost nothing to show for it," he says. "Money doesn't decide elections; votes decide elections."
Making the Grade
Regardless of their influence, scorecards have steadily gained popularity since activists first embraced them more than a half-century ago. More than 80 advocacy groups now issue some form of congressional scorecard, according to Voter Information Services, which tracks interest group ratings. These include such diverse players as Americans for the Arts, the National Taxpayers Union, the National Education Association and the League of Conservation Voters.
One of the oldest congressional scorecards is produced by the left-leaning advocacy group Americans for Democratic Action, which has measured the political liberalism of lawmakers since its founding in 1947. At the opposite end of the spectrum, the American Conservative Union has been rating lawmaker conservatism since 1971. Both groups' ratings are routinely cited in publications about Congress.
"We believe that we are putting down a marker for the conservative movement broadly," says ACU Executive Director Gregg Keller. Unlike some single-issue groups, he says, the ACU grades votes on a range of fiscal, national security and social issues — grades that high-scoring Republicans routinely tout on the campaign trail.
Other scorecards are brand new. In December, a broad coalition of Latino advocates, including organizers with the Service Employees International Union and the Mi Familia Vota Education Fund, announced a sweeping campaign to liberalize immigration law that features a congressional report card to be issued before the 2014 election.
"This is really what democracy should be all about," says SEIU Secretary-Treasurer Eliseo Medina. "You vote for somebody; if they don't do something, you hold them accountable." Members of the coalition will circulate the scorecard to voters and journalists, Medina says.
Some organizations, such as the League of Conservation Voters, issue a comprehensive scorecard once a year in a widely publicized press event. Put together with the help of an advisory committee that includes officials at leading environmental groups, such as the Sierra Club, the national environmental scorecard is "not in any way an electoral document," says Jeff Gohringer, the LCV's national press secretary. "It really is an educational document that puts in one place how members voted on a whole range of issues."
Similarly, the National Association of Realtors uses its congressional scorecard as "purely an internal tool" to help its PAC trustees and state and local associations decide which lawmakers to support, says Jamie Gregory, the group's deputy chief lobbyist. The real estate group rewards top allies but never runs negative ads, he says, noting that NAR members "aren't looking to make enemies, they are looking to make friends."
The National Education Association — which scores not only votes but also behind-the-scenes advocacy such as hearings, amendments and accessibility to labor leaders — uses its report card both to influence votes and to open dialogues.
Keeping Score: The Power of Lawmaker 'Report Cards'
"From our perspective, we see the report card as more than just a grade," says NEA Director of Government Relations Mary Kusler. "It's an opportunity for a relationship. And we want to make sure that members of Congress are getting every opportunity possible to show their support for educators and the students they serve."
Exacting Loyalty
At Heritage Action for America, which has been scoring key votes since its launch as an advocacy arm of the Heritage Foundation think tank in 2010, organizers deliberately tailor their ratings to reach thousands of tea party, GOP and conservative activists around the country.
"We view our scorecard as divorced from elections; this is about informing a citizenry," says Heritage Action chief executive Michael Needham. He says it's important to spotlight congressional actions that might go unnoticed but that warrant attention.
"We think that there's a reason that 80 [percent] to 90 percent of the American people are disgusted with Washington, and that's because there are a lot of small votes that don't get a lot of attention, where the principles of the party are lost," Needham says.
Many activists aren't shy about admitting that their scorecards are designed to exact loyalty — both on Capitol Hill and on the campaign trail. Activists who alert lawmakers throughout the year that they will "score" a particular vote often attest to the legislative victories that they say result from such announcements.
The Americans for the Arts Action Fund credits its scorecard with helping block significant cuts in federal arts funding in 2011. Michigan Republican Rep. Tim Walberg had won House approval for steep arts cuts early in the session, but his provision had stalled in the Senate. When the House took up a similar measure a few months later, the arts group issued a warning that it would "score" the vote. Many Republicans who initially had sided with Walberg reversed course, killing his amendment in the House.
The scorecard "had everything to do with it," says Nina Ozlu Tunceli, executive director of the Americans for the Arts Action Fund.
The line between educating voters and exacting retribution on the campaign trail can be a fine one. One of the top targets of the League of Conservation Voters in last year's election, for example, was Massachusetts Republican Sen. Scott P. Brown, who received a low 36 percent on the LCV's 2011 scorecard. The league spent more than $1 million to help oust Brown, according to the Sunlight Foundation, which advocates for increased government transparency.
The Club for Growth's super PAC also spent close to $1 million helping unseat six-term Indiana GOP Sen. Richard G. Lugar in his primary fight last year, Sunlight Foundation data show. Lugar had a lifetime score with the group of 65 percent, although his score had ticked up to 80 percent in the months before the election — something conservative organizers say isn't uncommon.
"I think the Club for Growth brand stands for accountability, and our Club for Growth PAC has been very successful in elections," says Andrew Roth, the club's vice president of government affairs. "There's the carrot and the stick, and we use both, I think, to the best ability that we can."
Turning the Tables
The political power of scorecards is plainly reflected in the complaints lodged against them. The National Right to Life Committee beat back a Federal Election Commission challenge to its influential voter guides in the 1980s. The following decade, the Democratic Congressional Campaign Committee complained to the FEC, without success, that Americans for Tax Reform was illegally coordinating its anti-tax pledge with federal candidates.
Keeping Score: The Power of Lawmaker 'Report Cards'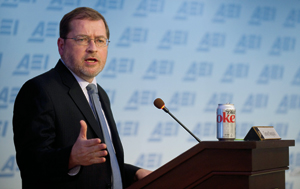 | | |
| --- | --- |
| TAKING HEAT: Some conservative groups criticized Norquist for saying lawmakers who voted for Boehner's fiscal-cliff plan wouldn't violate their no-tax pledges. (JIM WATSON/AFP/GETTY IMAGES FILE PHOTO) |   |
Lawmakers frequently grouse to advocacy groups about the grades they receive, according to activists who put out the ratings. Nonetheless, lobbyists say, many lawmakers call in advance of important floor debates to find out whether and how groups will score a particular upcoming vote.
House Republican leaders are unhappy that conservative-group scorecards constrain their ability to manage the House, according to Huelskamp. "I remember numerous times complaints coming from leadership about scorecards coming from conservative groups," he says.
Huelskamp also maintains that those same leaders used internal scorekeeping of their own to decide to oust him and two conservative colleagues from their committee posts. "Leadership has their own scorecard, but they refuse to make it public," he says. Boehner has denied this charge.
Some activist groups have issued scorecards, only to find those cards used against them. Liberal lawmakers wear bad scores from conservative groups like badges of honor. In 2011, Illinois Democratic Rep. Jesse L. Jackson Jr. set out to see if he could earn a negative score from Heritage Action. "When it comes to the Heritage Foundation, zero isn't good enough," Jackson communications director Andrew Wilson said at the time.
After the Newtown shootings, the liberal advocacy group CREDO Action gathered 35,000 signatures on a petition calling on 49 senators who received "A" ratings from the NRA to "stop abetting the organization's astonishingly successful record of blocking all significant gun control laws."
The group obtained the NRA's scorecard from The Washington Post, says Becky Bond, political director of CREDO Mobile, the cellphone company that runs CREDO Action, since the NRA makes its ratings available only to members.
"The NRA actually makes it very difficult to come up with a comprehensive list, I think because they want to avoid just this kind of backlash," says Bond, who also runs the CREDO super PAC. NRA officials didn't respond to requests for comment.
The DCCC routinely puts out campaign literature and runs ads assailing GOP lawmakers who have signed Norquist's anti-tax pledge as beholden to a "special-interest group."
Norquist has even taken some heat from his conservative allies in the wake of the Plan B debate. Some conservative groups took issue with Norquist's statement that Americans for Tax Reform would "not consider a vote for" Boehner's proposal a violation of the group's anti-tax pledge. Boehner's plan would have preserved existing tax rates for Americans' income up to $1 million a year. And it would have allowed the top rate to rise on income above that amount — as would already have occurred under existing law.
"The biggest problem with pledges, of course, is that they're arbitrary to whoever's distributing them," says Tom McClusky, senior vice president of the Family Research Council's advocacy arm, known as FRC Action, which has scored votes since 1999. He says Norquist is already experiencing fallout from his Plan B stance. "In a case like this, I think they've really weakened their pledge," says McClusky.
Norquist counters that he didn't endorse Plan B but simply made clear that a vote in favor wouldn't violate the Taxpayer Protection Pledge, which asks candidates and incumbents to oppose any and all tax increases.
"We didn't say vote for the bill," says Norquist. "We just said it doesn't violate the pledge. Our pledge is effective and powerful because we don't bend to move things around."
Keeping Score: The Power of Lawmaker 'Report Cards'
Whether they win or lose key legislative battles, interest group activists have sent a clear message to lawmakers that they are being watched and graded. And, like nervous schoolchildren, lawmakers are eager to earn gold stars. Those with high marks from friendly groups display awards from those allies on the walls of their Capitol Hill offices. Those with low scores are quick to complain to the graders.
At bottom, though, lawmakers know that voters — not advocacy groups — will hand out the final verdict on their performance. Says Schakowsky: "Scorecards are, of course, dependent on what backs up that score."
FOR FURTHER READING: Fiscal-cliff resolution, CQ Weekly, p. 24; Norquist's power, 2011 CQ Weekly, p. 2382; influence group scorecards proliferate, 2003 CQ Weekly, p. 926.